---
---
Authorship: Messing Up Your Rankings
Update June 27, 2014: In light of Google's recent announcement, we thought we'd post the latest update from Search Engine Land, Google Drops Profiles Photos and Google+ Circle Counts In Search Results, until we can rewrite this post to reflect these changes.
---
Big changes have come to Google search results since the big G started its quest to connect authors of blog articles to signals of relevance and authority.
Google has claimed patents surrounding the application of "Author Rank" to their results, and in 2011 they released a specific tag rel=author to confirm authorship.
Today you can see the impact on results pages in the form of author photos, their +1 count, and a link to additional articles by that author in SERPs. Author Rank has the potential to become a ranking factor as powerful as Page Rank.
To help guide you through the implementation and ideas surrounding this topic, we present Raven's Ultimate list of Google Authorship resources. We'll hear from Googlers themselves, highlight information and tools surrounding Authorship and discuss Authorship's impact as well as some tactics to track its impact on your analytics. Sprinkled throughout you'll also see some helpful quick tips we learned while implementing authorship on Raven's own new site.
Google's information on Authorship
Since this change is coming from Google, here are the most relevant resources released from Google itself on how to implement Authorship. There are several ways, all centering on a Google Plus profile.

Google's Matt Cutts and Othar Hansson discuss the benefits of Google Authorship and how it may be a future signal for credibility in ranking results. In the interim, this markup will add the author's picture to verified articles as well as other articles by that author.
Use Google's Rich Snippet Verification tool to check if you've implemented rel=author correctly
Othar Hansson of the search quality group and Matt Cutts discuss using authorship as a URL parameter for those site owners who may not be able to access their HTML by adding rel=author to a hyperlink to your Google+ profile to verify authorship.
Useful guides for Authorship implementation
Here are some of the best articles that cover the process of adding correctly verifying your authorship.
---
The Definitive Guide to Google Authorship Markup

"What you need to know is that Google needs to complete a circuit of verified trust between it and an author's published content. For you to participate in this program, you need to have two things:
A verified digital identify owned by Google that links to your published content (a Google+ profile)
Your published content needs to reference you as the author and link back to the verified digital identity"
---
Author Rank, SEO and Google Plus: What you need to know

"Author Rank is also relatively new, which means the proactive amongst us have a great opportunity while the SERPs aren't yet saturated with author profiles yet. Additionally, it's highly likely your competitors haven't looked into Author markup yet."
Quick Tip: If you're not active on Google+ you can still verify Authorship using your Google Profile.
---
How to Implement Rel=Author

For the perspective of a blogger who's been following Authorship since its release, add AJ Kohn to your circles. His guide has been updated as techniques have changed and new tools have come about, so it provides a unique perspective on Google's adjustments.
Quick Tip: You can verify your Authorship by email, but only if you have an email at the domain in question.
---
Push Rel="Author" through your head
If you're using WordPress for your website CMS, you have built-in advantages and disadvantages. Yoast provides another way for you to verify your authorship by adding the markup to the header section of your site.
 Quick Tip: Authorship verification is sensitive to www. and non www. in your ?rel=me link verification.
---
Author Markup, Schema.org and Patents, Oh My!
Understanding the patents Google has submitted on Authorship can offer insights into Google's intention for the future of search. Well known for his analysis into patents, Bill Slawski gives a good breakdown of Google's author rank patents in this post.
"…if the signer has a large reputational score due to the agent having an established reputation for provided accurate reviews, the rank of the referenced content can be raised accordingly." – Google Agent Rank Patent Filing
---
Rel='Publisher' for Brand-Savvy Marketers
We've talked a lot about using the Rel=author tag properly, but that wasn't the only new tag that Google released. The less deployed Rel=publisher tag may eventually help balace out some of the complaints that brands have about how Rel=Author works.  This article by Ben Holbrook gives you the step by step of how to deploy this tag correctly alongside the Rel=Author tag.
---
WordPress Authorship Plugins
Benefits and concerns
Google Confirms Hidden Benefit Of Authorship: Bonus Links After A Back-Button Click

Authorship can mean more than just your photo and information displayed. Matt McGee breaks the confirmed news that staying more than 2 minutes on a author-verified page before returning to the SERP will trigger additional "bonus links" from that author to be displayed.
---
 This Hangout discusses how corporate identities and brands need to react to this shift to individual authorship and create contingency plans to handle the emphasis on individuals vs. brands as the publishers of content.
"Social is a good way to create a reputation for authors. If the reputation of content authors is transparent, it will make the whole web better." – Matt Cutts
---
Authorship: Messing Up Your Rankings
This post explores some of the ways ranking data provided by Google Webmaster Tools may be skewed by authorship. Hat tip to +Mark Traphagen who shared this article and was also part of Dan's recent video discussion panel on Google Authorship.
When you're using WordPress, your pages are marked with an Author. To remove Author from pages, click Screen Options when editing the page, and uncheck Author. Then you can choose "Hide From Search" as the page's author.
---
AuthorRank: Google Panda on Steroids?
The Google Panda update was deployed to decrease the amount of low quality content showing up in search queries. James Scaggs explores the implications of Google Authorship being used as a quality signal to finish where Panda left off.
"If you're not going to write great content, don't bother to write at all. If you are going to write, get your content cited by trusted people." Jim Boykin, Pubcon 2012
---
What is the Difference Between Google Authorship and Author Rank

Mark Traphagen has been an active voice working to keep up on the changes that Authorship has brought to SERPs and to how people use Google Plus. Here's an article where he delves into how it is important to understand the difference between the concept of Google Authorship and it's related markup and the idea of Author Rank.
---
Google Authorship: An Interview with Google's Sagar Kamdar

It's great to get an inside commentary on big change that come out from Google because you can better understand the intent of their efforts. This Q & A with Sagar Kamdar provides some tantalizing insights into how Google may use this authorship data in the future.
"We use over 200 signals to determine search ranking, and although authorship is not currently one of those signals, we hope to experiment with using information about authorship as a signal in ranking in the future."

– Sagar Kamdar, Google Director of Product for Search
---
Google Authorship Profile: No Verification Needed?

Correctly attributing authorship of specific blog posts to authors is not an easy task, but in this post Bas Van Den Beld points out some examples where Authorship is being displayed even when the steps listed to verify authorship have not been followed.
Quick Tip: You can see Authorship Statistics in your Webmaster tools profile under the Labs section. Matthew Marley also has spotted authorship stats being rolled out directly to G+ profiles, but this seemingly hasn't been released to all users quite yet.
---
How to Prepare for AuthorRank and Get the Jump on Google

The driving force behind Google Authorship comes from Google's desire to get a clear signal about author authority to weed out spam. This article suggested by Max Minzer explores the history of Author Rank and some of the related elements you can work on to improve your authority as perceived by Google.
Update 11/14/12 You should also check out Mike's Slideshare deck on Google Authorship.
---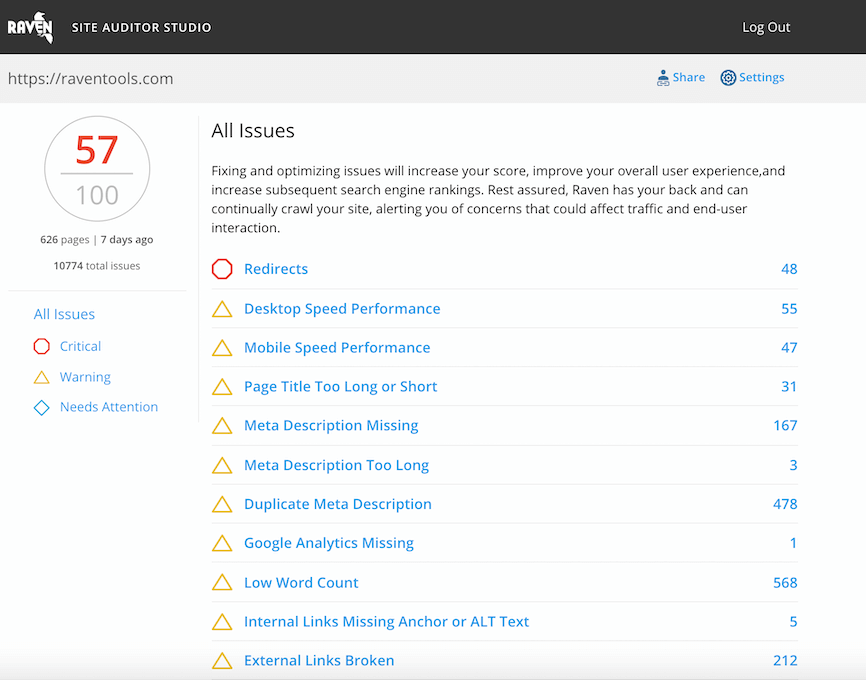 Analyze over 20 different technical SEO issues and create to-do lists for your team while sending error reports to your client.