---
---
Google has given Internet marketers a new way to prove page quality and authority. It's Author Rank, and you can still get in on the ground floor.
The first I really heard about this approach was at Pubcon 2011 where none other than Google Senior Engineer Matt Cutts said during his keynote:
"Social is a good way to create a reputation for authors. If the reputation of content authors is transparent, it will make the whole web better."
It is therefore with great interest that we see Google pushing Author Rank as they begin to highlight content creators within their search results.
With Author Rank, Google wants to make it easier for users to find the work of specific writers, and leverage its ability to use authors as an element for ranking pages and sites.
This is promising for a few reasons. The main one? If you can position yourself as the author of content on high quality sites, you will be rewarded in the SERPs.
Author Rank is also relatively new, which means the proactive amongst us have a great opportunity while the SERPs aren't yet saturated with author profiles yet. Additionally, it's highly likely your competitors haven't looked into Author markup yet.
How Author Rank works
Here's how Google describes the concept (writing in a patent for Agent Rank):
"The name of the writer can be used to influence the ranking of web search results by indicating the writer responsible for a particular content piece … Assuming that a given writer has a high reputational score, representing an established reputation for authoring valuable content, then additional content authored and signed by that writer will be promoted relative to unsigned content or content from less reputable writers in search results."
So here's a breakdown of how it works.
By using the author markup, you create an author for your site's content. Through social media sharing (on Google Plus in particular) you can gain authority and get links and +1s to your content.
The better the content is, the more trusted the author becomes.
More to the point, by being the author of high quality content on high quality third-party sites, you can use the author markup to link back to your author page and have the trust come in that way.
Put simply, the idea for content creators is a 3-step process:
Write good quality content on your site and on third party sites that people want to share
Allow Google Plus users to share and validate content on your site by installing the +1 button on your site
Use author markup (rel="me" and rel="author") wherever you write to link your content and author page to your Google+ profile
How Author Markup affects SERPs
When logged into Google Plus, if someone within your circles has shared content, you will see their thumbnail image appear in SERPs. The idea is that if someone you know has recommended content, you're more likely to click through as you can presume it will be a relevant, interesting and/or trustworthy content.
For example, when searching for an app for tracking follows/unfollows on twitter, I can see that one site in particular has been recommended to me.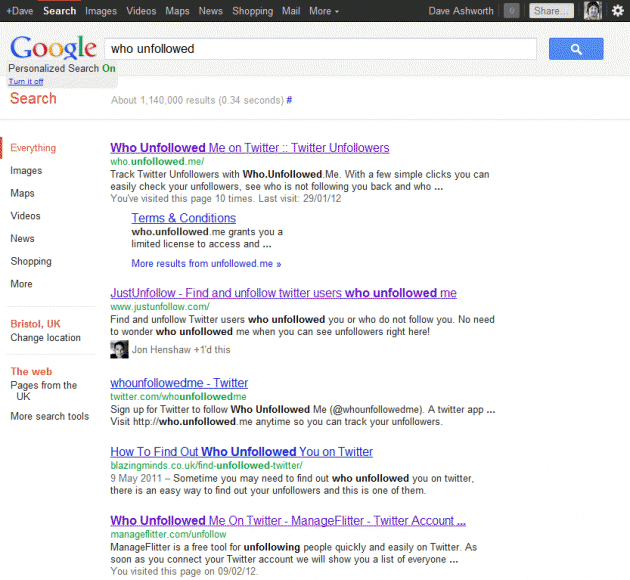 In a similar way, when content is published by someone who has implemented authorship markup, the result will be accompanied by a thumbnail and link through to their Google Plus profile in the SERPs.
The key difference between these two results is that you don't need have the author in your circles or even be logged in to Google Plus to see the author markup – it appears regardless.
How to implement Author Rank
On the off chance you're not yet on Google Plus, your first step to implementing Author Rank is to create an account there.
If you're just working with one blog, you can verify through an email account. In your Google Plus account, make sure you upload a photo and verify the email address you'll be associating with your content using Google's process. Then, simply make sure each piece of content you write includes your name and a mailto link ("mailto: your email address") to the email address you authorized. Google should take care of the rest.
If you blog in multiple places, add any blogs for which you've written to the "Contributor To" section of the "About" page. Then use the authorship markup rel="me" and rel="author" to link your content or author page to your Google+ profile. Follow Google's instructions for implementing.
The approach we took at Return On Digital, where I work, was to create an author page for each member of staff in the "About Us" section.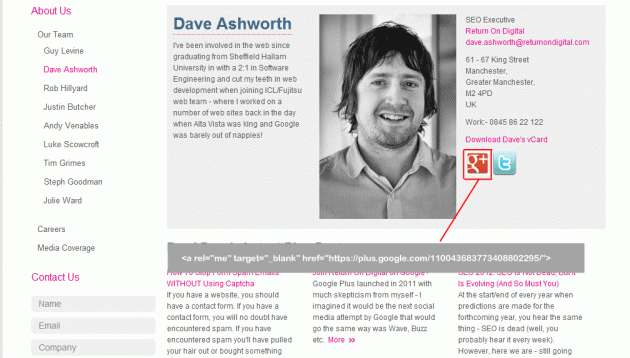 By using the rel="me" markup in the link to my Google Profile page, I am able to link my author page to my Google+ profile.
In addition to this, every blog post published on our blog has a link back to the relevant author page, which include the markup rel="author."
Test your site or individual pages using the Google Rich Snippets tool tester.
In addition, when writing content on third party sites, look to link back to your author page by appending your bio url with rel=author like so: http://www.returnondigital.com/about-us/dave-ashworth.php?rel=author
The future
Moving forward, if you create content and want to become an authority voice within your niche, Author Rank is going to help you achieve this.
This new approach to creating domain/page authority will hopefully be less open to manipulation in the way that link building and some forms of structured data have become.
It's not just a case of signing up to Google Plus, getting lots of people in your circles and vice versa and sharing content. It's more about getting involved in the right circles/niches, sharing quality content and writing quality content of your own that is worthy of a share.
All this will be tracked by Google and used to calculate your author authority, which in turn is used in their ranking algorithms.
Obtaining high Author Rank can be the difference between your niche content being ranked above that of your competitors.
I suppose it all comes down to what Google has always told us – content is king, but now you have an opportunity to wear the crown.

Learn About Our SERP Rank Tracker
We wanted to provide the most flexible rank checking to our users, so we let you control how frequently we check the SERPs for changes to your ranking.