---
---
Are bid management tools really worth the investment? Finding the right marketing software can be a chore. For smaller efforts, you can easily build and manage a campaign directly in AdWords or adCenter, and with options like AdWords express and dynamic ad extensions you can get something set up and running pretty easily.
But if you have more than a few dozen ad groups, or are spending more than $10,000 a month on paid search, bid management tools can be a lifesaver when it comes to day-to-day management of your campaigns.
There are a ton of options when it comes to selecting a bid management platform, and selecting the best solution can be a daunting task. Different tools have different features, and the best option for your campaign will vary depending on your goals, industry, and budget.
To help advertisers considering bid management platforms, here's our ultimate list of bid management solutions.
A note on pricing: When it comes to pricing, what you pay for most tools is going to depend on a few things, including your overall media budget and negotiation skills. Where possible, we've rated these tools on a general scale of $ to $$$$.
The big players
Acquisio $$$
Most Internet marketers are probably already familiar with Acquisio, not only because they (like Marin and Kenshoo) are frequently at conferences, but possibly because of their popular branded T-shirts. They are one of the top paid search bid management solutions, and also have features for managing Facebook paid social and display retargeting efforts. Acquisio's PPC bidding tool will automatically adjust bids and campaign budgets based on events you define, and the automated reporting tools deliver automated reports with data from Google, adCenter, as well as Baidu.
Kenshoo $$$
Kenshoo has both enterprise and local paid search solutions, as well as a social tool for Facebook ads. The bid management tool offers portfolio, model-based or rules-based bidding, and it's easy to optimize, tag, research, and optimize campaign elements. Kenshoo also has customized A/B testing tools, conversion attribution, great reporting options and RealTime campaigns that dynamically build and sync your campaigns with inventory data.
Marin $$$$
One of the most noticeable things about Marin is its truly stunning, easy-to-use online management platform. There's a great desktop editor tool as well, and strong reporting solutions. The bid management tools allow you to set bids based on a variety of goals – you can even set bids towards multiple conversion events like video views, contact forms, store directions, etc. Marin also has a real time campaign feature for online merchants called Marin Dynamic Campaigns.
Display/Analytics-focused solutions
Adobe® SearchCenter+ (by Omniture) $$$
Part of the Adobe® Digital Marketing Suite, SeachCenter's key features include organic search data integration, integrated sitelinks, attribution modeling, and an integrated Facebook display tool.
DoubleClick Search v3 $$$$
Built on Google's reliable infrastructure, DoubleClick Search (DS3) lets you manage your adCenter and AdWords campaigns using an online interface that looks very Google inspired. The setup fee of $10,000 is a little pricey, but the commission for DS3 ranges between 2.5% and 1%. However, DS3 recommends maintaining a budget of $500,000 a month across multiple accounts, so if you are running a smaller effort you may want to consider another platform.
MOJO SEM (by Mediaplex) $$
Mediaplex has an advanced ad serving platform, along with a proprietary paid search management tool that works incredibly with their other tools for more complete attribution modeling.
Webtrends Ads $$$
With a patent-pending algorithm to calculate bids, Webtrends' search platform can help improve performance of paid search campaigns. The tool also works well with Webtrends' other great analytic and social platforms.
Other tools
Prices upon request
Ignition One
Ignition One was highlighted by the Forrester Report for the customization options on it's workflow and support for multiple types of biddable ads.
adCore
adCore offers full SEM campaign automation with advanced rule-based bid management algorithms. Free for single domain users, adCore can synchronize your website's inventory with AdWords and AdCenter.
ClickEquations
Calling themselves the "first intelligent paid search solution" ClickEquations is designed for advertisers and agencies who manage paid search campaigns with monthly spend of at least $25,000. The tool was acquired by Acquisio and offers complete 3-engine management, flexible bid management features, a quick wins alert feature, and rich reporting options.
Clickable
Social and search advertising management platform Clickable (recently acquired by Syncapse) offers ActEngine bid management system, which delivers quantitative and qualitative keyword, ad group and campaign recommendations. Clickable also offers Conversion Tracking, Keyword Call Tracking, Bulk Keyword Editing and Custom Reporting features. Clickable offers a free PPC evaluation.
ClickSWEEPER
ClickSWEEPER is a customizable bid management solution that uses five automated bidding strategies – analytics-based bidding, rank-based keyword bidding, conversion-driven bidding, keyword ROI-driven bidding and keyword bidding. The tool offers a 14-day free trial.
Adobe Adlens (Formerly Efficient Frontier)
Adobe Adlens is a tool that Focuses on multi-channel and auction-based digital advertising optimization across search, display and social media, Efficient Frontier was acquired by Adobe early this year and has relaunched a new version under their banner. The platform's portfolio optimization is field-tested to scale and includes proprietary algorithms to distribute budgets and automate bidding against multiple conversion events.
keywordMax
Designed for advertisers, agencies, and local businesses, keywordMax's bid PPC product performs rule-based bid adjustments 24 times per day, and offers advanced real-time reporting. The platform is easily private labeled.
Optimine
"Improve your paid search returns by 25% or more – guaranteed." Optimine's tagline is impressive. The service analyzes the individual click, cost, conversion and value data for every keyword every day and trains up to 24 models with as many as 116 variables for every keyword every week.
PPC BidMax
Formerly known as Dynamic Bid Maximizer, PPC Bidmax is an automated bid management tool for AdWords and adCenter. Their prices are flat monthly rates, between $48 and $799.20 for PPC BidMax 5.1, and $239.20 for PPC Ad Max 1.0.
Search Force
Offering the ability to quickly adjust bidding rules anytime for your entire campaign or make multiple one-time adjustments to your entire portfolio, Search Force is a great platform for flexibility. The Auto Campaign builder allows users to take an offline file with all campaign variables and automatically generate a new campaign.
WordStream PPC Advisor
WordStream's Optimize Keyword Bids tool offers weekly and on-demand recommendations based on bidding best practices and the user's goals. PPC Advisor combines Keyword discovery, analysis, grouping and organization and prioritization.
WordWatch
An advanced management tool for Google AdWord campaigns only. Users choose either traffic or conversion goals and WordWatch identifies keywords with high performance potential and optimizes bid prices for increased results.
Know of a tool not on this list? Let me know in the comments and we'll add it!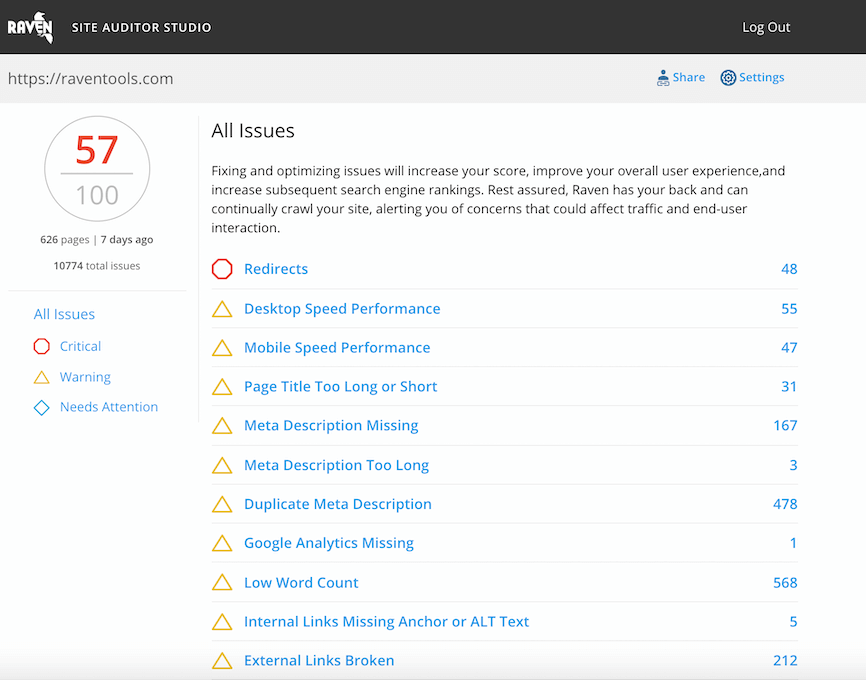 Analyze over 20 different technical SEO issues and create to-do lists for your team while sending error reports to your client.