---
---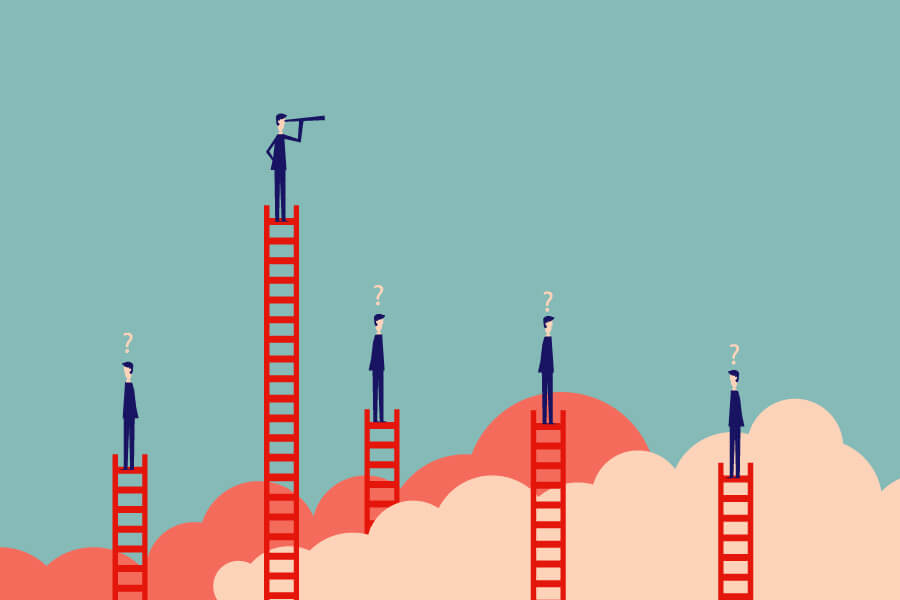 Working as an SEO consultant can be tough job, as it's especially reliant on the ever-changing internet landscape.
In this way, it bears a striking resemblance to careers based in the Computer Science realm of the 80s and 90s which required constant learning and relearning as the technology exploded into relevancy.

Search engine optimization is definitely not something that's conducive to a formal, classroom education. It requires a lot of catching up and constant vigilance about the latest trends and best practices.
As a business owner, if you're going to try and perform SEO digital marketing by yourself, it can be an enormous drain on your time and energy, sapping away resources that you could use to grow your business.
In most cases, you'd be better off hiring an SEO consultant to take care of your optimization needs, as they'll have all the necessary knowledge and experience to get the job done effectively.
It's definitely a worthy investment, as it will remove the heavy cognitive load of wrapping your mind around SEO and let you focus on creating good content.
Finding an SEO consultant may require a bit of insider knowledge of the field, just so that you're able to determine whether a prospective candidate the right fit for you and your business.
In this guide, we'll cover you everything you'll need to know when hiring your very own SEO consultant, and we'll go over some common mistakes first-timers make as well.
Freelancer Or Agency?
Right off the bat, you're going to encounter the dilemma of whether to hire an SEO agency or a freelancer. This is primarily a budgetary concern, as freelancers are almost always cheaper than agencies.
What's The Difference Between Freelancer SEO Consultants And Agencies?
An SEO consultant is an individual digital marketing expert who is self-employed, and won't be representing a company when they work for you.
You can hire one or more freelancers depending on how complex your SEO needs are, but in general, they'll have separate contracts. Freelancers are cheaper than dedicated agencies, and they will often be working for several clients at once.
An SEO marketing agency is a digital marketing company who will take care of your SEO needs for you. Each agency has several employees who are managed by the company.
You will generally not be interacting first-hand with the experts themselves, but rather with a manager of sorts such as an account director. Agencies can range from a tiny startup to a gigantic corporation, and the price often goes up along with that range.
Freelance SEO Consultant
Hiring a freelance SEO has the principal benefit of being by far the cheaper option between the two, at least initially. Freelancers are also easy to hire, as there are plenty of websites that make it easy for you to post jobs, allowing the freelancers to find you.

Choosing to hire freelancers also comes with the benefit of scalability—you only hire as few or as many freelancers as you need to fill in your SEO marketing roles.
Disadvantages Of Hiring A Freelance SEO Consultant
That said, the disadvantages of hiring a freelance SEO consultant might make you think twice.

First off, a skilled SEO freelance consultant might be pretty great at their job, but chances are they'll also be working on a few jobs at once in order to maximize their income.
If they're lagging behind for one of their clients, or are otherwise overloaded, the quality of their work and the amount of time they have to put intoyour project may be limited.
Aside from that, freelancers won't always be available for you. They might have emergencies or sudden vacations. Their availability as individuals may become an unpredictable concern.
On top of this, if you hire a team of several freelancers rather than an agency, you might be saving money, but you're setting yourself up for quite a bit of a hassle. You will need to discuss your vision separately with each of your freelancers once you get them on board, this can be tiring and can often lead to miscommunication and lack of team synergy.
And if one of your freelancers leaves, you'll have to explain the projectagain for the replacement. There won't be any creative director to take charge of the operation for you.
SEO Agency
Getting an agency is definitely a more expensive proposition. Paying for an agency means paying not just for the SEO experts themselves, but for the managers and directors who act as a liaison between you and the agency.
You also generally hire an agency for long-term work, which means it's a little more complicated to get started. However, the results are often substantially better and more reliable.

A dedicated SEO consulting agency will use the combined efforts of a whole team with many years of combined experience to tackle your SEO needs.
They'll certainly have other clients besides you, but at the same time, their managers will distribute the workload and ensure quality, so that you never have a problem with results.
These managers will also ensure that you won't have to think about micromanaging your SEO experts—if you want something done, it'll be done transparently, without you having to know or worry about the work behind the scenes.
If someone gets sick or takes a vacation, the work will simply be reassigned to someone else.
Ultimately, choosing to hire an agency is making the choice to form a long-term relationship with your digital marketing consultants. They'll be partners in your growth, with an intimate awareness of the vision you have for your business and content, and will be able to offer solutions that reflect your needs.
Setting Your Goals

Knowing how to choose a consultant begins with knowing yourself. This means that you need to first figure out what your goals are with SEO, which in turn means establishing your KPIs and determining how an SEO consultant can help you achieve them.
A good goal would be to increase traffic within your niche, which happens to be one of the main objectives of SEO. You can also set revenue as a goal, but it needs to come with specifics, such as whether you want to increase sales or promote awareness in other industries.
You can also opt for increased email inflow, account registrations, or free downloads, as goals of your SEO venture. What your goals are will determine whether you want a one-off audit of your site and content, or a full-blown long-term relationship with an SEO consultancy agency.
Search For Candidates In The Right Places
Searching for SEO companies is a tricky business. Remember that they're all trying to capture your attention, and naturally, if they're any good at their job, they'll rank highly within their niche.
What To Avoid When Hiring A Consultant
One good piece of advice is to avoid websites that look like their whole purpose is to set up rankings for SEO agencies. Oftentimes these rankings have little to do with reality, and are actually paid listings that rank companies depending on how much they were willing to pay for a slot.
You should also avoid basing your research just bylooking up keywords on Google, such as "SEO consultant <city/region>."
Every SEO company in your area is going to try and rank highly for exactly these terms, and it's not going to be a realistic indicator of success.
In fact, it's not hard to imagine that the most successful SEO consultants might not actually rank all that high, because they get too many referrals and direct contacts that they don't even need to optimize themselves anymore.
Knowing Where To Look
A good place to start is always within your own network. Ask around your LinkedIn and other business contacts, especially among those in industries that generally require a lot of SEO.
You can also directly ask your friends, family, and colleagues for recommendations, or even approach anyone in your network who has SEO consulting experience.
You should also look at companies outside your competitive sphere, with whom you have good relations. Ask them about the SEO consultants they've worked with, and try to get some useful referrals out of these conversations.
There are also top-tier SEO industry professionals out there who legitimately rank highly due to their authoritative content and the results that they've provided. Look for these and see if their top SEO consultant rankings are valuable.
Audit Your Candidates
By the time you've gathered, say, 3-5 SEO consultant candidates, it's time to start asking them the questions that matter.
First, determine the business criteria for choosing a candidate in the first place.
Is the SEO consultant easy to contact?
Do their business hours align with yours?
Can you book meetings with them regularly, either online or in person?
Whatever these are, they're important to have so that you can filter out inefficient choices right away.
Then, ask them important questions about their background that will determine their proficiency and performance.
1. What success has the consultant achieved for their past clients?

What determines a successful SEO digital marketing agency? Well, for one, their clients should be highly ranked! Ask prospective consultants about whether their past clients actually got positive results. It's also important to ask how their own efforts were involved in getting higher SERP rankings.
You should also ask for any case studies that they have. Case studies are very useful not only in determining how effective a consultant is, but also exactly how their practices work.
2. What SEO practices does the consultant utilize?
Before you ask this, you need to be aware of SEO practices as a whole. Check out some of the best practices and discouraged methods out there, and learn about how SEO keyword research works, what to do and what not to do.
Once you have an idea of all these, compare them to how your prospective consultant works, and look for red flags.
3. What are your KPIs? How will the consultant report them?
Remember the goals that you set for yourself before you started looking for candidates? It's time to put them to work. Ask your candidates what some good key performance indicators are, and whether they can demonstrate the achievement of these KPIs.
It's also important for a consultant to be skilled, and regular, at providing SEO progress reports. Ask for sample reports and see if they're easy for you to understand when they present them to you. This work will represent the kind of report you'll regularly get from them if you choose to hire them.
4. What experience does the consultant have in your niche?
It's not a deal breaker if an SEO digital marketing agency doesn't have any experience with lawn care in the state of Alaska, but it would be very helpful if they've at least had a little bit of experience working with landscaping companies.
Basically, the more experience an agency has with your niche or its surrounding industries, the more aligned (in theory) they will be with your needs.
Red Flags And Why You Should Avoid Cheap SEO
In many industries, "You get what you pay for" is canon law, and that definitely holds true here in SEO. In fact, not only will cheaping out on SEO get you low-quality work or null results, your rankings might actually be negatively impacted!
Here are some red flags associated with cheaper SEO agencies, that could hurt you if you decide to hire them.
They make use of private blog networks and link schemes
A private blog network is a network of sites that exist solely to sell space in their blog entries for links back to your site. Because Google uses backlinking as an indicator of authority, this is theoretically one way to boost your rankings.
However, using "SEO link schemes" such as these is a flagrant violation of Google's terms, and if you're ever discovered using a PBN, you may have your site rankings lowered or even delisted.
Cheaper SEO companies and consultants that play dirty will often use link schemes to artificially increase SEO rankings. One red flag is if they offer such schemes, or any scheme that claims to improve linkage without using organic links.
They use article spinning
Article spinning involves running your content through software that automatically changes random words and phrases to their synonyms. This is a quick and dirty way to reproduce your content over and over again without having a sea of identical articles. Cheaper SEO consultants sometimes do this to help promote backlinks without being spammy.
Unfortunately, spun content looks terrible.
We haven't quite gotten to the point where computers can reliably perform original, high-quality SEO copywriting for us, and the result of article spinning is barely readable, clunky, and may very hurt your authority and credibility.
Back in the early days of the Internet, SEO pretty much involved putting as many relevant keywords as you can, wherever you could put them. Random phrases in an article, throwing it all over your meta description, peppering your HTML source with invisible body text—it truly was a wild west.
Those days are over, and SEO keywords are far more nuanced than ever. However, many cheaper SEO professionals are still stuck in the past, or don't want to make the effort. If they perform keyword stuffing, your content and website will look terribly unnatural, and pretty much a chore to read.
Your readers will not like obviously keyword-stuffed content, so they may be turned off by this.
"You get what you pay for," applies to everything about SEO, and that includes the quality of your content. If you cheap out on your SEO consultant, they'll cheap out on their content creation too. Copywriting, plagiarism, editing, research—all of these are sacrificed when you don't pay for quality.
While 'poorly written content' can still rank temporarily, you'll end up with a high bounce rate and poor website conversions. There's no point in generating thousands of traffic a month if none of them stick around for longer than a few seconds.
It'd be bad enough if you had terrible writing associated with your brand. However, if there's also plagiarism, which can run the risk of having your rankings tank horribly, or even becoming completely delisted from the Google index.
Should You Go In-House When Hiring An SEO Consultant?
Hiring an SEO consultant or SEO agency aren't your only options. If you not only plan to have a long-term relationship with SEO, but also have it woven into the very fabric of how you do business, you could hire an SEO person or team as part of your company.
While expensive, the advantage of hiring an in-house consultant is they will be fully focused on working with you, rather than splitting their time across other clients. Communication and reports will be pretty much on-demand as well.
You have the option of getting an SEO person right away or going for an external consultant and then bringing them onboard when the needs are greater. Alternatively, you could hire an agency to do work for the time being, while having them train an in-house SEO person along the way.
Alternatives to Hiring Out
So far we've only looked at the options of hiring a freelancer vs. an agency, but this isn't the only option. You could always do SEO yourself. I know, I know. It sounds crazy if you don't know what you're doing.
A lot of the science behind search engine optimization can be learned through a solid weekend of studying and acquiring some powerful SEO tools that make optimizations possible.
Raven Tools offers a suite of 6 SEO tools that marketers use daily to rank their own sites or their client's sites.
Want to know a secret?
It isn't rocket science, but it does take a lot of work to do it well, but luckily enough, low hanging fruit (the stuff that doesn't require too much knowledge exists for you to grab to increase your rankings.
Use a Website Auditor to diagnose the issues with your site.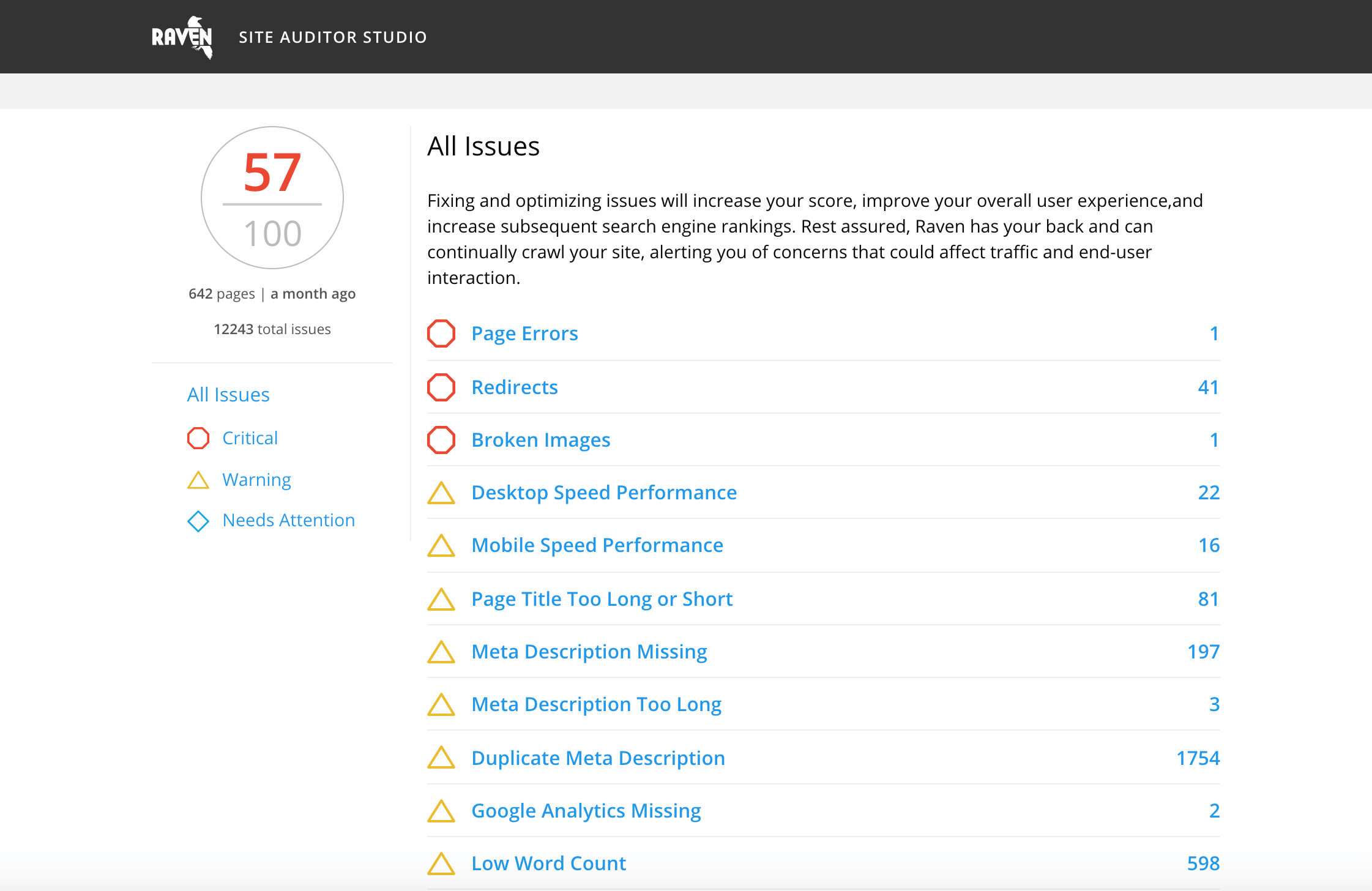 Curious about your progress as you write blogs? SEOs are all tracking keyword rankings and they do this through a rank tracker tool.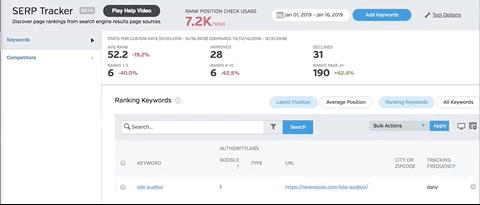 Simple enough right?
Getting links to your site is important, which is why Raven Tools offers a tool specifically for checking backlinks on your site and on competitor sites. Curious which links are good and which ones are bad? We evaluate and score each link as well.
Lastly, a good search engine optimizer should provide some solid SEO reporting. You know, the ones that look like this –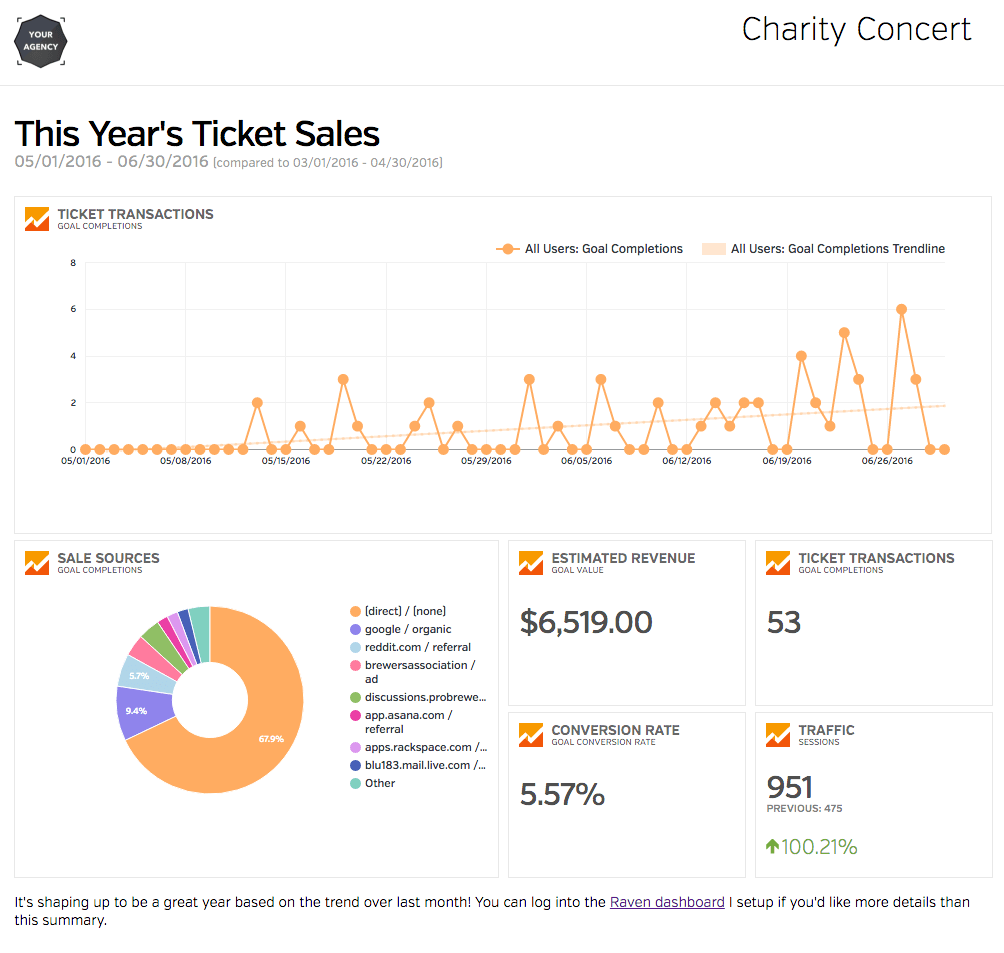 Keep in mind, a solid consultant will be able to accomplish a lot more than a beginner with a set of tools, but you can save yourself a lot of money on the low hanging fruit by getting some easy stuff out of the way for yourself.
It may sound like rocket science or magic, but its much simpler, I promise.
Conclusion
SEO is an essential tool in digital marketing, and if you're going to have even a minor chunk of your business coming from digital, you will definitely need quality SEO services to stay competitive.
A good SEO consultant will pave the way towards digital success, and will ensure a growing audience within your niche.
That's why it's important to get it right the first time.
You want the core of your brand and digital marketing efforts to have an established SEO process behind it.
And you want this process to be carried out by a consultant who has the time, experience, and involvement in your company to do it the right way for the best results.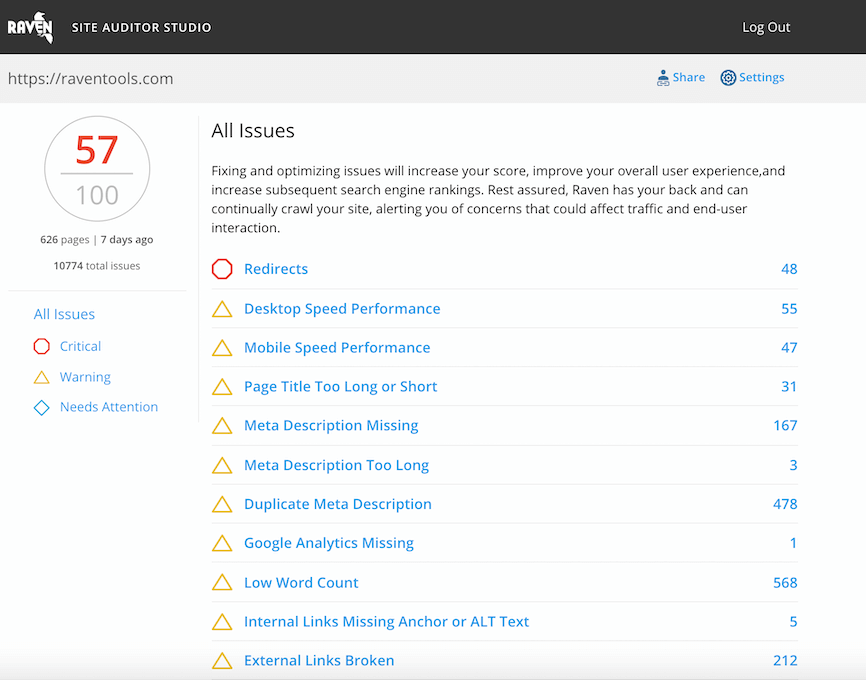 Analyze over 20 different technical SEO issues and create to-do lists for your team while sending error reports to your client.