---
---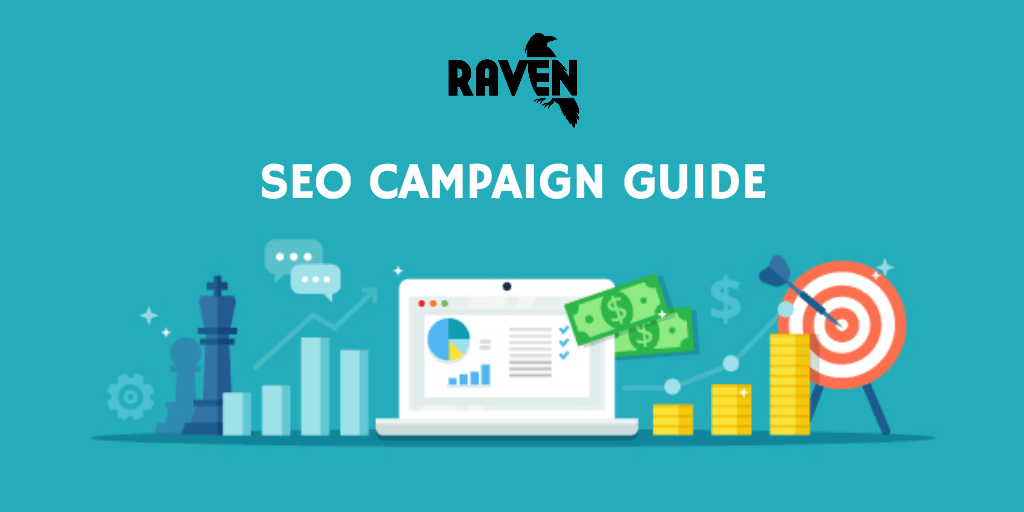 How do you choose your SEO Campaign strategy? Where do you begin? Which keywords should you choose? What happens if you choose the wrong keywords and your campaign gains 0 traction? Every search engine optimizer is flooded with a range of some doubt to a LOT of doubt as they begin each campaign. Its part of the job.
From personal experience, the most doubt occurs when you're fresh in SEO, when you're just beginning to work for an agency in-house, or when you've picked up a big client as a freelancer. Add to the list the fact that you don't quite feel completely comfortable with your SEO campaign tools and you're definitely beginning to toss and turn as keywords and SEO nightmares swirl (or maybe that's just me).
In this guide, I'll be addressing those with SEO nightmares, the slightly unsure optimizers, and those that just want to check their methodology versus Raven. I'll dig into how I use my knowledge of SEO mixed with the toolset of Raven (with some other tool suggestions sprinkled in). Feel free to jump to any particular section that interests you.
Table of Contents

Establish your Marketing Campaign Goals


Webinars, conversions, demos, phone calls, trials, payments, traffic, rankings — What exactly are you trying to accomplish and what do you need to track? Marketing campaigns aren't always cut and dry. Search engine optimization is definitely focused on generating organic traffic by ranking for search queries, but most businesses (especially local) don't care about traffic unless traffic is connected with conversions. Most businesses just want to know about their rank and their conversion count. Raven Tools data echoes this fact. For simplicity sake, we'll say that the goal is for keyword rankings and conversions (contact form filled). Strictly speaking, SEO isn't focused on optimizing the sales process, but digital marketing strategists will definitely be focused on this as they are more trained in the overall marketing campaign process.
One you identify conversion and rankings as your goal, you'll need to know your target audience. Raven Tools users range from SMBs to Agencies so our audience would be anywhere in-between.
Google Analytics will be the main tool you'll use for measuring your conversions and traffic. If you're new to Google Analytics or just rusty, I suggest you read up on a GA guide for beginners. Raven Tools offers an integration for this so you'll be able to view these important data points right next to the rest of your SEO tools.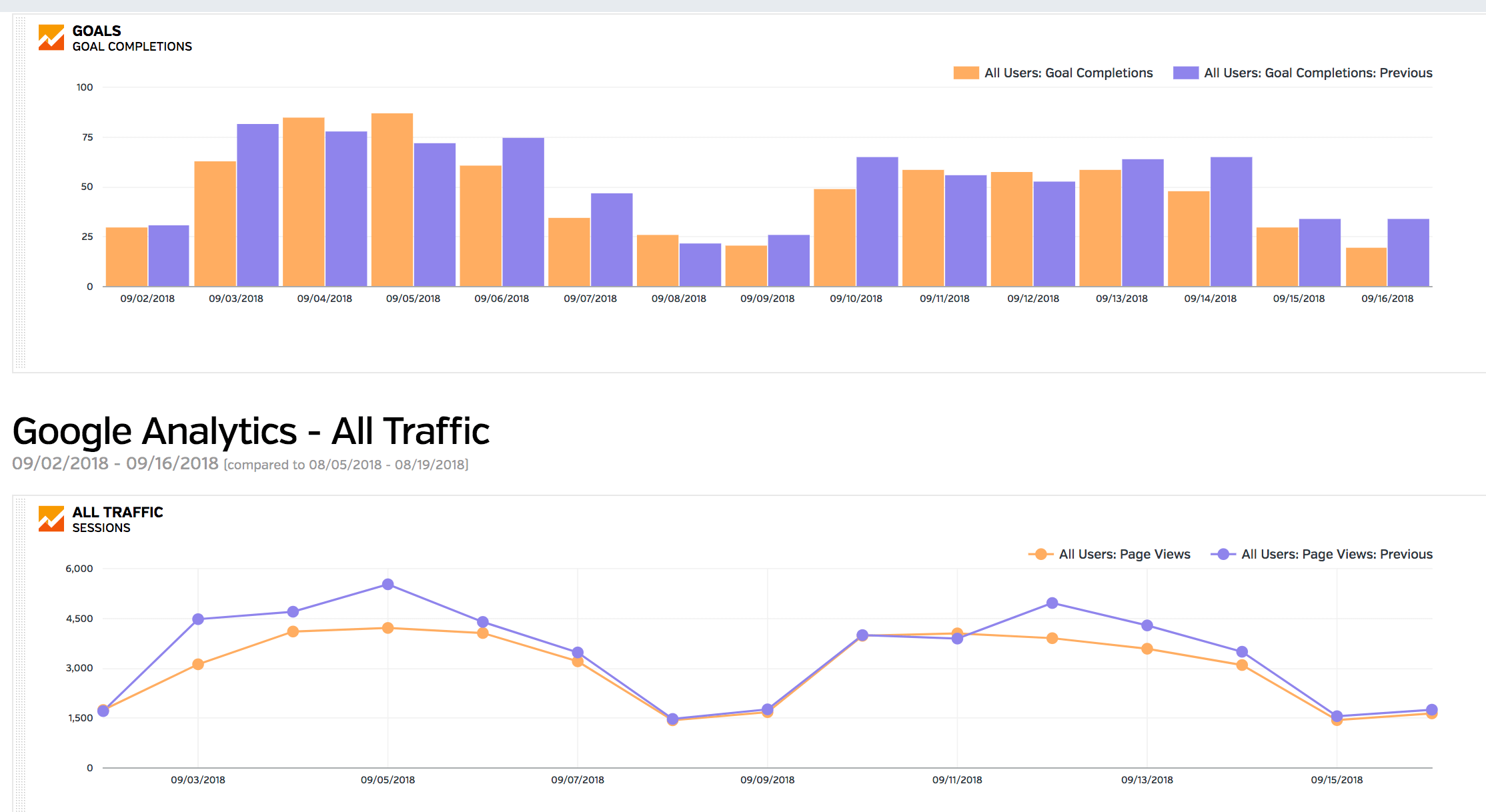 Once you've set up your Google Analytics tracking for your goals, you're good to move to the next step. Keep in mind that if you choose to integrate GA with Raven Tools then you'll just log in and open up your marketing dashboard to view your report, or you'll just get your report emailed to you at an interval that's convenient for you.
Keyword Research: Make Note of Your Core Keywords
What are the words and queries that are core to your business? An SEO company like Raven would include things like –> Site Audits, Keyword Research Tool, Rank Tracking, etc. Core keywords should describe exactly what you do. A non-Raven keyword that we rank for is "Ghostwriting" and "404 error". Ghostwriting is tangential to marketing, so we've written on the topic, but by no means should ghostwriting or 404 error be included in our list of core words.
If you need help identifying some of your core keywords, I use Raven's Google connection, so feel free to stay on the platform to research your keyword for variations. I've also found that 'ubersuggest' and 'answer the public' are handy tools that supplement your keyword ideation.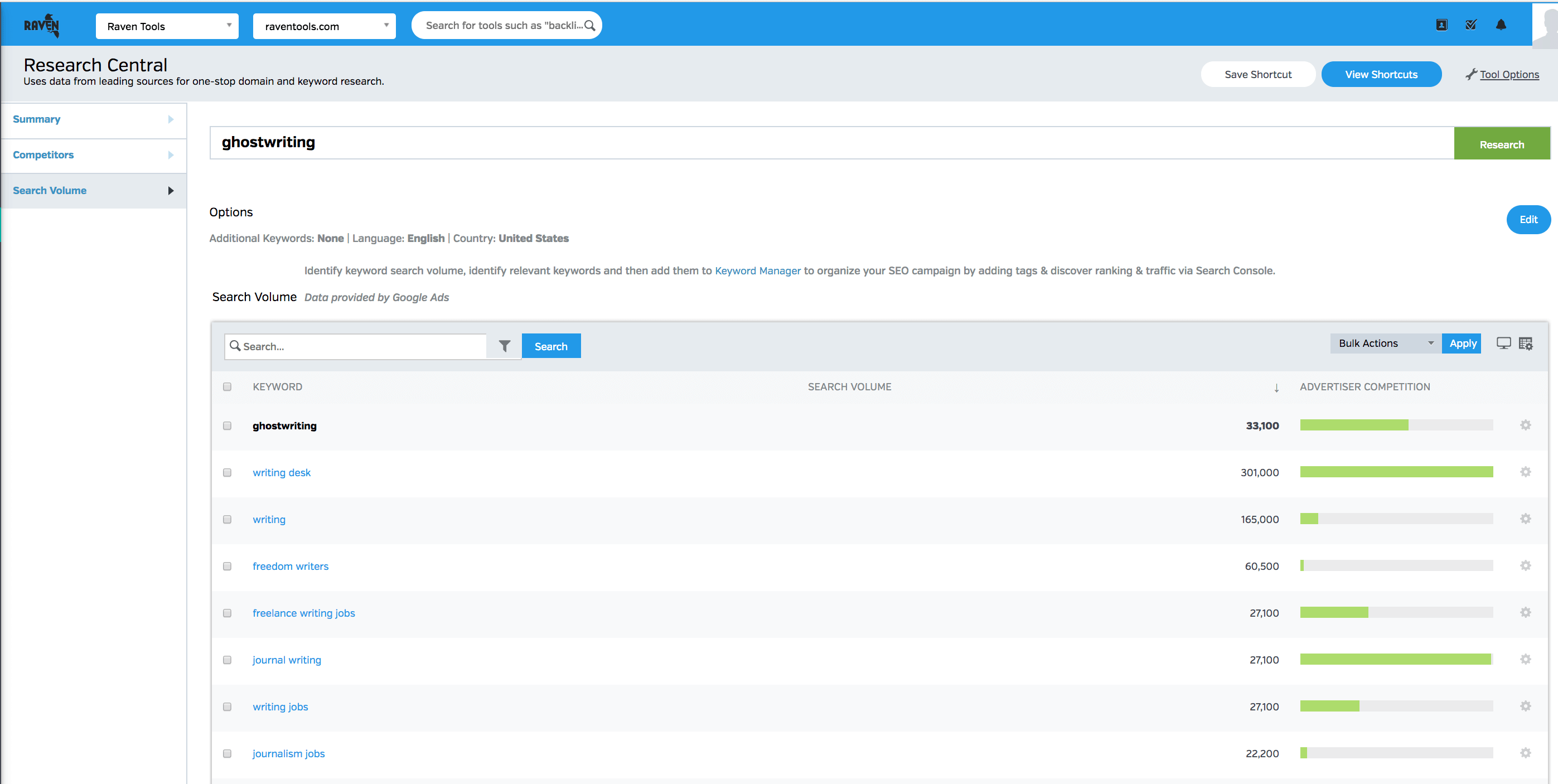 Just type in a keyword you've identified into the search volume section of Raven's  Keyword Research (or use keyword planner) and you'll get a list of some PPC information on top of the search volume. If you click that little gear to the right, you can even send over the researched keyword right on over to Raven's Rank Tracker.
If you want another method for conducting your keyword research then my personal favorite is to reverse engineer a known competitor's keyword strategy by identifying what they rank for. In Raven, we have a tool called "Domain Research Central" that allows you to peek under the hood of your competitor's website. This is an incredibly helpful way to get keyword insights.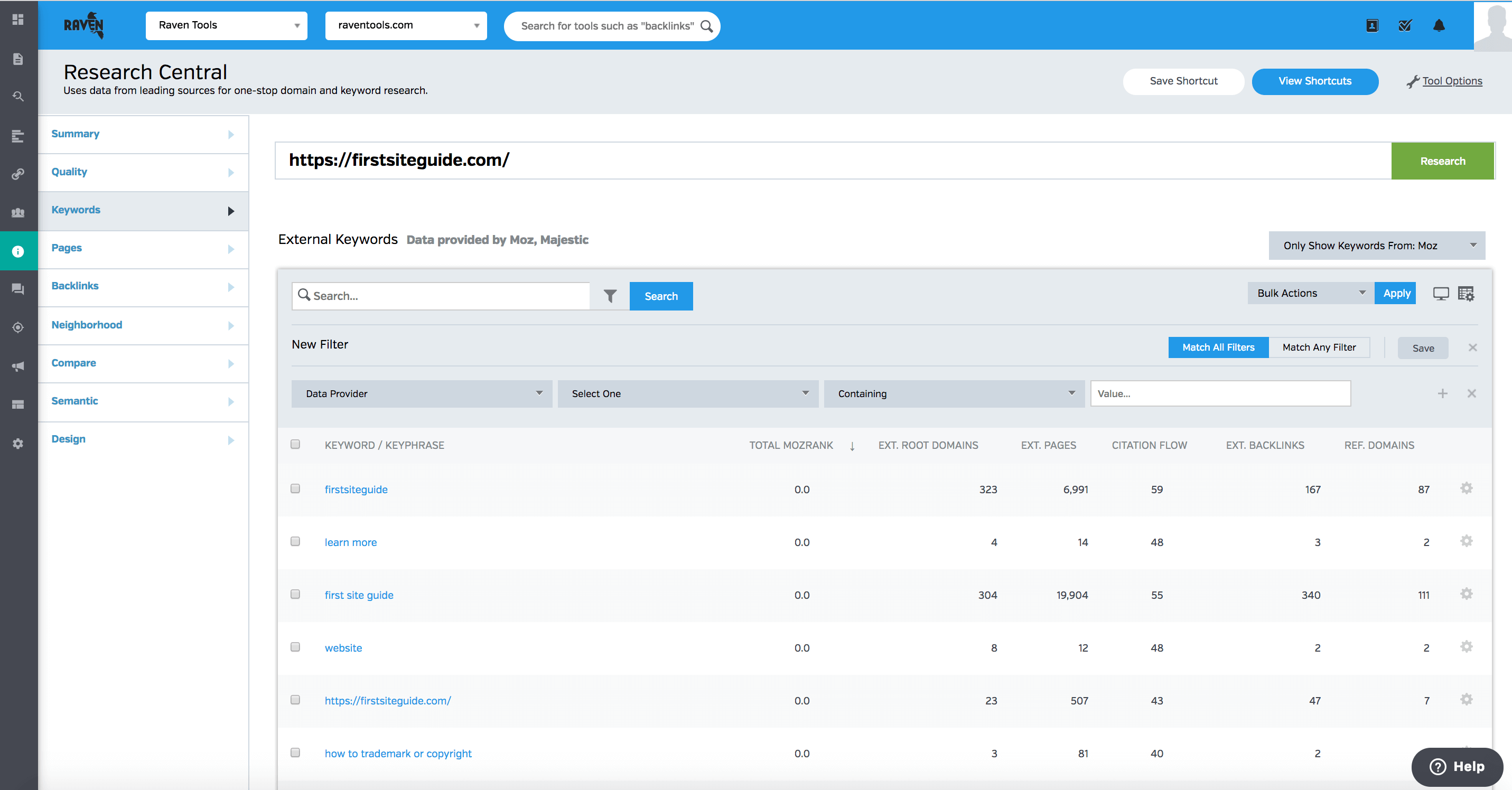 Just type in your target URL and watch keywords ideas generate for your keyword campaign. As an SEO consultant myself, I tend to use multiple SEO tools to get data from more than one source. The good thing about Raven is that it aggregates data from two well-trusted sources: Moz, and Majestic. If you're not deeply entrenched in SEO you may not get as excited as me by that, but nonetheless, take my word for it, more data sources =  better data.
When you've had your fill researching competitors and brainstorming keywords, its time to move into the next phase of your SEO strategy.
Reverse Engineer the Top 10 SERP Pages
If you're really trying to understand why a page is ranking for a keyword then you should hop on over to your competitor sites to start making note of what they've done with their onpage setup.  You can do this manually (I always do this as I'm reading their content) or you can use a tool like Page Optimizer Pro to get some deep insights into things like word count, keyword variation, header types, video usage, and image usage.
This particular method of optimization was recently argued against by Moz, but I humbly disagree. Once you see a page with Latin text outrank every other competitor in under 30 days by using this type of optimization, you're not quite convinced by articles claiming that this type of thinking is for "SEO Dinosaurs". No offense to Rand Fishkin.
If you're really trying to understand how to up your content game beyond competitor research, our guest post content writing guru recently wrote a wonderful post that details that provides a stellar guide to SEO content writing, that should elevate your content writing game.
If you're confident that you're content writing is good to go then use Site Finder to identify the top sites for a keyword. This screenshot is from the "view competitors" tab, but you can also choose to view based on some Moz or Majestic rankings for page authority (this doesn't necessarily mean the highest PA will be on the top of the SERP).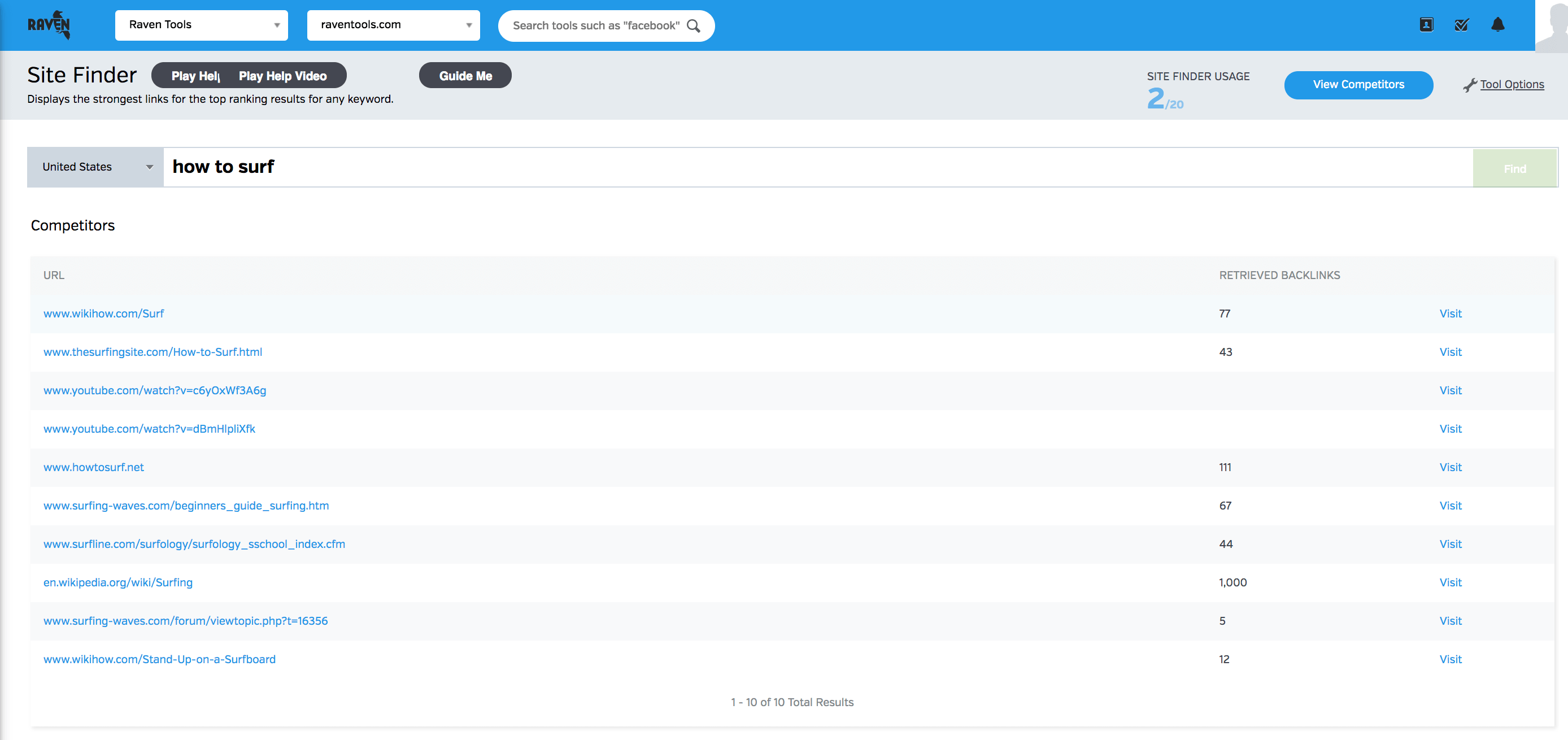 So here is what you're looking for:
Do competitor pages have images or videos? How many? If they don't have any then this shows that you have an opportunity to improve an article. Original images work best with proper alt. text, but any image will benefit as long as it works contextually.
How many header tags do competitors use?
How many words do your competitors have on their article?
What are the types of links they use? What are the anchors for those links?
Regarding video, way too many people are slow to adopt video in their SEO efforts. Impact has a great infographic that should convince you of the importance of investing in video (something I myself need to start implementing more).
If at all possible, include video. It adds value to your post and it can be used as a separate organic ranking effort in video searches results and video snippets.
When you've evaluated a competitors page, you should move to the next step after you've written down the average number of H2s-H6s and after you get an understanding of what the page is ranking for on the SERP. I've recentthat scrapes keyword data so I can get a list of semantically relevant terms along with a content score of competing pages. Once you've listed the competitors and have all relevant information from their pages, its time to move on and look at yourself.
Audit your Website
All of this research is great, but if you try to conduct your SEO campaign without diagnosing the health of your site, you'll wind up sabotaging all of your hard work. If you want to rank in Google, start by fixing your own site. Some people might do this step first, but the important thing is to conduct your audit before you start competing for keywords. Raven's Site Auditor tool was my favorite audit tool even before I worked for them, so I can't recommend it enough. Raven crawls your site quickly, generates an overall score, and provides you with a checklist that begins with most urgent to least urgent. The real importance in an SEO audit is in its ability to identify the negative signals that work against your positive google ranking signals. Raven has also conducted a massive on-page SEO study that identified the typical things to look for when analyzing common opportunities for improvement on a website.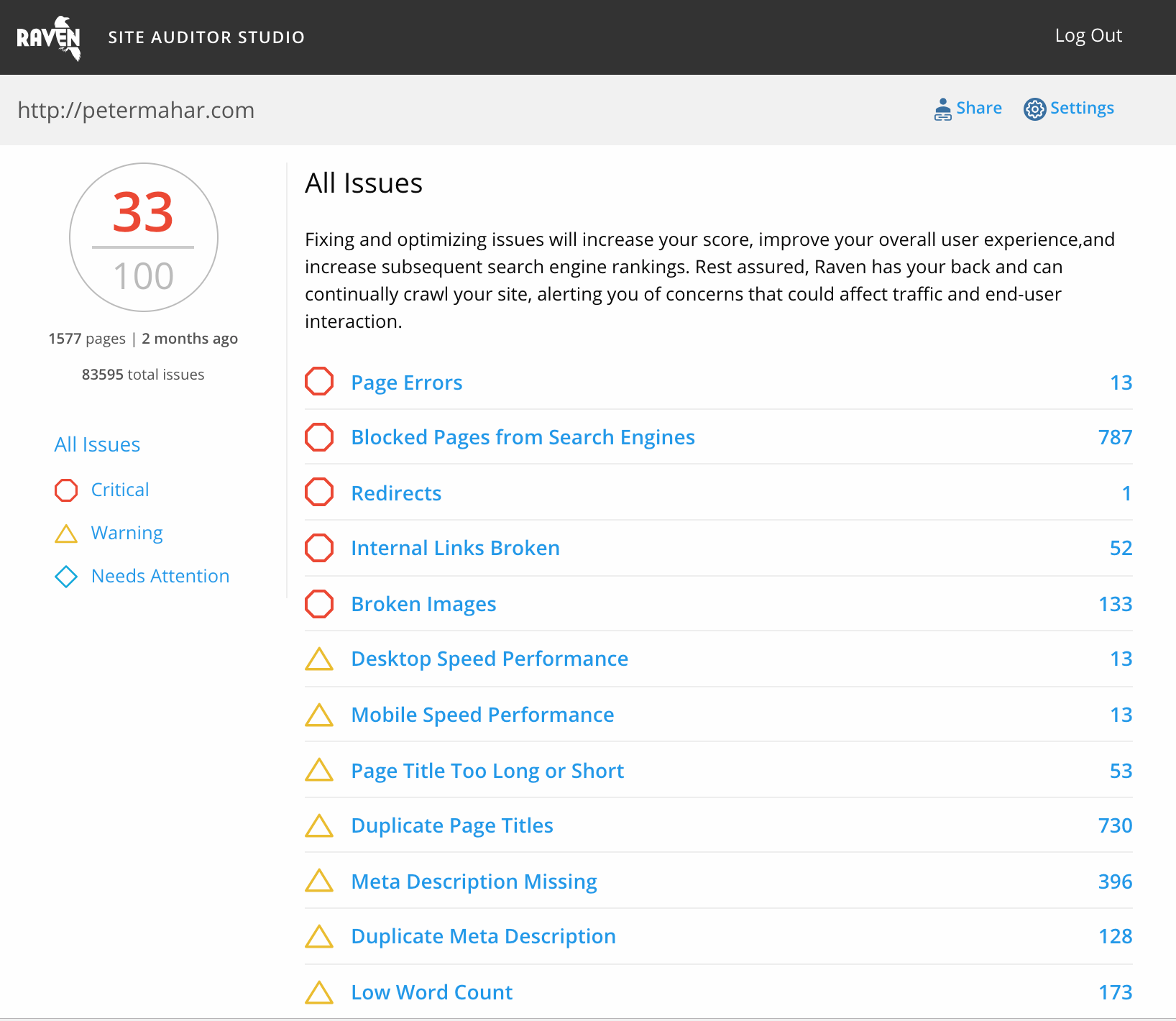 If at all possible, SEOs should always make every effort to remove any potential negative signal from their site that may harm their ability to rank a page. Page speed is a prime example of a signal that can terrorize your page's rank if you bloat it too much with images and videos. We've covered this topic extensively in our post on preparing for link building, and I highly recommend you read that for additional information on how website audits affect a rank or link building campaign.
Link Research: It's Time to Get Backlinks
After you've fixed your site and after you've written your content through some good ole fashion research and some reverse engineered SERP magic, its time to move to the final stage of an SEO campaign, and its by far the least developed skill for most people in SEO; link building. SEO used to be about quantity over quality, but now you can rank a page with a few quality links and beat competing pages with 10x the amount of backlinks as long as your quality is higher. In 2018 it's even more important to understand how to conduct quality link research. If you're feeling a little confused on this step, we've written a very simple 5 step outreach guide for link building that may give you some food for thought. Otherwise, we'll cover some tactics within this post as well.
Where to begin? I definitely recommend reviewing the two internal links I've provided along with this video from Siege Media for a quick walkthrough that details some simple backlink strategies that will be useful to implement as you use Raven Tools to conduct your link research and link monitoring.
Step 1: Open Raven's Site Finder and enter your keyword

A detailed list of sites with your target keyword will generate. Click "Competitors" and the list filters to the top 10 on the SERP.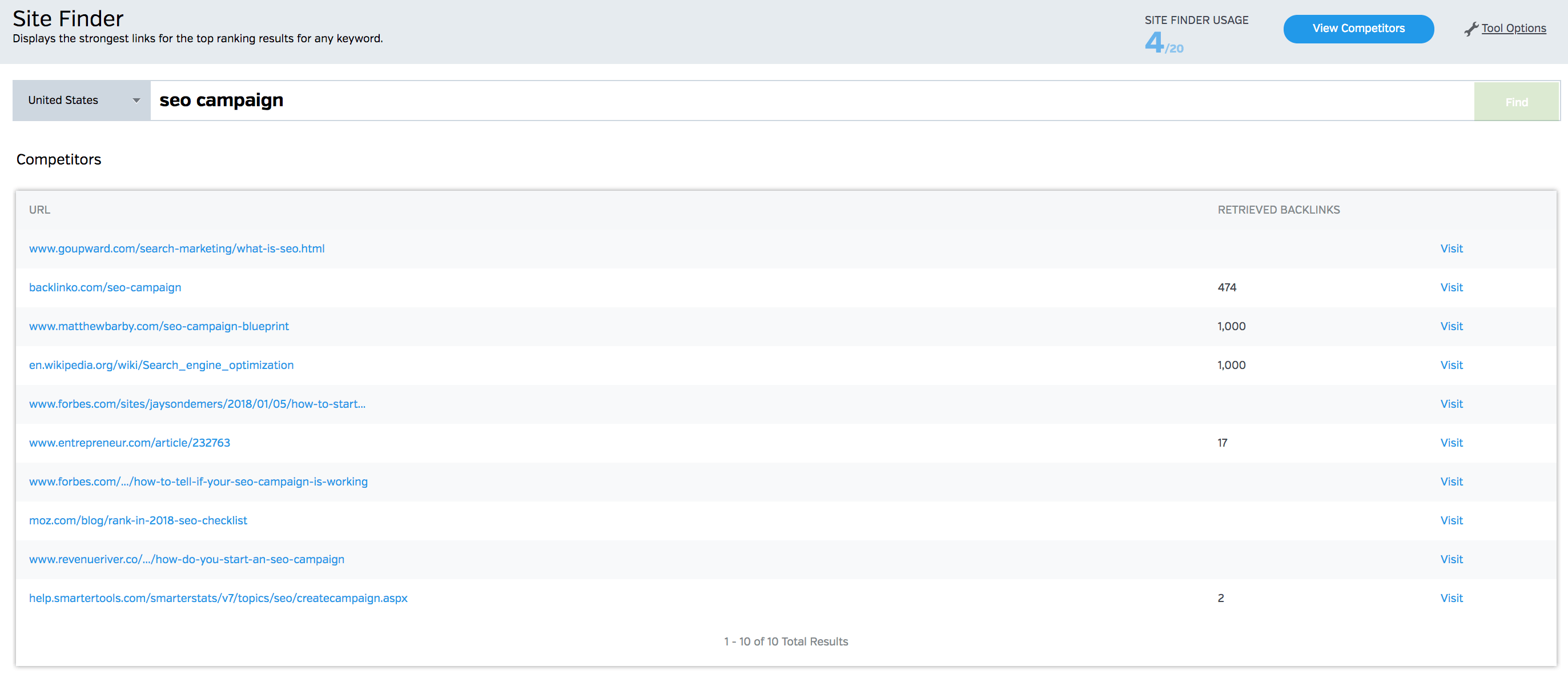 From this page you're going to be able to see the sites that have the most backlinks and you'll be able to create your link outreach plan from this data.  Click the page you want to research and you'll then get some important information on the anchor text used in the external link and you'll see the website that links to the competitor. In our case, we'll look at the backlinko page.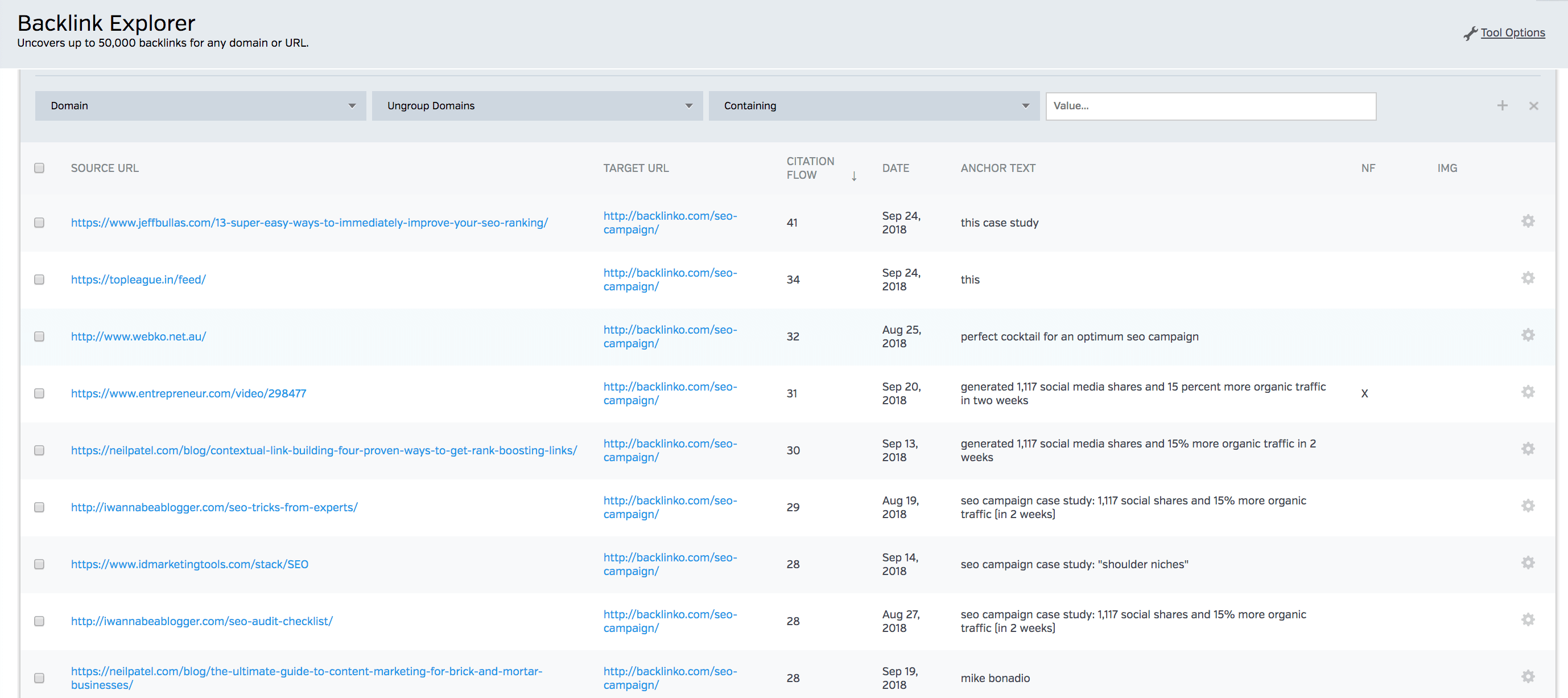 If you think that your resource helps more then the one sites are linking to, then try and steal the link or get them to add you in addition to the current link by providing high-quality assets or by providing a better version of the current content. If someone is linking to a guide and your guide is more in-depth, then reach out to various sites and get creative. A host of link building strategy posts exist so give any of those methods a try. Just remember, if you're pitching to SEOs then your pitch needs to be perfect. SEOs pitch things all the time and have a higher standard when receiving a pitch. If you come in weak with your value proposition then you'll get a rejection or the silent treatment.
One of my personal favorites (shhh, don't tell Google) is to do a link swap. A site is much more likely to use your link if you offer to link to them.
SEO is all about relationships. SEO is the grownup version of a playground. Play nice with the other kids and you'll have fun. Refuse to build relationships and you'll be watching from the sidelines as the other kids have fun.
For some reason, a massive number of people seem to have some sort of anxiety about talking to other humans. SEO isn't rocket science. If you want backlinks, then you need to start talking to people and finding creative ways to provide them with something valuable. We're all very busy and unless you run into an SEO unicorn moment, you're going to need to do something that makes a webmaster take notice of you.
Is your guide equal with all the other guides? Create an infographic? Does a target site have something that you could improve? Offer to help. Unless your company is a massively recognizable brand, you'll need to grind for the links. If you're having a hard time identifying what exactly you should be looking for, you can get some good link building insights from Siege Media.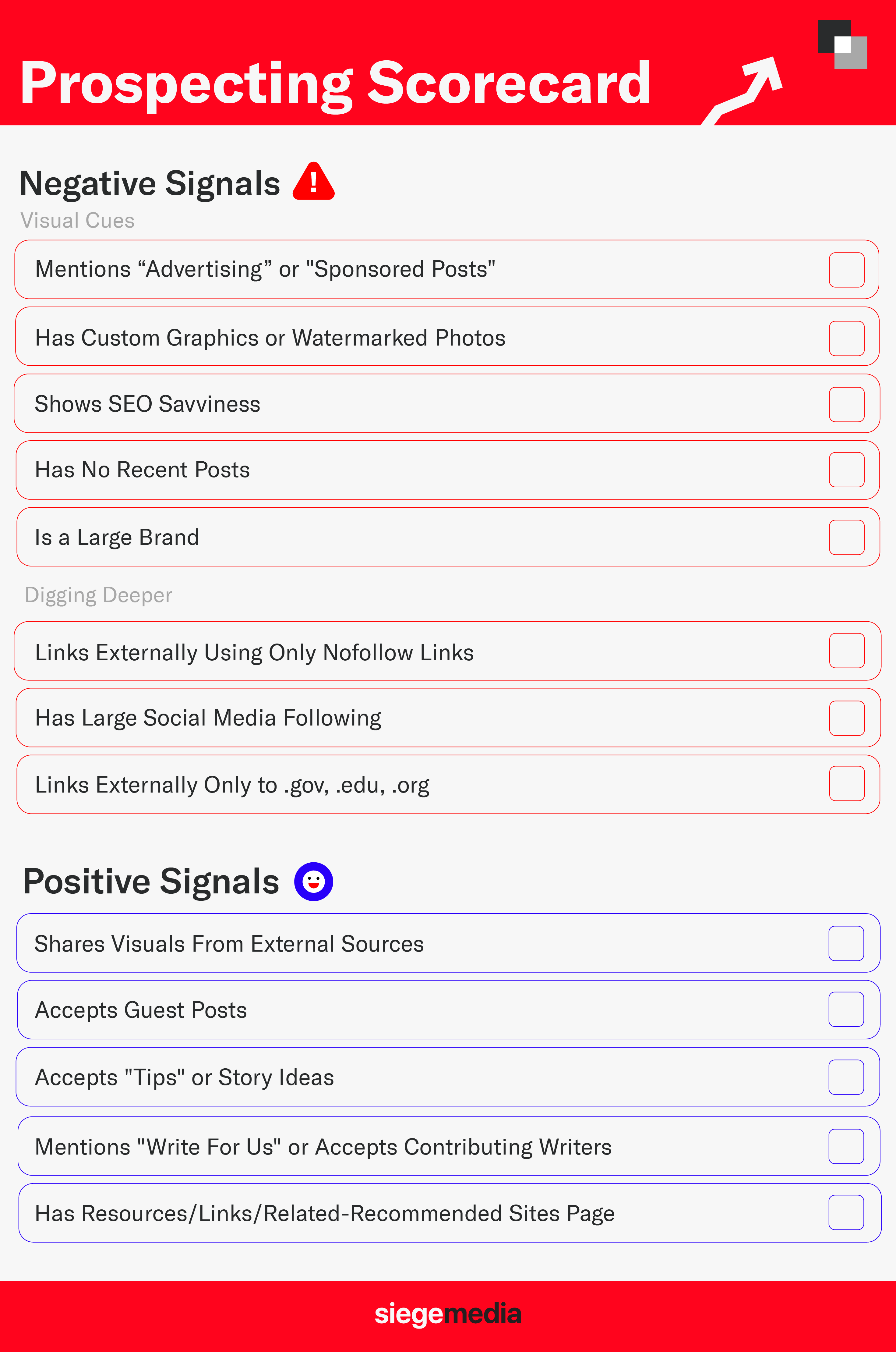 I digress with link building information. This brings us to the last step of an SEO campaign.
Track Progress with Rank Tracking 
Once you've set everything up, its time to monitor the progress and evaluate whether you should be changing your strategy by watching where you're ranking for keywords. Raven's Rank Tracker tool uses Authority Labs data and allows you to bulk upload or to just type in one at a time.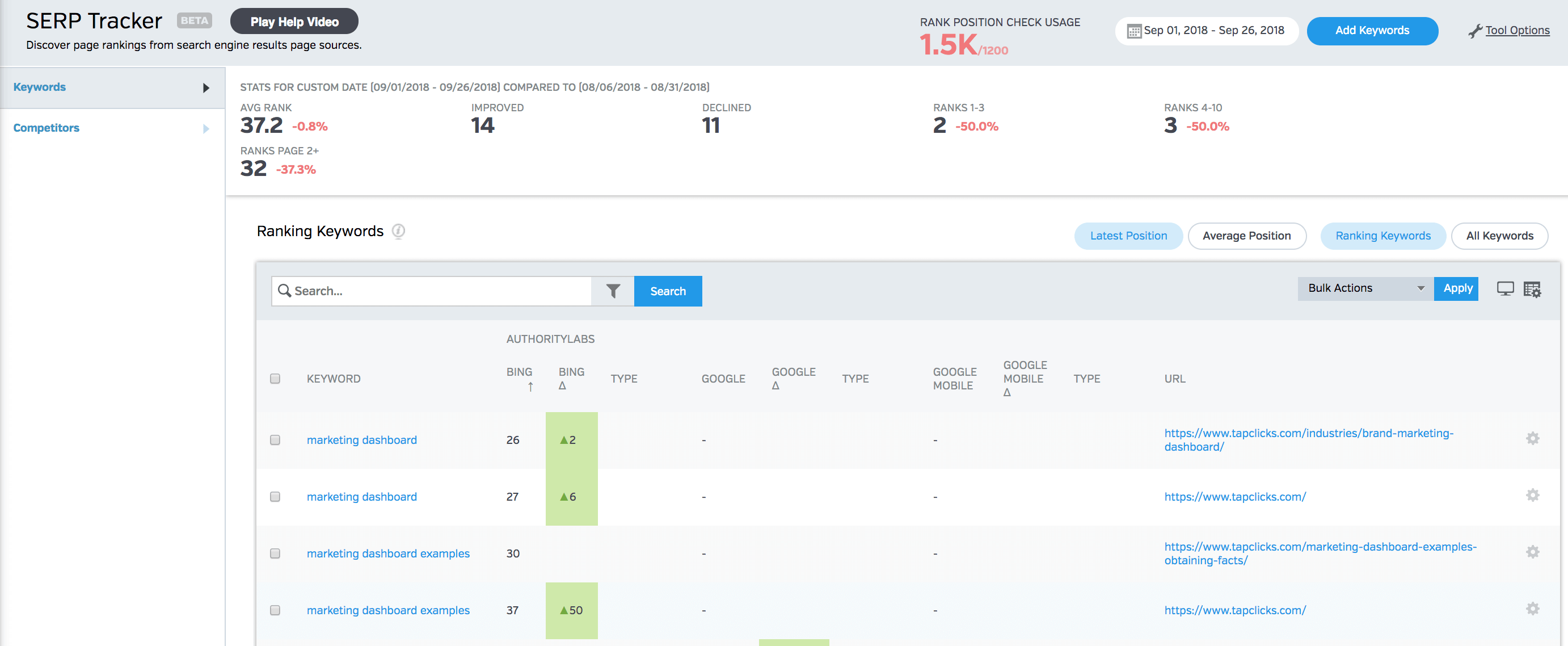 In the previous step, you've already identified your core keywords you want to target, so upload that list into SERP tracker and monitor your position side by side your competitors. I won't go into the details of rank tracking in this post, but feel free to read up on our Rank Tracking in 2018 post that gives you some ideas for how to efficiently conduct your keyword monitoring by identifying the right words to monitor in your SEO campaign. Keyword tracking is an important final step that allows you to continually read the pulse of your page. If you see something dip, you know to fix it. If something goes up, then pat yourself on the back. As an SEO freelancer, I've noticed that clients love to see that glorious green bar, so give them some eye candy and send a visual report praising your work.
That's it for our Raven Guide. If you want a full guide on Raven Tools, I've written an Ultimate Guide that may better illustrate all of Raven's features.
Good Luck!
May the keywords be ever in your favor.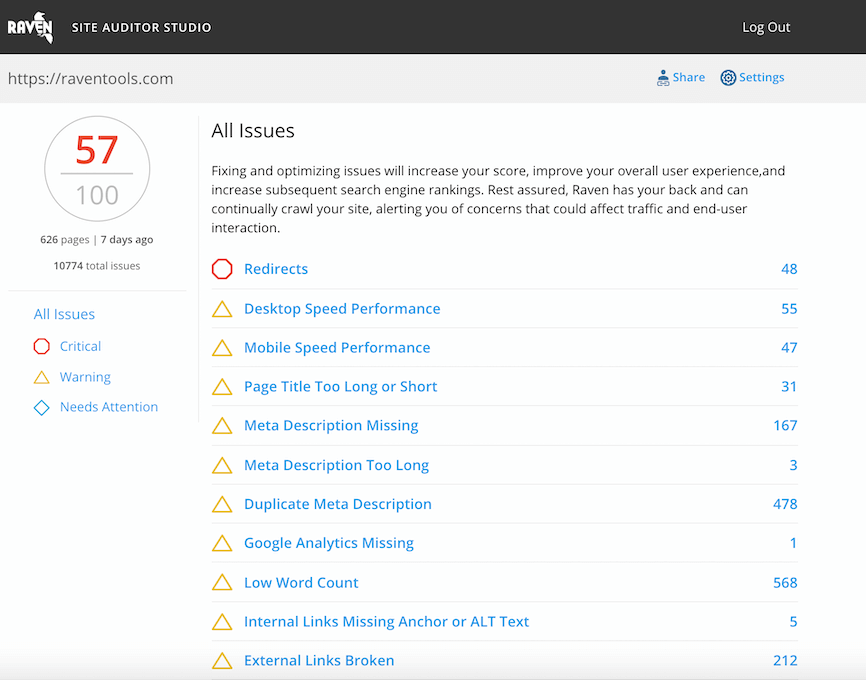 Analyze over 20 different technical SEO issues and create to-do lists for your team while sending error reports to your client.