Raven-Symone vs. Raven Internet Marketing Tools
Written by Nate Griffin and published
---
---
Others are in doubt, but I am in the camp that Google's Instant Search may actually promote long tail keyword search queries because the user is prompted to refine their search. I take issue with industry experts who say people ultimately are too stupid to be more specific when searching on Google. Well, maybe their clients are, but certainly not Raven clients.
If this actually were the case, Raven Internet Marketing Tools would be in direct competition with the last Cosby Kid.
Now better-known as Raven-Symone, the Disney tween sensation.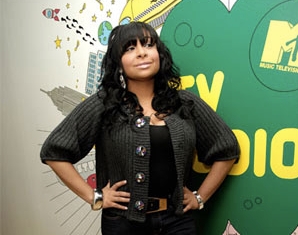 We would be losing all of our traffic because at any mention of Raven on Google Instant, the SERPs immediately show results for her.
I refuse to believe that people intending to search for us cannot tell the difference between Raven-Symone and Raven Internet Marketing Tools. If so, users would either stop typing and give up looking for us, or think we're the same entity and sign up for a Raven-Symone Agency Account.
But, wait. For the people who are able to move beyond a one-word search query, as soon as they begin typing the second word, we are lost again. This time, to birds:
It isn't until a person types all the way to the "r" in "internet" that the Raven Tools website is automatically populated by Google Instant. Who knows how much money we may have lost because it takes 10 letters (11 characters) for us to finally show up on Google Instant? Who has time for all that typing in the post-long-tail era?
We do have a slight advantage if people go straight to typing "Raven Tools." Google Instant populates results for our website as soon as the "t" is entered.
This Does Not Bode Well
But there is still something unsetting about that result directly under "Raven Tools" in Google Suggest.
For those who don't know, I'm a professional wrestling fan, and this suggestion is referring to the professional wrestler Raven, who currently wrestles for the promotion Total Nonstop Action, or TNA.  
Now if I know professional wrestlers (since not only do I have a wrestling background, but I have also met a couple professional wrestlers, which makes me an expert) this guy is PISSED. This is a man who has had matches where the ring ropes were removed and replaced with barbed wire.
To make matters worse, the TNA offices are located in Cummins Station in Nashville, Tenn., only a few blocks away from the Raven Internet Marketing Tools office.
Two Ravens in the same town? This means only one thing:
SUNDAY, SUNDAY, SUNDAY AT THE NASHVILLE FAIRGROUNDS
IT'S THE INTERNET MATCH OF THE CENTURY
BE THERE FOR A SPECIAL ATTRACTION FOUR CORNERS MATCH FOR THE WORLD'S HEAVYWEIGHT CHAMPIONSHIP!
IT'S THE DISNEY DESTRUCTOR
versus
THE HITCHCOCK FLOCK
versus
ummm. . . RAVEN
versus
THE TINIEST RAVEN*
This fight is for the birds!
Doors at 6 p.m. 7:30 bell time.**
*Editor's Note 1: Nate Griffin is a little guy, little enough to be dubbed the Tiniest Raven at Raven Tools during the 2010 SES San Francisco conference. He asked his mother to scan and email a photo of him as an 8-year-old wrestler for this post. This makes him either a) awesome b) also the Largest Raven Tool, or c) both.

**Editor's Note 2: Not seriously.