---
---
Have you ever made something that worked well, but afterwards you knew it could be made even better? That was the situation we were in with the Site Auditor. Aside from our Report Builder, the Site Auditor has been the most popular tool in our Marketing Platform, and we wanted to make it better – much better.
We had two three choices:
Improve the Site Auditor in the Platform, but with many limitations to what we could do with the UI and UX
Create an entirely new standalone Site Auditor without any limitations, including the ability to quickly iterate, simplify and speed up the UI, add new features and make it accessible on all devices.
Realize that we wanted to share those same improved features with our existing Raven Tools users, leveraging a new, faster UI and improved crawler.
While we initially decided to make a "stand alone" Site Auditor without any technical debt or limitations we have now include that improved auditor experience into our existing marketing platform.
Re-Introducing The standalone Site Auditor Studio!
We spent 10 months completely rewriting the Site Auditor from the ground up and created a completely new crawling engine, API and frontend for it.
The frontend of the new standalone Site Auditor uses Facebook's React library and we use a new table library that makes data filtering virtually instantaneous. The frontend also uses ZERB along with a few other smaller libraries, to make the app fully responsive on any modern device and browser.
I'm A Raven Tools User: How Do I Get Site Auditor Studio?
We're rolling this feature out for free to all of our current users, you just have to "flip the switch."
The best part about including this new tool is that if you use & love our current Site Auditor tool in the platform can continue to use it without any changes.
If you do want to give the Studio a chance, then once you navigate to the Site Auditor tool, you'll be given the option to switch either a single domain or your entire account to the new crawling engine used by Site Auditor Studio. If you do switch, you won't have access to previous crawls unless you switch back to the Classic version.
Note: Because this is a change that can affect the account data, if you're a sub-user on a Raven Tools account, you will need the admin of the account to make the switch before it is available to you or give your user "admin" permission.
Why Should I Use Site Auditor Studio: Improved Site Auditing Features
To improve our user's capability to audit client sites and report on those improvements we integrated a number of new features and capabilities beyond just the upgrade to the crawl engine & front end of the tool.
Live Error reporting as we crawl
Sharable crawl reports that list errors instead of # of errors

You can share sub-sections of errors to send to developers or teams to fix specific issues

Mark your errors as fixed instead of waiting for a new crawl

This lets you use the auditor as a "To Do List"

Provides a Score out of 100 to help gauge how optimized your sites are currently
Live Error Reporting – Get Insights While We Crawl
It's hard when you're on the phone with a potential client and they want to know some of the technical SEO issues their site has that you plan to fix. Our Site Auditor Studio gives a live error report as it crawls, allowing you to explore discovered issues while it completes the jobs, enabling you to immediately dive into issues with your client's site.
We realized that our previous Site Auditor report looked great visually, reporting the overall number of errors. However, you couldn't actually share a report that would actually list off the URLs affected or give specific examples that needed to be fixed.
You can share the entire result or just dig in and share a specific list of issues, like missing meta descriptions etc.
Get to work on your Audit: Fix Errors, Hide Errors & Download CSVs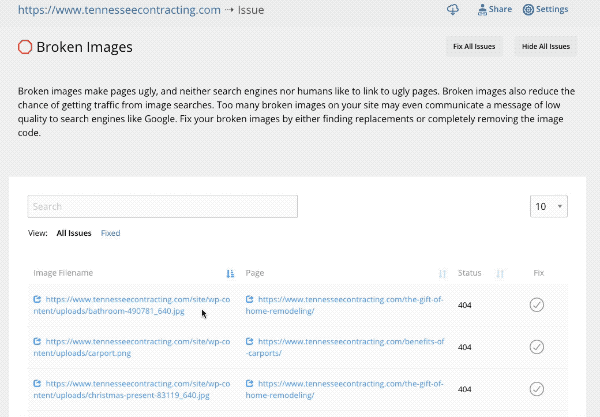 Sometimes you just need a to-do list. Fortunately, you can now leverage our site auditor results as a live checklist that you can mark errors as fixed.
Don't think that "Internal Links Missing Anchor or ALT Text" is actually a priority for your client? You can click on the "Hide All Issues" to remove that category of issues from the report and then continue to improve issues that you think "move the needle".
 A General Audit Score & Issue Count
Like the Site Auditor in the platform we provide a sum of the number of issues, we also have a simplified 0-100 score to make the conversation fairly simple about how much work needs to be done.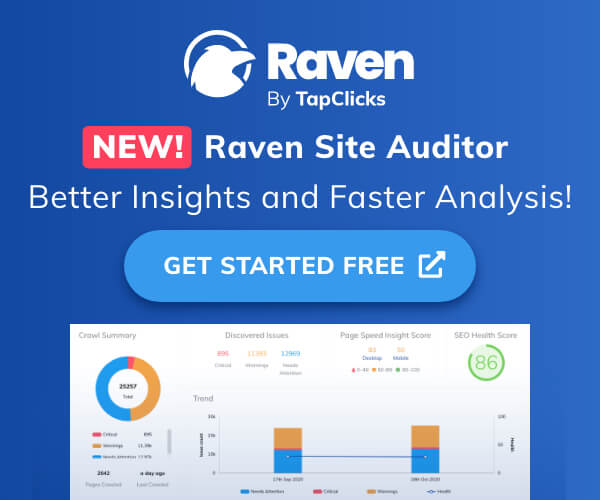 Site Audit Issues Are Listed by Severity
Unlike the Platform's version of Site Auditor, which lists issues based on topic area, the new standalone version lists issues based on severity. That way you can address the most important issues first.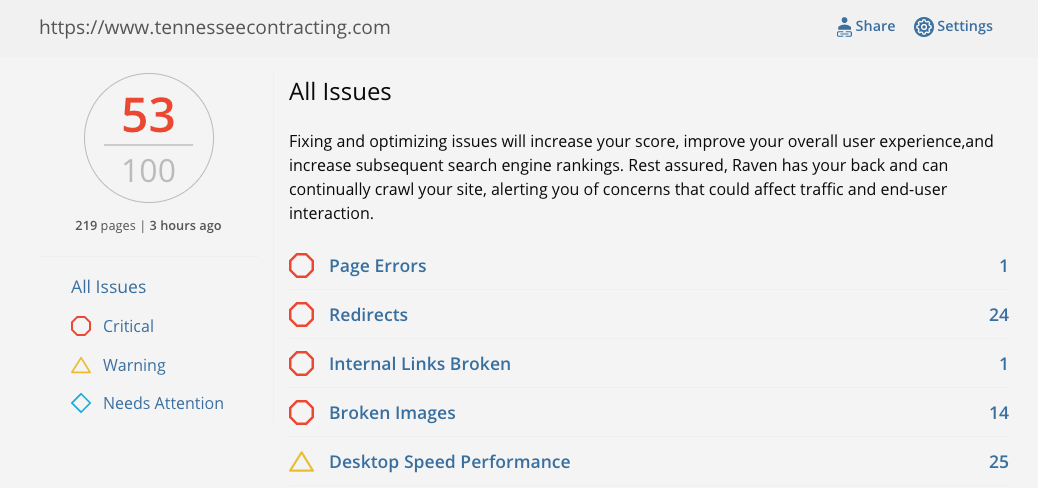 Manual and Scheduled Site Crawls
You can schedule crawls to be weekly, month or manually request for us to Re-analyze your site right now.
Exclude Specific Crawl Paths & Control Crawl Depth
You can exclude Paths when we crawl your site so if you want to exclude a folder or page from the crawl, you can do that too.
If you'd like to limit the scope of how many pages our crawler will access on the site, you can change that as well. The current limit/maximum per domain crawl is set to 10,000 urls. Depending on your Raven Tools plan, we recently adjusted the amount of crawls allocated to each level to make sure that you can hit that 10k limit for each of your allocated domains on your plan.
Planned Features & Upgrades for Site Auditor Studio
We have a long list of amazing new checks we'll be introducing over the next year. We will also be intently reading your feedback and making improvements based on your suggestions. Here's a short list of the items we have on our product management roadmap:
Export Site Audit results as a presentation
Enable completely custom audit items so you can add your own verbiage/advice into the report & build your entire technical SEO audit in the Studio
Allow custom web-hooks and criteria to determine your own custom error checks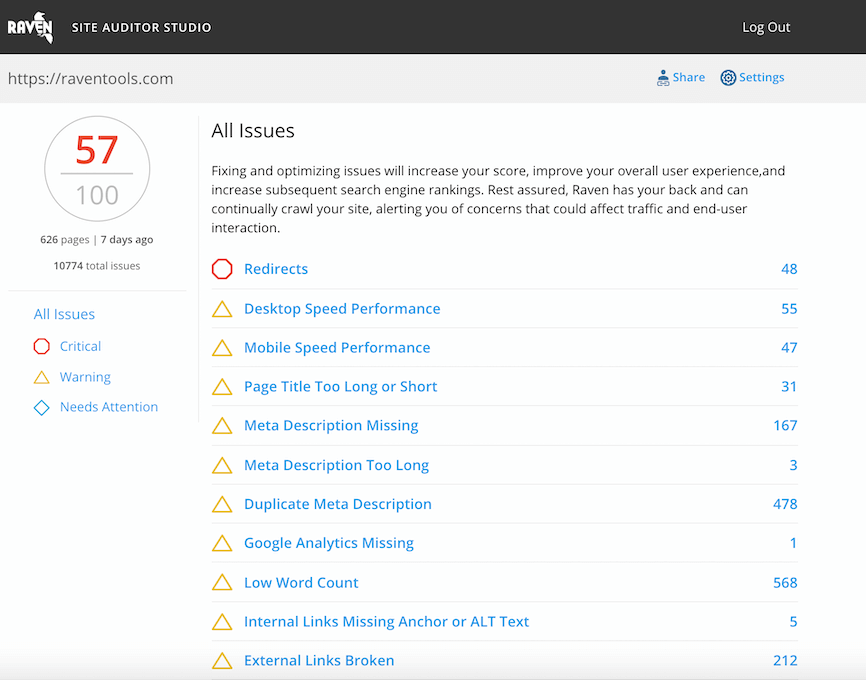 Analyze over 20 different technical SEO issues and create to-do lists for your team while sending error reports to your client.