New Site Auditor for SEO Analysis
Written by Jon Henshaw and published
---
---
Have you ever made something that worked well, but afterwards you knew it could be made even better? That was the situation we were in with the Site Auditor. Aside from our Report Builder, the Site Auditor has been the most popular tool in our Marketing Platform, and we wanted to make it better – much better.
We had two choices:
Improve the Site Auditor in the Platform, but with many limitations to what we could do with the UI and UX
Create an entirely new standalone Site Auditor without any limitations, including the ability to quickly iterate, simplify and speed up the UI, add new features and make it accessible on all devices.
We decided to go with the latter and make a new Site Auditor without any technical debt or limitations, which was kind of awesome 🙂
The new standalone Site Auditor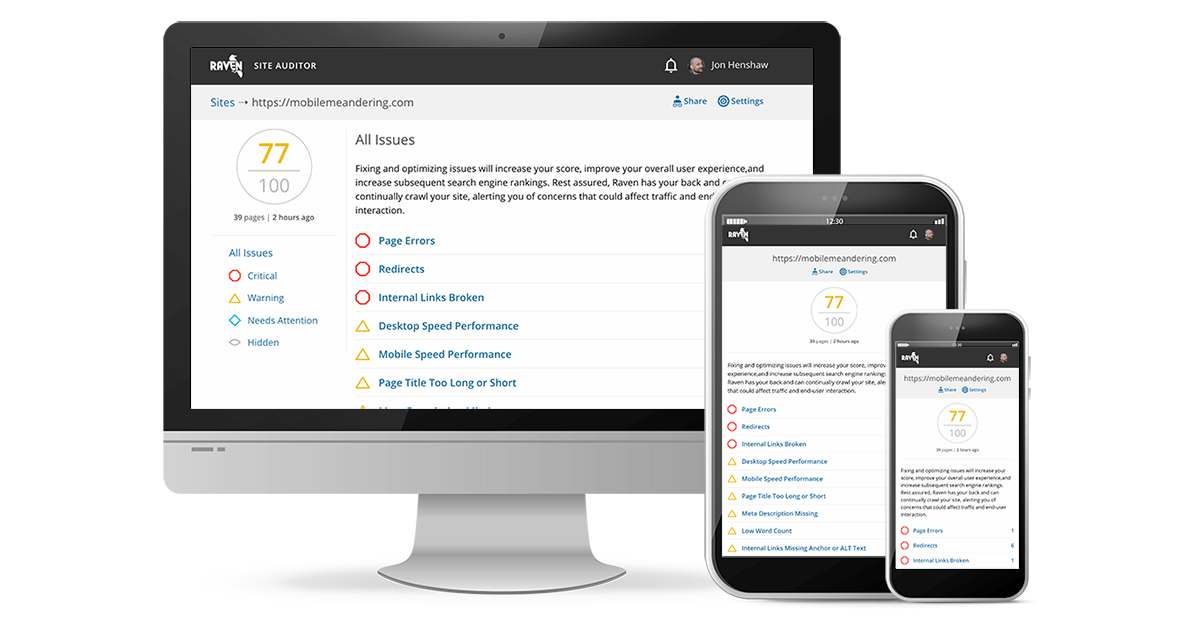 We spent the last 10 months completely rewriting the Site Auditor from the ground up and created a completely new crawling engine, API and frontend for it. The new crawling engine is currently being used for both the Platform and standalone version of Site Auditor thanks to the new API. And in case you're wondering, yes, we plan to make the Site Auditor API available to customers in the future.
The frontend of the new standalone Site Auditor uses Facebook's React library and we use a new table library that makes data filtering virtually instantaneous. The frontend also uses Twitter's Bootstrap, along with a few other smaller libraries, to make the app fully responsive on any modern device and browser.
Key features
Scoring
Unlike the Platform's version of Site Auditor, which provides a sum of the number of issues, the new standalone version uses a simplified 0-100 score.
Issues listed by severity
Unlike the Platform's version of Site Auditor, which lists issues based on topic area, the new standalone version lists issues based on severity. That way you can address the most important issues first.
The new Site Auditor also helps you focus on each individual issue, instead of intermingling them into one view like we do on the Platform version.
Manual and scheduled crawls
Just like the Platform version, you can still schedule crawls and also manually crawl your site. The only difference in the new version is that we call it Analysis.
Exclude issues and paths
Just like the Platform version, you can still exclude Issues and Paths when we crawl your site. For example, if title attributes in images aren't important to you, you can exclude them from the report. Additionally, if you want to exclude a folder or page from the crawl, you can do that too.
New Sharing feature
We created a new feature that lets you share your results with somebody else. You can share it with a colleague or even post it on a social network like Twitter or Facebook if you're feeling bold 😉
New Freemium model
Unlike the Platform, which has a limited-time trial, the new standalone version has a Free account that lasts as long as you want and gives you full access to all of the features. The Free account is designed for small sites and to provide bigger sites a taste of how the software works. Check out the Pricing page to see which account type is best for you.
What's next for Site Auditor?
We have a long list of amazing new checks we'll be introducing over the next year. We will also be intently reading your feedback and making improvements based on your suggestions. We've adopted a Lean Startup approach to the new standalone Site Auditor, so you should expect frequent improvements and updates moving forward.
---
P.S.: If you're a current customer of the Platform version, we've created this FAQ to help you decide with version of Site Auditor is best for you.