---
---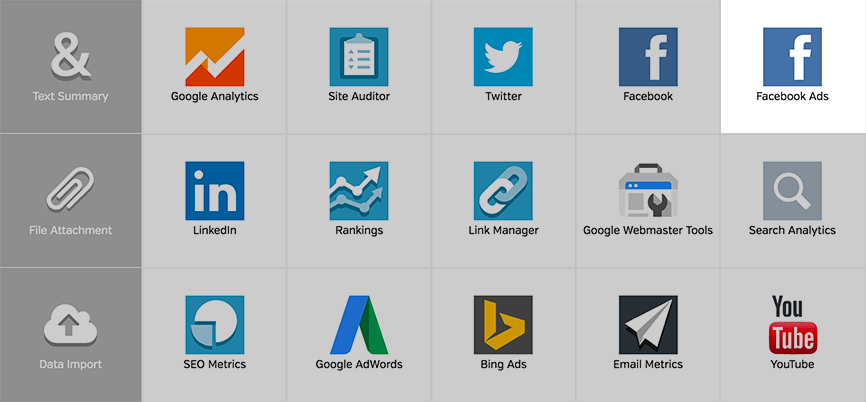 I'm happy to announce that you can now report on Campaign, Ad Set, and Ad-level data for all of your Facebook Ads campaigns within Raven.
Campaign: This is the level of data you could see previously in Raven Tools. Because we've added other levels of metrics, the Campaign view is now on its own tab. Choose a Campaign to view the ad sets and ads associated with that campaign.
Ad set: This is a group of ads. Each ad set is assigned to a campaign. View ad sets to understand how groups of ads perform together. We suggest you group your ad sets by client, agent, location, or another internal grouping that makes sense to your team.
Ad level: This is the base level of all data. You can see all your Facebook Insights stats for each ad, and now you can group them within ad sets and campaigns for expanded metrics.
You can also access these metric groupings for all three levels of data:
Performance: CTR, Reach, Spend, People Taking Actions, Ends
Delivery Engagement: Reach, Cost per 1,000 people reached, Impressions, CPM/ Cost per 1,000 impressions
Engagement: Link Clicks, People Taking Action, Likes, Page Engagement, Post Shares, Post Comments
Video engagement: Impressions, 10 Second Views, Cost per 10 Second Views, Reach, Spend, Avg. % Viewed, Views to 25%, Views to 50%, Views to 75%, Views to 95%, Views to 100%
Performance and Clicks: Reach, Cost per Result, Spend, Clicks, CTR, CPC, Impressions, CPM, Link Clicks, CTR/link click through rate.
How to Create Facebook Ads Reports
There are two ways to create Facebook Ads reports in Raven. The first is to use our Facebook Ads tool to browse Campaigns, Ad Sets and Ads. Once you have a view you want to report, click on Tool Options > Create Report.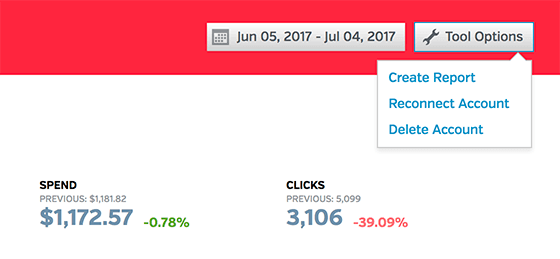 The second way is to use our WYSIWYG Report Builder. It provides the ability to choose from pre-built widget groups that show the most-used metrics or custom widgets that give you full control over the data and how you choose to present it.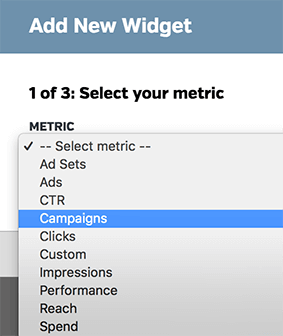 💡 Pro Tip: Use your pre-built widgets to learn how to control the various stats and metrics settings, and then use that knowledge to build your own custom widgets.
Facebook Ads Reporting Resources
Give it a try and let us know what you think. If you don't have a Raven account, create a free 14-day trial account so you can test it out.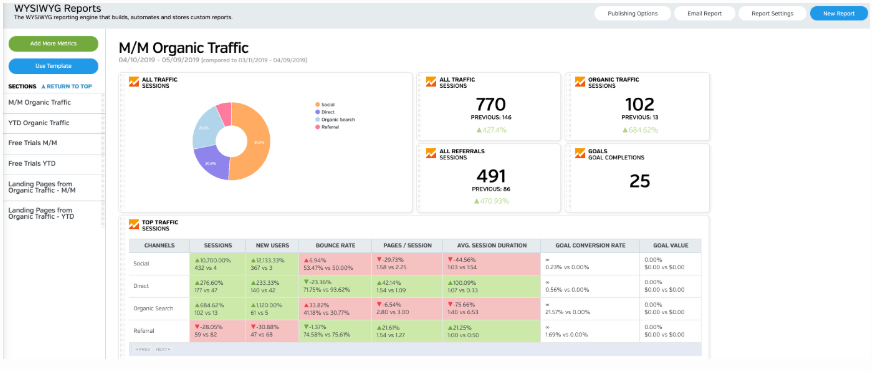 White Labeled and Branded Reports. Drag and Drop Editor. Automate your SEO, PPC, Social, Email, and Call Tracking Reporting.