---
---
Raven's link building tool has been a staple for SEOs and online marketers for years. I want to make the distinction between on-page SEO and off-page SEO because I think there's a lot of confusion about what constitutes search engine optimization and would like to broaden the use of the term.
Then you can dig into Raven's list of proven link building tactics that will help amplify your SEO efforts.
What Is SEO?
Search engine optimization refers to those on-page factors that impact a search engine's ability to crawl and decipher the content on the page.
The purpose of SEO is to get a given Web page served up in the search engine results page (SERPs), preferably within the first three positions based on how relevant that Web document is to the search query. That's it.
Link building, often referred to as "off-page SEO," is about driving qualified traffic to your website through promotional means. Link building pros today are more marketers and online publicists than pure SEOs. In other words, link building is marketing.
I think link building and SEO became inextricably, well, linked because links are the currency of the Web. It's through links that we find content and, in the early days of the commercial Web, webmasters discovered that they could influence search results through acquiring and/or buying links.
Of course, there's a big difference between influencing search results and manipulating search results. The former is called marketing, the latter can get you sued.
Don't get me wrong. Online marketers are also interested in raising the ranking of a website. After all, higher rankings drive more traffic. The key difference is they always start with a strategy that answers the overarching "why" behind their linking efforts.
Once you have a strategy in place — one you can monitor and measure — then you can begin identifying specific tactics that will meet the business goals of your website.
I know from experience that finding, vetting and acquiring quality links is time consuming and tedious. By providing the following "link building tips" using Raven, I hope to change that.
Here's how link building can amplify your SEO.
Link Building Tip No. 1: Finding Quality Links
Too much has been made about only accepting links from on-topic hubs. While an eco-friendly commercial flooring company would love a link from Georgia-Pacific, doesn't it make sense to get links from compatible websites as well?
Search submit link + "topic phrase" as  your search operator and see what the search results show. For our example, let's use "sustainability." It's related to the environment and may make sense for this flooring company. Google search results returned almost 3 million possibilities!
The first page results display excellent linking opportunities, including a .org, an educational journal, and a sustainability resource website asking for submissions. This is a content marketers dream!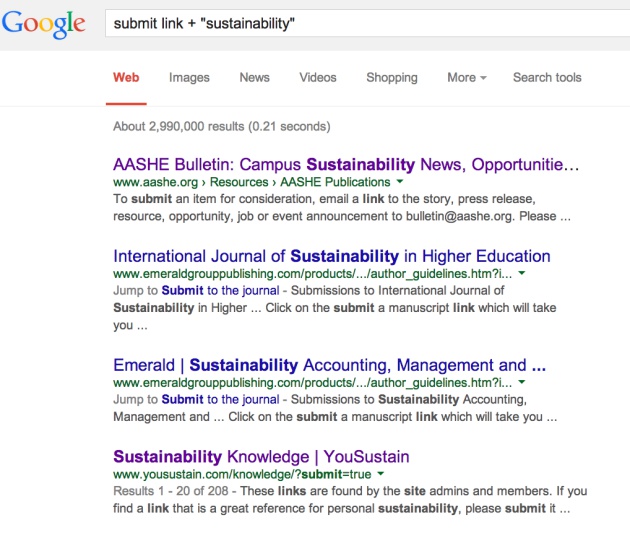 Link Building Tip No. 2: Researching Link Prospects
Now comes the hard part…researching each linking prospect. But wait, you use Raven right? Then this will be snap. You'll still need to look at the website to make sure it passes the sniff test, but we've eliminated much of the tedium with our automated tools.
(If you're not a Raven customer, go sign up now. You'll save hours of time. Seriously.)
And, you won't have to click through to evaluate thousands of websites. Simply analyze the websites in the top 3-5 positions, and let Research Central do the heavy lifting for you.
In Research Central, copy and paste the destination URL you want to research. With one click you learn whether or not this is an authoritative domain. With a score of 71, this site looks solid. So you'll want to add this to Link Manager and queue it for outreach.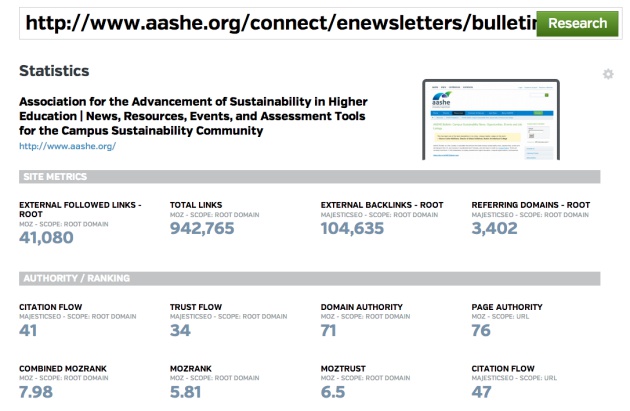 But, here's the best time-saving link building trick. Instead of navigating back to Google and researching hundreds of more websites, simply research the backlinks of this #1 ranking website.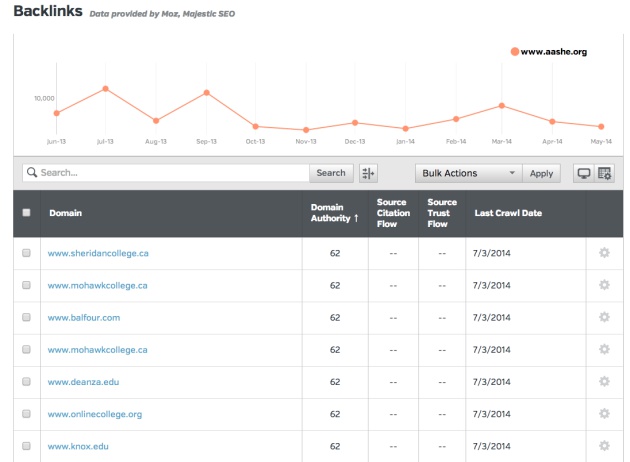 What did I find? A boatload of recently crawled .edu websites! Add as many of these links to Link Manger by clicking on the gear icon and "Add Link Record."
You may be thinking, Why would an institution of higher learning link to my tile and flooring company? 
Why not create a scholarship for students pursuing Environmental Studies? This is certainly newsworthy and link worthy.
This is the main reason I rarely consider backlinks of my competitors. I'd much rather piggyback on high ranking compatible Web pages who've already earned quality incoming links than ask for a link my competitor has. That just evens the score but doesn't necessarily elevate my website.
Remember, you don't need many .edu incoming links to surpass your competition in the search engine results pages (SERPs). Link building is not about the quantity of links your website attracts, it's about the quality.
Now with Raven software, link building doesn't have to be such a chore.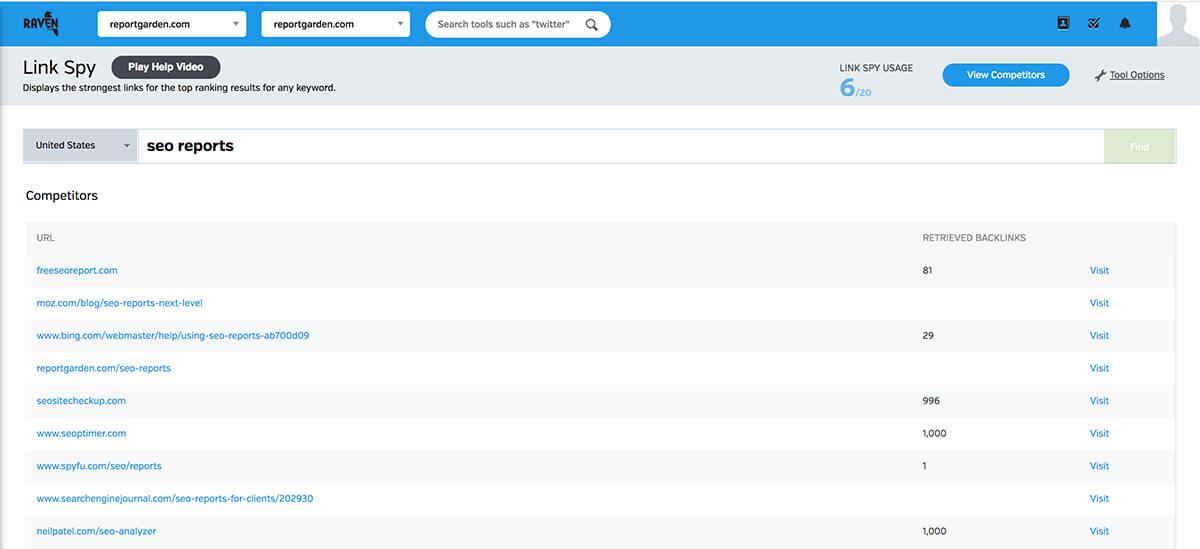 Link Spy helps you find top-quality links based on those websites that are already ranking for your focus keywords.