---
---
If you want to dominate the search engines, you're going to have to get really good at link building.
Consider each link back to your site a professional endorsement for Google to take into account when determining your rank. In that case, Google's logic here is simple: with so many of your competitors getting quality endorsements (i.e. backlinks), there's no reason it should look your way if no one's recommending you too.
Link building is a great way of building PageRank, Domain Authority, and even genuine industry authority – as your visitors will have their guard down and convert better if your site is recommended by a trusted brand.
With that being said, one golden question remains:
How do you identify opportunities for quality link building?
Luckily, Raven Tools is prepared to help you conduct a backlink analysis and find out.
What Does a Backlink Analysis Entail?
The first step to link building is performing a proper backlink analysis. This helps you figure out what your opportunities are so you know what next steps to take.
1. Your Backlink Profile
First, you want to have a look at your own standing. You'll often hear this referred to as a "backlink profile", but the key here is to simply know what to look for so you can identify areas of opportunity.
By understanding how Google and other search engines are viewing you, you'll be well equipped to know what you need to do.
Namely, the metrics to look out for are:
The number of links

linking back to your site or a specific page of your site.

The number of unique domains

that are linking back to your site.

Comparison of linking domains vs. total links

linking back to you.
Anchor text usage

: Are your backlinks using keywords or are they branded to help amplify the quality of the link?
The Fresh/Incoming links metric

helps you see the trend of links heading back to your site. This is a good way to gauge overall performance as well as catch low-quality links as they come in so you can nip them.
Page Performance

helps you identify your best-performing pages – and when you're doing competitive analysis, it also helps you identify your competitor's best-performing pages.

Link quality

will help you determine the quality of the links heading back to your site. Remember, not all links are created equal, so you'll want to keep an eye on this metric and set some standards for yourself to help you climb the rankings.
2. Assessing the Competition's Backlinks
When you catch a peek at your own backlink profile to see where you stand and what your opportunities are, the next thing you'll want to do is take a look at your competitors.
Not only will you want to see how many links they have, but what those sites are, the authority of each, which pages are being linked to, and what anchor text is being used. This information will aid you in finding new backlink opportunities.
3. Finding Backlink Opportunities
The last component of backlink analysis is generating a list of opportunities. This primarily involves looking at your competitors' backlink profiles and seeing what linking websites could be beneficial to your own.
Some factors to consider when it comes to backlink quality include:
Trust of linking sites

Authority of linking sites

Page segment where link appears

Diversity of site types

Natural diversity of anchor text

Quantity of backlinks (not as important)
The best opportunities are websites that are relevant to your own content, have high authority, and are accessible for outreach (through content marketing, guest posting, etc.). They should be sites that are likely to link to your site if given the right incentive. They should also be highly regarded as reputable, high-quality websites by Google.
How to Use Raven Tools to Analyze Backlinks
Now that we've got the basic backlink analysis concept down, let's jump into how exactly to accomplish this with the Backlink Explorer by Raven Tools.
1. Log Into Raven Tools and open "Backlink Explorer"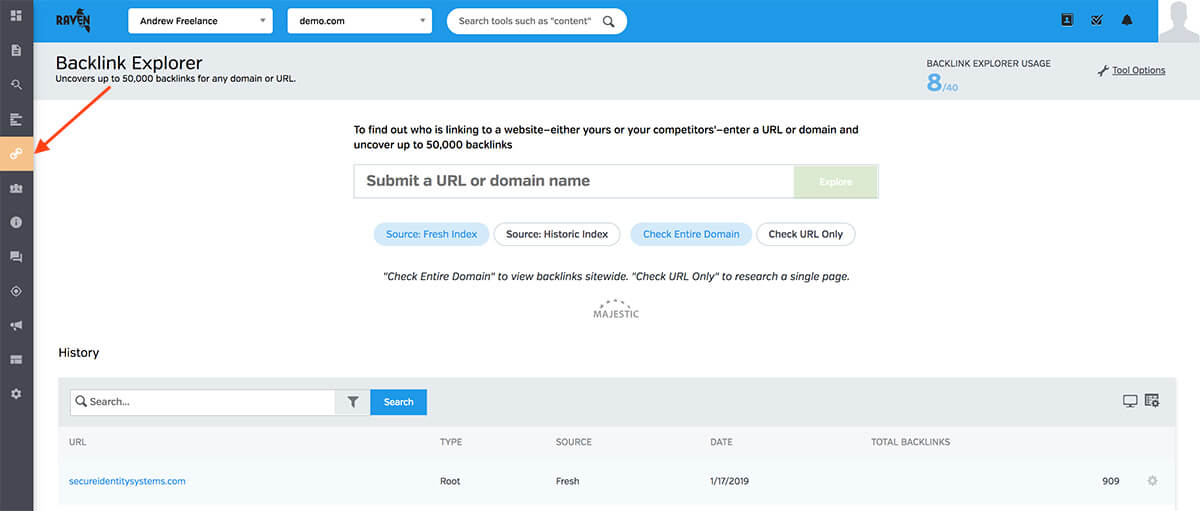 When you log into your Raven Tools account, hover over the left side menu to open it. From there, click "Link Building" to open up the drop-down menu and select "Backlink Explorer".
2. Input your Domain/URL
Once you're in the Backlink Explorer, input your domain and click the results to see a list of your own backlinks.
This report shows you how many backlinks you have to your site, what pages they're from, where they're linking to, the anchor text used, and the citation flow of each source.
The screenshot below shows you some example results for secureidentitysystems.com: The example below groups together backlinks from the same domain to provide a cleaner way to view a backlink profile. From left to right the backlink analysis provides you with source URL, target URL, citation flow, date, anchor text, No-Follow, or Image link.
The setting gear allows you to inspect the backlink through research central to get deeper Moz and Majestic domain metrics or to place a link into the link building CRM, which is handy if you're running a link building campaign.

3. Explaining the Results
The source URL is the URL that is linking to your site. The target URL is the page on your site that is being linked to
The citation flow is a score between 0-100 predicting the influence of the source URL based on how many sites link to it. The higher the number, the better quality you can assume the link is. Note how Search Engine Watch has a high citation flow score. This is a high authority site.
You can also group the domains, which allows you to see how many backlinks you have to see from a single domain. This keeps things simple and makes your dashboard more organized. You'll also be able to see if you have a diverse backlink profile (recommended), or if the majority of your links are from only a few domains.
4. Organize and "Clean Up" Your Backlink Profile
Once you have seen the backlink profile of your own site, you may have noticed some metrics that you are proud of, and others that could use some work.
If you have a diverse profile of high authority linking domains, this is great. If, however, you have a sparse backlink profile, only have links from a single domain, or don't have many links pointing to other pages on your website (besides the homepage, for example), then it is time to consider working on your backlink strategy.
Some things to consider are:
Getting more domains linking back to your site

Increasing your overall number of backlinks

Disavowing or removing low-quality links

Increasing the quality of backlinks to your site by acquiring them from higher authority pages/domains

Fixing broken links

Doing a competitor backlink analysis
If your own backlink profile shows room for improvement, the next step is to look for backlink opportunities through an analysis of your primary keyword competitors.
5. Locate Keyword Competitors
To find your primary keyword competitors and do an analysis of their backlinks, head back over to the left-hand menu and open the "Link Spy" tool, located under the Link Building drop-down menu.
Once you're in Link Spy, input one of your focus keywords and see which sites are ranking for it.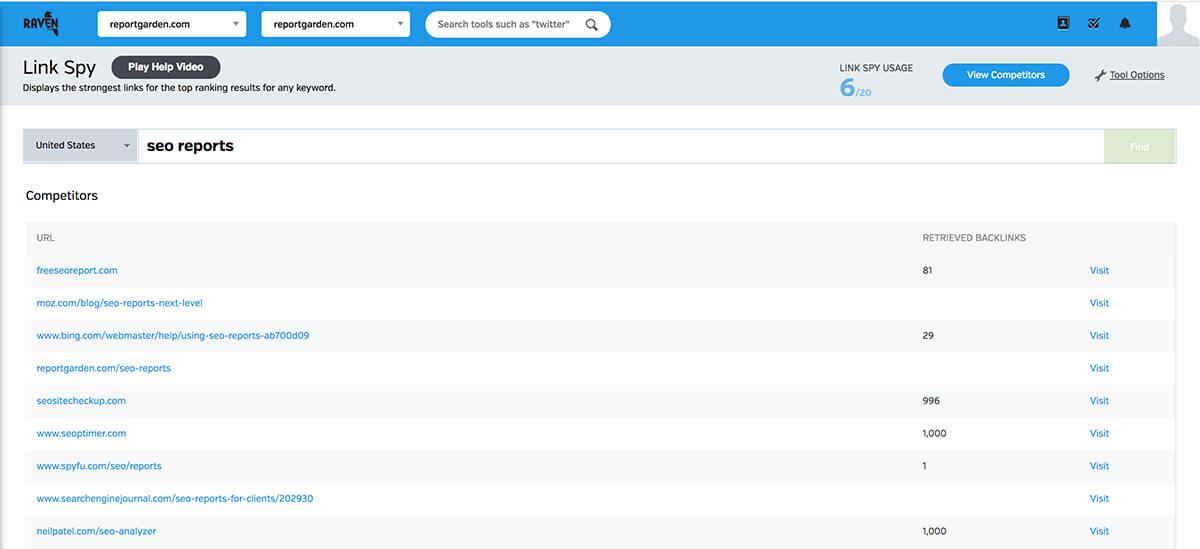 Now, you might be thinking, "I can do that plugging the keyword into Google", but seeing who your competitors are isn't all. You'll get a full log of who your biggest competitors are, plus who's linking to them and from what pages.
From here you can assess what links you want to get and add them to your Link Manager (See Step 6).


5. Locate New Backlink Opportunities with Link Spy
Link Spy by Raven Tools allows you to see which websites are ranking for your focus keywords and generates a list of results for what domains are linking to those sites and how.
Once Raven Tools has generated your results, you will be able to see information on where their links are coming from and what types of pages are being linked to. You will see citation flow and this will indicate which websites may be worth adding to your list of potential backlink opportunities.
To determine whether one of the competitors' backlinks could be a good opportunity for your own site, you will want to consider:
Whether the linking domain and/or page are relevant to your website and content

The citation flow and overall authority of the domain and/or page

How much traffic the domain gets and how much traffic could be directed to your site

Whether you have existing content on your site that would entice this domain to link to you

What your strategy may be for outreach or enticing the domain to link to your content
6. Locate New Backlink Opportunities with Backlink Explorer
Just as you used the Backlink Explorer to view your own backlink profile, you can input your competitors' domains directly to find potential backlink opportunities.
If a domain seems to be a good fit for your backlink strategy, you can add it to your Link Manager in Raven Tools to refer back to and measure your progress.
7. Add Backlink Opportunities to Your Link Manager
Click on the right-hand side to add the link to your Link Manager. In this dashboard, you are able to track your progress with each link you want to obtain or are actively working to obtain.
With each link, you can mark the Status, Type, Kind, Owner (if there are multiple people on your team), and more. Then, as you acquire the links, you can go through and update the Status so you can keep track of your progress.
Link Manager eliminates the need for an external spreadsheet while doing SEO backlink analysis and research. Now you can research and track your backlink efforts in one place with Raven Tools.
Recap
Each time to you want to do backlink analysis, you can log into Raven Tools and refer to the Backlink Explorer, Link Spy, or your Link Manager.
You can find new backlink opportunities and track the progress of your link building efforts. Raven Tools makes it simple to manage all of your link building activities in one place so that you never miss an opportunity or fly blind when it comes to upping your SEO strategy.
Below is a recap of how to analyze backlinks with Raven Tools:
Use Backlink Explorer to See How You Measure Up.
This will show you what links you have and the quality of those links. Remember, the higher the Citation Flow number the better. You can use the metrics from the first section to analyze your current backlinks as well as see new links to make sure you're getting high-quality links.
Use Link Spy to Assess Keyword Competitors.
When you want a post to rank for a certain keyword or want to create content to dominate a certain keyword, this is a great way to analyze your competition and how to beat them. Locate where the top quality links are coming from for your competitors under your keywords and then look to the report to find new opportunities.
Use Backlink Explorer to target direct competitors.
Whenever you have a direct competitor you want to dominate in the search engines, Backlink Explorer will give you a full profile of where their backlinks are coming from. Remember that you can group these by domain to keep an eye on where they're getting the majority of their link juice from. Add their sources to your Link Manager to focus your own link building efforts.
Track Your Efforts Within Link Manager.
In Link Manager, you can track links you want to acquire and links you have already acquired. It works just like a CRM, except for link building, so it's incredibly convenient if you want to be systematic and organized with your link building process.
Get started on your own backlink analysis and link building strategy with Raven Tools. Sign up.