---
---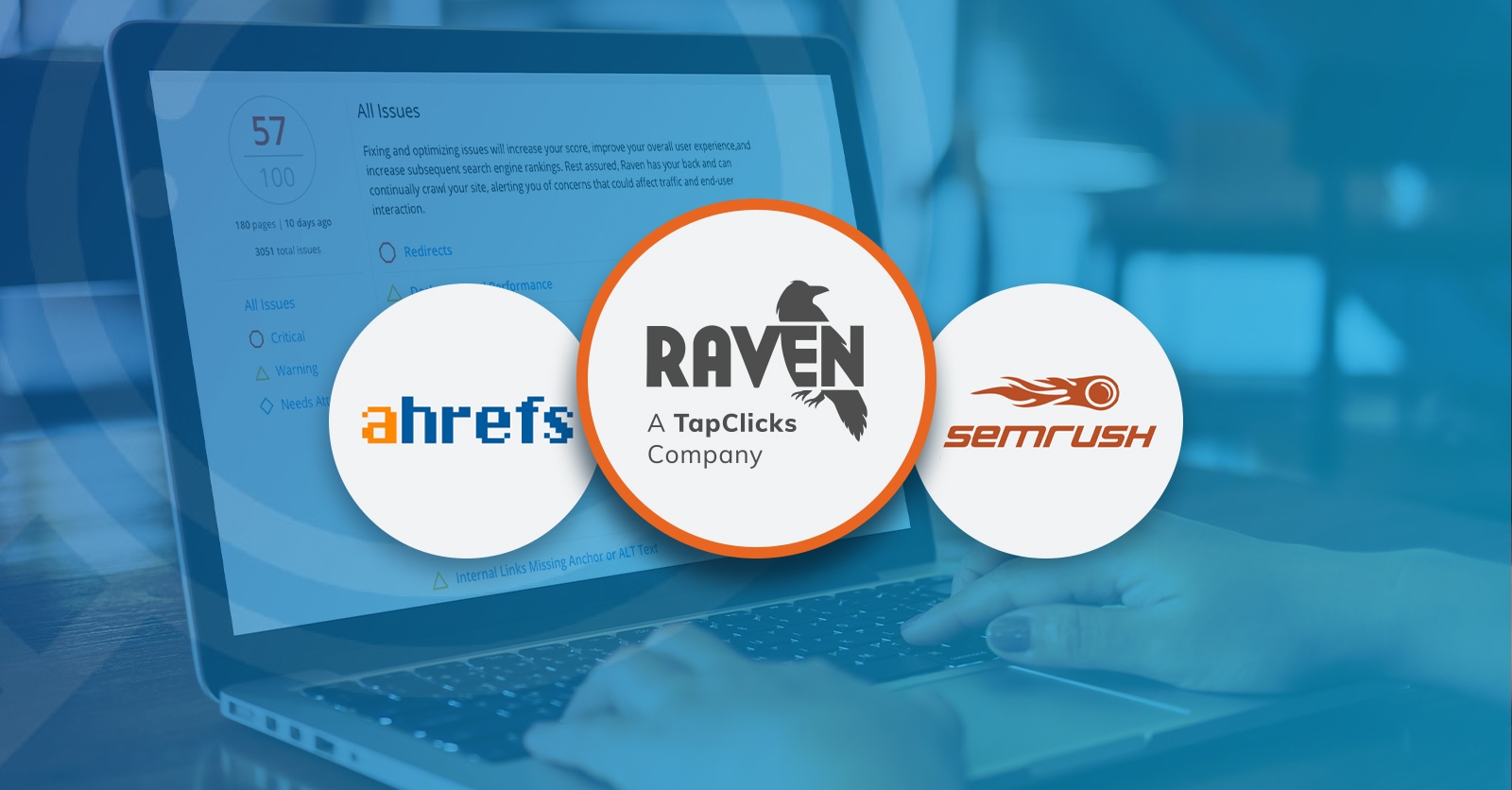 In this blog post, we'll be comparing three of the market-leading SEO tools: Ahrefs, SEMrush, and yours truly — Raven Tools. There are a lot of review sites out there, but having built an SEO platform ourselves, we have a deep understanding of what makes these tools different — and the ways in which they might suit certain marketers more than others.
We can tell you where Raven Tools shines, and where Ahrefs and SEMrush keep us on our toes. Hopefully, this helps you make a decision about which tool is most suitable for you.
In the following comparison, we'll give you information about:
The unique features of Raven Tools, Ahrefs, and SEMrush
The main uses for each tool's unique SEO features
What kind of SEO professional is best suited to each tool
All of these SEO tools are successful for a reason; digital marketers find them to be robust and effective. So, rather than critiquing our competitors, we'll focus on each software's main differentiators, and see how they cater to the needs of SEO professionals in their own unique way.
Raven Tools
Overview of Raven Tools:
Let's start with Raven Tools. Our suite helps SEOs do site audits, rank tracking, link-building, keyword research — and we tie this together with world-class reporting functionality. Raven Tools helps agencies, consultants, and in-house digital marketing teams to do the SEO work and report on results beautifully.
Our subscription plans start at just $39 per month (when paid annually). We offer a 7-day free trial — so you can check out Raven Tools with zero risk.
Main Differentiator: Raven Tools is a Reporting Powerhouse
All of the SEO functionality that we feature in this guide is woven together by one common thread: reporting. You'll need to have effective reporting capability in your locker if:
You're a consultant or agency reporting results to your client(s)
You're an in-house team reporting results to senior management
You're an in-house team that needs to justify investment or resources
You want to monitor results for yourself in an easy and consumable way
Whether you're in-house or a service provider, you have to build a narrative and tell a story with your SEO research and reporting — beyond simply showing the raw numbers. Raven gives you the tools you need to do the actual work, and also the means to communicate the results efficiently and effectively.
What Makes Raven Tools a Reporting Powerhouse? 
Dozens of Data Sources, and Customized, Automated, and Visual SEO Reports: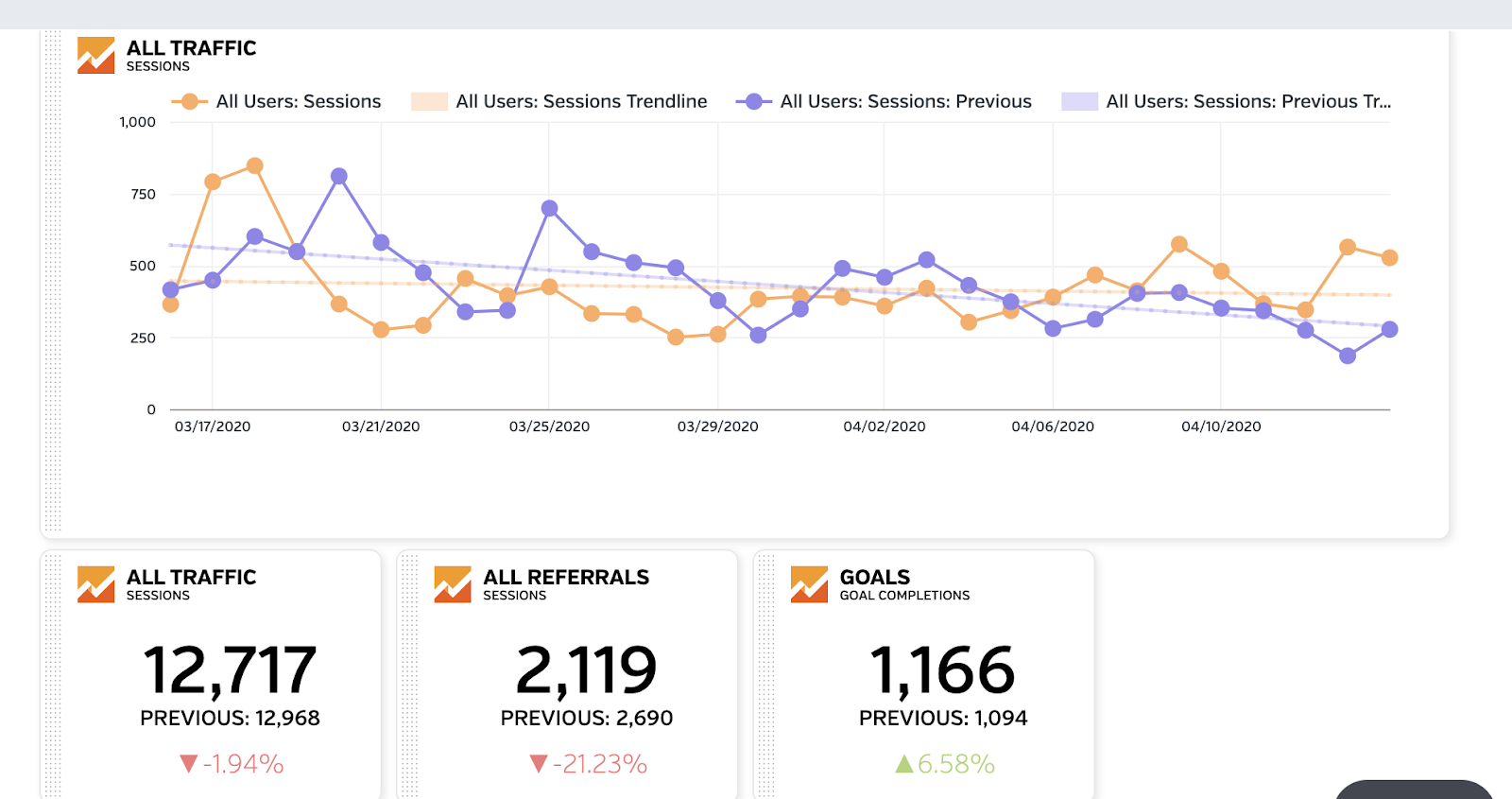 Totally customizable: Your SEO reports are customizable down to the tiniest detail. Firstly, in terms of the metrics, you report on. For example, you can choose your data source (e.g. Raven's Site Auditor), and show a single selected metric from it if you want (e.g. desktop page speed).Secondly, they're customizable in terms of the report's structure and branding. They can be white-labeled with custom URLs, text commentary, images and screenshots, favicons, and logos.
Access data from 30+ platforms: You can plug Raven Tools into the data sources you need — Google Analytics, Search Console, Google Ads, and Bing Webmaster Tools.You can even connect third-party APIs (e.g. SEMrush and Spyfu) for keyword data, and use Moz and Majestic metrics to assess the strength and quality of a site. And of course, you can feed in Raven's own metrics from the platform into your reports — e.g. site audit fixes, backlink acquisition, and rankings performance.
Automatic: You can build reports from scratch, or create templates that auto-generate on any timescale that you need. For example, if management needs a weekly backlinks report but a monthly traffic report, you can set up templates and they'll generate and send automatically.By integrating various data sources, you can automatically build data-rich reports that tell a story — either to measure your own progress or to communicate ROI to other stakeholders.
Visual: With Raven Tools, you can create SEO reports that are quickly digestible and easy on the eye. You can demystify SEO data by pairing certain custom metrics with others to show ROI (for example, keyword rankings and a number of inquiries via blog posts), and share online SEO reports via shareable URL — or in PDF format to email if preferred.
Dynamic and flexible: You're not limited to Raven's metrics, nor the third-party platform integrations. You can dynamically feed in Google Sheet data and/or upload CSV data manually. For example, if a report is scheduled for every Friday, Raven can scrape a Google Sheet and automatically feed fresh spreadsheet data into the report before it sends.
Which SEO Research Tools Connect with Raven Tools Reporting?
Site Audit:
A first port-of-call for many SEOs is to check the health of your website to uncover high priority technical issues that need to be fixed. This is where the Raven Tools Site Auditor comes into play.
SEO site audits can be messy affairs, so we've focused on keeping ours clear, concise, and actionable.
You can tick off the tasks as you go through, and you can also easily share a link with non-technical stakeholders. Site Auditor can be used by any SEO professional, and due to our annotations and directions on the dashboard, the importance of each technical fix can be understood by everybody else.
Rank Tracking:
Businesses hire SEOs to improve rankings, so rank tracking — and effectively reporting on rankings improvements — is crucial. Naturally, as SEO research tools, both SEMrush and Ahrefs offer rank tracking, and they're both pretty good at it. But here's where Raven Tools differs from the others:
You get the choice of how often to update keyword rank tracking — daily, weekly or monthly — as default, without paying extra. This means you can prioritize the most important keywords to update daily, while the others can stay on the monthly monitoring backburner.
You can track all of the major Google alternatives in one dashboard. This includes Bing, Yahoo!, Yandex (Russia), and Baidu (China). We're one of the only SEO tools to give you this view on your performance in the different global search engines.
You get flexible on-demand keyword rank tracking, above-and-beyond your current Raven Tools plan. Put simply, if you need extra rank tracking functionality but don't want to upgrade to a higher-tier plan, you can add keywords for a tiny fee ($0.003/RPC).
As with other SEO tools, Raven Tools offers localized rank tracking (you can track keywords per zip code if you want) — and you can also see desktop vs mobile rankings in one place.
Keyword Research:
In Keyword Research Central, you can research specific keywords to see their search volume and competition and monitor them on your Keyword Manager or Rank Tracker.
While this is standard practice for most SEO tools, we differ because we open up keyword data to third-party APIs through our Keyword Suggestions feature:
By default, Keyword Suggestions uses Data For SEO keyword data — but you can also plug your SEMrush or SpyFu account into Raven, and tap into multiple data sources when doing keyword research. This means you can enrich your keyword research and cross-compare metrics between data sources.
Link-Building:
Ahrefs and SEMrush both focus heavily on backlink analysis. Similarly, Raven Tools uncovers backlink data on any URL through the Backlink Explorer. However, we do things a bit differently by allowing SEOs to do link-building management on our platform, too.
Link Manager: With Link Manager, you can manage the links you have and the links you want. You can import current backlinks directly from Backlink Explorer and upload new links as you target them. This helps you implement and track your link-building campaigns.
Link Spy: With Link Spy, you can enter a keyword or phrase to reveal the domains that link to the top 10 results for that keyword or phrase. This helps you know which backlinks you acquire if you want to break into those top SEO results.
As with all of Raven's SEO research metrics, you can feed backlink data automatically into SEO reports — meaning you can show clients or senior management the progress of your link-building campaigns in the context of other metrics. For example, to drive the link-building message home, your reports could show how keyword ranking positions are climbing in correlation with your backlink acquisition activities.
Summary: Raven Tools as an All-in-One SEO Platform
Raven isn't just a reporting tool — though that's the thread that runs through much of our functionality. Raven Tools is a platform to research the most crucial SEO metrics, get actionable insights about website health and campaign performance, and actually implement and manage important SEO work.
Raven Tools lets you tell a story and communicate data in a way that clients and non-technical stakeholders can clearly understand. With other SEO tools, this requires more effort and manual finesse. Raven is built to be intuitive and flexible — both for SEOs themselves, and the people they report to.
You can try Raven for free for 7 days and get access to our all-in-one SEO platform: Site Auditor, rank tracking, link-building, keyword research, and of course — automated reporting.
Ahrefs
Overview of Ahrefs
Ahrefs has built a reputation as a robust SEO software, and one which is particularly solid for backlink analysis and keyword research purposes. Ahrefs is mostly focused on tracking, monitoring, and research — so it isn't really a reporting tool, aside from its automated rank tracking updates.
You can pull data from the software by exporting information to CSVs, but there's no intuitive method to report all SEO results automatically to clients or other stakeholders.
Currently, the smallest Ahrefs plan (Lite) is $99 per month, or $82 per month when billed annually. You can register for a 7-day trial and pay $7.
Main Differentiator: Ahrefs is a Backlink Analysis Deep Dive
Ahrefs has always placed a high value on backlinks for SEO, and therefore the main dashboard emphasizes a lot of information about backlinks and referring domains: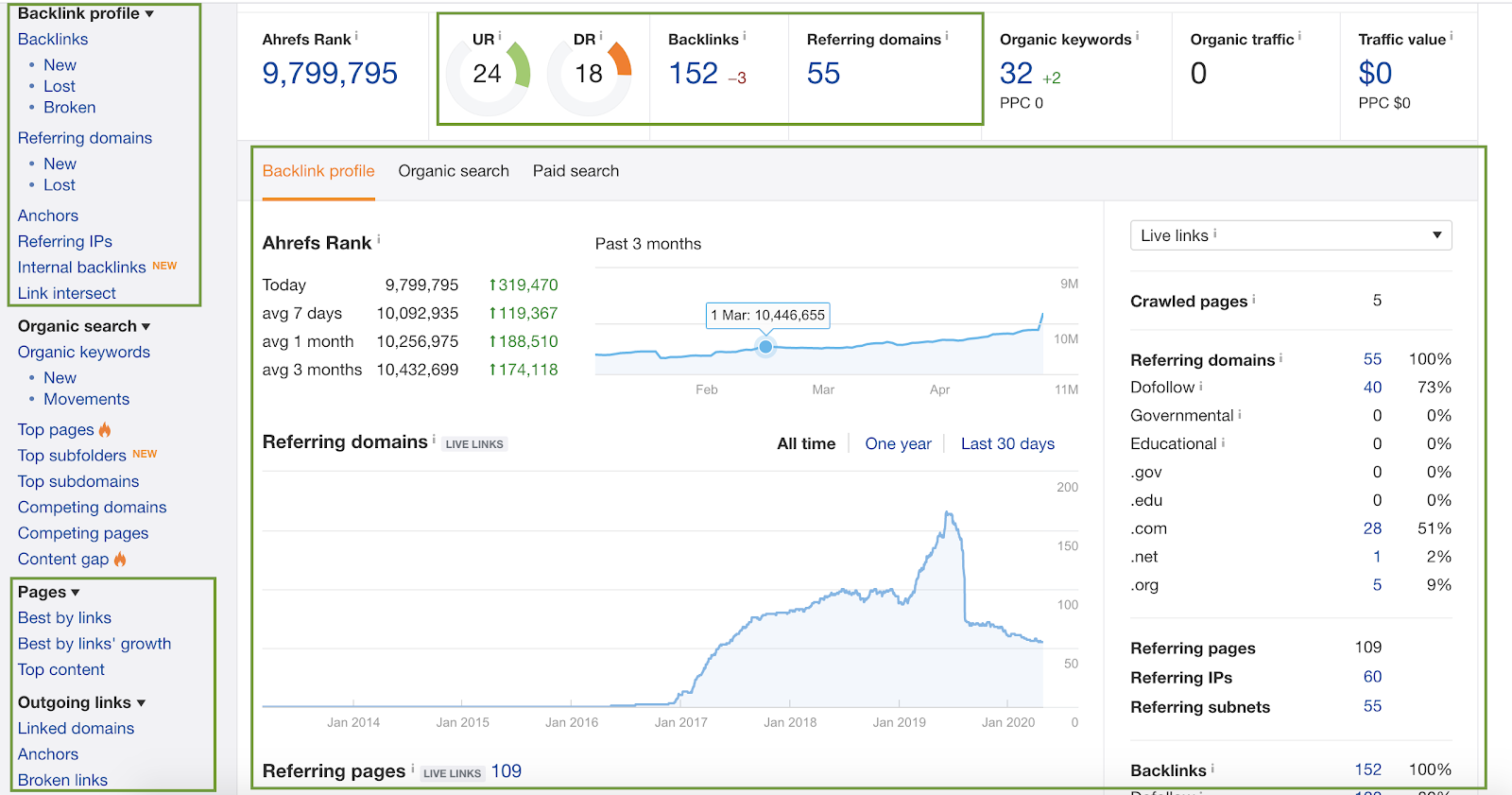 In the Backlinks section of Ahrefs, you can check out the new, lost, or broken dofollow and nofollow backlinks for any domain — whether it's yours, your competitor's, or your client's website.
The Ahrefs Backlinks dashboard shows the referring page, plus the anchor text and the backlink in situ with a snippet of its surrounding copy. You can assess the strength of each particular referring domain through the proprietary Ahrefs scores — Domain Rating (DR) and URL Rating (UR).
When you dig further into your website's Referring Domains, you can see more detailed information about the sites that link to you — from the aforementioned DR score to their number of referring domains, their volume of organic traffic, and their Ahrefs Rank.
Referring IPs: Revealing Low-Quality Private Blog Networks

The Referring IPs feature on Ahrefs is a further deep dive into the health of a website's backlink profile (note: a similar feature is also available on SEMrush). Users can see referring domains grouped by network, and pick out the IPs with the same c-class that commonly link to their site. If there's a high volume of links from the same c-class, it might suggest that a Private Blog Network (PBN) has been used.
Private Blog Networks are targeted by Google as a black-hat SEO tactic — punishable by a penalty. So, if you're kicking off a client campaign, you need to be able to spot these red flags in time.
What Else Does Ahrefs Offer to SEOs?
Aside from in-depth backlink analysis, what does Ahrefs offer to SEOs?
While it doesn't have much intuitive reporting prowess, it does provide automated rank tracking — and their keyword research functionality (Keywords Explorer) is certainly a key strength:

In the above screenshot, you can see the data you get when you search a specific keyword (including their proprietary keyword difficulty score). And below, you can see the keyword ideas overview. These keywords can be added to lists and exported as CSVs:
Ahrefs Site Audit:
Like Raven (and SEMrush), the Ahrefs Site Audit tool crawls your site for performance blockers, broken links, indexability errors, meta issues, and on-page problems like missing headers and duplicate content.
Due to the vast number of datapoints and filters, the interface is far more complex than Raven Tools. This can present a challenge to non-technical folks but allows technical SEOs to get into the nitty-gritty of website structure and performance. You can even look at the JavaScript and CSS to check for errors.
The Ahrefs site audit can be bulk exported to CSV or added to a "to-do" list — which itself can be bulk exported to a CSV file.
Summary: Ahrefs for SEO Professionals
Ahrefs has mainly built its reputation on backlink analysis and keyword research for SEO, and for good reason. These features still represent the most solid parts of the tool. The Site Audit feature is impressive in its detail, which probably makes it most suitable for technically-minded marketers.
Compared to Raven Tools, Ahrefs has limited reporting capabilities and no white-labeling option. This means SEOs need to export their data into spreadsheets and build reports manually or limit their reporting to the automated rankings updates alone.
SEMrush
Overview of SEMrush
SEMrush has a reputation as a heavy duty digital marketing tool, and due to its wide array of PPC and SEO features, they describe themselves broadly as an "Online Visibility Management Platform".
At the moment, SEMrush plans start at $99 per month, or $83 per month when billed annually. A fair amount of the more advanced functionality is limited to users on higher-tier plans ($199 or $399 per month). These features include read-only access, white-labeled reporting, competitor intelligence ($200 extra), multi-device rank tracking, third-party integration, and many of their content marketing features.
Main Differentiator: SEMrush Covers a Lot of Bases
Each SEO tool in this comparison has its own identity, even if some features are similar to one another.
With Raven Tools, the emphasis is on reporting and management — and bringing all the key SEO metrics together in an intuitive platform. With Ahrefs, the emphasis is on digging deep into backlink data and tracking the impact of link-building on keyword rankings and website strength. But with SEMrush, it's a bit more challenging to pick out a clear area of focus — partly because it's such an expansive tool.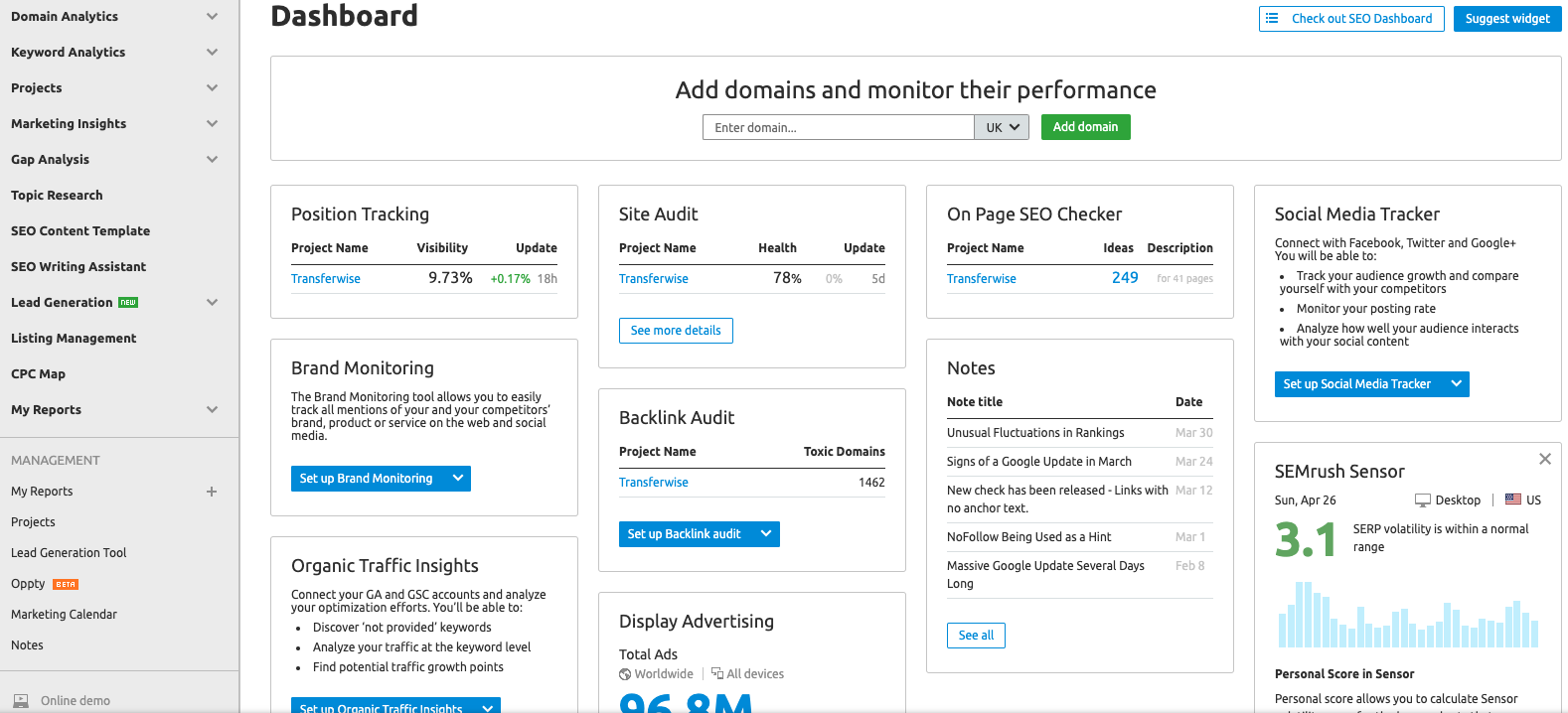 Key Features of SEMrush:
As you'd expect, SEMrush offers all the important SEO research features on the standard $99 plan:
Domain research (Domain Analytics): A snapshot of a website's authority, traffic, and backlinks
Site audit: Errors, warnings, and notices to guide technical SEO fixes
Rank tracking (Position Tracking): Visibility, rankings distribution, and rankings trends
Backlink analysis (Backlink Audit & Backlinks Overview): Backlinks, ref. domains, and more
Keyword research (Keyword Analytics): Similar to Ahrefs in terms of UX and data
Let's take a look at a couple of SEMrush's unique features.
Backlink Audit, Shining a Light on Toxic Backlinks:
SEMrush focuses heavily on helping users avoid toxic backlinks in their Backlink Audit feature — with their unique Toxic Score reflecting the danger of you suffering a Google penalty for bad backlinks.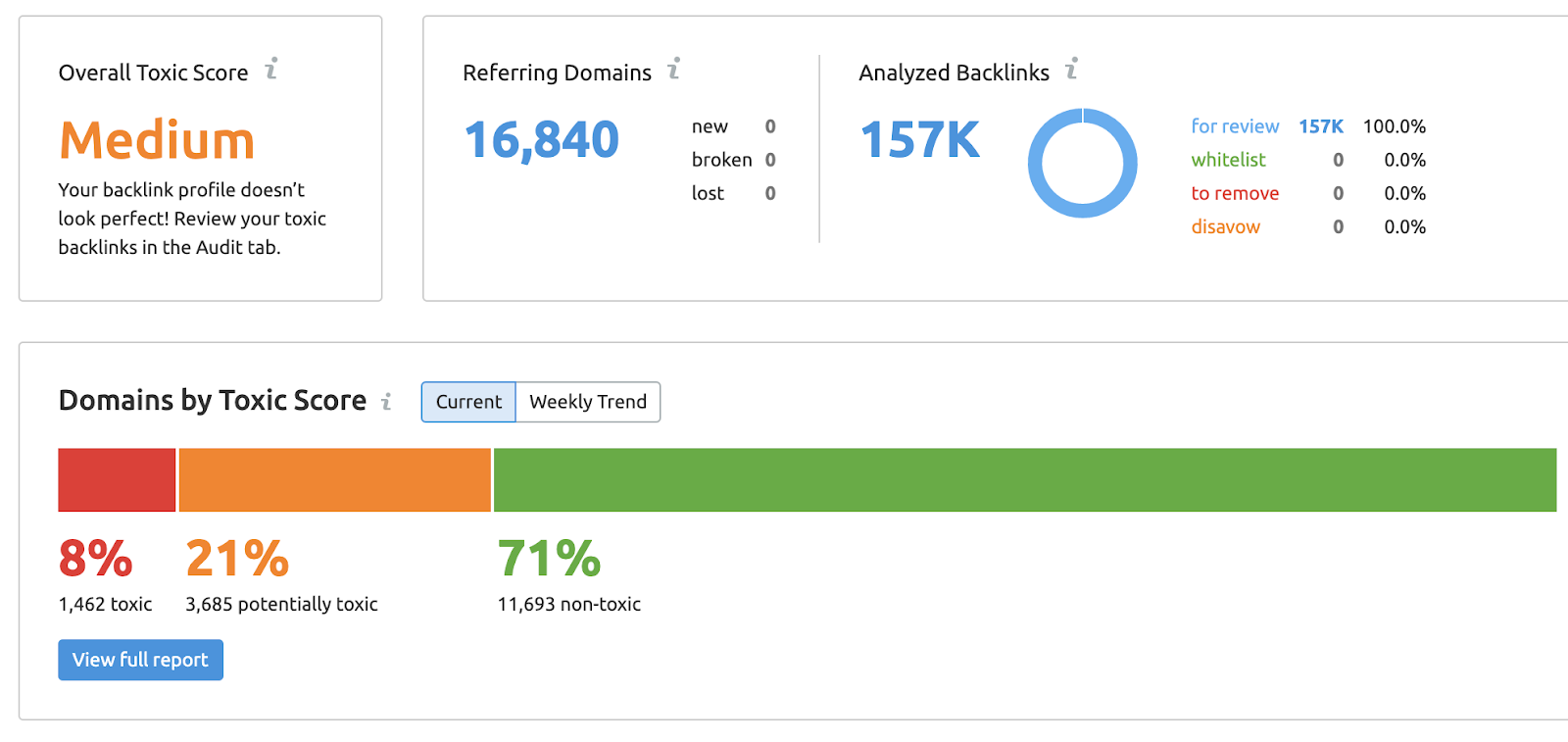 Just like Raven Tools, SEMrush incorporates some management capability into its backlink analysis. After you've picked up the toxic links, you can add them to a file — and later upload that file directly to the Google Disavow Tool. If there are any links that have been marked as toxic but you know they're ok, you can whitelist them, so SEMrush won't see them as a danger anymore.
Monitoring Search Engine Algorithm Updates:
SEMrush keeps a keen eye on the search engine algorithms to give their users a heads-up when an update is launched that could impact their rankings. First, there's the Notes list. This is a live miniblog in which SEMrush lists the notable activity in different regions and on different search engines:

Then, you have the SEMrush Sensor. This measures the global SERP volatility across different industries and website types — providing live updates on a daily basis. You can also check the deviations based on average monthly volatility, and see who the current "winners and losers" are in the SERPs.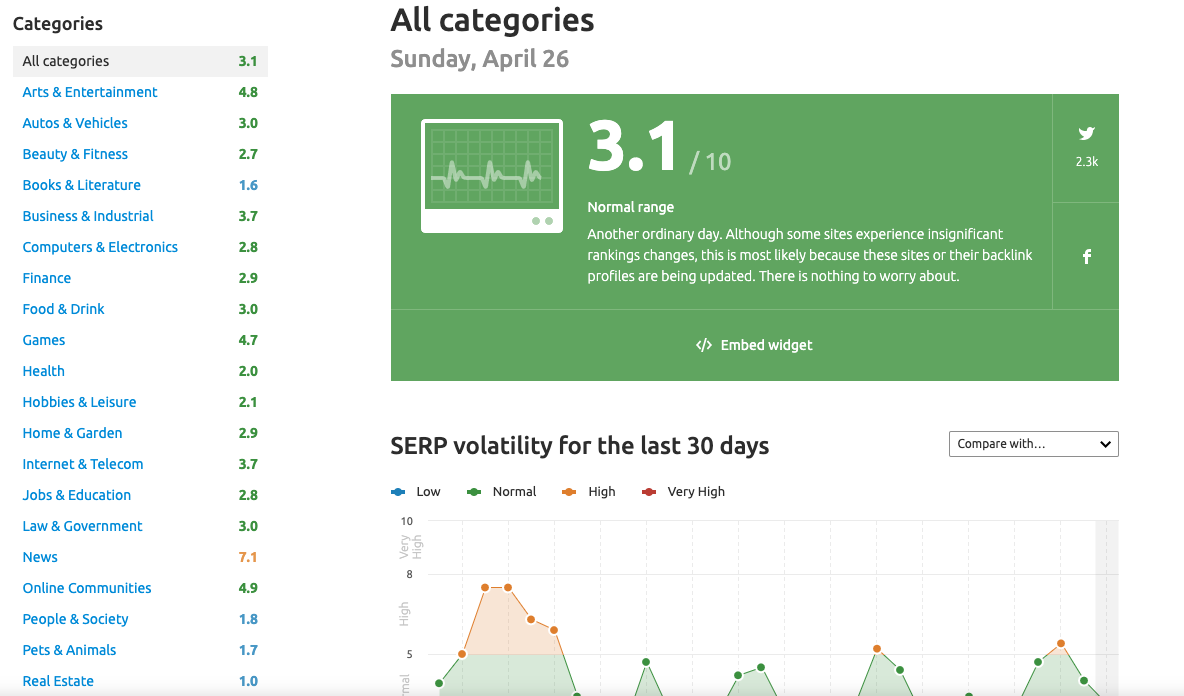 This feature also allows you to input your own URL and get a "personal score" from the SEMrush Sensor, which shows how SERP volatility is affecting your website and your selected target keywords.
Summary: SEMrush for SEO Professionals
SEMrush offers a lot of functionality, and this might make it a slightly overwhelming platform if your scope is more precise. The core SEO research functionality is available on the $99 plan, including the keyword research, backlink analysis, rank tracking, and site auditing — but read-only access and reporting, plus competitive intelligence and some advanced rank tracking features are on pricier plans.
Conclusion: Ahrefs vs SEMrush vs Raven Tools
The choice between these tools comes down to your personal preference. Each software has robust functionality for in-house, freelance, or agency SEOs — albeit with slightly varying emphasis and usability.
Raven is available on a 7-day free trial, and so is SEMrush. You can try Ahrefs for a week for $7. This means you can test without risk, and see which tool suits you. If you have any questions during your Raven trial, don't hesitate to check out our Helpdesk or get in touch to speak to someone on our team.
When compared to Ahrefs and SEMrush, Raven Tools offers more flexibility in terms of pricing plans. And our simple dashboards make doing SEO work and communicating results much easier. These aspects make Raven Tools suitable for a wider range of SEO professionals while giving them everything they need to succeed with site auditing, rank tracking, link-building, keyword research — and reporting.
You can try Raven for free for 7 days and get access to our all-in-one SEO platform: Site Auditor, rank tracking, link-building, keyword research, and of course — automated reporting.