---
---
What do social signals have to do with your SEO campaign? Maybe more than you think. And the divide between SEO and social media seems to shrink every day.
Google and Bing have both confirmed that social indicators are becoming increasingly important and that they are already being used to some degree, to create ranking results.
Bing is known to use information from a wide variety of social sites. A good Twitter following will help improve your Twitter ranking, while the Bing Social Sidebar combines results from the likes of Quora and Klout to show experts in a particular field.
Twitter, Facebook, and Google+ are the most important to Google and, unsurprisingly, Google+ leads the way in helping to promote a site in Google rankings.
What's more, traffic and leads from social media and social networking websites can create a bunch of loyal brand ambassadors. Likes, follows, shares, pins, and retweets can help fire your website to the top of the search pile while delivering targeted and active visitors.
Social indicators are, essentially, a measurement of your popularity and authority on the social web; activity on sites like Facebook and Twitter that revolves around you, your website, and your business.
To look at it another way, they are a measurement of the number of friends you have, how often people interact with you, and how much they talk about you with others.
Why are they important?
These social interactions are known to deliver visitors to websites by growing a brand's reach.
New readers and connections will notice that you are cropping up in conversation and within a context that interests them. As a result, they might be intrigued enough to click through and visit your website, connect with you via social networks, and find other ways to interact with you.
Social indicators are also important to an SEO campaign. Most successful websites take an intentional approach to link building, finding ways in which they can develop high quality links from authoritative sites. A site with a lot of social attention can enjoy high search engine rankings.
Choose your social sites wisely, integrate your efforts within your own site, and conduct some competitor analysis on the top performers in your industry. Then try these six techniques to improve your social indicators.
1. Guest blogging
Guest blogging encourages deeply social interactions with users. Helpful and informative posts are shared, tweeted, and linked to from other social media avenues.
The recent introduction and enhancement of Google Authorship, which enables bloggers to verify authorship of content they write, has made guest blogging an even more viable and potential tool.
First, find authoritative websites or blogs within your industry or niche and begin building a relationship with them.
If they're open to it and allow dofollow links (although some believe even nofollow links offer some link benefit), ask about the possibility of writing a guest post.
There are many searches that you can potentially make to help find these opportunities. Consider search queries like:
[Keyword] + "write for us"
[keyword] inurl:write-for-us
[keyword] + "submit post"
[keyword] + "submit guest post"
There are also many directories and websites that aim to connect guest bloggers with blogs seeking high quality content.
Make sure your post is high quality and that once it's published, you respond to any comments or responses that arrive. Continue developing the conversation and your relationship with readers. By responding to questions you have already made the first few vital steps to developing a loyal follower.
2. Blogger outreach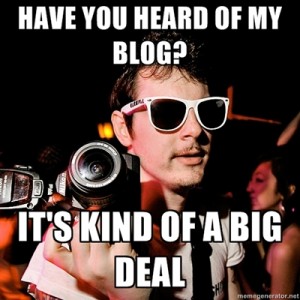 Blogger outreach is similar to guest posting except that instead of writing the content, you provide something bloggers want to write about.
To begin, develop a list of authority bloggers within your industry.
Then use social media to make contact with these influential bloggers before you begin your outreach. They are social animals, after all – and they're more likely to be receptive to your pitch if you've put in some groundwork to get to know them first.
Once you've established a relationship, it's time to conduct your outreach.
If you have a reasonably low ticket price on the products you sell (and a lot of faith in your product), consider sending out free samples to bloggers.
If that's not an option, you can offer yourself up as a resource in your field, start a competition, or do anything else that would attract a write up from interested bloggers.
3. Social targeting
When you have a specific message to deliver, it makes sense to target the message's recipients.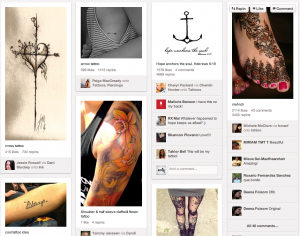 Luckily, there's an easy way to hone in on the users within a social network that are likely to be interested in what you have to offer.
Let's say we want to target social media users who are into tattoos. Use Google to search profile pages by using queries like:
site:pinterest.com inurl:tattoos
This search will give you a list of Pinterest pages belonging to people with at least some interest in tattoos.
Then it's up to you to make contact with the people that you discover, focusing on your shared interest. Comment on their photos, follow their boards, or take the direct approach by messaging them. You will need to grab their attention without coming across as spammy. This can be a painstaking process but it can also lead to great relationships with relevant social network users.
4. Hierarchical link building/link wheels
The term "link wheel" throws up images of spamming and blackhat SEO techniques in many minds, but this isn't necessarily the case.
There are many social networks and social media websites out there, and a number provide good quality links. With a link wheel you can leverage these sites to improve branding while also improving your social link profile.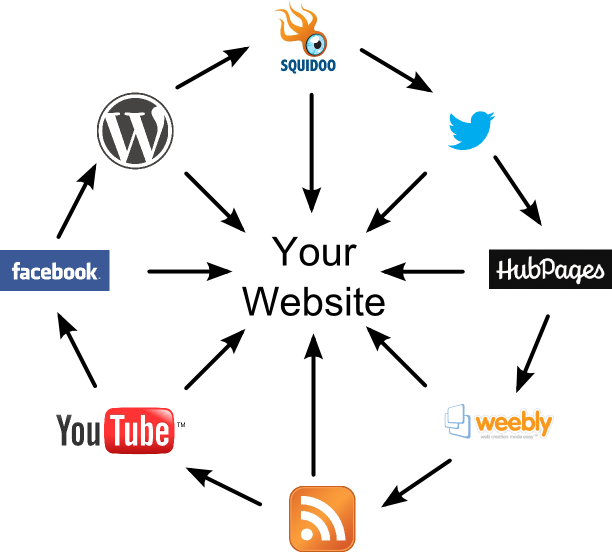 Above is a picture of a basic link wheel, with your website in the center. Each of the social sites around the edge of the wheel not only link to the pages of your main website but to the next social real estate page.
So  your WordPress-hosted blog links back to your own website but also to the next spoke on the wheel, your Squidoo lens. Your Squidoo page links to your website as well as your Twitter account, and so on around the wheel.
This process turns your social media real accounts into authoritative pages, meaning the links they generate could carry more authority. By the time the links reach back to your website they are considerably more effective than they would have been by posting a single link from each profile back to your site.
5. Linkbait using tools, apps, games and more
If you know your way around the Google Maps or Facebook APIs, consider creating a simple game, widget, plugin, toolbar or other free linkbait. These types of content, when combined with the viral power of social media, can be highly effective.
To ensure that you attract targeted users, focus on creating a tool that is relevant to your website or business in some way. (See SEER Interactive's How Do They Make Money or even Raven's Schema Creator tool for examples of tools relevant to an industry). This means that users will be more likely to convert as well as more likely to share your tool with other targeted users.
Ensure that your tool is well branded (and, if necessary, monetized). Then add it to directories, send it to bloggers for review, and work the network you've built up through outreach programs, guest posting, and social networks. Write and submit press releases and make sure to include content on your own website about the tool you've created.
Social networks like Facebook enable you to host and distribute such tools through the site. If you put a lot of time and effort into your Facebook network, then this can prove very useful.
Alternately, you can host the tool yourself and attract people directly to your website when they download the latest version.
6. Crowdsourcing and user engagement
Crowdsourcing is a great way to fill your website with high value content while building stronger relationships with fans, followers and customers.
Ask questions via social media and use the answers you receive in a blog post. Ask for user reviews or guest post submissions. Add a page to your site offering guest post submissions (guest bloggers will find you if you do this). Set up your own photo gallery, invite video clips, and do anything that encourages your users to submit to your site. Even attracting and actively participating in conversation on your blog could be considered crowdsourcing.
Not only does crowdsourcing increase user engagement but those who are published or featured on your site are likely to want to promote their presence, which propels your content even further. They will link to the content on social networks and even from their own website.
Don't give up
Many businesses and marketers start down the road of social media marketing but give up when results are not immediately forthcoming.
Improving social indicators takes time. You need to develop a network of contacts before leveraging those contacts to help provide links and generate traffic.
Start with a solid foundation but consider social media marketing an ongoing process, much like your SEO campaign.
Now social media marketers can get the credit they deserve by automatically delivering Facebook, Twitter and LinkedIn reports that prove value.