---
---
Update Nov. 2, 2011: We're excited to announce that we have released a full Competitive SEO Analysis Guide that helps explain how to execute each section of the checklist.
About two weeks ago I had the pleasure of speaking on a Competitive SEO panel at SMX East in New York City. My presentation focused on analyzing your competitor's onsite and offsite optimization strategies, and learning from them.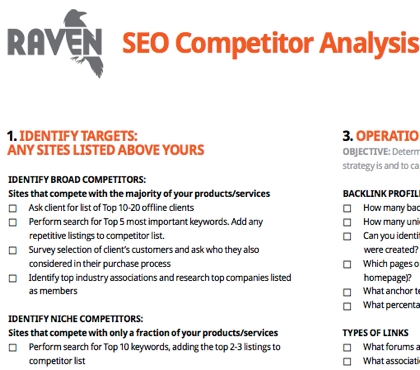 As promised, I put together a formal SEO Competitor Checklist that covers the following:
Identifying broad and niche competitors to analyze
Onsite competitive analysis (keywords, content and technical analysis)
Offsite competitive analysis (backlinks, link building strategy)
Competitor surveillance (keeping tabs on their SEO strategy)
Competitor analysis for SEO is much more valuable than people realize. You should think of it as free marketing insight as to how your SEO campaign could perform. Think about it. In some cases these companies have invested thousands of dollars in their SEO — and with the right analysis, you could see what is working and what you shouldn't waste your time on.
Download the PDF checklist now. And don't forget to use Raven Tools to help do the heavy lifting for you.
Here are my slides on SEO Competitor Analysis in case you missed the presentation at SMX East.
Updated October 22, 2010
The checklist just became even better thanks to Blueglass Director of Search Services, Annie Cushing. She made the checklist interactive, so you can now click on the checkboxes in the PDF. If you appreciate this as much as we do, please thank her on Twitter: @anniecushing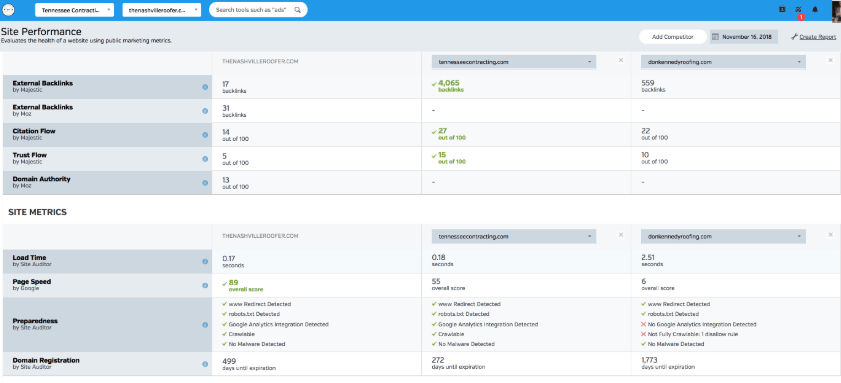 With the Competition Research tools from Raven Tools, you'll see what methods your competitors are using and be able to strategically take your own website to the top.