---
---
When it comes to PPC reporting, major online advertising platforms (e.g. Google Ads and Facebook Ads) do provide some native functionality, including recurring campaign reports and CSV exports. But these tools don't allow you to combine multiple data sources — and they don't help you craft a narrative that makes your PPC reporting powerful and interesting to clients.
To bring your PPC results to life and tell a deeper story, you need to add context, detail, and meaning to your PPC reports. For this, you'll need the help of PPC reporting software. And this software should address two important areas of concern for your clients and stakeholders:
how their PPC campaigns are performing (i.e. ROI), and…
whether they're outperforming competitors in their niche
In this blog post, we'll explain how to enhance your PPC reporting with Raven Tools, and we'll introduce our sibling software, iSpionage, which allows you to report on where you stand versus PPC competitors.
Reporting PPC Results to Clients & Internal Stakeholders
Raven has a lot to offer PPC marketers, as well as to SEOs. And for digital marketing professionals who work across both the paid and organic worlds, Raven is a proven tool for research, implementation, and reporting. Let's look at how Raven can help you report on your PPC strategies.
WYSIWYG Reports:
Raven is a reporting powerhouse, and its WYSIWYG Reports feature allows you to pull in data from 30+ sources — including Google Ads (AdWords), Facebook Ads, Google Analytics, and Bing Ads (Microsoft Advertising).
Our PPC reports are entirely customizable — you can prioritize any information that these data sources track in the back-end, meaning you're able to create a narrative that resonates with your clients or internal stakeholders. For example, if your KPIs are based on ROAS, you can pull this in as the headline metric in your report. Or if your client is aiming to cut down on costs, you might choose to highlight CPC.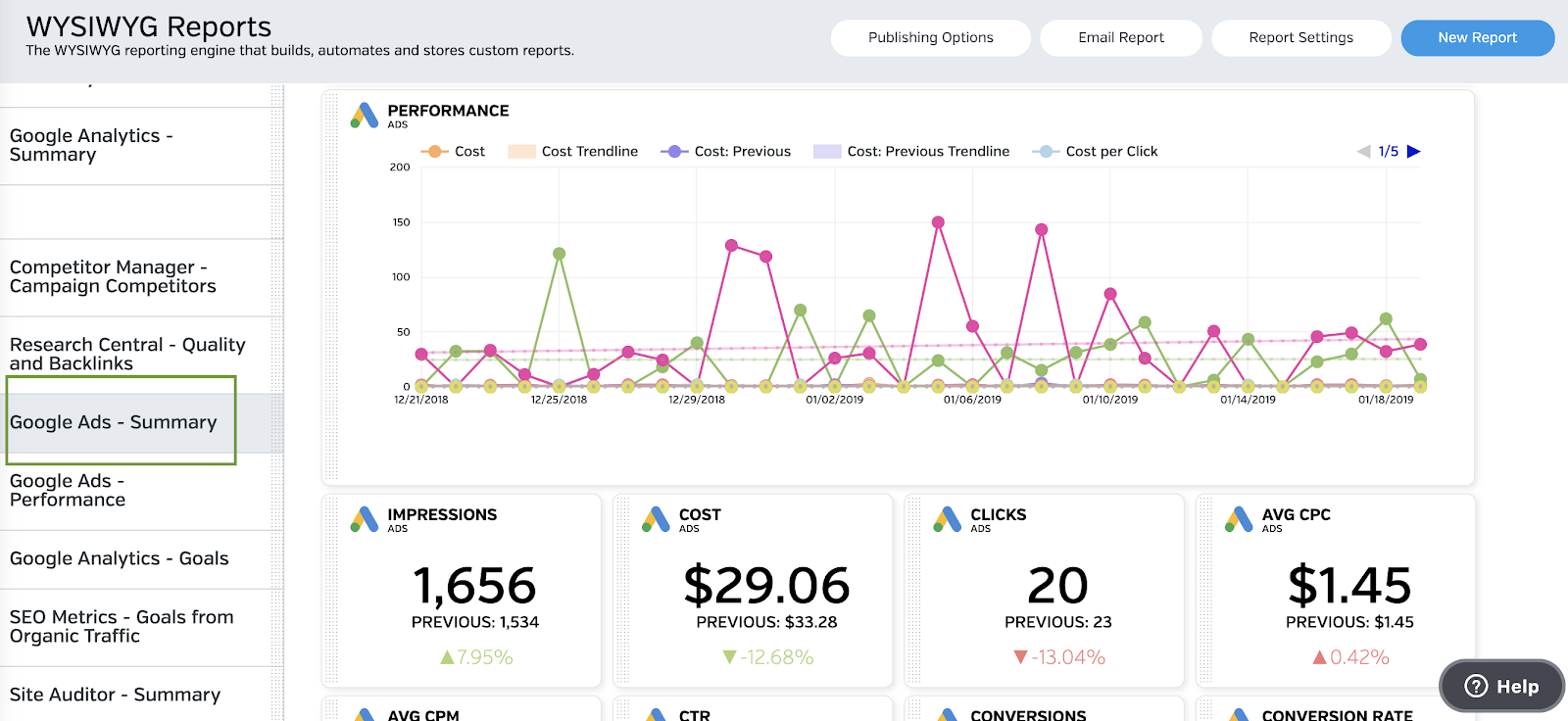 As well as generating marketing reports, you can use the Raven dashboard to track the progress of your PPC campaigns on a day-by-day basis. This can be done through our Google Ads, Facebook Ads, and Bing Ads integrations — as well as the direct link-ups between Raven and your Google Analytics tracking.
Google Ads Dashboard:
The Google Ads dashboard on Raven provides deep insight into how your Google Ads campaigns are performing. The initial summary highlights your main KPIs — important data such as:
Impressions
Average CPM
Average CPC
CTR
ROAS
Overall costs
And from there, you can dig down into device data, click types, ad schedules, keyword quality, and much more. Put simply, Raven's Google Ads dashboard lists everything you need to know.
There are three major benefits of choosing Raven Tools for your Google Ads monitoring and reporting:
You can go into as much (or as little) detail as you need in order to tell your story
You can plug Google Ads into WYSIWYG reports or export to PDFs and shareable links
Your data is presented in an easy-to-consume format — for you and your clients
The Raven Google Ads dashboard doesn't just give insight into your Search Network Ads but also shows data from the Display Network, Video Ads, and Google Shopping. Combined, this dashboard gives you a comprehensive overview of your (or your client's) Google advertising activity and performance.
Note: Raven also offers a Bing Ads (Microsoft Advertising) plugin, meaning you can report similar details about your Bing PPC campaigns. This makes it easy to compare and contrast performance across advertising channels (in one dashboard) and to show clients which search network is generating results.
Sign up for a 7-day free trial with Raven Tools to get started with your PPC (and SEO) reporting. Integrate 30+ sources into automated white-label reports, and manage everything in one simple dashboard.
Facebook Ads Dashboard
With Raven's Facebook Ads overview, you get all the top-level information about reach, impressions, spend, clicks, and CTR — as well as trend graphs on all the important Facebook advertising metrics.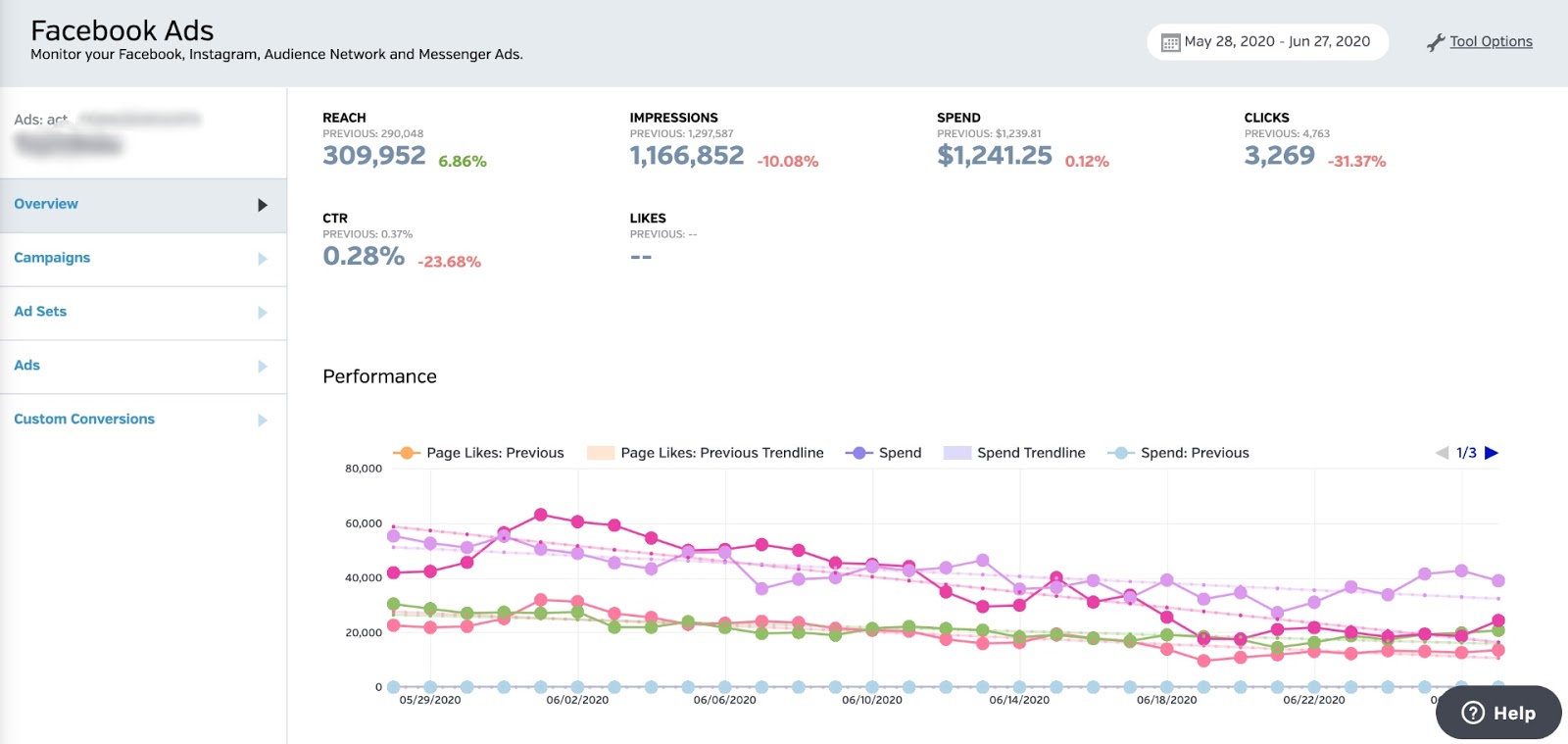 When you scroll through the other widgets in the Facebook Ads dashboard, you can see deeper data about custom conversions — and information about specific ads, ad sets, and campaigns. All of these data points can be integrated into your custom WYSIWYG reporting or easily exported as one-off reports.
Google Analytics Dashboard:
Google Analytics is a "primary source of truth" for many marketers who are tracking website performance, and it's often where they'll measure paid traffic and how it generates conversions. So, Google Analytics is a vital data source for your PPC reporting. Raven integrates with your Google Analytics account, allowing you to filter traffic sources and track goals, events, engagement, and more.

Again, you can pull any data point from Google Analytics into your WYSIWYG reporting dashboard, meaning you can support your Google Ads reports with metrics about goal completions, site engagement, or anything else related to paid traffic that adds extra context or justifies your PPC strategy.
Who Should Try Raven as Their PPC Reporting Software?
Raven is geared towards marketers who want a holistic view of their digital campaigns — but it is also suited to PPC experts who need to report on results in the context of other important metrics.
Many of our users are agencies or consultants using Raven to build custom white-label reports, but our PPC and SEO reporting functionality also suits in-house teams who need to justify strategies to management.
Raven is unique because it allows you to build your own compelling story — using various PPC data sources to craft a narrative. This means that PPC reporting can be an asset to the campaign (rather than an afterthought) because PPC reports will become a tool to increase stakeholder buy-in, justify new strategies, and nurture a trustworthy long-term relationship with your clients.
Sign up for a 7-day free trial with Raven Tools to get started with your PPC (and SEO) reporting. Integrate 30+ sources into automated white-label reports, and manage everything in one simple dashboard.
Competitor PPC Reporting & Benchmarking
Competitor information makes your PPC reporting richer because it allows clients to see their campaigns in the context of their industry. This can make reports more powerful, especially if your campaigns are clearly beating competitors — but also if you can show that you're learning from competitor strategies.
iSpionage is a competitor research tool for PPC and SEO, with built-in email reports, PDF exports, and shareable URLs. You can spy on ad copy, landing pages, keywords, campaign structures, and A/B tests — and understand what makes PPC campaigns profitable for competitors in your niche. You can benchmark against others and set up automatic reporting to monitor your progress versus rivals in the SERPs.
Competitor Research: One-off Report on the Competitive Landscape
With the iSpionage Competitor Research feature, you can enter any keyword or URL and get an immediate snapshot of the competitive environment in the paid SERPs.
For example, the below screenshot shows the PPC competition (on a national level, i.e. not geo-specific) for the search term "software development". This provides an entry-point for further research, where you can dig into specific competitors to see their ads and landing pages. These findings can be sent as part of a competitor research report, or used in preparation for the launch of new PPC campaigns.
These reports can be easily downloaded as PDFs within the dashboard itself, or added in as a Competitor Alert. The alerts can be kept for your internal team, or repackaged into a client report to justify your current PPC strategy or to provide support for a new set of ideas.
SEM Campaign Watch: Monitor Competitors and Report PPC Activity
With iSpionage's SEM Campaign Watch tool, you can monitor specific PPC competitors, track the share of impressions in your target niche, and keep an eye on how the SERPs change over time. This is also where you can get hold of the data to create reports about local PPC competitors.
You can choose to export PDFs for any report dashboard, or you can generate a shareable link. And when you set up your project, you choose whether to receive weekly or monthly automated reports. These reports alert you to new advertisers bidding on keywords and summarize the top current competitors.
Should You Try iSpionage for Reporting on the Competitive Landscape?
Like Raven, iSpionage can be used by agencies, consultants, and in-house teams. iSpionage uncovers every secret about the Google Ads strategies of competitors in your niche (or your client's niche).
In terms of reporting on your own campaigns, iSpionage is most useful for benchmarking your progress and showing how strategies have positively impacted your impression share and average ad positions.
Summary: What You Need from a PPC Reporting Tool
To capture the imagination of clients and stakeholders, PPC reporting software must facilitate more than just click costs and conversion metrics. Instead, it should help you tell a story using insights gleaned from multiple data points.
With Raven, you can craft custom reports that set your PPC results into a context that makes sense to the end reader. And with iSpionage, you can add competitor insights into the mix, and show how your campaigns are stacking up against key rivals in the marketplace.
Sign up for a 7-day free trial with Raven Tools to get started with your PPC (and SEO) reporting. Integrate 30+ sources into automated white-label reports, and manage everything in one simple dashboard.