---
---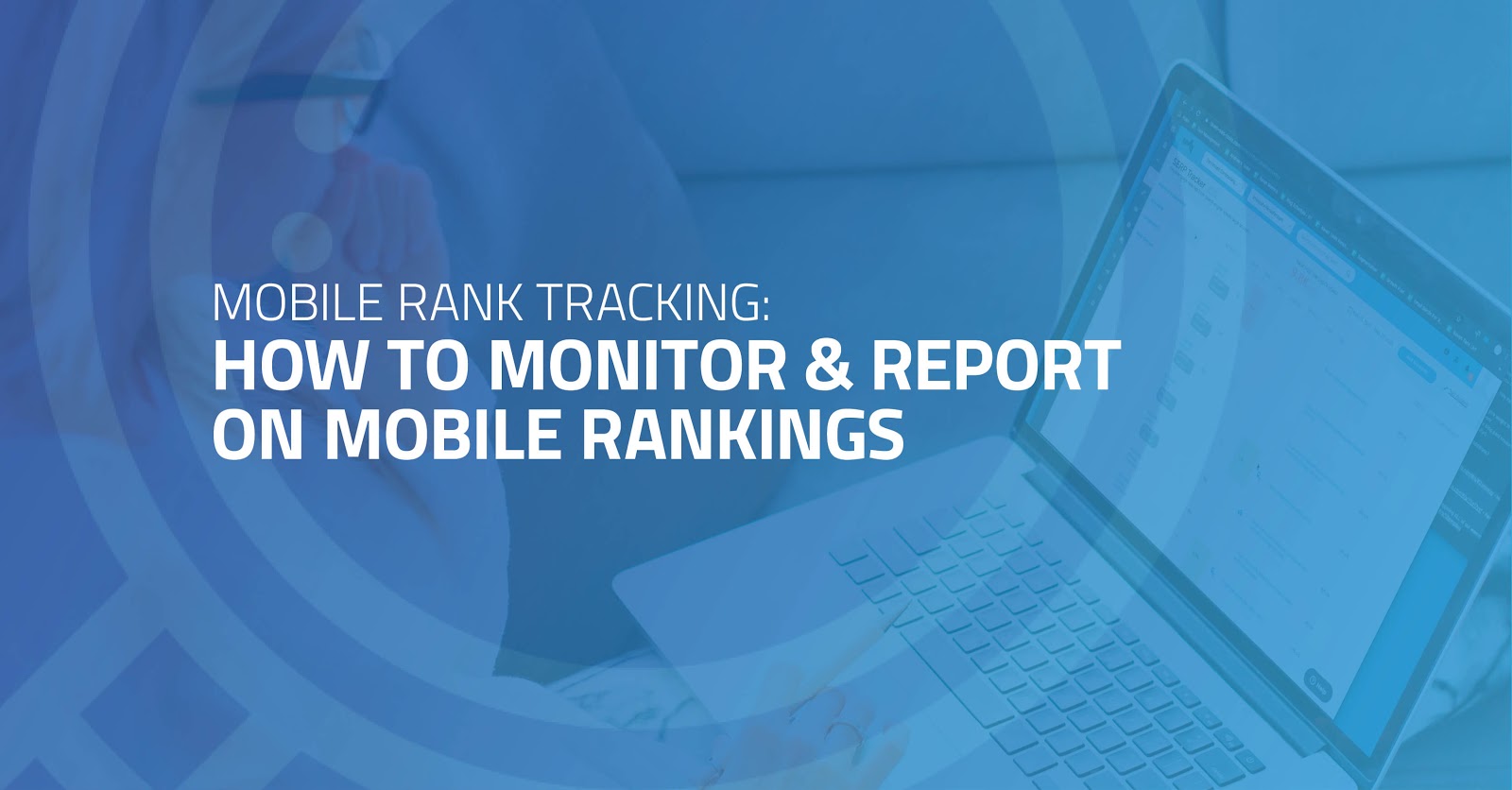 Google launched its Mobile-first Index in 2018/19 in response to the ratio of mobile searches swinging further past desktop every year. Now, the Google algorithm assesses the mobile experience of any website ahead of the desktop experience before indexing it in the SERPs.
While of course, this proves that building a mobile-optimized site is vital, just building it isn't enough. The increasing number of mobile searches also means that mobile rankings are more important to track than ever before. Despite this, many articles about rank tracking gloss over mobile rankings.
In this article, we will dig into the subject of mobile rank tracking, and discuss:
How to prioritize mobile vs desktop rank tracking
How to track mobile rankings on Raven
How to create insightful mobile rankings reports
By the end, you'll have a step-by-step process for understanding the importance of mobile rankings, monitoring them effectively, and crafting a compelling story with your mobile SEO reports.
1. How to Prioritize Mobile vs Desktop Rank Tracking
With Raven's SERP Rank Tracking, you can monitor mobile and/or desktop rankings in any location (zip code, town, city, or state) you wish, and the system can automatically update keyword rankings reports daily, weekly, or monthly. When you have this many options for rank tracking capabilities, you'll need to prioritize.
To do that, SEOs need to understand the ratio of mobile vs desktop users on their site. This is relevant for deciding which rankings to track because it also guides your on-page SEO strategy.
For example, page load speed is key to moving the needle on mobile SEO — because users are more sensitive to slow loading when waiting on their mobile devices than on desktop. So, if you get a lot of mobile traffic, you'll want to minimize large files and images and double-down on your efforts to improve loading times.
The mobile vs desktop traffic ratio changes drastically between different industries, but you shouldn't rely on this breakdown alone. This is commonly seen along B2B vs B2C lines, but it's not necessarily universal — and Google's own data shows the increasing influence of mobile marketing in the B2B space. So, rather than relying on "industry standards", it's vital to look at your own specific traffic sources to understand where your visitors originate.
And it's not just traffic sources that you need to check in Google Analytics — you also need to check traffic sources against conversion rates. If your mobile conversion rates are significantly lower than desktop, ask yourself whether this is inherent to the product, or whether you can take action to improve conversions.
Note: If mobile conversion rates are significantly better than desktop, you may also ask yourself how you can grow the share of mobile traffic to your website.
In the screenshot above, we can see that the desktop conversion rate is 0.20% and the mobile conversion rate is pretty much the same — 0.19%. Mobile users make up about 35% of the total traffic.
Given that 35% is a significant chunk of traffic, and the mobile conversion rate is similar to the desktop conversion rate, there's a strong argument for including mobile SEO and mobile rank tracking in reports.
However, rank tracking strategy also depends on which pages (i.e. services) get the most mobile traffic. The mobile search volume might change between different offers, for example, if a mechanic offers fleet maintenance and emergency towing services; same business, but a very different service and customer need state.
In this case, mobile searches for "emergency towing" will likely exceed the mobile searches for "fleet maintenance" — because users will be on the side of the road with a broken-down truck. With this in mind, your rank tracking strategy would need to adapt to the nuance of the business and its customers.
Sign up for a 7-day free trial with Raven Tools to access mobile and desktop rank tracking and customized white-label SEO reporting. You can also track rankings on Bing, Yahoo!, Yandex, and Baidu.
2. How to Track Mobile Rankings on Raven
If you've decided that monitoring mobile rankings is a vital part of your SEO strategy, you'll need software that will automatically track your campaign's progress over time.
With Raven, tracking mobile rankings is quick and easy, and you can do it using the same dashboard as your desktop rank tracking. After adding a keyword and choosing the tracking frequency, simply enter your city or zip code and toggle the "Mobile" tab before saving.
Mobile rankings are best understood in the context of their geolocations — because mobile searchers are often on the move, and because mobile rankings can change drastically from one zip code to another. So, we would always recommend setting up your mobile rank tracking to monitor specific areas.
You can add multiple cities or zip codes at the same time, or come back later to add more:

Next, your SERP Rank Tracker dashboard will be populated with keywords so you can monitor where your site ranks for those keywords when a user searches on a mobile device. In the case of the example above, "roof fitter" will be tracked in New York, New Jersey, and in a specific Manhattan postal code.
And Raven's SERP Rank Tracker dashboard will also pick up your map results linked to Google My Business — which is important to know for local rank tracking and local SEO reporting. These keyword positions will be indicated by a map pin icon, marked as an 'A', 'B', or 'C' — with 'A' showing that you have the first map result for that keyword in the location that you've chosen to track.
It's important to note that your URL might be ranking in position 5 organically, but at the same time you can have map position 'A'. This also works the other way around — you might be in first place in the organic SERPs but have a map position 'C', or no map position at all in certain zip codes. When you're reporting SEO results to clients, it's important that you communicate these nuances to avoid confusion.
Summary
Raven's SERP Rank Tracker allows you to track mobile and/or desktop rankings in any location. You can monitor your keywords over time, and follow the ups and downs of your ranking positions within the online dashboard. You can export this data directly to a PDF, or plug it into Raven's WYSIWYG Reports to automatically generate a mobile rankings report as part of your broader digital marketing reporting.
Sign up for a 7-day free trial with Raven Tools to access mobile and desktop rank tracking and customized white-label SEO reporting. You can also track rankings on Bing, Yahoo!, Yandex, and Baidu.
3. How to Create Insightful Mobile Rankings Reports
With Raven's WYSIWYG Reports, you can craft customized white-label SEO reports for clients or management. You can access data from 30+ sources — Raven's own SEO tools (i.e. SERP Rank Tracker), plus other third-party platforms like Google Analytics, Google Ads, Facebook Ads, CallRail, and many more.
How to Add Mobile Rank Tracking to WYSIWYG Reports
Adding mobile rank tracking to your SEO reporting is quick and easy with Raven. Simply go to the "WYSIWYG Reports tab", select an existing report (or create a new one), and select "Add More Metrics". Next, choose "SERP Tracker" from the list of data sources to add rank positions into the report dashboard.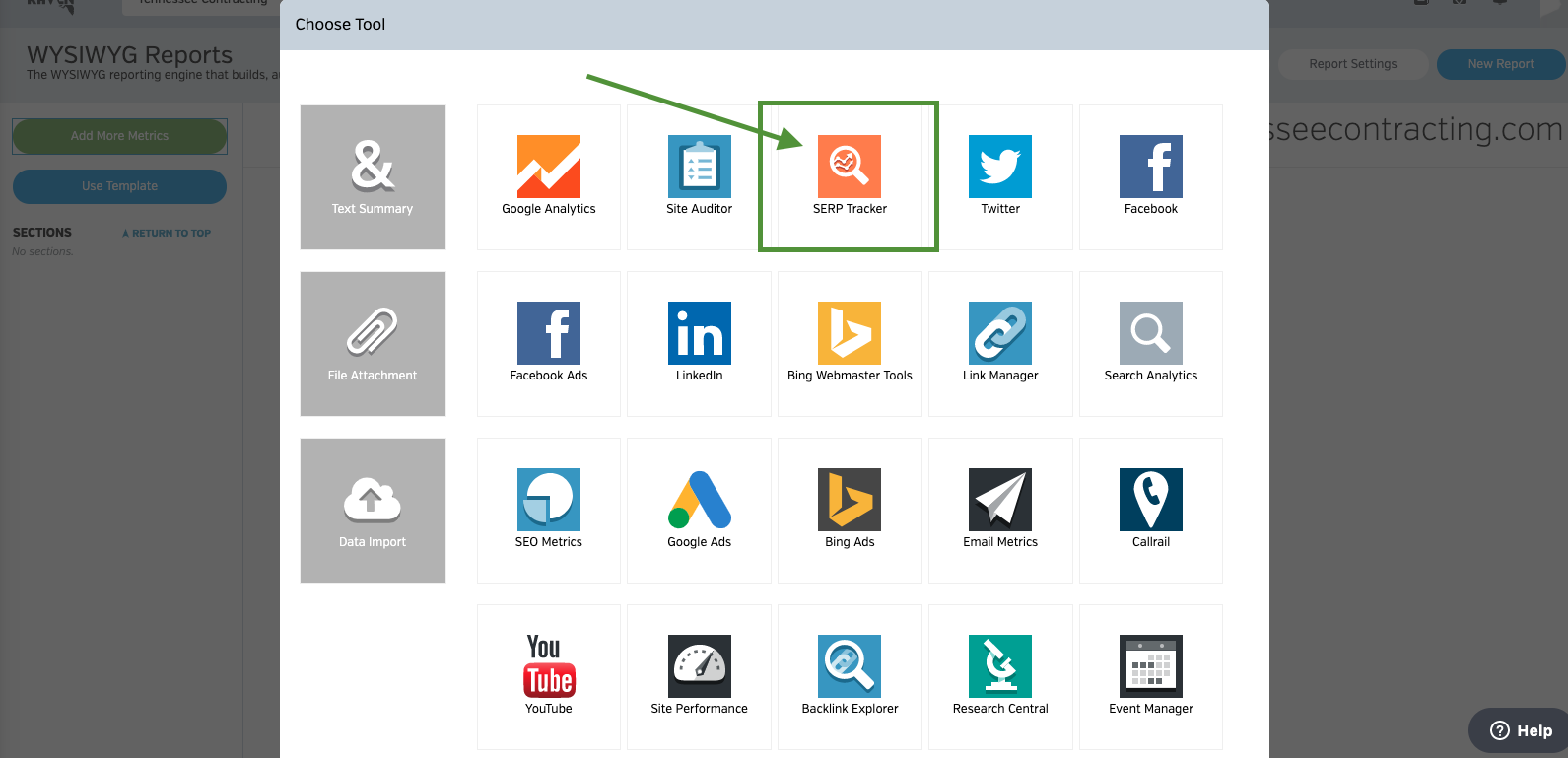 After adding SERP Tracker, the dashboard will look something like this: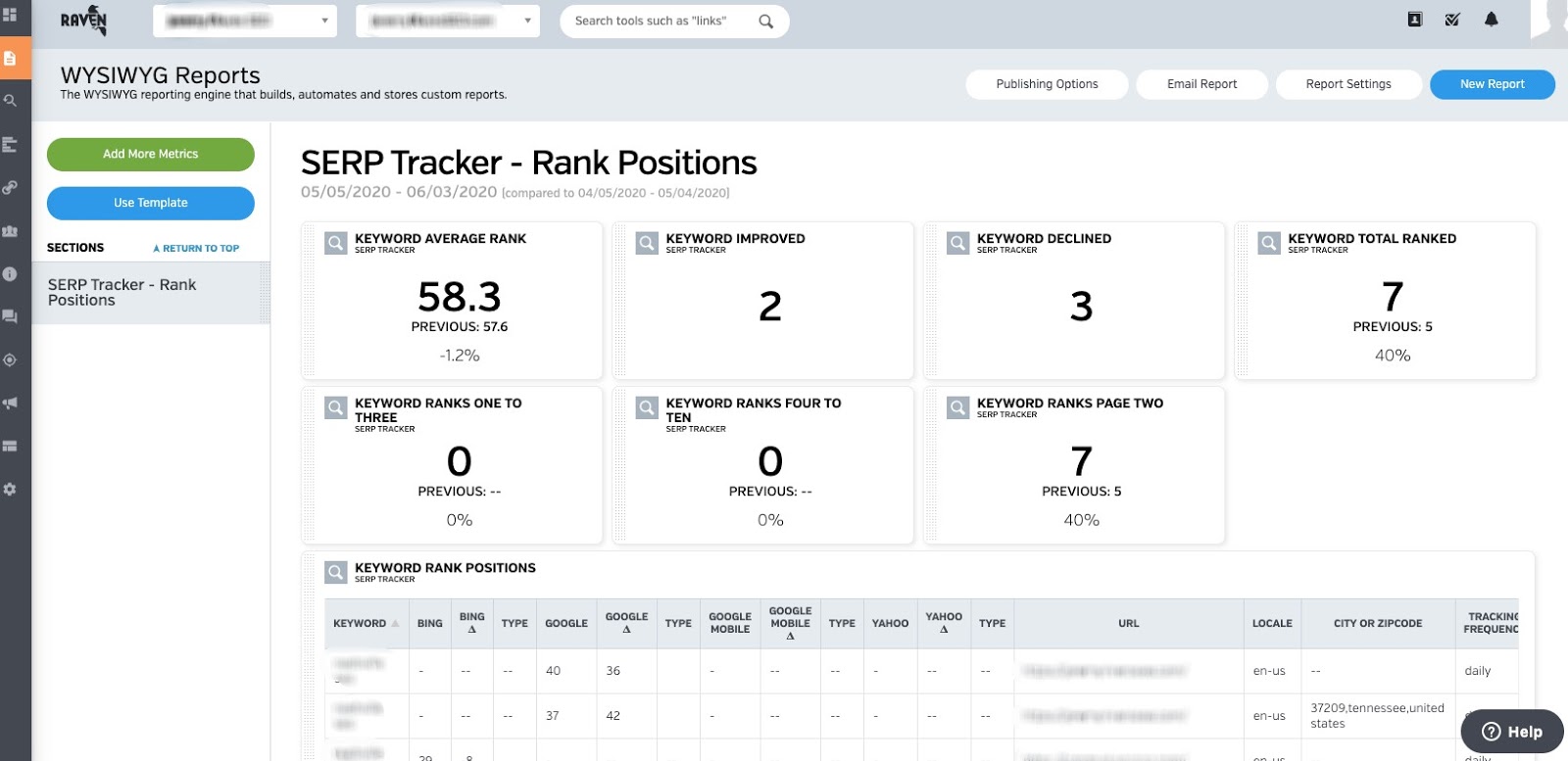 In the above screenshot, you'll see the default dashboard view after adding your SERP Rank Tracker to a WYSIWYG report. But you can change these headline metrics to a range of different data points — depending on the customized story that you want to tell with your mobile rank tracking. See below: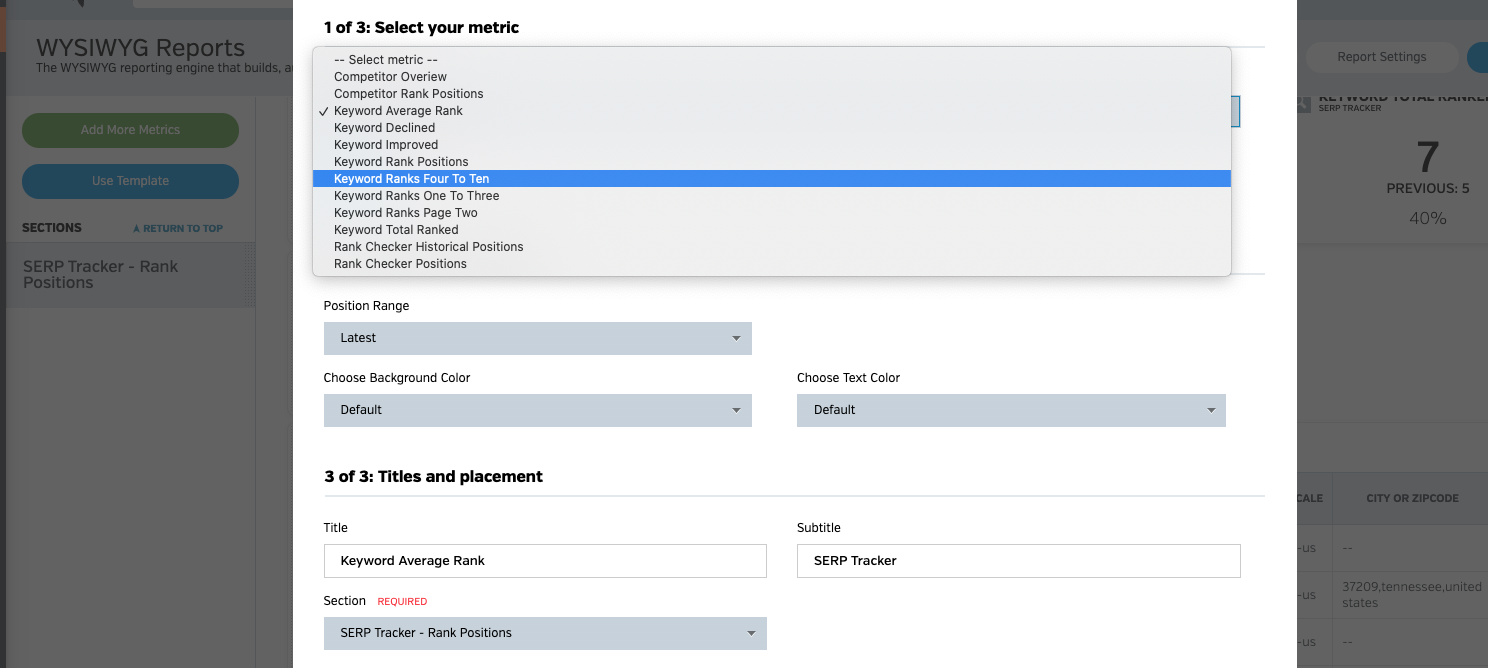 Raven's SERP Rank Tracker will work in the background, updating keyword positions according to the regularity that you choose when you enter the keywords into the tool. These will then automatically feed into your Raven reports, which can be manually exported to PDFs or sent automatically to clients or stakeholders via PDF or a shareable link. This means your mobile ranking reports are always up-to-date.
How to Build Insightful Mobile Rankings Reports
While reporting on mobile ranking results is fun, it matters less without telling the story about why mobile rankings matter. In order to build insightful and meaningful SEO reports, you need to create a compelling narrative by connecting mobile rankings to commercial results.
The first part of creating your compelling narrative is to justify the initial focus on mobile rankings (and mobile SEO) — which we covered in the first section of this article. So, by digging into your Google Analytics data, you can show whether your website attracts visitors on mobile devices, whether those visitors engage with your content, and whether they're likely to convert at all.
But in order to measure progress and report on SEO results, you need to assign a value to specific mobile keyword rankings. To do this, you need the following information:
Estimated organic traffic for your keyword (based on ranking position)
On-page conversion rate
Lead-to-sale rate
Revenue per sale
Then, to calculate the ROI for achieving any given mobile keyword ranking, use the formula:
Traffic value = [Traffic estimate for keyword] x [Conversion rate] x [Lead-to-sale rate] x [Revenue per sale]
By calculating the potential revenue generated by boosting mobile SEO, and by attributing estimated returns on the work that you've done to improve mobile rankings, you can tell a story that runs deeper than mobile rankings and traffic — and go further than simply reporting on mobile user conversions.
Use Raven for Mobile Rank Tracking and Reporting
As Google serves more dynamic and personalized results to its users, marketers need to get as many of the variables down as possible to understand their SEO performance. Raven's SERP Rank Tracker helps you do this because you can monitor keyword ranking positions for users in any location, on any device.
Our SEO reporting functionality is designed to give you maximum flexibility on what you report, and how you report. By plugging in multiple data sources, you can tell a story that goes beyond mobile rankings, traffic, and even conversions. You can assign a commercial value to your mobile rankings, and build SEO reports that link organic mobile ranking improvements to revenue growth.
Sign up for a 7-day free trial with Raven Tools to access mobile and desktop rank tracking and customized white-label SEO reporting. You can also track rankings on Bing, Yahoo!, Yandex, and Baidu.