---
---
Raven's Report Builder opens up an entire world of possibilities when it comes to reporting. Most people use reports as a recurring status update on active marketing campaigns, but reports can be used for so much more than that. We've previously written on minimalist marketing reports, but this article will give a more detailed reporting walkthrough.
For example, what if your goal were to acquire new business? Try creating a prospect report using Report Builder. Creating a prospect report can be done much more quickly than you might think, especially if you use a previous report as a template to save you time.
What is a prospect report?
A prospect report is, simply put, a report that you can give to a prospective client as part of your pitch for why they need your services as an SEO, digital marketer, social media manager or however else you might sell yourself.
These reports typically provide three types of data: baseline information, competitor information, and analysis. This guide will take you through the tools most useful for providing this information to a potential new client.
What to include in your report
All the data sources below don't require client access, so you can quickly build a report by doing some quick research.
2019 Update: We've spent a lot of time creating an updated SEO Report guide that details a step-by-step process to making SEO specific reports. Prospect reports focus primarily on metrics available for a prospect, and not a client. If you already have the client, then read up on our newer post.
If you haven't yet purchased Raven Tools, our marketing report page details some of the offerings of the tool in brevity.
Site Auditor
Raven's Website Auditor can crawl any public website, and gives you valuable information about how to improve that prospective client's website. As long as the crawling robot dispatched by Raven can access the page, you can use that information in a report.
You can start Site Auditor for any Campaign by navigating to SEO > Site Auditor and clicking the Crawl button. If you think you may send a report to a new lead, start a crawl now, so you'll be able to build a report later without waiting for data.
Site Performance/Competitor Manager
Raven provides two tools specifically designed to compare one website's data against several others: Site Performance and Competitor Manager.
Site Performance is like Competitor Manager on steroids. While Competitor Manager gives valuable comparative information about backlinks, Alexa rank and other metrics, Site Performance compounds that information with data from Site Auditor to find opportunities for improvement.
Not sure who your competitors are? Use Site Finder to get a list of high-ranking websites for a keyword, along with the websites most frequently linking to them.
Research Central
Research Central is the hub for all domain and keyword research in Raven. If you're looking for baseline metrics for a website, this is where you'll find them. For prospect reports, though, your best friend is the Quality section.
Quality allows you to create custom quality scores based on the criteria that you set. This means that you can create a set of variables, weight them based on how important you think they are, and Raven will display a score based on that information. This lets you set a benchmark for a prospective client, which you can work to exceed with your marketing initiatives.
Backlink Explorer
Backlink Explorer is a great resource for link builders investigating the quality and quantity of backlinks for a website. Try searching the Fresh Index for backlinks created or discovered in the last 90 days for a domain to get a baseline for how many links are being built on average and how high-quality those links are.
Putting it all together
Once you have all of this data at your fingertips, it's time to build the report in Report Builder. How you construct the report is entirely up to you, but be sure to take advantage of Sections as a organizational tool, as well as Text Summaries for providing your own analysis. You can even import your own table of data into a report.
Here's an example of a prospect report, put together using a combination of the above tools.
Don't be afraid to experiment! The data provided through Raven is at your fingertips, use it well.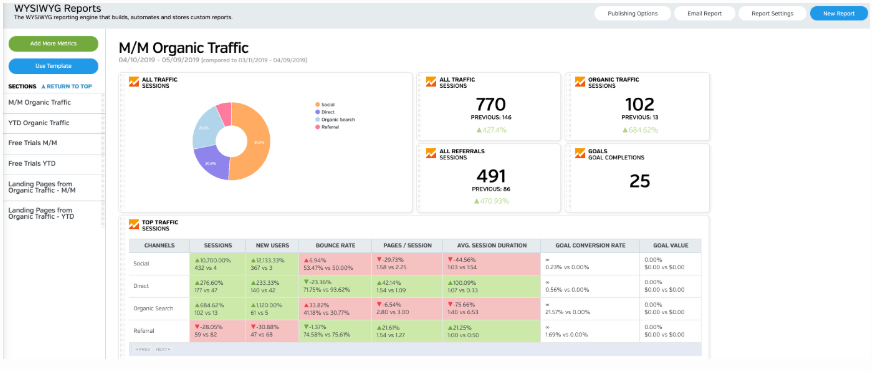 White Labeled and Branded Reports. Drag and Drop Editor. Automate your SEO, PPC, Social, Email, and Call Tracking Reporting.