---
---
When you're conducting an SEO audit, there are a lot of metrics and factors to look at — redirects, broken links, meta issues, image tags, and much more. All of these things are important to fix to keep your website healthy and capable of ranking in the search engines. However, when you're focusing on local SEO, some factors become more important than others.
To figure out which areas are the most vital to audit for improving local search rankings, we spoke with Elliott Davidson. He is a local SEO expert and founder of boutique UK-based digital marketing agency, Contrast. As Elliott says, "you can actually have such an impact if you get the local search engine optimization strategy right, and this all starts with the audit."
In the article below, we highlight Elliott's 4 main areas of focus when he's doing a local SEO audit — from covering the technical basics, to optimizing Google My Business, auditing local backlinks, and boosting organic click-through rate with USP-focused meta title copy.
According to Elliott, when it comes to local SEO, even small improvements in these four areas can have an outsized impact on your local search rankings.
Sign up for a 7-day free trial with Raven Tools, and access our Site Auditor, backlink analysis tools, and localized rank tracking functionality.

1. Cover Your Technical SEO and Basic Fixes First
First and foremost, Elliott says you can't skip the basics. The technical SEO issues we already mentioned are critical, so you need to fix broken links, add image alt tags, remove duplicate content, and everything else that's involved in maintaining a healthy website. And in Elliot's experience, there are a few basics that should be tackled when you're thinking locally:
Check that all phone numbers and email addresses across your website are clickable HTML, visible, and user-friendly for mobile users
Add your hours or opening times into your website's footer and all directory profiles
Check your website speed and ensure that it loads in 3 seconds or less
Test your site for mobile responsiveness
Use structured data to boost on-page local SEO
Note: If you need a quick way to identify these and other technical issues that might need to be addressed, simply type your URL into Raven's Site Auditor tool. You'll get an overall technical SEO grade (out of 100), and Raven will breakdown any issues that need to be looked at, along with a priority rating of critical, warning, or needs attention.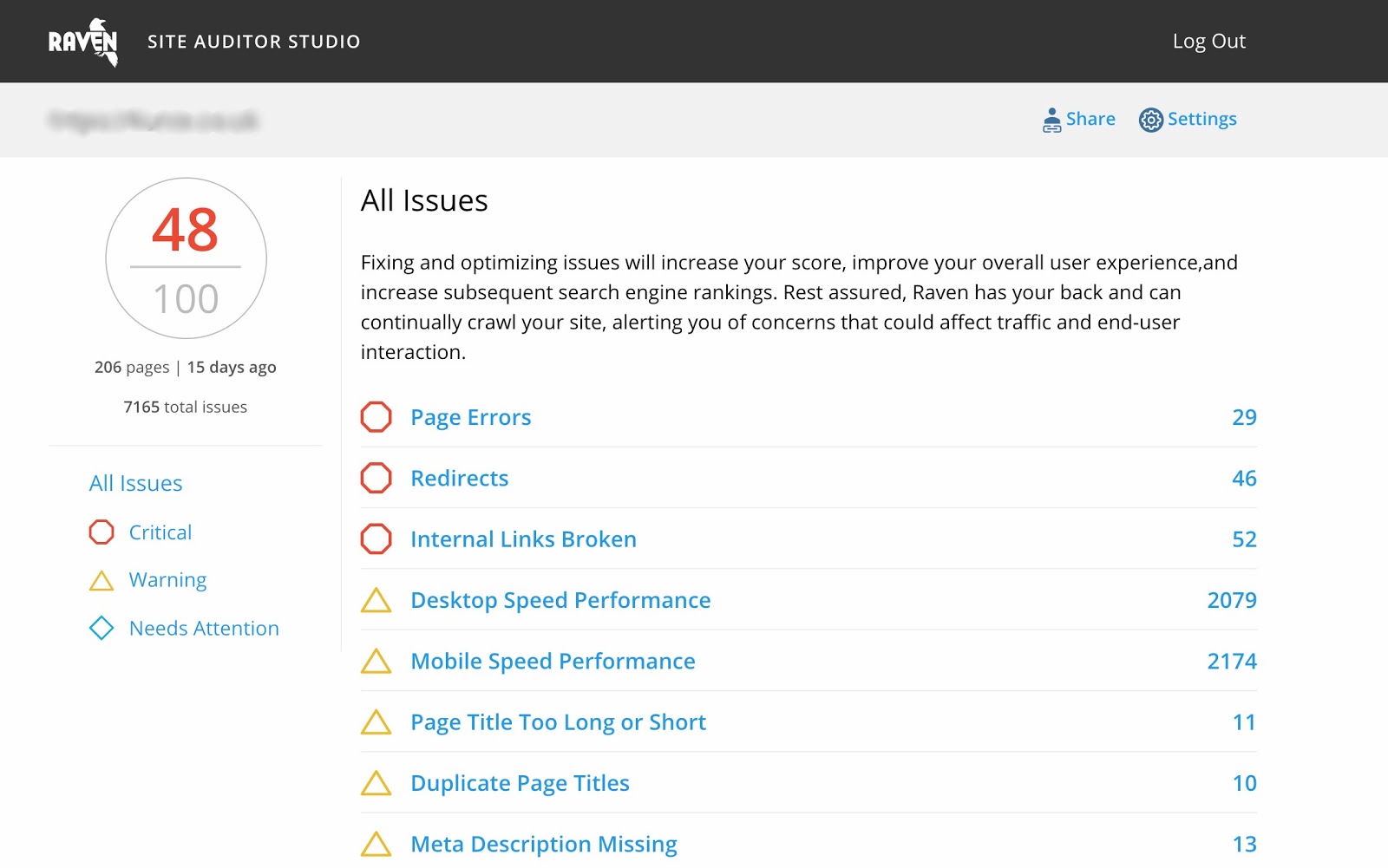 Let's look in more depth into a few of these factors that can impact local SEO:
Local SEO Basics: Getting Your Mobile Speed Performance Right
Page speed and website load times are as important a factor for local SEO as they are for traditional SEO campaigns, with one caveat: localized searches (e.g. "near me") are likely to be done on mobile devices. So mobile load speed is especially important for local SEO.
That said, Elliott doesn't recommend agonizing over the speed of your web pages after a certain point. "As long as you're at or below a 3-second load time — there's diminishing returns after 3-seconds," he says.
Note: To audit your local page speed, you can use a tool as simple as Google PageSpeed Insights.
If you're having trouble getting your website to load in 3 seconds or less, Elliott offered two quick fixes that can help cut downtime to load:
Use an image compression tool to compress images on your website into smaller files
Add a caching plugin (Elliott recommends WP Rocket, if your website is hosted on WordPress) to help your site load faster
Local SEO Basics: Test for Mobile Responsiveness
As Elliott told us, "if you look at the traffic breakdown for a local company, you'll find the mobile/desktop split is often close to 50 percent." That's in stark contrast to other types of companies, such as corporate B2B, which might look more like 80% desktop and 20% mobile.
Plus, with Google's announcement of mobile-first indexing, the importance of a mobile-optimized website can't be ignored. With this in mind, according to Elliot, "your website must be responsive — plain and simple." Luckily, with a platform like WordPress or Squarespace, the themes are automatically mobile-optimized. To test for mobile responsiveness during your local SEO audit, use the Mobile-Friendly Test available for free in Google Search Console.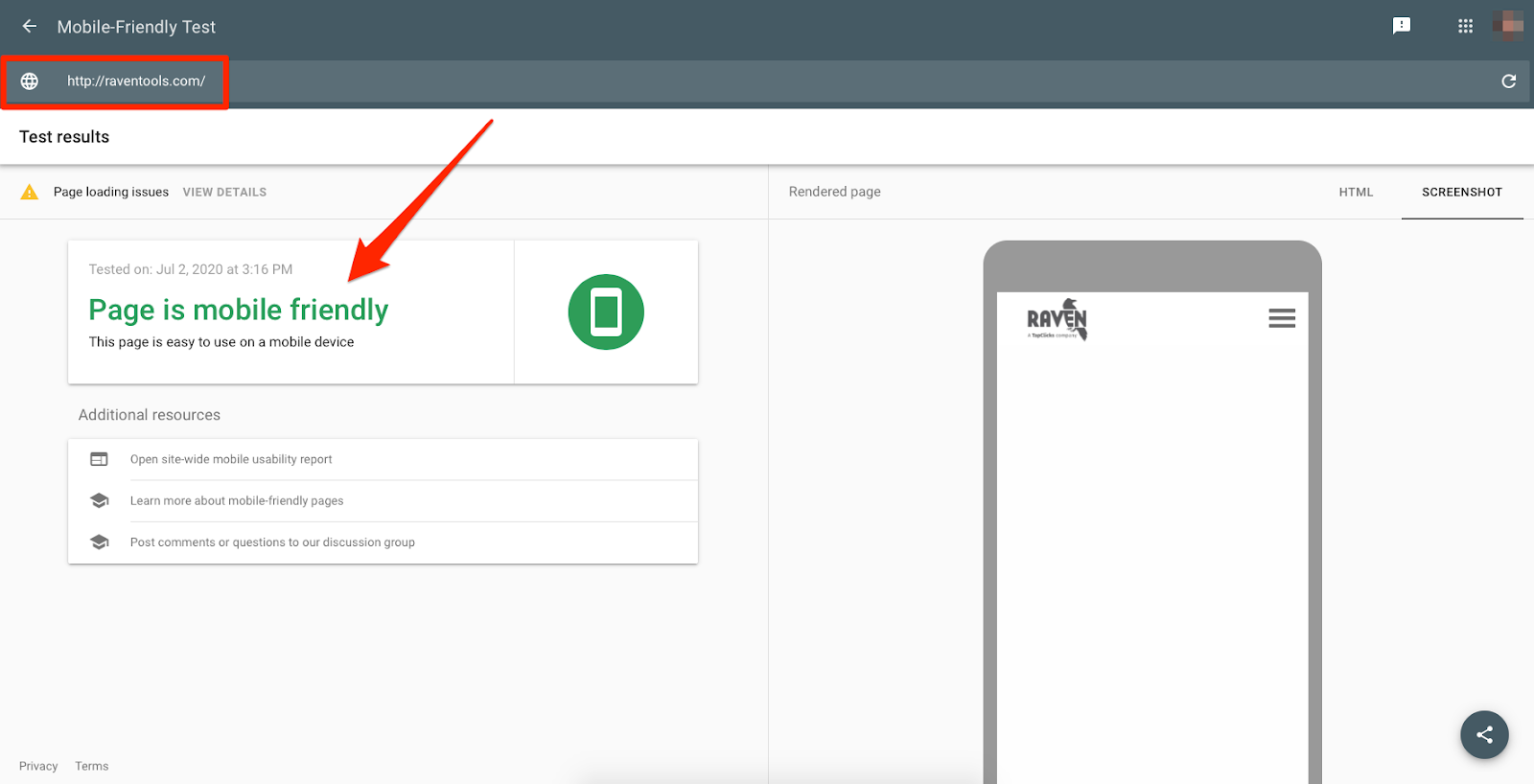 Local SEO Basics: Use Structured Data to Boost On-Page Optimization
Much of local on-page SEO optimization is about making it easier for Google and other search engines (i.e. Bing) to figure out where your business is, and which searchers you're relevant to.
One of the best ways to help Google understand your local relevance is to use structured data on your website. Simply put, structured data is written in a pre-defined structure that search engines recognize. Think of it like putting your website data into an organized Excel spreadsheet.
Specifically, Elliott recommends including your business NAP information (Name, Address, Phone Number) in a structured data format — to make it easier for search engines to interpret your location information and pull NAP data into search results pages. You can see local SEO benefit by adding that info into your website's footer, so it's included on every web page.
You can use the Structured Data Markup Helper tool in Google Search Console to highlight your address, phone number, and brand name. If your website runs on WordPress, you can also do this with an SEO plugin like Yoast.
2. Optimize Your Google My Business Profile to Perfection
Once you've looked into the basics and the technical side of local SEO, Elliott recommends turning away from your actual site — and focusing on your Google My Business (GMB) profile.
To start, ensure your listing is claimed, complete, and that all the information 100% matches your website. If there are discrepancies (e.g. listing one phone number on your website and a different one on your GMB listing) that can harm your chances of ranking for local search terms.
Specifically, your audit should verify the following details are included and up-to-date:
Business name
Address
Phone number
Hours
Reviews from customers (really important!)
Next, Elliott recommends looking deeper at your business category. As of 2020, there are nearly 4,000 different categories to choose from. Picking the right one can have a big impact on your local SEO because it affects which local search terms Google thinks apply to you, as well as which additional features (such as menus) are included with your GMB listing.
Elliott's tip for selecting the best category for your business is to do a competitor analysis and see which categories your key local competitors have chosen.
Lastly, Elliott told us that local businesses should always target their Google My Business profile to certain service areas. While most businesses only target the actual zip code (or postcode) where their business is located, you still want to bring in customers from other nearby areas, right? Google My Business allows this on the back-end, where you can add additional zip codes to your location as an indication of your service area.
In fact, Elliott says one local client that he's worked with saw a huge benefit to expanding their location radius: "All we did for that client was add additional postcodes and towns for a 15km radius to Google My Business, and we saw a 30% increase in views and impressions."
Auditing Local Reviews & Building a Process for Getting More
Not all local businesses have access to a CRM system that automatically collects reviews from customers after a service has been delivered. This often leaves them lacking in reviews, which are vitally important for building credibility — but they're also an indicator of quality for Google.
"As part of a local SEO audit, a business should get a handle on their number of current reviews — as well as their sentiment," Elliott says. "Then, it's time to build a process for getting more GMB reviews and scaling that up to distribute your reviews across different online platforms."
According to Elliott, this process for getting reviews doesn't need to be flashy — the most important thing is that there's a concerted effort to ask customers, even if that's manual. The added value, especially in the UK, is that some local review sites are run by government authorities. This means that there are authoritative backlinks on offer from trusted domains.
3. Check Out Backlink Profiles for Locally Relevant Links
The next step for your local SEO audit is to look into your own backlink profile and get a sense of which locally relevant backlinks are pointing to your site.
To start, Elliott recommends checking out any local citations (e.g. directories). First and foremost, ensure that each of these listings matches your website and includes the most current NAP (name, address, and phone number) — and relevant business information.
As Elliott explained, local SEO is typically dealing with a smaller number of backlinks to each page in the SERPs — so adding 1 or 2 locally relevant backlinks can make a huge difference in your local search engine results. And one of the best ways to audit whether you have enough high-quality local backlinks is to look at the backlink profile for your top competitors.
Note: You can see your competitors' entire backlink profile (including local backlinks, citations, and anchor text) using Raven's Competitor Research Tools. Simply type your competitor's website into Domain Research Central and then select the Backlinks tab on the left.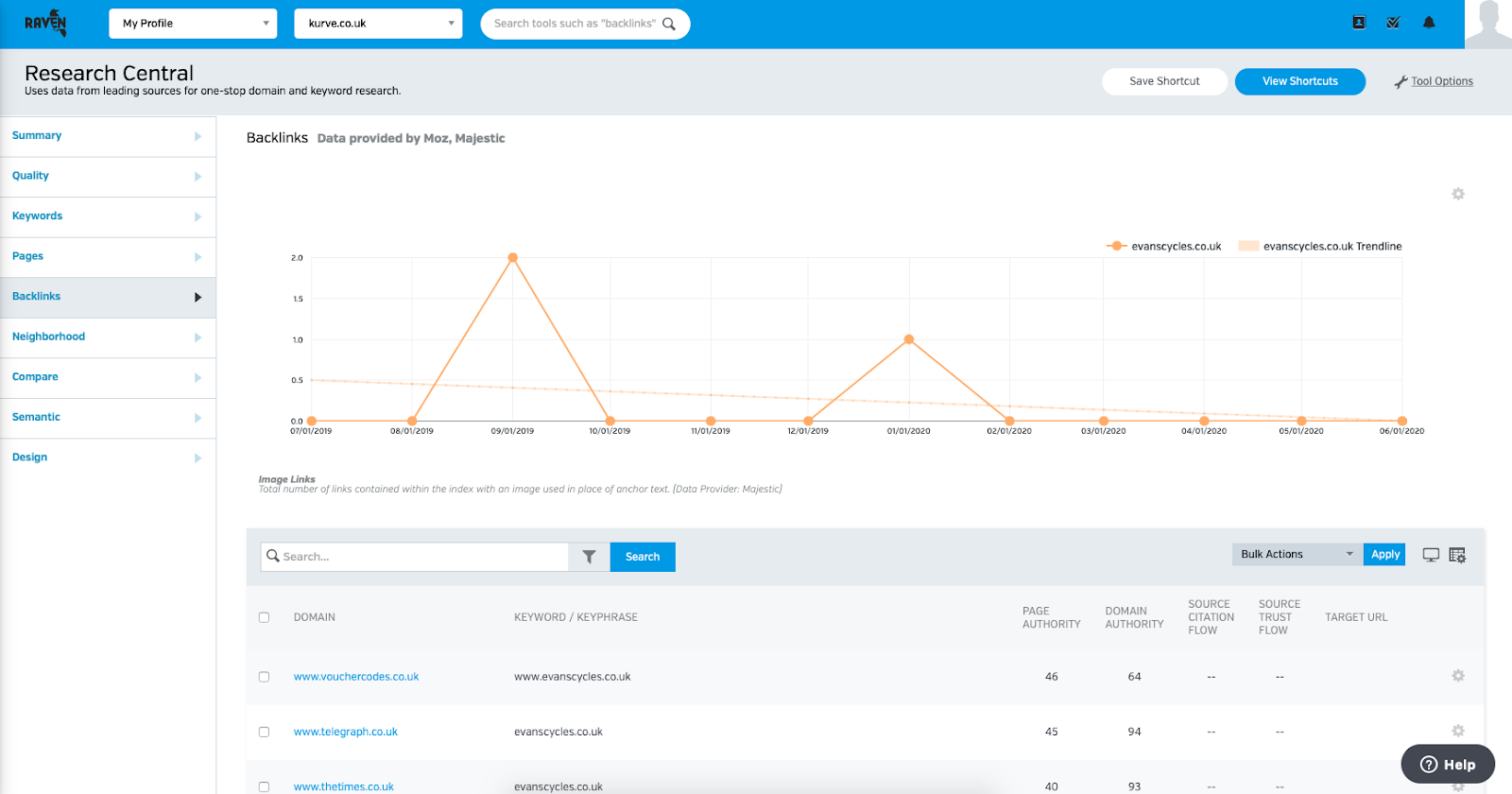 "Look at your local competitors' backlink profiles to see which links they have that you don't," Elliott says. "This can highlight some very easy opportunities you can go after."
In addition to link-building on websites your competitors are already on, Elliott suggests that your own local suppliers and partners can also offer low-hanging fruit for local link-building.
"There are some great opportunities to be leveraged with pre-existing relationships," he says. "Since you already have a good relationship with these local businesses, securing a backlink is an easier ask through things like content collaborations, case studies, and shared sponsorships."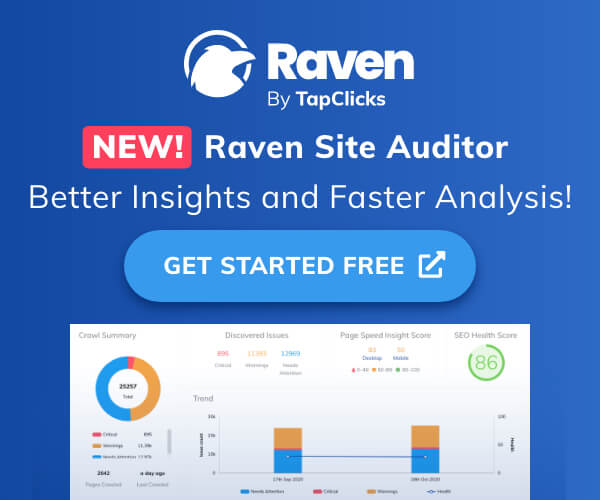 4. Audit Meta and Optimize It for Click-Through Rate (CTR)
The last piece of Elliott's recommended 4-part local SEO audit is one that might fly under the radar for local SEO — click-through rate (CTR). According to Elliott, CTR is just as important for local SEO as it is for your overall SEO health. "If you're in position 3 and your CTR increases," he explained, "you'll start to move up in the rankings, because this is a huge indicator for Google."
In his view, boosting CTR on your local search results comes down to finding and emphasizing a unique selling point (USP). And to ensure that your SERP listings communicate your value proposition in a compelling way, you can simply run a meta audit on the Raven Site Auditor tool.
Review your page title tags and meta descriptions which map to key local search keywords, and verify that they're leading with (and doubling down on) what makes your business unique — why should searchers click on your result? Why should they choose you over a more established national or international competitor? As an example, Elliott noted that for many small local businesses, this USP may come down to offering more personalized customer service.
As part of this process, he also suggested looking at your competitors' SERPs. The key here isn't to emulate these competitors — it's to ensure your meta copy sets you apart from them in the search results. This might be key to outperforming local competitors and bigger rivals.
Summary: What to Focus on for a Local SEO Audit
At the end of the day, small efforts can have a big impact when you're working to improve local SEO. And the basics matter. As with any SEO audit, it's vital that you catch the simple errors and fix the technical issues that give Google a reason to rank competitors above you.
For Elliott, after the basics are taken care of, a local SEO audit centers around creating a perfect Google My Business profile, analyzing the backlink profile of your site and its competitors, and auditing meta titles and descriptions to optimize for click-through rate.
Sign up for a 7-day free trial with Raven Tools, and access our Site Auditor, backlink analysis tools, and localized rank tracking functionality.