Is your business ready for Facebook Graph Search?
Written by Knight Stivender and published
---
---
Facebook has always been good at connecting people, but the social network's new Graph Search feature takes this underlying principle to a whole new level.
Graph Search, which is rolling out slowly now public for all Facebook users, introduces a powerful search element to Facebook by allowing users to search (not just their friends) based on interests, location, employer, education, relationship status – basically any public information people they've given Facebook.
Here's how Facebook explains it:
For example, you can search for friends of your friends in a new city you've moved to, look up photos by classmates from a specific time period, or see photos friends and others have shared with you from famous landmarks.

When you pair up phrases like, Photos of and friends or coworkers and your current city, interests, or likes you can discover things friends have in common that you never realized before, find new activity partners, discover great music similar to bands you already listen to, make your own travel guide, and more.
No matter what industry you're in or what role you play in your company, Graph Search likely has implications for you. For example, in my workplace at The Tennessean, Nashville's daily newspaper, everyone from reporters to marketers to salespeople could be affected.
Here are some of the possibilities I see for my industry.
For journalists
Journalists have already taken to social media in a big way for finding story sources, and Graph Search has the potential to dramatically improve how reporters can use Facebook to find sources.
For example, if we wanted to find singer-songwriters in Nashville who like beer, we can. (Not that we couldn't already.)

If we wanted to find people under 30 who work at Vanderbilt University and like Mitt Romney, we can do that too.
For event marketers
The ability to see the overlap in affinity for The Tennessean and other brands gives us a lot of new potential when it comes to partnerships for promotions and events planning. For example, we can see all the landmarks that women who like The Tennessean commonly visit: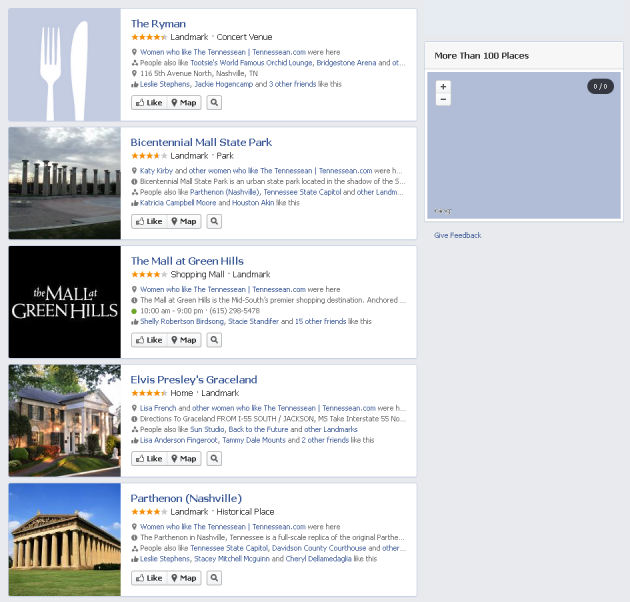 For sales reps
Being able to see the overlap in engagement with our brand and our advertisers' brands (and potential advertisers' brands!) opens up a much more meaningful discussion when we go on sales calls. For example, we have more than 1,000 Tennessean fans who also like Target. That's valuable information.

We might also use overlapping brand affinity to target subscription offers and push activations. For example, let's say we want to offer a friends-and-family deal to a company whose employees have shown an interest in us on Facebook. Graph Search can help us see what companies might be a good target for that. Here's the overlap of Tennessean and Vanderbilt, for example.
Those are some of the possibilities I see for the news world. What about for other industries?
For PR practitioners
Much like journalists can use Graph Search to find sources, PR practitioners have some big possibilities when it comes to using Graph Search to find targeted publications and contacts for clients.
You might also use Graph Search to extend your Rolodex and find out friends you have in common with sources you'd like to get to know and build a relationship with. In all of these scenarios, you can expand the search to see these people's friends. That makes it a huge, wide open search.
For social media managers
If you manage your brand's day-to-day social media accounts, Graph Search gives you a leg up when it comes to creating the kinds of content your fans will like best.
Search for their favorite movies, TV shows, music, food and more. If your fans love Arrested Development or can't get enough of Game of Thrones, you now know what pop culture allusions they'll connect best to. Maybe there are content opportunities for you.
For small business owners
If you've got a bricks-and-mortar location, it's important to know that Graph Search will also allow users to search by check-ins and photos at your location.
For example, I could do a search for "Italian restaurants my friends have been to" and see results that include both "likes" and check-ins or even search "photos of Italian restaurants my friends have been to."
Encourage fans to like your page, check in and share photos in order to help along the kind of brand advocates who can spread the word about you.
For employees anywhere
Anyone else in Facebook land can do exactly what I've done in the screenshots above. They can find out, for example, everything from the political affiliations to musical tastes of a brand's employees.
It's important that anyone representing your brand keeps that in mind when "liking" things on Facebook.