How to Tell Prospects Their Website is Terrible
Written by Nathan T. Baker and published
---
---
Sometimes a prospect's website needs a lot of work and it's obvious. So how do you break the news without being harsh?
Some prospects know they are behind the times while others don't. So tack is important until you understand what a prospect already knows about the performance of his website.
The trick is to use data to soften the blow. Data is objective and always a wise advisor. Data doesn't lie—at least data that is well collected and presented. It provides the context needed to show how a website is doing when compared to others.
To be sure, an incredibly ugly website could be generating a ton of sales or leads, but if it's not ranking well in search engines then you know it could be performing a lot better. Search visibility is something you can report on now, even before your first meeting with a prospect. You can also see how they are doing against competitors.
You can quickly build a marketing report for your prospect showing specific issues and how they compare to others, and let the data help break the news for you.
Build a Competitor Analytics Report For Prospects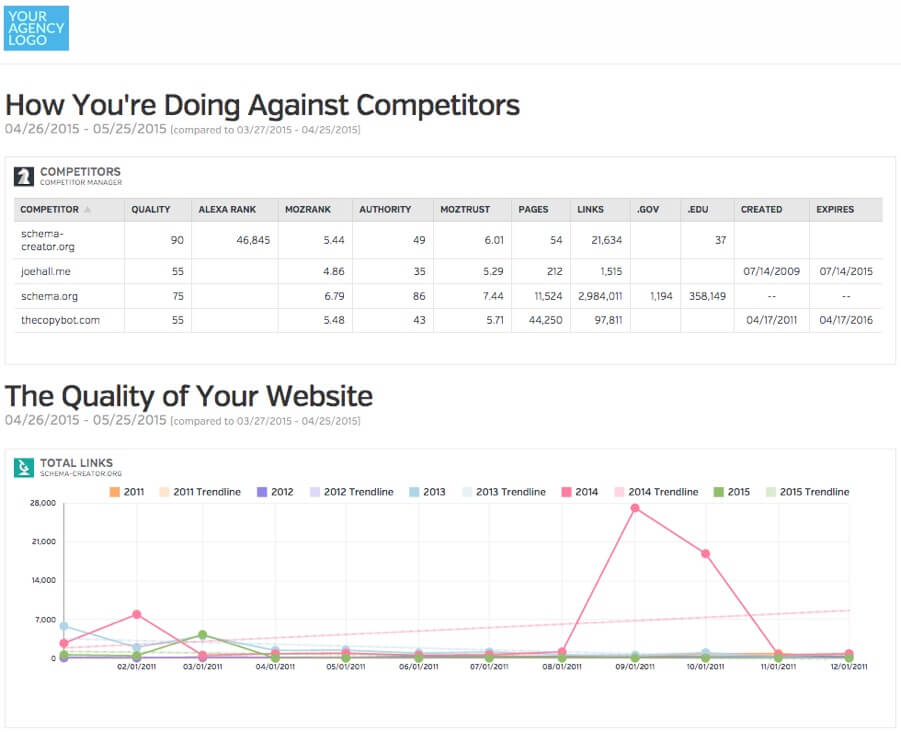 First, do some quick research and find your prospect's competition online. Follow the link to quickly build a list of 2-3 competitors using Raven's research tools. Once you have a shortlist of direct competitors, here's how to build your report.
Log into Raven. (Create a free trial account if you don't already use Raven.)
Go to Campaign > Competitor Manager and add 2-3 of your prospect's competitors.
Go to Reports > Report Builder and click New Report.
Click Add > Load More > Competitor Manager > Campaign Competitors.
Click Publish Report.
This report will show how a website is doing within the pack.
Related Reporting Options: To report on technical SEO issues, go to SEO > Site Auditor to run an audit. Once data is populated, when editing a report click Add > Site Auditor > Summary. You can also include data on the quality of a website by clicking Add > Load More > Research Central > Quality and Backlinks.
Let the Data be the Bad Cop
Data can be a great way to explain objectively and without emotion how poorly a website is performing against similar websites. Most websites have competitors that are doing better than they are, which can be a great teaching tool.