---
---
It's no secret that Google isn't crazy about marketers using their PageRank (PR) score. They probably even regret letting it loose to begin with, but let it loose they did — via their toolbar. Since that time, enterprising marketers have done whatever they could to know and reference PR for any given site or page.
As time has gone by, PR has become less important to seasoned internet marketers, and Google has also made it more difficult to retrieve the score from their servers. While Raven Tools has included the PR score as a part of our system since we first launched, it has become increasingly difficult to reliably provide PR scores to our users.
About Open Site Explorer
Fortunately, Rand Fishkin, and his team at Moz, had the foresight not only to solve this problem, but to also improve on it. Using the data from their link popularity checker and backlink analysis tool, Open Site Explorer (OSE), they've developed new metrics for measuring link popularity, trust and authority. Those metrics include:
mozRank and mozTrust for individual URLs
mozRank and mozTrust for unique domains
Domain Authority and Page Authority
Why Raven is switching to Open Site Explorer
Effective immediately, we are replacing most data references to PageRank in our system with mozRank. Also, where applicable, we will be including additional metrics, like mozTrust, Domain Authority and Page Authority.
The Quality Analyzer has two new metrics, mozRank and Domain Authority, which are replacing PR. Even though we are replacing PR throughout the system, we are still keeping the ability to manually add or import PageRank into the Link Manager. So if you're able to get the PR score from a different source, you can still add it to the Link Manager for your own reference.
Why OSE metrics are good for Raven
We believe that the addition of OSE metrics in Raven will provide a better experience for our users. Specifically:
You get better metrics to help influence intelligent marketing and link building decisions.
The Moz Site Intelligence API is a reliable data source.
We can provide data faster and more frequently.
The metrics will be used to enhance future tool development in Raven.
Help clients understand the change
We realize that over the years, some or many of your clients have become overly dependent on knowing and monitoring PageRank scores. Part of this phenomenon has been created by our own industry, while another part has come from clients attempting to educate themselves about SEO.
Fortunately, in the past few years, we've seen a shift away from the PR metric, and a greater focus on site performance and ROI. It is essentially a focus on what really matters to clients — results. If you use Raven Tools, and find yourself in this situation, we encourage you to educate your clients about the importance of metrics that focus on organic search engine traffic, site engagement and conversions.
Lastly, we are sincerely sorry for any confusion this change may cause you or your clients. It's a change we feel we had to make, but we also think it's a change for the better. We are very excited to more fully integrate the OSE metrics, and we're even more excited about the updates we have planned that will more fully use their link popularity, trust, and authority metrics.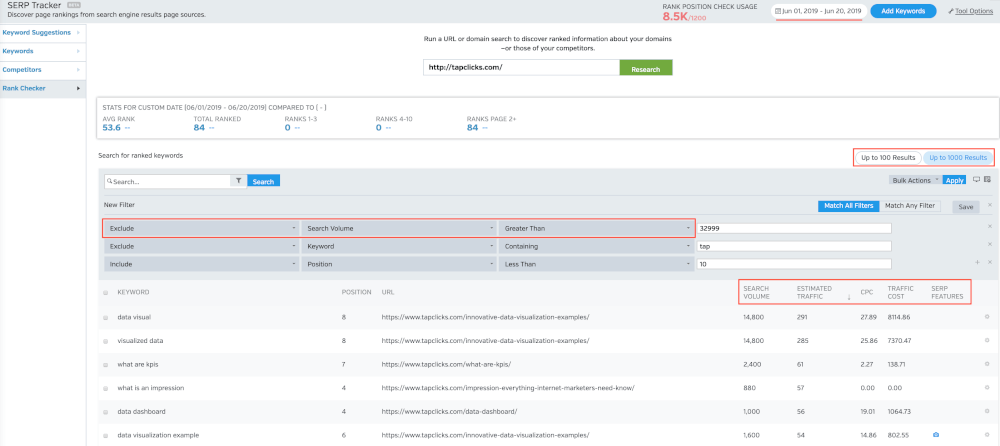 Give your keyword research a massive boost by immediately getting actionable intelligence on the competition.