---
---
Company blogs get used for a variety of purposes that are well beyond the purview of helpful, high quality content. They're used for product updates, conferences and events, new hires, contests, webinars and much more. Here's a good example of the kind of post I'm talking about.
Those type of posts are typically thin on content and are only relevant for a short period of time, and that's a problem.
As time passes, these blogs collect a significant amount of irrelevant and thin content. This unnecessary content subsequently decreases the quality of the blog and dilutes the core themes it's trying to rank for. That's why those posts should have an expiration date and be deleted from the blog.
Deleting blog posts can be a scary proposition for some. However, what many people don't understand is that it's okay to have 404 page errors. Especially if the content is no longer relevant and it's thin. There are no penalties for having 404 Not Found pages.
How to expire posts in WordPress
The easiest way to expire and delete posts in WordPress is with a plugin called WP Post Expires. We currently use the plugin on the Raven blog to expire timely and thin posts.
The plugin adds an expiration option to the Publish widget on the Post page. You can assign a date and time for it to expire, along with an action to Add Prefix, Move to Drafts or Move to Trash.
This plugin can be used on both old and new posts. When you review all of your existing posts to find time sensitive and thin content, you can either trash it or set it to expire. And as you create new time-sensitive, low quality posts, you can set the expiration date when you publish it.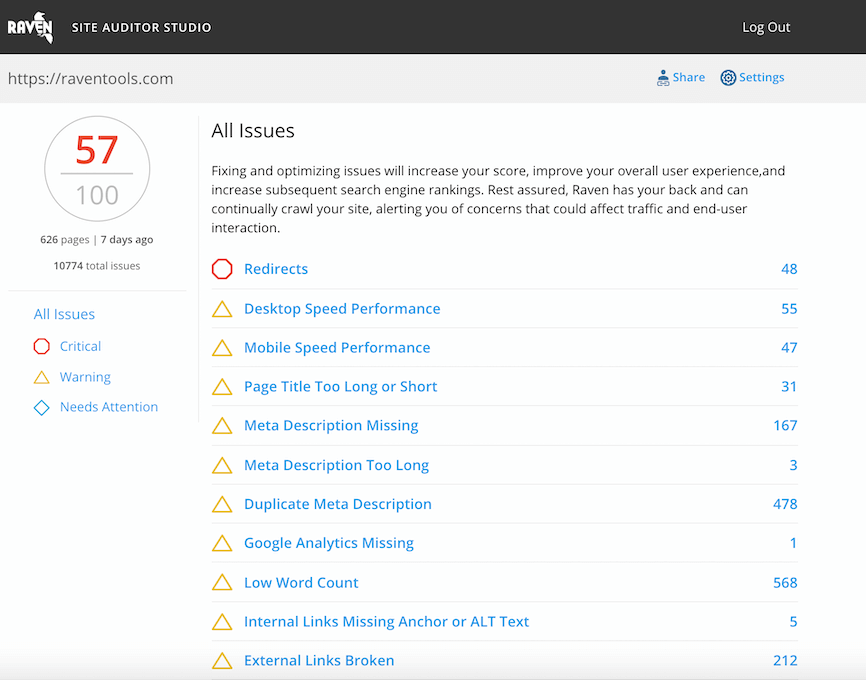 Analyze over 20 different technical SEO issues and create to-do lists for your team while sending error reports to your client.