---
---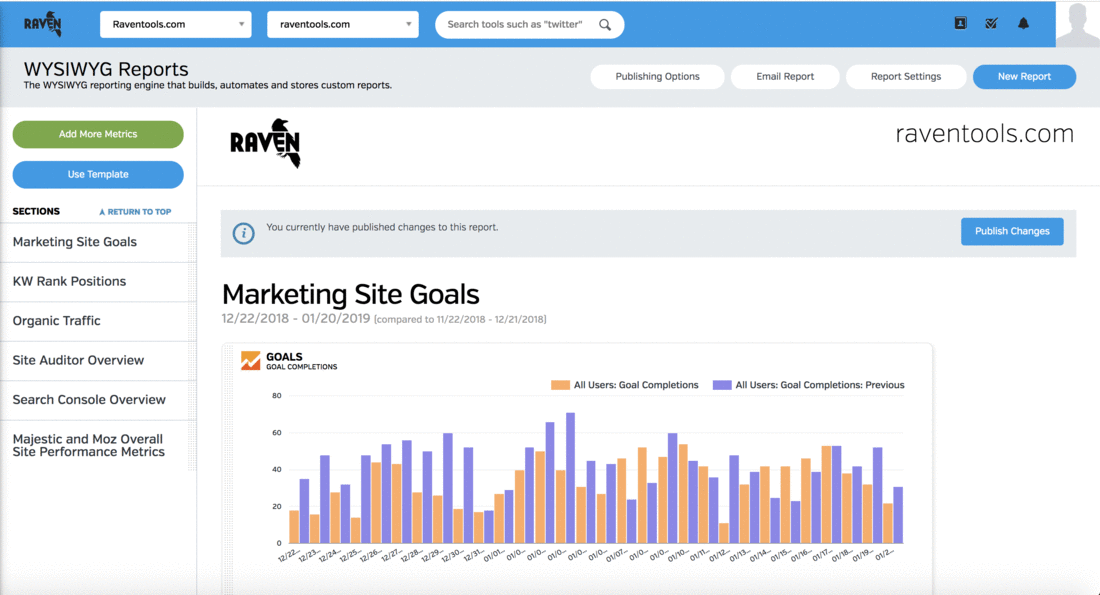 As a marketer, you know that data is essential to measuring the effectiveness of your efforts.
If you can't show your clients that "doing SEO" on their websites is positively impacting their business, you lose their support and the money they're paying you.
Many agencies provide routine SEO reports to their clients, showing the work performed and how that work has affected traffic, rankings, and conversions. These reports often take a long time to create and integrating important data can be clunky. 
Not only are they cumbersome to put together, but most traditional digital marketing reports don't reflect the most up-to-date work and data – leaving your clients in the dark for most of the time.
SEO already seems like voodoo to most people, so its good to bring a bit of tangibility to what you do. If you can go a step further and make the tangible into something aesthetically appealing? Well, then you're cooking with fire. 🔥
SO – Instead of giving clients an email with a paragraph of updates, or an excel or google sheet, why not give them something that clients actually want to see?
With a digital marketing dashboard, you can give your clients access to this data all the time. With a white labeled dashboard, they don't even know its someone else (Obviously this is where raven tools would step in.
What is Shown in a Marketing Dashboard?
Your dashboard is a tool that displays all the crucial information your client wants to know about their website and the work you do, including:
Social Media Analytics
Call Tracking Metrics
Email Marketing Metrics
PPC overview

Segmented Traffic (Organic, Social, Referral, Direct, etc)

KPIs (The stuff that really matters to the client)

Conversion Numbers (these would be goals)

Keyword Rankings

Impressions, sessions, clicks
Most reports provide a backward look at the performance of a website over the last 30 days or the prior quarter, but a live dashboard gives a window into how the website is performing at any stage. You could view current performance or performance from a year ago. Many marketing dashboards update their data at least daily, sometimes even hourly.
Another limit of many dashboards is the amount of data sources that the dashboard draws from. Some solutions offer PPC, or Social Media, or just SEO. With Raven Tools, you don't need to choose. Just put it all in one place.
Something to keep in mind though if you invest in any marketing tool. If you buy a tool that only does one thing, as a general rule of thumb, that singular focus can often create a stronger product. The more your company offers, the more they divert focus from digging deeper into one particular tool. Some great marketing dashboards exist that just do PPC or social media,
Think of a marketing dashboard as similar to a car's dashboard: As you drive, you use data from your car's dashboard – speed, gas level, engine temperature – to adjust how you drive and how far you travel.
With a marketing dashboard, you and your team can see in real time just how the work you're doing is affecting your client's website. This allows you to more quickly adjust your strategy and tactics to bolster up under-performing areas and maintain things that are going well.
Staying on top of the search engines is more difficult than ever. Climbing the rankings or maintaining your position requires that you and your team be nimble and adaptable.
The search engines are always changing the rules about what it takes to rank well, and many marketers are left behind if they're not keeping an eye on the frequent shifts.
A digital marketing dashboard helps you keep these fluctuations and changes at the forefront of your mind, allowing you to adjust your strategy on the fly.
Stay Current, Stay Informed
When marketers don't use frequently updated dashboards and instead rely on rankings and traffic reports from the prior month, they're changing their strategy based on things that have already happened rather than what's happening now.
Often, by the time a problem is recognized, it's too late to easily correct it.
By using a digital marketing dashboard, you can spot problems as they arise and work to correct the website's course before the issue is too insurmountable to tackle.
Some major benefits of using a digital marketing dashboard include:
Save time flipping between platforms and resources to find the data you want

See all your metrics in real time, so you can always be on top of slips before they become a problem

Make comparisons between your data and your competitors' easier by collecting everything in one place

Reduce the number of logins you and your staff have to remember

Quickly determine what campaigns are working and which ones aren't, pausing ineffective ones and saving time and money

Take a forward-thinking approach to your marketing instead of a reactive one

Easy-to-understand data helps you get all stakeholders on board with marketing efforts

Quickly

pull reports and data

to present at board meetings, conferences with investors, and more

See as much or as little data as you want

Create custom dashboards for each type of marketing you do, or create one holistic dashboard to collect everything
How Can I Use Digital Marketing Dashboards?
Whether you're a digital marketing agency, managing the SEO and performance of a number of websites, or you're the member of an in-house marketing team responsible for one site only, digital marketing dashboards can help you do better work in less time.
There are a variety of ways you can configure marketing dashboards to suit the individual needs of your business, including:
General Digital Marketing Dashboard
The most basic of digital marketing dashboards, use this format to track a wide swath of metrics and data.
See broad data on the number of followers on your social media channels, the incoming traffic to the website from all sources, and the number of new leads your website has brought in. Whatever you need to track to help your business grow, your digital marketing dashboard can show it to you.
Marketing Performance Dashboard
You've worked hard to create the ideal marketing funnel for your visitors, moving them from casual viewers to buyers with your content that speaks to their unique needs.
While you can easily see how many people have completed the funnel and become buyers, it isn't always so easy to see if someone's stuck in the middle and needs a little extra push.
With a marketing performance dashboard, you can measure every aspect of your marketing funnels, knowing where you're spending too much and where you can spend a little extra to keep visitors on the ideal path.
Ecommerce Marketing Dashboard
Measuring the effectiveness of your e-commerce marketing efforts is more than just dollars flowing in from sales.
Which of your product landing pages and descriptions is more likely to convert a viewer into a buyer, and which ones are least effective?
Use the data you find in your e-commerce marketing dashboard to hone your offerings, saving your business money and time.
SEO Analytics Dashboard

Make adjusting your SEO easier and faster with an SEO analytics dashboard.
Collect all the vital data you use as an SEO specialist in one place, so you don't have to flip-flop between platforms and resources. This not only saves you time but gives you a more holistic perspective on your client's overall SEO strategy, helping you make better decisions.
Google Ads Campaign Dashboard

Running Google Ads campaigns don't have to be a guessing game where you're spending money in the hopes of making money.
With a comprehensive digital marketing dashboard that lets you view all your important Google Ads data, you can see what's working and what isn't in real time, adjusting your landing pages or keyword bids to match the most profitable search terms at the moment.
Email Marketing Dashboard
Email is one of the most effective methods of digital marketing, promising a larger return on investment per dollar spent than many other more costly and flashy methods.
But it can be difficult to effectively use email marketing in your business, and many email automation platforms make their metrics difficult to find.
An email marketing dashboard helps you see key data, such as open rates and click-through rates, on each of your email campaigns so you can take note and more closely refine your emails in the future.
Social Media Dashboard

Determining the ROI of your social media campaigns isn't always easy. Are you after more followers? More engagement on your posts? More clicks to your website from social media?
Keep all that data – for all your social media platforms – in one place for easy access and analysis.
Conclusion
The key to effective marketing, in the long run, is to have a solid handle on the data. If you're not paying attention to how your various marketing channels – organic, paid, social media, and email – are performing, you'll end up wasting time and money, losing potential customers in the process.
To get ahead in the digital world, you need to stay on top of the changes to your website, your competitors' websites, and the industry as a whole, adjusting your tactics to fit the needs of your customers at any given time.
With a custom digital marketing dashboard, you can have all this data on hand and in real time, leading to smarter, faster decisions and better success of your online marketing efforts.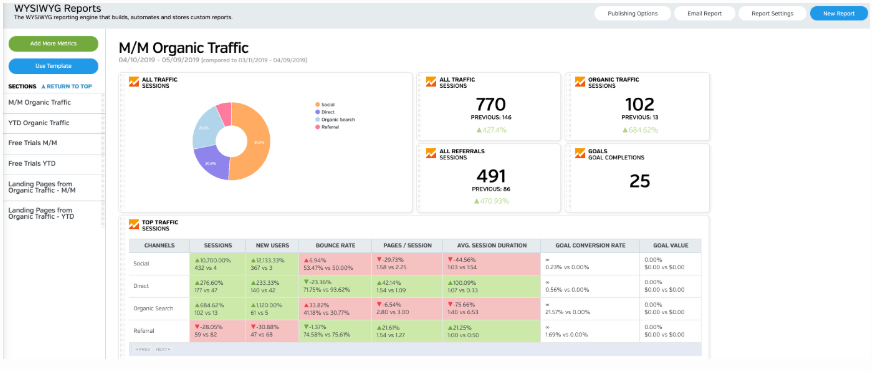 White Labeled and Branded Reports. Drag and Drop Editor. Automate your SEO, PPC, Social, Email, and Call Tracking Reporting.