Is Content Curation Dead?
Written by Nicolette Beard and published
---
---
Content curation has been around a long time. The best curated content relies on the editorial oversight of a subject matter expert (SME). This person (or team) has the ability to sift through reams of resources to find that one hidden gem which, when added to the compilation, will educate, inform, inspire and, maybe, even delight readers.
Curated content is intended to provide a deeper dive into a topic your customers care about, need to know about, but don't have the time to research on their own. Over time, once you've proven that your curation skills offer insight few others can, you will become recognized as a thought leader in your industry or niche.
Once you start presenting the highest quality and most relevant content to your target market, you'll be well on your way to establishing thought leadership. And, thought leadership is the first step toward building awareness and creating brand affinity.
If you're an agency that provides content marketing strategy, curated content should be one tactic you pitch to your clients. It's effective and cost efficient, relative to other forms of content, such as video, white papers and long form copy, if done right. (I know I'll get some arguments on this, but hear me out.)
What follows is information that will help inform your clients about the pros and cons of including curated content in next year's content marketing plan.
What Is Content Curation?
Content curation software company, Curata, defines content curation as "the process of consistently finding, organizing, annotating and sharing the most relevant and highest quality content on a specific topic for a target market."
Several content aggregators have popped up over the past few years, such as Paper.li, Scoop.it, Nuzzle, RebelMouse, etc. These sites find and organize content based on either what you're sharing on social networks or what your connections are sharing.
For me that just amounts to a whole lot of noise.
What if instead of sharing the same content everyone else in your industry is sharing, you added a layer of context?
What if you could curate content quickly and easily using a free tool, like Spundge?
Billed as software that helps journalists manage real-time data streams, I see real-world application for marketing agencies and brands too.
If "every company is a media company,"* as Richard Edelman, CEO and President of Edelman Public Relations has said for a few years, then companies large and small can at least take an incremental step toward publishing useful information that interests and attracts their target audience. [Source]
Here's an example of content curated for Quartz, albeit a media company owned by The Atlantic. The point is to demonstrate that a different way exists to create content beyond the tired "news roundups" we see all over the Web.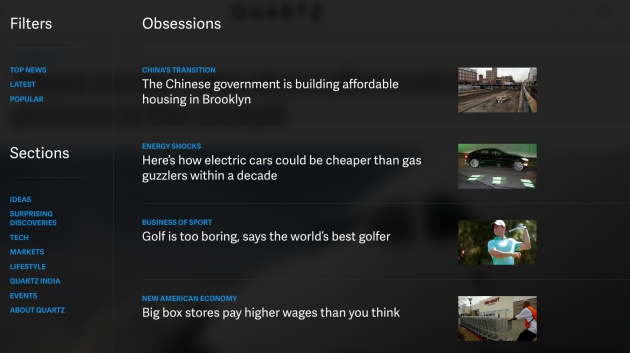 Spundge is the perfect app for busy marketing agencies to begin curating content on a larger scale. Minimally, it's a fast way to manage and monitor a client's industry and discover unique content to capitalize on.
At the beginning of your engagement, you can sit down with your new client and tailor the feed based on content most relevant to their audience. Better yet, you can activate filters inside a notebook (similar to Evernote) based on keyword, time, location and language.
Including the client in this process early on not only helps them take ownership, but also adds their expertise to the process. This is where an obscure journal could be flagged that will add depth to future curated posts.
While this may seem like a leap for local businesses or non-household name brands, you can show what the future looks like. Who knows? Your client may just surprise you and take a leap of faith.
Another Type of Content Curation
Spundge represents aggregated content from a variety of online sources based on criteria the curator determines, which may or may not be shared digitally. In other words, it has some degree of personalization and/or privacy, depending on its intended purpose.
Another type of curated content is hand-picked content — content that is editorially vetted from industry specific resources with the author's personal and industry insight. By annotating the content with your client's own SMEs, you've just added value that competitors can't match (unless they can get inside their brain).
Here's a great example from Scott Monty, former global lead for social media activities at Ford Motor Company and now Executive Vice President at SHIFT Communications.
His week in digital is more than just a standard industry news roundup. As a respected thought leader spanning business, technology, communications and marketing, I eagerly read his newsletter every Friday. As a sign of how much I value his insight, I rarely share his links. Sometimes, I like to keep the good stuff to myself;-)
He's even turned it into a Flipboard:
I can think of two other newsletters (paid) I receive that include curated content:
Eric Ward's Link Moses Private – Eric refers to his curated content as "The Missing Link". He also added a "Google Grok". (I'll leave it to Robert Heinlein fans to glean its meaning.)
Michael Martinez's SEO Theory Premium. Michael calls his "Seen in the Wild."
Frankly, this content alone is worth the price of admission because I trust the authors not to waste my time with run-of-the-mill, third-rate links.
Pros to Content Curation
Reduces the resource burden of creating original content
Creates links and connections that may be reciprocated
Builds a hub of relevant content making the topic more findable in search
Cons to Curated Content
Can seem like recycling old news
Off-the-cuff curation lacks originality
You may under estimate the resources needed to curate content effectively
What Marketers Are Saying About Content Curation
"Content curation is a significant part of best-in-class marketers' content mix: 65% created content and 25% curated content." Michael Gerard, Curata benchmark study
"A real thought leader — someone who understands what it takes to correctly curate content — knows that without providing your own insight and voice to the content, the content you send out adds no real value to your audience." TJ Welsh, Director of Marketing at Stryde. 4 Content Curation Tools to Boost Your Content Marketing
Remember, there are other forms of content to curate besides text and links. Curate the best TED videos for a given topic. Compile Pinterest boards that fit a niche. Round up the most irreverent podcasts you can find.
You get the idea.
So, to answer the question posed by a recent online class attendee whether I thought curated content was still a good idea — unequivocally, "Yes!"
Photo Credit: giulia.forsythe via Compfight cc