---
---
After you've worked hard ideating, researching, content writing, and designing your content marketing campaign, the next logical step is to promote your work and get your piece of content in front of your target audience. The time spent strategizing and creating your content should be equally matched when executing your digital PR strategy.
Before you just send an outreach email to anyone with a blog or online audience, review these tips on what to consider when building an outreach list for content marketing.
Media Targets Should have Topical Relevance
Topical relevance is arguably the most important factor in determining whether to include a publication on your outreach list for content marketing. It also may seem like the most obvious.
Unfortunately, topical relevance is often overlooked by PR professionals looking to get their content out in front of the most people—and they end up damaging their relationships with journalists by reaching out with irrelevant content.
In fact, a survey of 1,300 publishers found that "Seven out of ten publishers reveal one of their top pet peeves is pitches that are irrelevant to them and their beat," so taking the time to find the right journalist to pitch can go a long way in building lasting relationships with editors and publishers.
So how can you ensure that you're reaching out to a journalist with content that is relevant to their beat? Do your research. For example, if you're pitching a dating app, don't just target tech writers. Target writers who frequently cover apps in the lifestyle and relationships vertical.
And, just because someone wrote about a dating app one time in 2015, does not mean that they're a good fit for your pitch. Think frequency and recency.

there is a reason
i didn't respond
to your PR pitch
it is because
it is bad
and has literally nothing
to do with me
or anything i have ever written about
or would ever plan to
you do not need
to follow up

— David Mack (@davidmackau) October 4, 2018

You can also execute persona research ahead of your outreach strategy to ensure that the content you've created and are sending out into the world reaches your target audience.
Figure out where your customers discover new content, and then research those publications to identify what types of content they will cover.
By doing research in advance, you can also learn more about how to style your pitch. Is the tone of the author professional or casual? Does this person often cover external graphics or do they create their own?
Do they take stories that have been published on other sites or do they prefer only to cover exclusive findings?
These are all things you learn when you take time to do the research in advance.
When marketers do their homework and learn more about the types of content journalists and publishers prefer to cover, they earn higher placement rates and build real relationships with publishers who appreciate not being pitched with irrelevant stories.
4 Negative Signs to Avoid for Link Outreach
According to Net Market Share, of all the search engines, in 2018, Google has a net share of 72.62% of total search engine use on a desktop. That makes Google's Search Quality Evaluator Guidelines a good place to start when looking to identify best and worst practices when it comes to link building outreach.
As Search Engine Journal notes, "Even though the Google search algorithm was built primarily on link signals (and they remain a primary part of it), Google has always been seeking out a diverse set of confirming signals that all together provide confidence that a page is the best result for a given user query."
Google has over 10,000 search quality raters worldwide to evaluate search results. They use this set of guidelines (most recently updated in July of 2018) to help their raters assess website quality. Google's Search Evaluator Guidelines note five main negative signs that a potential outreach target (publisher) can have to avoid when conducting link outreach. I will go through each one briefly.
Low (or no) Social Signals
If the goal of your outreach is to get your content in front of as many eyes as possible, one quick way to determine if you should qualify a media target for outreach is to check their social engagement on recent posts.
Remember that even if a publisher is widely known and has a large following, it doesn't mean that each writer earns the same social engagement. Be sure to check individual author archives as well to predict how well your content will do if covered by this potential target.
You can use a tool like BuzzSumo to review the publisher's history of social engagement. As you can see from the above example, the most popular post on Business Insider in the last two years was a How-to on moving to Canada, earning 2.3 million Facebook engagements alone. Your press mention may not do that well, but it's a great tool to use to see the extent to which audiences are engaged with content from a given publisher.
Low Domain Authority
If you've been in the link building or digital PR game for long, you know that backlinks and brand mentions are valuable. But not all backlinks and brand mentions are created equal. The value of a link or mention varies depending on the referring website. As you conduct media relations outreach to earn press mentions and links, you'll want to earn placements on sites with a high domain authority or ranking.
What is Domain Rating and Domain Authority?
Domain Rating and Domain Authority are third-party metrics developed to help SEOs identify the strength of their website. Google is notoriously vague about their ranking algorithm, and DA and DR are both scoring systems that allow you to see how you compare to other websites. They are calculated differently but are good metrics to use to determine whether to reach out to a publisher for an outreach campaign.
Domain Rating (DR) "is a near perfect metric to help you vet the 'link popularity' of your link prospects. High 'link popularity' basically means that there's a decent chance that a page on that website will generate some backlinks and have high URL rating." — Ahrefs
Domain Authority (DA) is "a search engine ranking score developed by Moz that predicts how well a website will rank on search engine result pages (SERPs). A Domain Authority score ranges from one to 100, with higher scores corresponding to a greater ability to rank." — Moz
How Do You Check Domain Rating or Domain Authority?
Ahrefs offers a paid plan you can sign up for it to test URLs. You can also test URLs for free using a third party tool at SEOReviewTools.com.
Moz offers a free Google Chrome extension called the MozBar that you can use to check the DA of every website you visit. You can also test URLs for free using a third party tool at SEOReviewTools.com.
What Is a Good Target DA?
What constitutes a high-authority website initially? Well, the highest authority sites also tend to be the largest content publishers out there. Websites like TIME, Buzzfeed, The Washington Post, CNN, the Huffington Post, and The New York Times all have websites with DR and DA in the high 80s and 90s (on a 100-point scale). These publishers are also highly competitive and difficult to place with, so to earn press mentions from publishers like these, be sure to reach out with authoritative, unique, exclusive, and newsworthy content to rise above the noise.
Mid-authority sites tend to cover specific verticals or niche topics but often have a highly engaged community and could be a good fit for your outreach strategy, depending on your content campaign. Some mid-authority sites include websites like Bustle (women's lifestyle), First We Feast (food and dining), Moneyish (personal finance), and The Score (sports).
Low-authority sites are the smaller independent blogs that are focused on one specific topic and are often open to outreach if your pitch is tailored enough to their specific area of interest.
Consider Author Reputation
The newest version of Google's Search Quality Evaluator's Guidelines tells us about the importance of a content creator's Expertise & Reputation. Make sure you exhibit those to visitors of your site as clearly as you can.

— Bill Slawski ⚓ (@bill_slawski) July 26, 2018
In the July update to Google's Search Quality Rater Guidelines, "reputation of the creator of the content" is brought into play for the first time and is a major focus of the guidelines this time around. The credibility and reputation of an author make sense as such a signal because the typical person reading the page should be able to determine if an author is a credible source.
When it comes to author reputation, Google notes that it's important to be able to easily identify who is responsible for the site (an About page) and who is responsible for the content on the page (e.g., an author, blogger, journalist, contributor).
By understanding who the site owner and author are, you can use Google's E-A-T (Expertise, Authority, and Trustworthiness) to determine if this person is a good fit to contact about the content you're trying to promote.
Google goes on to note that a bad author can impact the reputation of an otherwise trustworthy site "a bad author can lower the quality rating of a page even if it's on a high-quality site."
How can you determine if the individual you're reaching out to has a good reputation in Google's eyes? You can do manual research by checking out their author archives and digital footprint.
What does their LinkedIn say about their professional expertise? Are they verified on Twitter? What other publications have they written for? These are all great questions to ask when qualifying a media target for outreach.
Too Many Advertisements
Food blogs with too many ads/graphics to load the page infuriate me. Just give me the freaking recipe Karen. I don't need a gif of your cat.

— Megan Christian (@meganrose47) October 8, 2017
Is there anything worse than going to a site that slows down your browser the moment the page loads because of all the flashy, distracting advertisements?
This doesn't really apply to established and high authority sites, but more-so for niche industry blogs. If you're hoping to reach out to a blogger that covers the topic of your content but are bombarded with ads and spammy messages when you go to their posts, that is a major red flag.
If the advertisements are too distracting, are difficult to close, or interrupt the users' experience, don't bother pitching these sites. Google states, "The presence or absence of Ads is not by itself a reason for a High- or Low-quality rating. However, we will consider a website responsible for the overall quality of the Ads displayed."
Consider Natural Syndication Networks
When evaluating whether to qualify a publisher for outreach, factor in the site's syndication network. What is a natural syndication network? Syndication occurs when one publisher's coverage of a campaign results in another site covering it as well.
According to Fractl, "Many high-authority websites have natural syndication networks that republish or/and cover their stories. The secondary website expands the reach of the original post by sharing it with their readers. This brings additional exposure to an article and therefore increases the value of a PR mention or link on a website with a syndication network."
You often see syndication in this form from wire-syndicated news organizations like Reuters and the Associated Press, but it also occurs with other publications as well.
Unfortunately, there is no actionable way to determine if a website has a large syndication network except by experience. You can get a feel for it, though, by utilizing the following two tactics:
Searching for the title of the article to see if other websites have republished it

Entering the URL of an article into Moz's Open Site Explorer to see how many backlinks the page has. A large number of backlinks indicates that other sites are regularly covering or republishing the article.
Learn more about natural syndication networks from Moz.
Conclusion
When qualifying a media target for outreach, above all else, be relevant, do your research, utilize natural syndication networks, and avoid negative Google search qualifier indicators. When thinking about digital PR outreach, the better your content, the easier it is to earn placements on top-tier publishers. Focus on creating great content first and the outreach will come easily.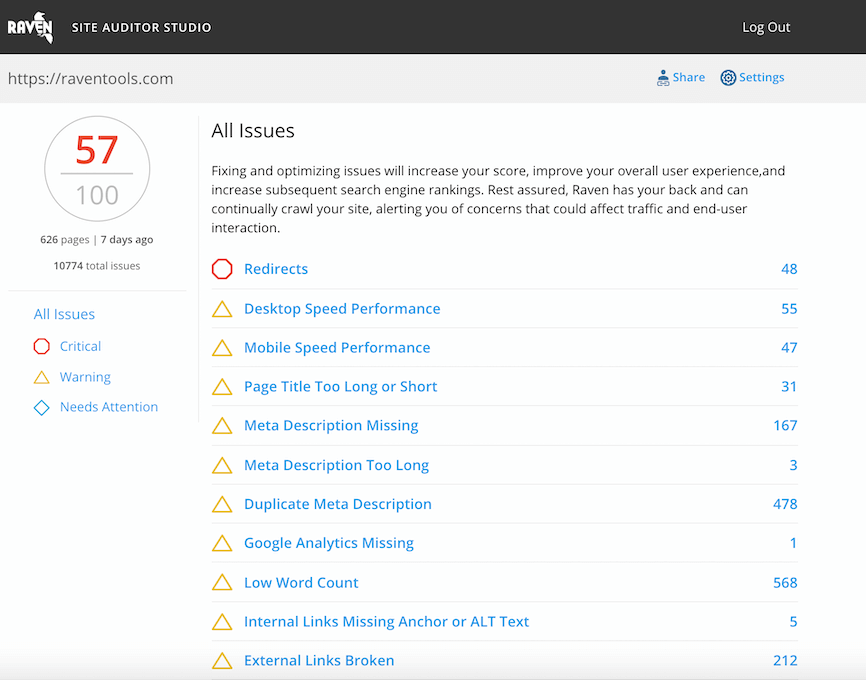 Analyze over 20 different technical SEO issues and create to-do lists for your team while sending error reports to your client.