---
---
As search engines work on getting "social search" just right and Facebook moves into the search game with Graph Search, there's no doubt that this will be the year of social SEO – using social media to reach your SEO goals.
But how do you measure the impact your social efforts are having on SEO? Perhaps read a mega guide to creating an SEO Report? Interested in learning how to make the process easier?
Social SEO reporting can be difficult. There are so many potential performance indicators to measure, and sometimes you can't completely predict where the win will be observable. You've got to choose the right metrics for your goals, figure out how to measure and see how you did, and then determine what it means for traffic.
But the diversity and flexibility of social media are what make it the perfect supplement to any SEO campaign. Social SEO can be tailored to nearly any objective. In this post I'm going to discuss four metrics to consider for social SEO reporting, along with how to measure and report them.
Organic traffic
Social signals such as tweets, +1's and likes can help you become more visible in search and get your content indexed quickly. In this way, social activity can increase organic search traffic to your site.
To measure this, you'll first define your most shareable content. This will vary by industry but could be content like landing pages or product pages. What content on your website is likely to be shared by users via social media, and what content would you want to be shared?
Look specifically at this content to find out if your efforts to promote it socially are also paying off in organic search.
The (not provided) keyword can help here. Google +1's are most likely to have a direct effect on your rankings, but the search traffic will show up as (not provided) in Google Analytics because users can only "+1" when they're signed in.
As more and more people search while signed in, this percentage will likely increase. Compare this increase across your landing pages. The ones with more +1's should be outpacing the natural growth of (not provided).

For example, the traffic in the graph above is to a particular landing page that has had some regular social success. The spikes in the bottom graph, Visits via Social Referral, let us know what social efforts were effective on their own – meaning the page reached an audience that was engaged and was shared with influencers.
You'll notice a large spike in November. This was twice as much social referral traffic than any usual promotion effort. While we see that organic traffic (top graph) has been improving, supported by the smaller social referral spikes throughout the year, it more than doubles following the big social win in November.
Looking specifically at the (not provided) traffic, in the middle, we can see how this organic boost came primarily from signed-in searches. That means personalized search! When you find a correlation like this, include it in your reporting and do some analysis to explain what's happening and why it's happening.
You can get fancy with math, tracking your (not provided) numbers to see how they change on specific landing pages compared to overall change. This can tell you that you're succeeding in personalized results or that the query is susceptible to personalized searches.
Number of owned or positive results
Social SEO is particularly useful for online reputation management. You can use social media to promote and improve the position of positive content and help keep negative results down, should any exist.
To measure this one, decide on your keywords to watch. This will typically involve your brand name and high-level variations such as "brand name videos" or "brand name twitter". You may have good reasons to throw in some non-branded keywords, but this list will generally be more focused than an overall keyword strategy.
A web search for these terms should return owned results, such as your website, your Twitter, Facebook, Pinterest, etc., along with positive and neutral results.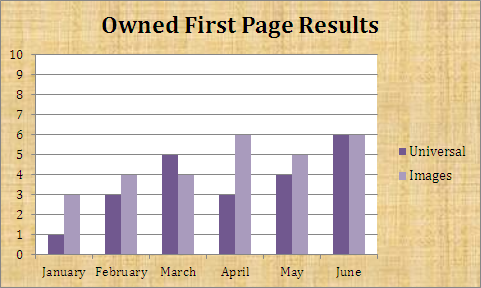 Track the number of owned and positive results on the first page or two of search engines once a week and chart progress. This metric should change significantly – say, from 2/20 to 15/20, over the course of an effective social SEO campaign.
Don't forget that image and video search are important here, too.
The clearest indicator that you're doing the social part of social SEO right is how engaged people are with your content. A steadily increasing number of likes, tweets, +1's and comments indicates:
Your content is good and interesting
Your website is well-optimized for social sharing
You're promoting to an engaged, quality audience
I use an internal tool to store these metrics, but a tool like SharedCount can help anyone analyze and report this.
This data will give you insight into where your target demographic is, who they are and what they want. Maybe people on Google+ respond well to your content, yet you've been focusing primarily on Facebook!
If your numbers aren't growing, it could be a sign that you need greater social media visibility or a better content distribution plan.
Social referrals
A final way to see the impact of your social SEO strategy is to look at social referral traffic.

As you promote content through social media, you increase social signals to your site. A tweet by an influential user will bring more traffic to your website, and search engines are learning to give more weight to those kinds of social signals.
So your overall social referral traffic will be indicative of your social SEO success. Keep a close eye on it to make sure it increases throughout your campaign.
Whatever the goal, measure
You may have different priorities or metrics in mind. That's OK, as long as they align with your goals. The important thing is to report on the metrics you've chosen.
Too often companies implement something "social" without a plan in place for tracking its performance. Line up clear goals early on – before your first tweet, before you set up your Google+ profile. Know why you're doing what you're doing, and know how you will measure its success or failure.
Reporting is the key to an effective social SEO strategy because it allows you to analyze and adjust. Pay attention to the data. It will tell you what to do.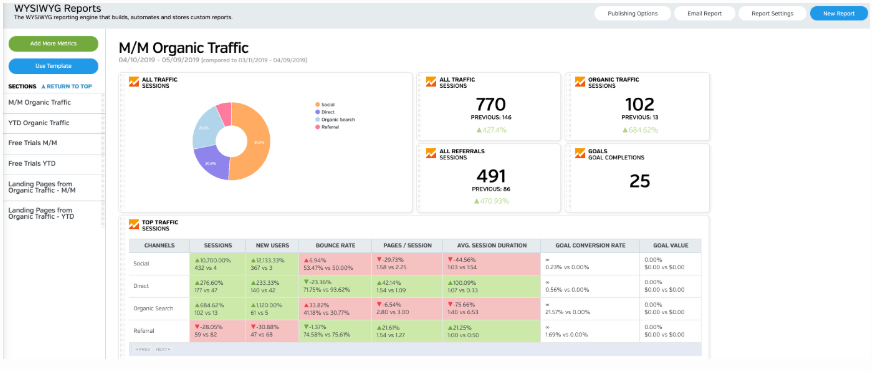 White Labeled and Branded Reports. Drag and Drop Editor. Automate your SEO, PPC, Social, Email, and Call Tracking Reporting.