---
---
Return on Investment (ROI) is what every client wants from a search marketing agency. It's an easy thing to calculate if you're doing Pay-Per-Click (PPC) advertising. If your revenue is higher than your spend, PPC management fees and cost of goods, then your client is getting a return on their investment. Although it's simple to figure out ROI for PPC, the same cannot be said for search engine optimization (SEO).
Search marketing agencies that provide SEO services have traditionally reported ROI in a variety of ways. The most common approach to SEO ROI has been search engine ranking. If a company can get a client to perform well in organic SERPs, often times focusing on a handful of short-tail keywords, then they've done their job. Unfortunately, that's not exactly SEO ROI. Instead, it's a trophy that may not be worth anything at all.
Note: We've recently written the ultimate guide to SEO Reporting, for those interested in learning how to use Raven to report on return on investment.
The fallacy of short-tail search terms is the assumption that it provides a return on investment. For example, if a company is spending $5,000/mo to an SEO agency to build up and maintain short-tail keyword phrases, that agency may report those SERPs as SEO ROI. Agencies have been training their clients to believe that highly ranked short-tail SERPs is ROI, when that couldn't be further from the truth.
More often than not, clients already have some short-tail keyword phrases that perform very well in SERPs. They covet their short-tail SERPs and believe that by simply being number one or number three, their website will somehow magically profit from it. However, looking deeper into their analytics can sometimes reveal a much different story. Short-tail SERPs can suffer from being too broad. For example, a site may perform well for "blue widget" but it doesn't necessarily mean that people who want to buy the widget will search with that short-tail term. Instead, qualified and targeted traffic may search for "best price on blue widget" more often than simply typing "blue widget" in their search query. If that's the case, and if the website doesn't perform well on those targeted long-tail keywords, the short-tail SERP becomes useless.
The same concept applies to referral traffic. A successful link building campaign may get a lot of high-quality inbound links to the client's site and may improve their short-tail SERPs. However, if those referrals aren't driving targeted traffic and if they're only propping up poor performing short-tail keywords, then is there really any ROI to report? The answer is probably not.
The Anatomy of True SEO ROI
True SEO ROI involves driving targeted traffic from SERPs, regardless of how long or short the keyword tail is. It also includes targeted referral traffic. Targeted traffic means traffic that accomplishes the purpose and goals of the website. That could be any of the following:
Subscriptions
Repeat Traffic
Community Involvement
Registrations
Newsletter Signups
Purchases
What's tricky about reporting SEO ROI is that you have to connect the links that have been built with referral traffic from websites and search engines, and then connect that data with conversion results. Although Google Analytics can help connect the dots, it's still difficult to sync, analyze and report on that data. This is something that Raven has spent a great deal of time on — creating a relationship between Link Manager data, Analytics and our conversion tracking code. The result is what we call true SEO ROI.
True SEO ROI can show you the effectiveness of any SEO campaign. For example, if a campaign is focused on building links in forums that link to widgets on the client's online store, then an SEO ROI report would show the success of that campaign. That report might include a list of inbound links that resulted in purchases, including details from related organic search engine traffic (matching or similar keywords used in the anchor text or within the context of the pages the links were built on) that resulted in purchases.
Each SEO ROI report should focus on and report the following key elements:
Conversions related to the campaign
Overall increase in conversions over time
Conversions related to search engine traffic
Overall increase in search engine traffic
Overall increase in unique users and traffic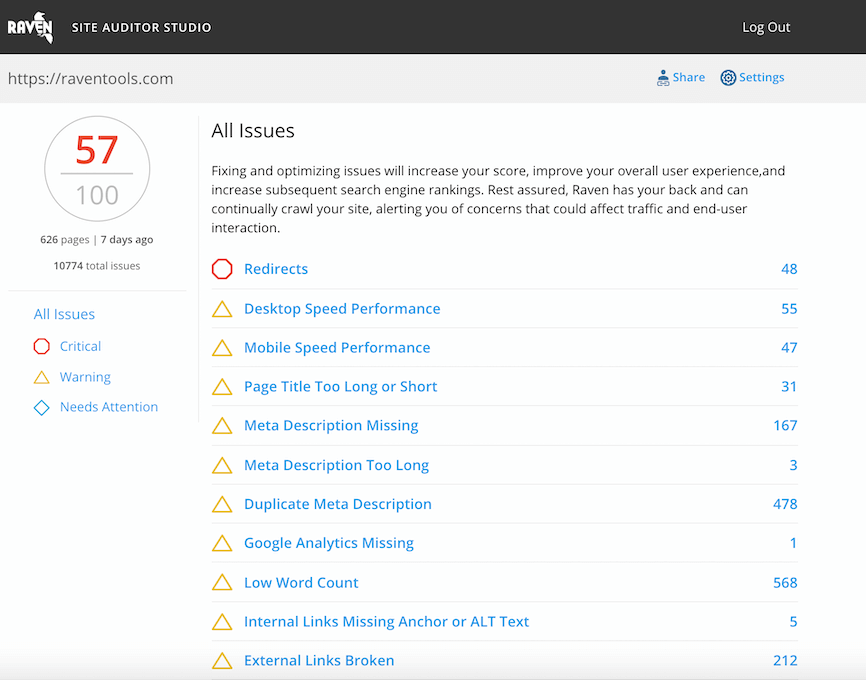 Analyze over 20 different technical SEO issues and create to-do lists for your team while sending error reports to your client.