---
---
For marketers, everything translates to dollars spent and dollars earned, especially when reporting to clients. That's why we believe in ads. For ecommerce in particular, marketing campaigns mean direct cash.
But what you do with all those visitors who clicked on your ads or visited your site and left? These are visitors who hesitated, thought better of the offer or decided that it might not be the best time to buy.
If every dollar spent on marketing is accountable, then every visitor who leaves without buying becomes a loss. How do you get them back to your website?
Thanks to retargeting (also known as remarketing), you can now show ads to visitors who reached your website earlier as they go about browsing the Web.
The ability to reengage with this audience, which previously was simply lost, is a gift for marketers.
It's no wonder that retargeting has become a buzzword. According to a survey by Chief Marketer, about 29.7% of respondents planned to focus on retargeting in 2013 – a sizeable chunk.
And it's likely to grow in the years to come. If you're a marketer or an ecommerce store, looking to get into the new world of retargeting, there are plenty of tools that can help. Here's our ultimate list of retargeting tools to get you started.
Adroll
Adroll has been in online advertising for a while, so adding retargeting as a feature to its platform was expected. But Adroll has a lot to offer: customer segmentation, Facebook remarketing, and much more. It also claims to be able to make $10 for every marketing dollar spent. That's an offer that's too good to miss, eh?
What we like: Popular service, with thousands of brands like SalesForce and Hipmunk already using it. It boasts of lowest CPM. Provides transparency and ROI.
Cost: Pay-as-you-go CPM pricing.
Google Adwords Retargeting
Google is the big daddy when it comes to online advertising, and the search engine has now added retargeting features too. If you've used Google Adwords for regular campaigns, it's just a matter of enabling retargeting to get started. Google also has plenty of information published on retargeting that you could learn from.
What we like:  Backed by Google. Runs off traditional Google Adwords platform.
Cost: Determine your budget and pay-as-you go.
Chango
How important are brand awareness, prospecting new clients and converting lost customers to you? Chango aims to specifically help you out with these three needs, which are common for many ecommerce stores.
With proprietary technology and a proven platform, Chango gives you tools to tap into search retargeting, social retargeting, and even look-alike retargeting. Chango also has programmatic video where you can use targeted pre-roll video ads along with reporting and insights.
What we like: Personable and efficient. It has plenty of street cred with a 90% retention rate.
Cost: Transparent pricing based on CPM.
Criteo
Criteo is a "personalized retargeting company" with a one-to-one marketing solution that you can scale up to whatever size you need, depending on your audience size. It focuses on displaying the right ad at the right time. Working with clients such as BMW, Dell, and Expedia, Criteo reports more than $6.5 billion post-click sales in the past year alone. Criteo also offers Facebook retargeting, mobile ad buying, programmatic buying, and many other solutions.
What we like: Full performance on CPC bidding. Programmatic buying. Control on bidding. Full service is available.
Cost: Pay-as-you-go (Choose your CPC).
eBay Enterprise
If you do ecommerce on eBay, your needs are different. And retargeting specifically for eBay is now a possibility thanks to a new suite of ecommerce technologies from eBay Enterprise.
Fetchback, which is now a part of eBay enterprise, provides targeted display ads, retargeting campaigns, high-touch account management, deep analytics and strong ad exchanges.
What we like: Makes it possible for eBay sellers to try retargeting. There are plenty of solutions available for eBay sellers.
Cost: Not available; you'll need to fill out a form to get details.
Note: Available only for eBay.
Perfect Audience
Did you know that almost 30% of U.S.-based ad impressions happen on Facebook? There has to be a way to get those customers to shop at your store. Perfect Audience focuses on Facebook retargeting by helping you track clicks and conversions on a self-service dashboard with the ability to manage multiple users. You can also discover new marketing channels and retarget across the web, thanks to its network of ad exchanges.
What we like: Free trial available, more than 100,000+ sites on ad network, geo-targeting, track email performance reports, and much more.
Cost: Charged on CPM basis. Note: Initial charges and margins have to be accounted for.
Retargeter
Retargeter is a full-service tool solely for retargeting. Retargeter's advertising platform is designed from scratch to help you serve the right ads at the right time to the right set of people and optimize your marketing spend. There's also a full roster of products to capture the complete arsenal of channels available for marketing. Retargeter works with popular companies such as Zendesk and Brahmin.
What we like: Built for retargeting. Comprehensive set of advertising solutions. Many specific retargeting solutions like CRM retargeting, search retargeting, short tags and email retargeting.
Cost: $1500 for 30,000 unique visitors targeted and up to 525,000 impressions
Rocket Fuel
How do sophisticated media buying and real-time artificial intelligence work together for marketing? Find out with Rocket Fuel, which uses predictive modeling and data-driven targeting to intelligently connect consumers with brands. Rocketfuel delivers about 28 billion ads a day and boasts ROI figures up to 229%.
What we like: The idea of self-optimizing engines that learn and adapt in real time in intriguing, and Rocket Fuel has plenty of products available. Company is personable with good support.
Cost: Not available. Request quote.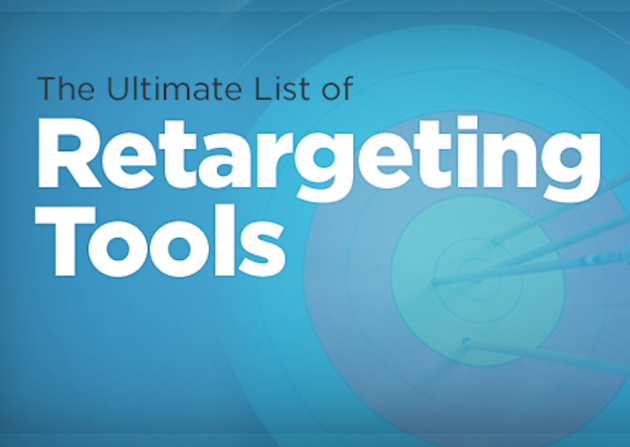 Click to tweet the Ultimate List of Retargeting Tools
Shopify ReTarget
If you use Shopify as your ecommerce engine, it'd be hard to miss a tool like ReTarget. It helps you tap into Google's remarketing campaigns with dynamic ads, set your own budget per day, present exclusive offers in your ads, and pick the exact audience you want to target.
What we like: Works in countries where Google Merchant Center is not supported, good customer support, easy to set up and use. Free trial is available.
Cost: Pay-as-you-go (per use)
Note: Available only for Shopify. Uses Google Remarketing at its core.
SiteScout RTB
SiteScout is a self-service advertising platform for businesses that also provides retargeting through its proprietary RTB platform. You can run effective retargeting campaigns easily and effectively. You can also "untarget" converted users and monitor your audience count. Further, you may use built-in features such as creative templates, dayparting, geotargeting, etc.
What we like: Full-fledged self-service ad platform. Free to set up and start. Plenty of features (including mobile retargeting, granular reporting, etc.)
Cost: Bidding model for ads. Note: Requires initial funding of $500.
TellApart
Online shoppers sometimes head to your ecommerce store, enter items into your shopping cart and then stop just short of purchasing. TellApart provides retailers and e-tailers with specific performance-driven, actionable insights to help you determine why this happens and then deploy engagement tactics to get these customers back.
TellApart provides specific solutions such as transactional retargeting, audience retargeting, dynamic onsite offers, Facebook retargeting, and even email personalization.
What we like: Plenty of well-known clients such as Drugstore.com, Cafepress and Warby Parker. Provides display, email, Facebook, and onsite retargeting.
Cost: CPM/CPC models based on solutions.
Vizury
A fully-managed service, Vizury focuses on vertical-specific solutions. ou may also use ad templates already provided, customize your bids, customize your ads, reach out to a global audience, and scale your marketing as you need to. Vizury helps you with retargeting and display solutions such as Vizury WebConvert, Vizury AdProspect, and Vizury MobiConvert.
What we like: Well-established with plenty of brands in portfolio. Offers fully managed service and provides industry focus.
Cost: Pay for performance.
Retargeting By Yahoo Commerce Central (Shopify)
As marketers, we can't afford to leave any stone unturned in our marketing campaigns. Often, we give too much emphasis for Google when Yahoo still brings in viable traffic.
Turn those neglected prospects into lifetime converts using Retargeting for Yahoo – a tool built for Shopify that allows you to deploy ads in minutes and offers a dashboard to bid, manage, and optimize your ads; and reporting and analytics to help you keep on top of your campaigns. You can also benefit from smart recommendations to optimize your campaigns further.
What we like: Backed by Yahoo Commerce Central, digs into other search engines such as Yahoo in addition to other networks, easy to use, inexpensive, and automatically optimizes ads or bids.
Cost: Tiered pricing
$99/month for up to 35,000 visitors (limited networks)
$199/month for up to 75,000 visitors (expanded set of networks)
$299/ month for up to 120,000 visitors (all networks)
Note: Limited to Shopify, unavailable for businesses with less than 1,000 visitors per month.
Retargeting fills the void that marketers need to get potential customers back. While it often walks the tightrope between assertiveness and creepiness, retargeting is – for many – an opportunity that's too good to miss.
Have we missed out on any retargeting tools? We plan to make this a growing "ultimate list of retargeting tools," so please share your input.