---
---
Retargeting, also known as remarketing, is an advertiser tactic that delivers ads to users based on their previous interaction with the company. It allows the advertiser to deliver the right ad to the right person at the right time, greatly increasing conversion rates when compared to regular ads.
The last few years have seen an increase in new and exciting tools for this purpose, ranging from fully-fledged platforms that cover ad operations from bottom to top to innovative insight and reporting services, down to surgical and specific instruments meant to supercharge existing methods.
To better understand the available solutions, here's a short list of some of the most promising retargeting tools of 2019.
Adroll
Adroll has been a fixture in the Adtech market since 2007 and they are one of the biggest companies in their field today. Used by over 37,000 marketers for customer segmentation, retargeting and more, they are one of the strongest and most vetted platforms available today. Adroll has a very comprehensive remarketing solution that may take time to adapt to, but its reports and insights are difficult to recreate elsewhere.

What we like: Great resources about how to use and set up the platform, integrations with Hubspot and other automation services.
Costs: Adroll pricing is based on a percentage of media spend budget.
Criteo
Criteo, another heavy roller that has been with us since 2005, is a full stack retargeting solution, offering everything from campaign operation to automated bidding, retargeting and creative. Their Cost per Click oriented pricing is very appealing, they can be quite complex to setup properly.
What we like: Performance reporting for CPC bidding. Programmatic media buying. Dynamic creative designed per impression.
Cost: Pay as you go (According to desired CPC).
SmarterHQ
SmarterHQ is a strong competitor in the behavioral segmentation arena. Their platform analyzes user behavior and allows the marketer to act on audiences across multiple channels, optimizing business / user interactions in real time by engaging with the right users at the right time.
What we like: Impressive Segmentation capabilities.
Cost: Request a Quote  
Artudata
ArtuData is an AI-powered service that helps marketers discover and target their highest value (lifetime or action) audience group. The list of potential use cases is astounding, from optimizing acquisition campaigns (Search, Display, Social and more) to creating new, highly converting, customers acquisition channels and launching AI based re-marketing focused on customers most likely to convert.
What we like: A complex and robust platform that promises a lot of high-value features.
Pricing: Request a Quote
Perfect Audience
Perfect Audience is one retargeting platform that helps marketers bring back lost web visitors with ads across ad platforms. With advertising going into multi-channel, the importance of keeping messaging cohesive becomes increasingly important. By covering  Facebook, banner ads across the web, and Twitter, Perfect Audience helps marketers keep retargeting ad campaigns coordinated across channels.
What we like: Featuring a powerful ad network with over 100k sites connected, geo-targeting, email performance reports.
Cost: Free Trial available, charged based on CPM.
Sizmek
Sizmek is an independent advertising platform which provides powerful solutions that enable data, creative, and media to cooperate and optimize campaign performance across the customer journey. Having acquired a retargeting favorite "Rocket Fuel" and integrated their retargeting features into their AI-powered decision-making engine, Sizmek can identify insights within data and bring all the elements of a marketers plan together in one place, to better understand and optimize the entire user journey.
What we like: Sizmek reports are simple to understand and operate on, even for a first time user.
Cost: Request a Quote
Retargeter
Retargeter features a fully fleshed out suite of products for the marketer. From Dynamic Creative Optimization, which selects which ad to show to which user in real time, to Advanced Audience segmentation which allows you to track combinations of metrics like scroll depth, page view, and others into specific segments that you can target. Covering a broad spectrum of retargeting use cases, Retargeter offers a very broad solution working on both first and third party partner data to target ads to the most appropriate audiences.
What we like: A broad solution with many applicable use cases, with basic pricing agreeable to any sized business.
Cost: Starting at 500$
Fixel
Fixel is an AI-powered segmentation tool that turns 'engagement' into a simple actionable metric, allowing marketers to target their most engaged visitors across a myriad of ad platforms. Unlike other solutions on this list, Fixel doesn't require the marketer to learn a new platform but rather integrates into existing workflows delivering its engagement metric directly into the ad platform. Also, Fixel is truly platform-agnostic, working out of the box with Facebook, Google, Twitter, Yahoo, Bing, LinkedIn, Quora, Outbrain, Taboola, and others.
What we like: Very easy to install and deploy, doesn't disrupt existing workflows.
Cost: Free 30 day trial, plans start at $99 for 100,000 visitors
Retargeting.biz
Founded in Eastern Europe and growing quickly, Retargeting.biz aims to deliver a solution tailored for eCommerce. With products ranging from email marketing automation and personalization to ad management across google and facebook ad platforms, retargeting.biz cover all the basic needs of an eCommerce operation. Of particular interest is their predictive suggestions engine, which is basically an AI that guides support and success operations to optimal decisions, like when to offer a discount and when to make contact.
What we like: Very eCommerce friendly with a powerful suite of products.
Cost: Free 14 day trial, plans that take 3.5% from generated sales and a 52eu/month minimum.
Conclusion
Retargeting is emerging as its own field in advertising, with the substantial growth it enjoyed in recent years projected to continue through and beyond 2019. As a marketing technique, it is still largely undiscovered, with marketers trying different approaches and applications to achieve their goals some with great success.
As the best practices for remarketing consolidate, new and exciting tools, fitted for specific and effective methodologies become increasingly available. Stay tuned to this blog post to keep up with the most cutting edge solutions out there.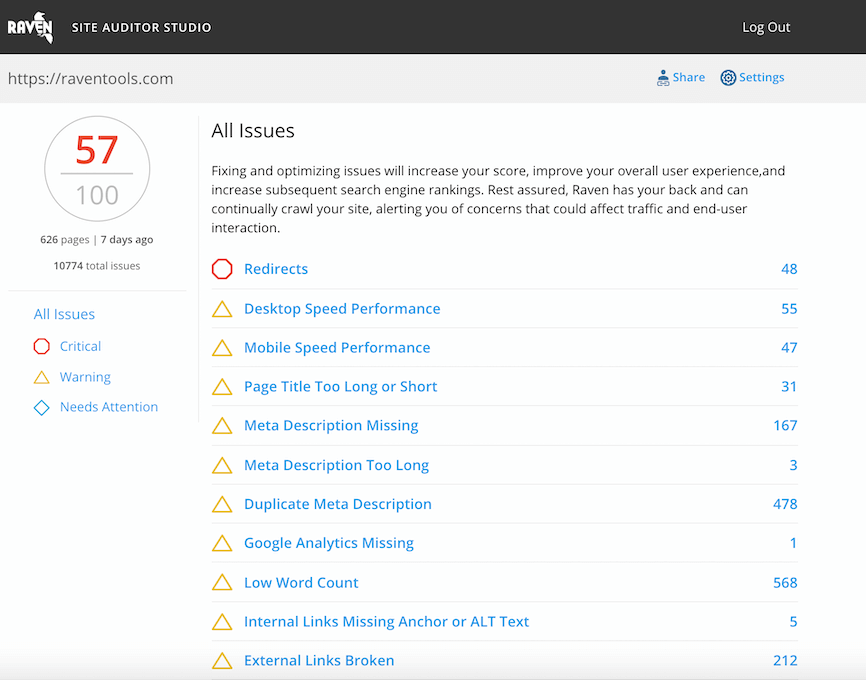 Analyze over 20 different technical SEO issues and create to-do lists for your team while sending error reports to your client.