---
---
Listen to this short clip, then say aloud the first word that comes to mind: Click here to listen.
What word did you think first? Stinky? Yellow? Cheddar? Shredded? Nachos?
All five words are related to "cheese," and yet all five are related in completely different ways. Stinky: how cheese smells. Yellow: how cheese looks. Cheddar: a flavor of cheese. Shredded: a form of cheese. Nachos: a way that cheese is used.
And those words can generate all sorts of ideas related to cheese, like "Where does the color of cheese come from? Why does shredded cheese melt faster? Who invented nacho cheese?"
This article lists 17 great tools for generating instant content ideas, like we just did with our cheese example. We'll start with the word association tools, move on to visual relationship tools and wrap it up with tools to tap into the social zeitgeist.
Word Relationship Tools
Making word associations and mapping out word relationships are valuable ways of getting content ideas. While you can repeat the cheese exercise over and over with pen and paper, using tools can get you to the same place faster.
1. Visual Thesaurus
Let's get this out of the way up front: Visual Thesaurus costs $19.99 per year. But when you're stuck without an idea and VisualThesaurus inspires one lickety split, it'll be worth it.
How to use it: Type in any word. Visual Thesaurus instantly displays, bicycle-spoke style, all terms related to that word. Click a related word. You'll get a new spoke of words. Keep clicking until you find a related word that gives you a fresh idea.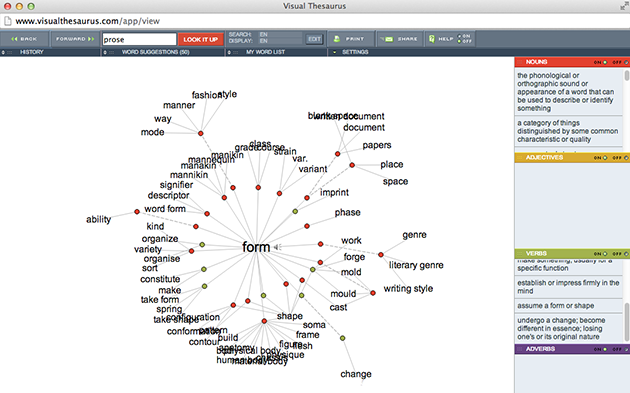 Pro tip: If your word generates only one or two relationship spokes, try a related word that's more broad — you'll probably get better results. Visual Thesaurus is one of the few tools where starting with a narrowly defined word isn't a good thing.
2. Sonar Solo by Bottlenose Labs
Hands down, Sonar Solo is my new favorite. It marries a Visual-Thesaurus-type display with real-time data.
How to use it: Type in any word. Sonar instantly displays, bicycle-spoke style, all currently trending terms related to that word. The larger the related term, the more popular it is. If it's quickly rising in popularity, it's highlighted in orange. Red and green dots indicate sentiment. You can include/exclude hashtags and people in results, as well as scroll through a list of popular Tweets that include the word you searched.
Pro tip: Experience tells me that this won't be a free tool for long — nothing this great (and original) ever stays free. Be an early adopter, and perhaps when the company starts charging, you'll be grandfathered in on a cheaper plan.
3. OpenCalais
OpenCalais is an engine that analyzes content to find relationships between people, places and things.
How to use it: Enter the full text of any copy into the OpenCalais Viewer. The tool generates a list of related persons, places and things. Spot any associations you had not considered? What else could you write based on the word relationships? For the CBS News story "Children may be more likely to trust attractive adults," Calais turned up the words "halo effect" and "ethics" — not mentioned in the article, but highly relevant for future content.
Pro tip: Raven co-founder Jon Henshaw loves Calais for content ideas and competitor content analysis. "If they have content that's consistently shared more often than yours or ranks higher in the SERPs, drop several of their most popular articles into Calais," he suggests. "You may be able to figure out the topics, keywords or relationships that are working for them and learn from that."
Google wants its machines to understand and make the types of word associations that humans can. Matt Cutts, head of the Google web spam team, called this "deep learning" at Pubcon Vegas 2013. This is great news for content marketers — the smarter that Google's machines get, the better that Google Instant and Google's related searches should be at generating content ideas.
How to use it:Type a word into the Google search field. For Google Instant, see what Google starts to auto-populate your search field with to get ideas. For Google related searches, click through to the results for your search and scroll to the bottom. Look for "Searches related to your search." A Google search for "instant banana pudding" offered these related searches, for example:
Pro tip: Christine Churchill of KeyRelevance said at PubCon Vegas 2013 that the Google Instant suggestions for Google Shopping and Google News come from entirely different databases than Google.com. Be sure to check all of the sources, especially if you're writing about e-commerce products.
Visual Relationship Tools
It doesn't matter whether your content ends up being an article, a graphic, a video or a PDF. Searching your topic on visual platforms can reveal associations you had not considered. Visual platforms are especially useful tools for searching emotion words, such as hope, or senses, such as smell, which are hard to depict. Seeing how another person has interpreted those kinds of words in visual form can be interesting and inspirational.
5. iStock
Of all the stock image sources, iStock is my favorite for its search filters. It understands that words have multiple denotations and intelligently suggests alternates.
How to use it: Go to iStock. Enter a word on the home page to start searching; refine your search with the filters on the left side of the page. You can search within your results for more ideas. For example, "dog" prompts "dog bowl" and "dog tag" and "dog flea."
Pro tip: Even if you never plan to spend a dime, create an account! That way, you can save your favorite images or clips to "Lightboxes," which are private folders that you create. You can have one Lightbox or 100 — it doesn't matter — and you'll always be able to find your favorite images and clips later.
6. 10alike
Update, Thursday, July 24, 2014: 10alike.com is not loading. I can't find any information about whether this network is still alive.
10alike is like a curated Pinterest. It may not catch on as yet another social network, but for now, it's a fun, new place to get ideas from photos, videos and GIFs collected by real people.
How to use it: Go to the home page and search any word. If a 10alike collection's headline or hashtags includes the word you searched, it will show up in the results. Don't have a particular word in mind? Search the most popular hashtags for random inspiration.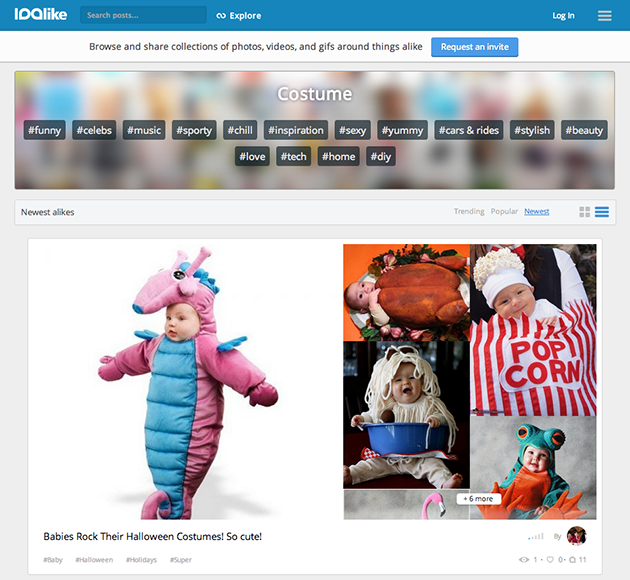 Pro tip: Don't browse this tool on deadline. Instead, use it for those days when you have a little bit of time to explore the topics and view the images. Some of the collections are fascinating, and they're great fodder for any content curation you're doing for social media accounts, blogs or newsletters.
7. Google Images Carousel
The new Google Images carousel — groups of photos automatically curated by Google's algorithm and displayed at the top of the Images results page — is a a fantastic new tool for inspiration-by-visuals.
How to use it: Search any word on Google Images. Many — but not all — search terms will trigger the carousel. Try again with a similar word if you don't see it. Oh, and the carousel changes colors. Last week, it was black. This week, it's in gray. Either way, it's at the top of the results page.

Pro tip: There's a difference between a search for inspire and a search for "the word inspire." Use the quote marks and search "the word [your word]" to get a completely different set of Google Image results and, likely, a different perspective.
Social Inspiration Tools
Some of the tools already mentioned could fit into this category, notably, Sonar Solo. However, the rest of the tools on this list are less about direct word association through maps or visuals and more about getting ideas from the social zeitgeist. Some ideas you'll get from real-time results; in other cases, you'll be mining new and old data for ideas.
8. Icerocket
Icerocket is the free tool / gateway drug to paid social media and PR tools by Meltwater Group.
How to use it: Select your source (blogs, Twitter, Facebook or all) and enter your word. Icerocket instantly pulls real-time mentions of your word from those sources for up to the past 90 days. It's best for blog analysis and offers more features there. For example, Icerocket displays a trend chart of blog mentions of your word. You can compare its popularity with up to five other words. Also, you can subscribe by RSS to the results of any blog search, which delivers fresh results (and ideas) right to you.
Pro tip: Icerocket's advanced blog searches are powerful for finding posts by particular writers, no matter where they have written. That's great if you are stalking following a particular influencer for content marketing reasons.
9. Findings
You know how people like to make photos from quotes or other text and share them on Facebook or Pinterest? Findings is a tool for that. But it's also an easy way to find out what words resonate with real people about your topic, with a solid community of users and large collection of clips.
How to use it: From the Findings home page, search your word. Browse the results to see who's quoting what, from where, about your topic. Which completely unrelated sources convey the same idea? Which completely unrelated ideas come from the same sources? Make connections to get ideas.
Pro tip: Click on the "sources" and "authors" links at the top of your search result. You'll immediately see which websites and people are most popular for quotables on your topic. Take a hint, and use quotes from the same sources for more popular content of your own.
10. Facebook Graph Search
What people like on Facebook (and what they don't) and who they're friends with (and who they aren't) can produce fascinating combinations to spark content ideas. Facebook bundled up all that information into the much-ballyhooed Facebook Graph Search.
How to use it: Go to Facebook. Search Facebook for any word. Use the box on the right to expand or narrow your search. Follow the connections until you have an idea. (Take your searches even further: 8 Tips for Better Results with Facebook Graph Search).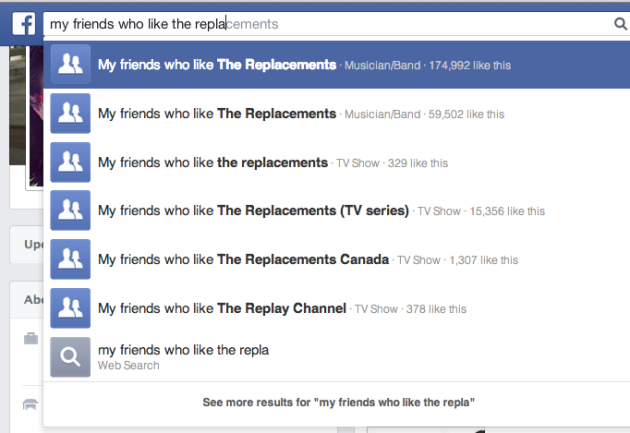 Pro tip: Search "journalist" or "reporter" and any pop culture thing that you're into, and find out which reporters share your interests. You'll have some common ground to start a conversation. That could make all the difference to your mainstream media outreach.
11. Advanced Twitter search
Chatty people love Twitter. So do readers. And writers. Tap into their ideas with an advanced Twitter search.
How to use it: First, start simple, with your most basic, broad word. Scan the results for terms you want to eliminate in your "real" advanced search. Then go back and do your "real" advanced search. You can include/not include words, people, hashtags, images, sentiment and more. Find out what people are actually asking about your topic — just check the box to include only results that contain question marks.

Pro tip: Save your advanced Twitter searches. That way, the next time you need a fast idea, all you have to do is choose a search from a drop-down menu. Plus, you can create and access advanced Twitter searches in Raven.
12. Google Trends
Google Trends shows you what's popular with Google searchers in real time and in the past. Several marketing pros at Pubcon Vegas 2013 cited it as their favorite new place to get ideas for content. Why? Because it's a) based on actual searches and b) super fun to use.
How to use it: To start, peruse the simple, regularly updated Hot Searches page. Check out the eye candy version of Hot Searches, too — the full-screen visualizer is fun to leave up on your second monitor, if you have one of those. Dive into the Top Charts section to see what is and has been most popular in key categories. Or compare two or more words to get ideas with the Explore section.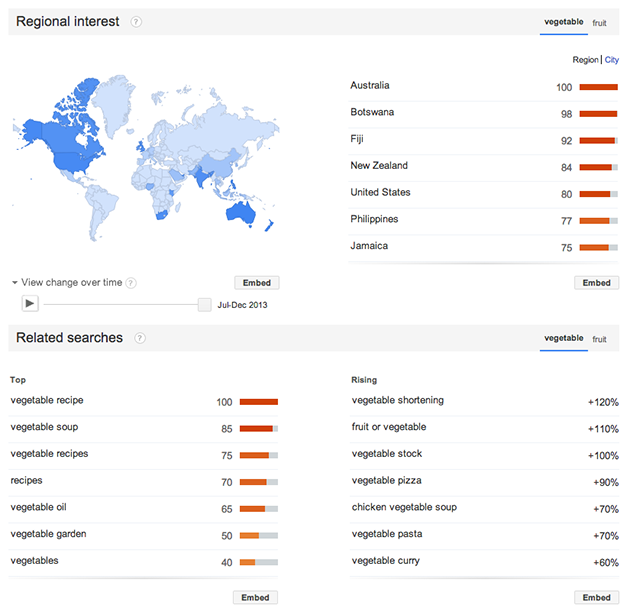 Pro tip: Dig deep into the Explore section by adjusting the filters for Geography and Time Period. Look at the related searches, including the related searches rapidly becoming more popular. You'll get all kinds of ideas from questions you'll have. (Why is "vegetable" so popular in Botswana right now? Why has "vegetable shortening" become more popular in the past month?)
13. YouTube Trends
Video trend data — as published on the YouTube Trends Dashboard and YouTube Trends Map — is generated automatically by YouTube.
How to use it: Check the Dashboard or Map to find out what's most popular, by views and by shares, as distributed across the United States, among men and women, by age group. Start your search for ideas with one of those groups in mind. Then use filters to mine for insights.
Pro tip: You'll find the most interesting things when you start to make comparisons. For example, more Nashville women are sharing a video about a natural remedy for snoring than Nashville men are. Perhaps create more sleep-related content targeted to women? Or is there a funny infographic or slideshow waiting to be created about snoring remedies? What women-centric places could you market that content online?
14. SocialMention
SocialMention is frequently recommended as the best free social monitoring tool, great for SMB reputation or brand monitoring. But smart content marketers use SocialMention to get timely content ideas.
How to use it: Search any word for all sources. Get all results. Look at the related keyword suggestions on the left for ideas. Then filter by source or date until you have more ideas. Try limiting results to Q&A and news websites for the fastest ideas. After you find the perfect combination for content ideas, you can subscribe by RSS or email to get regular updates.
Pro tip: If you're a Raven customer, you can use Raven's Social Monitor tool the same way you'd use SocialMention. Our data comes from mega-monitor DataSift.
15. Topsy
Topsy gets props for being one of the best tools you can use to snag ideas from real-time Twitter. Why? Topsy's entire focus is Twitter, and as a Twitter-certified data partner, you're getting information right from the source.
How to use it: Search any word directly from the home page. You'll see sentiment for that word right up top, as well as basic analytics. From there, use the date, source, media type and other filters to drill down into what's hot.
Pro tip: Just want to know what's hot, right now? Don't even search a word — click directly on the "Social Trends" link at the top of the home page. Three more clicks to filter the data, and you can have a list of the Top 100 English-language links being shared on Twitter. Another click, and make that the Top 100 photos. Another click, and you'll see the Top 100 videos.
16. Reddit
Redditors manage to find and share the best stuff on the Internet. But did you know that subreddits — forums focused on narrow topics — are the new, hot place to get content ideas? If you can think of a topic, it probably has a subreddit. And if it doesn't, you can start one and use it as a place to gather ideas.
How to use it: Set up a Reddit account. Use the search function to find posts related to your topic; or use advanced search operators, such as site:raventools.com to find content shared from a particular website. Dig into subreddits related to your topic. Share anything but your own work. That's Rule No. 1 for Reddit, whose users don't take kindly to marketers.
Pro tip: Search the /r/AskReddit subreddit for your word or topic. You'll find questions from real people that you can answer elsewhere — or at least that inspire you. Then share the link in the same thread in /r/AskReddit, thanking the Redditors for their contributions.
17. Research Central
Raven's Research Central tool isn't free — it's one of 30+ tools and features that Raven Pro customers can use for $99/month, no contract required. That said, if you do SEO, PPC or social media marketing in addition to content marketing, the value of Research Central practically pays for your entire Raven monthly subscription.
How to use it: Enter any word or phrase. You'll see a bevy of metrics from Majestic SEO, Moz, Google AdWords and more about that word's popularity. Click on the AdWords tab to start working your way through related words, as determined by Google AdWords. Click on any related word, and you'll get a fresh set of AdWords data for that word. Keep going until you're inspired!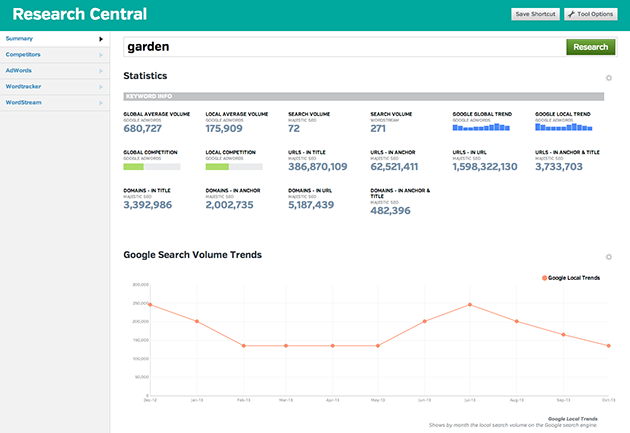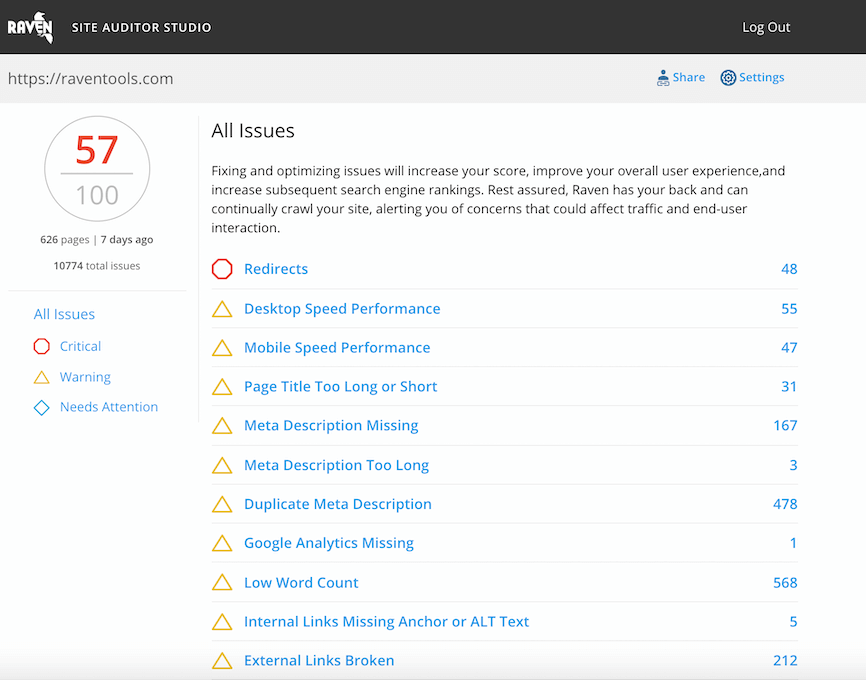 Analyze over 20 different technical SEO issues and create to-do lists for your team while sending error reports to your client.