---
---
Not even two weeks out from Google's encrypted search announcement, and we're already seeing the effect of Google's decision to remove search query information from logged in users in Google Analytics.
To recap, this update means that if someone is:
Logged into Google (for Gmail, Google+ or any other Google product), and
they perform an organic search, and
they click an organic keyword through to your site, then
you will not be able to see what organic keyword they used to find your site, nor their visitor session information from Google Analytics associated with that keyword.
Visitor information from these kinds of sessions shows up as (not provided) in Google Analytics.
I was expecting changes in organic search data—but they are happening much faster than I expected.
What we have noticed so far
It has been less than 15 days since encrypted search was launched by Google. According to the Google Analytics for Raven's own marketing site, (not provided) is already creeping into our top organic keyword referrals. Looking at our non-branded search traffic, (not provided) is recording five times as many visitors as the next keyword. In fact, it's responsible for 3.6% of our non-branded organic search traffic. This is similar to what one of my favorite analytics blogs, LunaMetrics, is seeing, too:
I feel like Google really downplayed the impact this change would have when they said that the percentage of their users who are logged in when performing searches was in the single digits. Search Engine Land's Danny Sullivan checked that number with Google—twice—on Oct. 18:

What's next?
Don't know how much you should freak out? Take a look at the industry you're a part of.
Those of us in the Internet marketing industry are going to see a much stronger impact than those in the health or food industries (I would love to see how big of an impact this is having on popular Internet marketing blogs). And that's because of how dependent our community is on Google and its products—we are always the first to adopt anything online marketing related. For example, on Raven's marketing site, we have Google's +1 buttons everywhere. Someone could argue that we're encouraging you to use Google's products at the cost of our analytics data.
With us already missing data on about 4% of our traffic because of encrypted search, it will be interesting to see just how much data we will be missing out on 12 months from now. With our audience being as plugged into Google as it is, I wouldn't be surprised to see this number reach double digits by then. Thanks to our PPC campaigns and Raven's Insights tools, we can still cast a wide enough net to find high performing keywords.
But the question I have is, should we be taking a more proactive approach to save as much of this data as we can? As in, should we continue to push services like +1 if it encourages our visitors to be logged into Google? I'm not sure how much that would help, or if the loss of social traffic from Google+ would be worth it, but it's worth discussing if you're in the Internet marketing industry.
So how about you? What percentage of your traffic are you missing out on thanks to encrypted search? Are you noticing a significant difference in encrypted search's impact across various industries?
Both SEER Interactive and the transcript from SEOChat have some great commentary on how to react to the changes. What are you planning to do?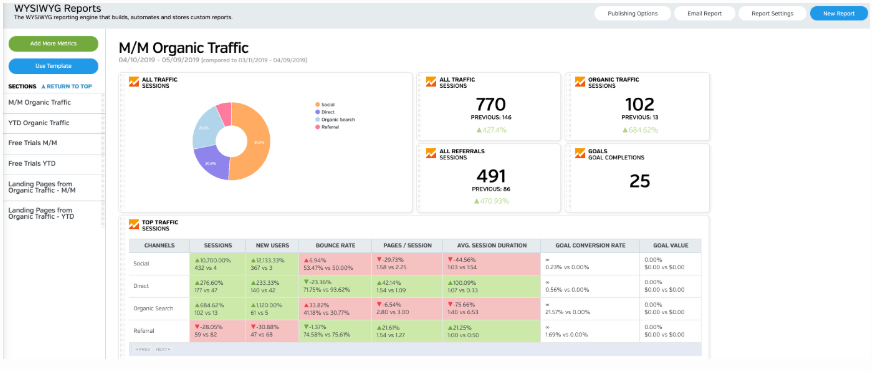 White Labeled and Branded Reports. Drag and Drop Editor. Automate your SEO, PPC, Social, Email, and Call Tracking Reporting.