Six Signs You're Contracting Viral Content
Written by Richard Kershaw and published
---
---
Every brand-related piece of content is released with high expectations.
Publishers want readers to quickly find, thoroughly enjoy, and enthusiastically share every piece. "Going viral" is the online content equivalent of winning an Oscar for a movie or Pulitzer for a book.
But with a number of factors out of the publisher's control and the moods and likes of the public constantly changing, what can publishers do to facilitate sharing in viral proportions? Optimizing your content for search helps.
I recently read an extraordinary book, Contagious by Jonah Berger. Berger goes into great detail about what works and what doesn't when it comes to viral content.
Let's look at some of viral content's most contagious aspects.
1. Social appeal
What's considered 'interesting' is for the reader to decide. But research suggests evoking emotion helps facilitate the popularity of content.
On average, 30% of the 'most emailed' stories at The New York Times are related to science, which directs researcher attention to the 'awe' element of science, surprising readers with new facts.
What new and surprising information can a brand introduce to readers? Perhaps it's best to listen to existing questions.
Review industry-related questions on Quora, use Ubersuggest for viewing topics and popular search phrases, aid in 'listening' and estimating what drives reader interest.
2. Insert triggers
Viral content spreads quickly and is often consumed swiftly.
Consider limiting text and using pictures or video to convey brand messages. There's a reason that 40 out of 50 top posts on the social sharing site Reddit are likely to be pictures or videos.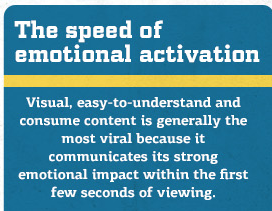 Triggers associate an image with emotion. For example, an American flag might inspire feelings of pride; red roses represent love and affection; and a yellow light inspires caution.
Complement content with powerful images; in some cases, an image itself is all that's needed.
3. Inspire emotion
Shared content pushes readers to action. Due to a created impact, one person gets inspired to pass along the assumed reaction. Consider inserting elements of emotion during the draft phase of content creation.
One study found amusement, interest, surprise, happiness, and delight as top reactions to popular, viral content. Find industry-related categories and topics that evoke such emotions.
For example, a used-car dealership may perform better by telling consumers a happy story about a woman who uses her bought car to get to school, helping her achieve a higher degree, rather than relay industry jargon that is only understood by few car enthusiasts.
Celebrating a woman getting a degree is a happy occasion; discussion and description of car parts offers no emotional threshold.
4. Make it noticeable
A study found a dramatic drop in engagement after the headline in relation to the rest of the copy. Another observed that readers retain only about 28% of the content they read online.
Viral content makes an initial impact, getting noticed and analyzed in totality, igniting the notion to share. Consider bold colors, action words (verbs), and passionate expressions in brand content. Getting noticed precedes the success of sharing to viral proportions.
5. Solve problems
About 40% of all our communication relates (in some way) to the self. That could mean people are inherently selfish – or that people are practical. We covet information that helps us improve current and future situations. Therefore, well-received content addresses practical concerns.
Show rather than tell. Rather than offer industry jargon or bland description of products and services, help the reader solve a problem or improve their state of being.
For example, a chair may recline and be made of the finest leather, but isn't it more practical to learn how sitting in a particular position improves blood flow, or how particular leathers don't irritate skin and keep sitters cooler?
6. Start a story
That same analysis from The New York Times found longer stories experience more social sharing and increased viral potential, leading researchers to believe the breadth of a story propels popularity.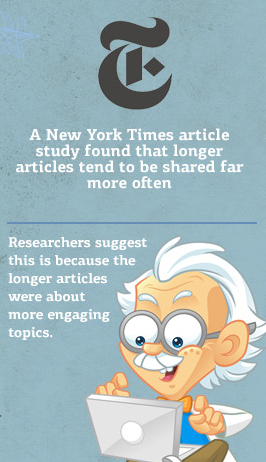 Align brand content with elements of storytelling, replete with characters, a problem, action, and final resolution. Use video resources to create serial ads featuring goods, services, executive, brand mascots, etc.
Don't forget: Be ready to go viral
Go into every piece of content with the mindset that it is going to be a big hit for your blog or website. Ensure that you have a setup that can handle the traffic.
Eat24 prepared a great case study on how to advertise a food company on an adult website. The blog post was a tremendous success across the online marketing and wider media community. Sadly, its website went down several times under the pressure of the traffic.
Select a Web host that can handle your needs (if you are on WordPress, for example, you can compare your options here and even select a managed provider to take care of the technical details). Not all cheap Web hosting plans were born equal.
There are other things you can do to ensure a good user experience on your website. Get yourself hooked up to a Content Delivery Network (CDN) – here's why – and to be extra sure, sign up to a service such as ServerDensity that can alert you to any problems with your website.
Summing it up
All publishers intend incredible reception, but not all content is created equal.
Up your chances of going viral by following these steps:
Find out what readers want to know about; answer their questions.
Introduce triggers, bridges to high emotion, aligning some with content.
Find angles of emotion related to the core message, making them more apparent.
Make content noticeable from the headline. Captivate with the first line to keep interest high.
Solve a problem, making the content useful to a number of parties.
Captivate with elements of storytelling, finding the broader perspective of the message.