---
---
Recently, another blog post "outing" a website for poor SEO practices went viral. Not only was a well-funded startup left looking bad, but its founders made excuses for their tactics, outing six other competitors in the process.
Outing has always been somewhat of a hot-button issue in the SEO world. If you spend time digging into backlinks at all, you'll very often run across shoddy, sketchy and downright spammy inbound links. As much as the Google PR machine likes to trick people into thinking link building or SEO is dead, crap links can still push around the SERPs.
When it comes to outing, people who practice it usually fall into two different categories:
People who want to out their closest competitors
Frustrated from being stuck behind a competitor who is violating Google's Guidelines, webmasters take matters into their own hands. Typically, they write a blog post about it or contact a journalist.
White-hat SEO evangelists
While they might be well-intentioned, popular SEO figureheads have made a habit of pointing out sites that are doing shady link practices on Twitter or in blog posts.
No matter the intentions behind it, outing is a dangerous road for SEOs to go down.
Outing doesn't help anybody. If you are trying to nuke a competitor's site, you are operating under the illusion that outing them will help your site perform better. If you find yourself in a position where outing a competitor is the best use of your time, there are probably bigger issues at hand. Is your time really best spent analyzing your competitor's marketing tactics and flagging anything that you feel is unethical?
Widespread outing creates a world where negative SEO and low-quality links are more powerful than good links. A couple of Fiverr gigs and a free trial of a link explorer tool makes you more than qualified to take down any site you please. SEOs could probably make more money penalizing sites in the SERPs than improving them.
The true cost of outing
The most dangerous part of outing is that we're so laser-focused on what is happening online and with Google that we forget that SEO outing has real world consequences.
You aren't just aiming to push a site down in the SERPs. Take a look at a few sites hit by Panda or Penguin and the impact on their overall business. A website is but one public-facing aspect of a real company run by real people who employ real people.
Allowing competitors to push and challenge us to do better is one thing, but attempting to destroy a company's search presence has much more dire consequences. Killing a couple of pages in the SERPs might mean killing a couple of jobs.
In the gray moral area that surrounds outing, the key question for me has always been: Is the real villain somebody who uses questionable marketing tactics or somebody who tries to put people out of business for using questionable marketing tactics?
Glass houses, gray hats
Not to mention, if you've been in the SEO game for more than a couple of years, chances are you have some dodgy links in your backlink profile. If you don't, you probably haven't been too successful.
Directory submissions, blog comments and paid links worked like magic long before infographics and "great content." Google's fluctuating stance on different types of "link building" means that a tactic that was acceptable a few years ago can be considered unnatural in 2014.
If you want to out people, be prepared for someone to comb through your own backlink profile and pick out any links that Google could possibly identify as poor quality. These include:
Directory submissions to deep pages
Followed links from infographics
Links with commercial anchor text
Keyword-rich text links in press releases
Put almost any link under a microscope and you won't see black or white. It'll be a shade of gray. Google could expand its guidelines twofold and people would still disagree over whether or not a link is natural. Trying to determine what is ethical or natural is a very subjective process. It always will be.
Most webmasters with dodgy inbound links haven't the faintest idea that they exist. I've spoken with dozens of website owners the past year who have been hit by penalties or algorithm updates because of unnatural links built by their SEO vendors that they never even knew about. When you live in the SEO echo chamber, it's easy to forget that most business owners have never even heard of Penguin and don't know how Google works. They trust and pay others to take care of that for them.
Those business owners are the people that outing really hurts. It kills jobs, empowers negative SEO and helps nobody. Think about the lasting impact of what you're doing before you publicly shame somebody for poor SEO practices.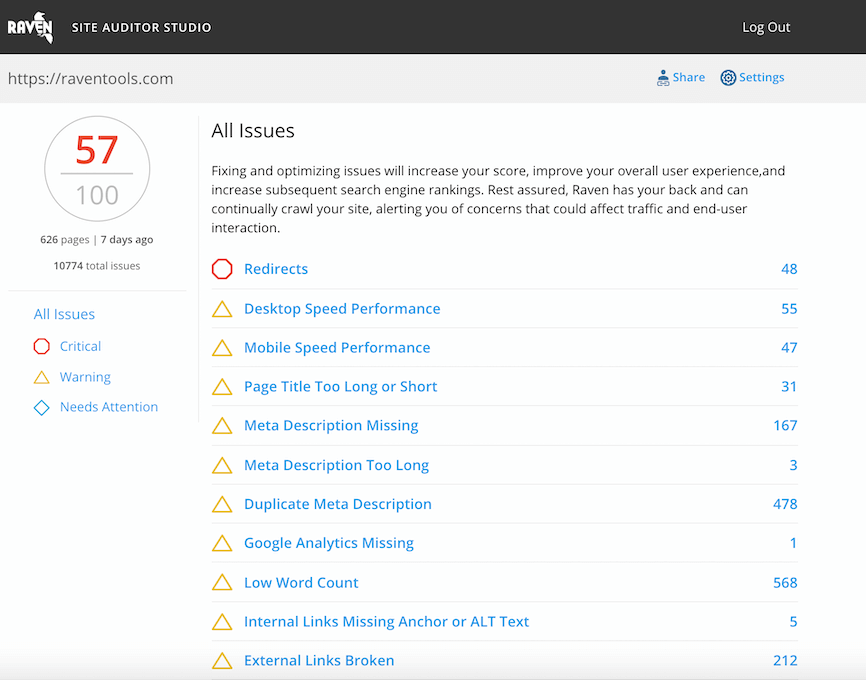 Analyze over 20 different technical SEO issues and create to-do lists for your team while sending error reports to your client.