---
---
Product pages are some of the most valuable pages of your website as their performance has a direct impact on your company's bottom line. They are also probably the hardest pages to build links to.
So when you're rebranding a product, you want to make sure you retain as much search equity as possible.
In this article, I'll go through the critical link building tactics you need to consider when working on a rebrand and answer the following questions:
Why is it important to update old brand mentions (and links)?
How do you run a backlink audit and prioritize current mentions?
How to approach blogs and publications that link to you using your old product name?
How to use the rebranding opportunity to build fresh links?
What data and metrics should you track?
First things first: Why is it important to update old brand mentions
When rebranding a product, it's critical to follow SEO best practices for website changes and/or migrations.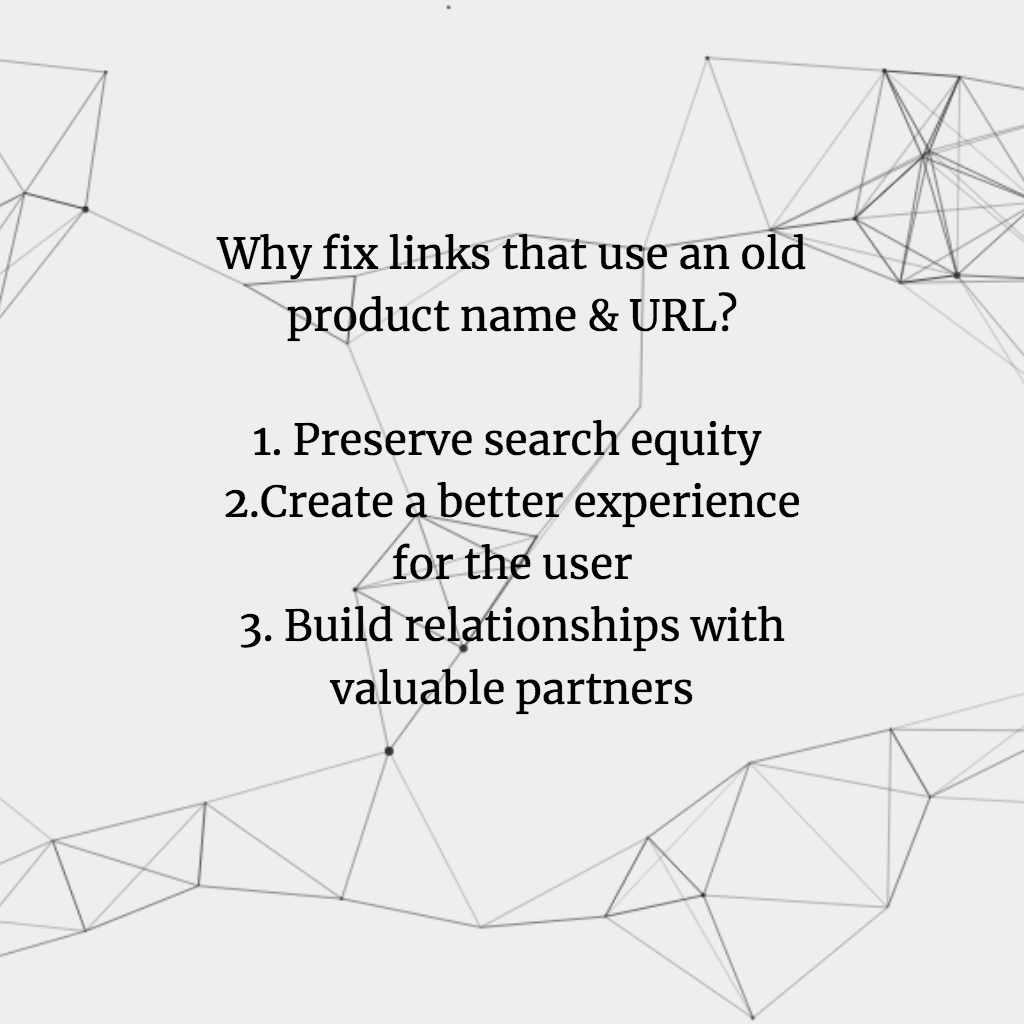 Recommended reading: Here's a great article by Aleyda Solis if you need to dig more into on-site SEO recommendations for website and product rebranding.
At the same time, you shouldn't overlook the publications that are currently linking back to your website using the old product name and URL. Here are three reasons why:
1.    Preserve search equity
While a correct redirect of the old URL to the new one solves a lot of critical SEO issues, there is a lot of added value in updating old mentions and links. Updating the anchor text to reflect the new product name will ensure that little to no value is lost because of the changes.
2. Create a better experience for the user
After all, an anchor text that doesn't match any content on a destination page after a 301 redirect is not only a lost SEO opportunity but a bad user experience.
By strategically reaching out to the most relevant publications that link to your product, you can persuade them to update their mention so that it matches your current offering. This will create a better experience for the reader who reaches those articles and understands the context.
e.g. "check out product X" becomes "check out product X, that's now called Y"
3. Build relationships with valuable partners
This outreach process is also an opportunity to re-open the relationship with latent partners and find new opportunities to collaborate with them.
With the right approach, you can turn a one-off mention into a partnership that expands on other marketing areas such as co-marketing, guest posting or even PR.
How to update old links and mentions
Going further, I'll share the process and the lessons I learned while updating old links and mentions for a HubSpot product.
For context, our sales software, now known as HubSpot Sales, used to be called Sidekick (and before that, Signals). When new features were added, we felt it was time to rebrand the product. With that, came the need to also update old mentions and links to match our new offering.
The next three steps follow the process I used to assess, prioritize and update old mentions from highly relevant publications to match our new product.
Step 1- Backlinks audit
If you're using the new Link Explorer [or Raven's Backlink Explorer] to analyze your backlink profile, as shown below, you can easily export the CSV file and filter your list.
For this particular project, you should be looking for backlinks that have the following profile:
Type = follow
Status = active
Anchor text = "old product name"
You'll also want to prioritize your list based on the authoritativeness of the page that links back to your website.
Very high or very low authority publications are typically either difficult to work with or have little to no impact on your rankings. It's best to avoid those from the start.
 But what's the ideal range? That's a tough one because, as you might expect, there's no "silver bullet".
However, I do have a suggestion on how you can asses that for your project: try to look at your immediate competitors backlink profile (especially the ones that rank above you).
What is their backlinks' average authority? Try to choose the publications that match the quality of what your competitors typically get.
Step 2 – Contacts list
At this point, you also need to figure out who and how you're going to contact from your filtered list of publications.
Figuring out the "who" is critical, because it will help you craft the right message, in the right tone. While cold outreach might work in some cases, I'm leaning towards connecting with people you already know: clients, users, partners, affiliates or even journalists/influencers you worked with in the past.
Here's what my contacts list looked like after I finished reviewing it:
75% were excluded because they were not a good fit
25% were selected for outreach
While 75% might seem like a huge chunk to take out, it actually increased our chances of success because:
It eliminated publications that weren't likely to update their articles (e.g. The Huffington Post);
It left in only the real connections: people who were highly likely to respond and update their articles;
It made it easy to reciprocate and offer something of value in return;
If you're still not convinced as to why you should not reach out to your entire database, think about the potential of each contact: Would you be interested in collaborating further, on other marketing projects, with them? Would they be interested in working with you?
If the answer to both questions is "Yes", then go ahead and contact them all. But if the answer is "No" for some of them, it means there's probably no real basis to build a business relationship. Maybe the mention of your product was incidental and it's not worth pursuing. Plus, eliminating these contacts will save you significant time and resources.
In HubSpot's case, I decided to eliminate the contacts that weren't existing or past business relationships. From the remaining list, 27% of the publications updated their articles mentioning the new product name and URL.
Once you have your list of priorities, it's time to plan your outreach process.
Step 3 – Email outreach
Knowing who you're going to contact makes a huge difference. Even so, you want to test a few messages before you email your entire contacts list.
That's why I'd suggest splitting the outreach process into two stages:
 Stage 1: Test the waters with a batch of e.g. 100 publications
What to look for at this point:
Time spent on outreach
The effectiveness of the message (e.g. open rate)
Success rate (no. of updated articles)
Based on the results of this test, estimate the wins you'd get by reaching out to your entire list. You'll then be able to better assess whether it's worth going forward with the plan and how much time and resources you need to invest.
Here's an example:
Time spent on the test outreach: 0.1 hours/contact
Open rate: 20%
% of updated articles (of the opened emails): 40%
Remaining database: 1,000 contacts
Forecasted results: 1,000 contacts x 20% open rate x 40% success rate = 80 updated links
Forecasted time on outreach: 1,000 contacts x 0.1 = 100 hours
In the end, what's worthwhile to work for a link building campaign depends on the cost of acquiring these links.
Stage 2: Reach out and follow up with the rest of the list
For larger lists, it's better to use email templates to streamline your process.
At HubSpot, we're lucky enough to be using our own CRM to manage templates, send emails and track their performance (which is 100% free if you're looking for such a tool). But any other similar tool will do just as well, as long as you check and personalize every email to make sure it suits the publication and the person to whom you're reaching out.
Link Update Outreach Template
Subject line: Outdated content on [Blog Name]
Hi [First Name],
My name is [Your Name] and I work on [Company Name] marketing team.
I'm reaching out because there is an article on your blog that mentions [Old Product Name] — an old product by [Company Name].
Recently, the company has relaunched the product under a new name — [New Product Name] — and with added benefits for its users: [short pitch].
I thought your readers might find it useful to know about the change.
Here's a link to the new product if you'd like to update your article: [insert URL to your new page]
Please let me know if there any other information you might need. I'd be happy to help.
Thank you.
Warm regards,
[Your Name]
Keep an eye out for new link building opportunities
The above strategy focuses on updating old posts, but it can also help you acquire fresh links which can also influence your rankings.
While you're doing your outreach, select the top publications you'd like to work with for new content. If they respond quickly to your request to update old content, that's a sign that they might be a good partner. You can go ahead and pitch them a new content idea.
Track and measure more than SEO metrics
Probably one of the most important benefits of any outreach campaign is the potential to build partnerships. Strategic partnerships can help you scale your link building efforts and enhance your marketing.
So when you're measuring the success of your link building outreach, go beyond the typical SEO metrics. Add sales-like metrics and data to your program and keep track of the partnerships you're building.
For example, it's useful to track:
Contact details g. emails sent, meeting notes etc.
Deals e.g. won vs. lost; a lost deal can be a contact who's not interested in working with you further on X project.
Email performance (open rate, click-through-rate)
The more you grow your partners' network, the more resources you'll have to further build new links and improve your brand awareness.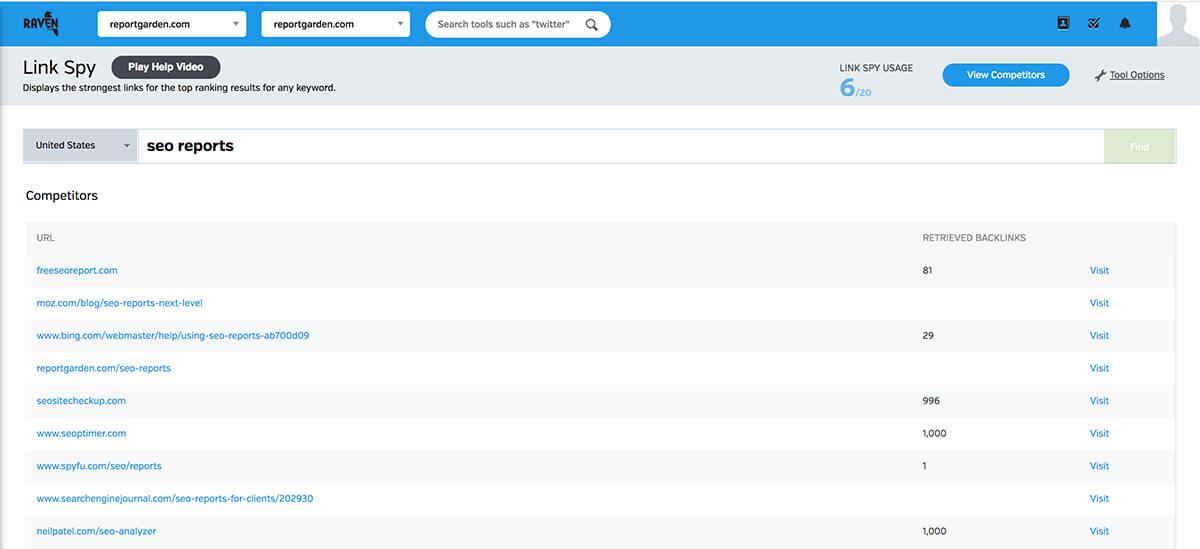 Link Spy helps you find top-quality links based on those websites that are already ranking for your focus keywords.