---
---
Last week, someone approached me and randomly asked, "What do you think about Quality Score?"
This is like asking me what I think about the fact that they aired True Detective in the same time slot as The Walking Dead. I notice and mildly freak out for three seconds, and then set up the DVR and go on with my life.
It seems folks fall into two camps about the Google AdWords Quality Score: those who obsess over it and those who don't care. Some people who don't know what it is may wonder if they should care and if they should optimize to it.
Repeat after me: Quality Score does not equal success. Profitability and the return on your media dollar should always be your focus.
I believe it's not something you optimize to. Why? Because a high Quality Score isn't the goal of your campaign in the first place — sales and profitability are.
That's not to say that Quality Score doesn't matter at all. It does, but it's merely an indicator.
Let's review the basics. Quality Score is a rating system Google uses to determine your relevance to the keyword on which you're bidding. It's a scale that goes from 1 to 10, with 10 being the best you can do. Your Quality Score determines the CPC you pay. It's calculated automatically by factors including the use of the ad's keyword on your landing page, CTR on your ads, bid amount and more.
So, it sounds like it should be a major thing to focus on, right? Here are 5 reasons why you shouldn't:
1. You can't control it
OK, you can probably make this argument over many things in the world of Google. But, at the end of the day, this is a Google-assigned metric. It's not like impression share, where you can see why you're losing it. It's not like CTR, where you can test ads continuously to find the best one.
Some folks get so Quality Score-obsessed, they do it to the exclusion of things that they can and should focus on controlling. Yay, you got a 10 Quality Score! You might get a lower CPC (though even that isn't consistent), and that's about it. Not even a cookie from Google.
2. It's not a measurement of success
Exhibit A. This is a table from a Campaign showing the average cost per conversion by Quality Score rating:
The Quality Score of 10 has a good Cost per Conversion, but it's not the best. And look at 8 and 9.
So if you were focusing on optimizing to Quality Score, you'd be trying to get a bunch of keywords to the 8-10 mark, and they have abysmal cost per conversion compared to the other Quality Score ranges.
Repeat after me: Quality Score does not equal success. Profitability and the return on your media dollar should always be your focus.
If you find that a $4-$5 keyword isn't a profitable cost per conversion, that should be your focus, and not that those pesky 5, 8 and 9-scored keywords aren't profitable. The problem isn't the Quality Score.
3. You will chase your tail
By and large, most paid search people agree that CTR tends to be the biggest driver of Quality Scores, and in large data sets you'll probably see that the majority of the time. But again, here's an example, this time showing CTR by Quality Score:
Say what? Look at that average CTR on the 10 Quality Score group. Ick.
My point here is that we know CTR should be healthy, but do it because it's part of a successful searcher's journey to find what they need, NOT because you are obsessing over all of your keywords being a 10. If you have something scored as a 6, but you know it's very relevant to what you offer and it's producing healthy sales, chalk it up to things just being the way they are. Be a "10" to your consumer, and let Google score you how it will, despite your best efforts.
Search Engine Watch has a nice article that expounds further on where you should focus.
4. Google doesn't know your business
You do. This can create some hard-fought battles on the Quality Score ground.
For example, I've run paid search for auto dealers before. Naturally, they want to bid on competitor model names. We do so, knowing that the Quality Score will be low, which means Google doesn't show it very often. Now logic would dictate because the Quality Score was low, the CPC would be higher and therefore the cost per lead would be higher. But that wasn't the case. It could be because there was overall less competition for those terms, but the cost per lead was very low. Granted, they weren't the lion's share of the leads we got, but who cares?
If we were obsessing and optimizing to Quality Score, we wouldn't have gotten them at all, because we'd have paused those terms.
5. There's enough to manage and worry about
Aside from Quality Score, here's a list of things you should actively be looking at and managing around:
Day parting
Device Modifiers
Impression Share
CTR
Conversion Rate
Cost per Conversion
Return on Ad Spend
Call Data
Geographic Modifiers
Placement Performance (on Display)
I can keep going, but I think you get the idea.
How much time do you spend figuring out the problems related to your Quality Score? What is the opportunity cost of that? Tools like Raven's AdWords Insights, which automatically identifies and diagnoses Quality Score issues with your keywords, can save you major time. But it's with smart analysis of your campaigns, comparing metrics that actually matter like those above, where you should spend most of your time and energy.
Pay attention to Quality Score as an indicator of how Google thinks you're doing. Pay attention to the other stuff to know how you're doing.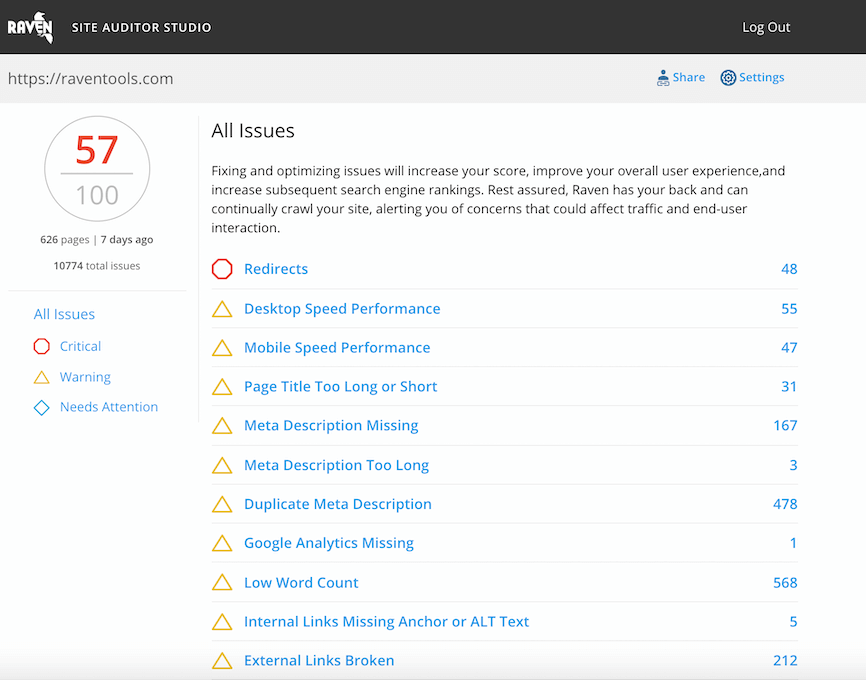 Analyze over 20 different technical SEO issues and create to-do lists for your team while sending error reports to your client.