---
---
When it comes to marketing your business online, there are many labels to sift through. The most common terms are:
Search Engine Optimization
Social Media Marketing
Conversational Marketing
User Generated Marketing
Experiential & Live Marketing
Engagement Marketing
Inbound Marketing
Evangelism Marketing
Un-Marketing
Relationship Marketing
Permission Marketing
Transparent Marketing
Most of these labels have successfully permeated the industry lexicon, but none successfully capture the essence of a modern marketing campaign. I've found that most of these labels and methodologies, like Inbound Marketing, aren't sufficient in and of themselves to effectively market a website.
In my experience, the key element in modern website promotion is participation. With the exception of advertising models like Pay Per Click (PPC), participatory marketing — including offline and online interactions and a focus on inbound and outbound techniques — provides the most effective campaign results.
So, I'd like to propose a new label: Participation Marketing.
What is Participation Marketing?
Participation Marketing includes marketing efforts that are participatory in nature, and can be accomplished both online and offline. There are five key steps to Participation Marketing.
Attending
Listening
Engaging
Optimizing
Contributing
1. Attending
Attending is the act of participating by simply being present. This can be accomplished in numerous ways. You can attend online by joining social networking groups, discussion forums, chat rooms, and private networks. You can attend offline by going to industry conferences, (un)conferences, and local meetups.
Being present at events and within groups builds awareness. It's a form of passive marketing that will get you noticed (at the very least by an event coordinator who is interested in seeing who came). It's similar to the concept of leaving a comment on a blog, except that's a form of engaging, which I'll discuss in the third step.
Attending is the easiest of all five steps. All you have to do is show up! A good example of how attending can work in both the offline and online world can be seen in the Facebook photo below.
Jeff Randall took the picture above. It's a group of people at "PubCon South," in Austin, Texas. I happened to be in that picture and was subsequently tagged. Not only did my attendance get me noticed in a picture on a social network, it also gave me an in to participate in a discussion thread that was associated with the image.
2. Listening
Participation Marketing techniques mimic the same behaviors that are found in relationships, including the skill of effective listening. That's because you're attempting to create relationships with as many people as possible.
Listening is accomplished through attending. Listening to what industry leaders are saying at conferences; listening to the conversations of other attendees; listening to what is being said in forums and groups; and listening to what your customers are saying they want and need. You will quickly discover what people really want, what is missing, and how you can better communicate your message.
3. Engaging
After listening to your customers and prospects, you're better prepared to engage them. Engaging your customers will help refine your products and services. You can make changes based on your target market's most pressing needs, and continue to build exposure for your business.
Engagement includes asking questions at conferences and events, leaving thoughtful comments on blogs, starting and participating in discussion threads, and reaching out to thought leaders for advice and opinions. It should also include making yourself easily accessible so people can reach out and engage directly with you. This can be accomplished easily with an actively-used Twitter account.
4. Optimizing
After attending, listening and engaging, your main focus should be optimizing. You can improve many aspects of your marketing program, including your management and communication with contacts and leads, your company's message, and the overall information architecture (IA) and content of your website.
Optimizing and growing your contacts means following up and continuing to engage with them. It can be done online and offline, via email, phone, Twitter, lunch meetings. etc. Optimizing your website improves your company's marketing message and goals by making it easier for visitors to engage with the website. You can optimize your site by improving navigation, labels, and site structure. You should continuously test and tweak lead capture flows, and work to provide more compelling content.
Optimizing should take advantage of marketing tools and resources that can make your efforts more effective. If most of your time is spent face-to-face with potential customers, perfect your verbal communication skills. If you spend more time engaging people online, use social media monitoring tools and content relationship managers (CRMs). Clever applications, like Incoming!, a Twitter monitoring tool, can help you manage your time and increase the effectiveness of your marketing campaigns.
5. Contributing
Once you've established relationships, created social network profiles, refined your messaging, and fine-tuned your website, it's time to focus on contributing. Contributing fully reaps the benefits of attending, listening, engaging and optimizing.
There are many ways to contribute. Guest blogging, blogging on your own website about case studies and research, conducting free educational webinars, and speaking at industry conferences are all good examples.
Fully realized, contributing may help you become a "Trust Agent". As defined by author Chris Brogan, a trust agent serves as an industry influencer, reputation builder, and community advisor. A good example of a trust agent is Aaron Wall of SEO Book. He regularly contributes offline at conferences and online via his website. His contributions established his credibility and helped him create a successful business in training, tools, videos and online community.
Is Participation Marketing for Everyone?
Participation Marketing is time consuming, but effective and worth time spent. It requires frequent participation both online and offline, and it means you will probably be traveling and attending many events. By using the right tools, you can maximize efficiency and effectiveness.
The most common activities that promote effective participatory marketing include:
Offline
Attending, listening, engaging and contributing at industry trade shows and conferences
Attending, listening, engaging and contributing at local meetups, (un)conferences and geek socials
Producing clever campaigns that are distributed via TV (ads and shows) and print (magazines, newspapers and postcards) that lead people to an online or offline discussion, resource or event
Online
Actively maintaining and growing your social network presence
Building a targeted opt-in list of email addresses and sending frequent, helpful email newsletters that encourage people to engage with your website
Researching and writing informative blog entries
Conducting and participating in webinars that are informative, not sales pitches
Acting as an accessible point-of-contact for your company through services like Twitter
An effective Participation Marketing campaign requires long-term commitment. Results are not always quickly or easily achieved. The person or team managing the campaign must be fully committed to the project for the long haul. The reward for this unconventional, modern marketing approach is exposure, improved reputation, customer loyalty, industry recognition, and best of all, sales.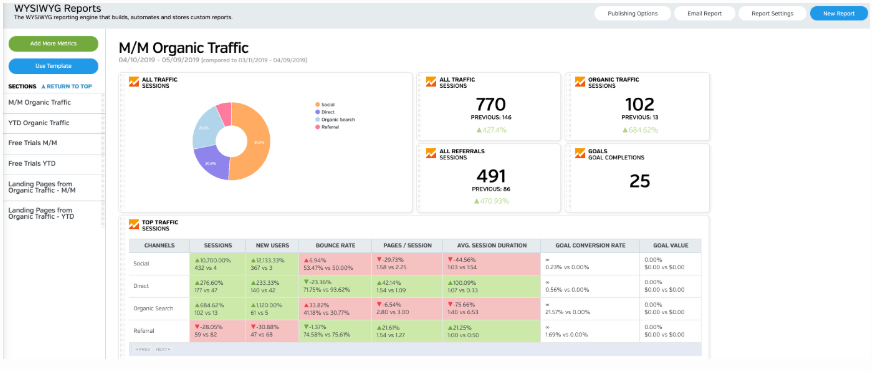 White Labeled and Branded Reports. Drag and Drop Editor. Automate your SEO, PPC, Social, Email, and Call Tracking Reporting.