---
---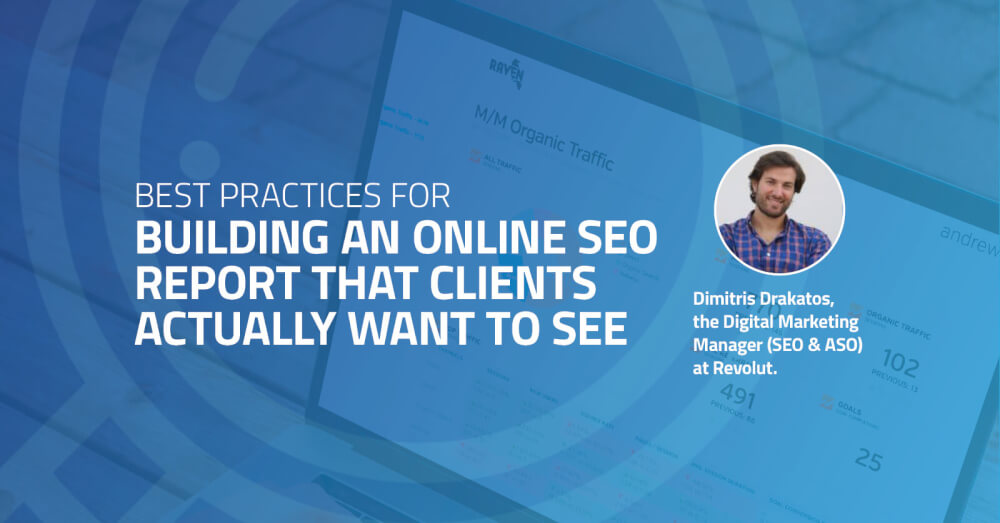 When you build an online SEO report for your clients, what data do you include?
First and foremost, an online SEO report needs to be shareable and easy to access. But in terms of the information you include, there's no clear-cut answer — no boilerplate list of KPIs that make for a universally good search engine optimization report. Why? Because every client is different.
Many blog posts will tell you which metrics to use and perhaps even give you a template. However, this isn't an effective way to build an SEO report that works for you and your client, because:
You may not be sharing the data your client is actually interested in
You pull the same generic SEO metrics regardless of each client's strategy
You're locked into a format that can be cumbersome to change
That's not a great recipe for communicating your unique value to clients.
To find a better recipe, we talked with Dimitris Drakatos, the Digital Marketing Manager (SEO & ASO) at Revolut. Throughout his client-side experience, he has gained plenty of perspective on how to build an SEO report that really showcases your expertise and value. In this article, we're sharing his best practices for building an online SEO report clients actually want to see. We'll focus on four themes:
Building SEO reports to match each client's unique needs
Evolving the report as the strategy develops
Being proactive, transparent, and owning the results you create
Delivering an intuitive report that's easy for clients to share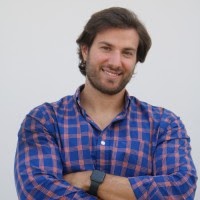 Sign up for a 7-day free trial with Raven Tools to build your custom online SEO reports. Integrate 30+ data sources with your reporting dashboard, and deliver automated white-label reports to your clients.
Keep Your SEO Reports Tied to Client Objectives
The #1 principle Dimitris highlights is to match SEO reports to what your client actually needs to see.
If, like many agencies, you're reporting to an SEO or marketing manager, they're often reporting to other senior stakeholders. They need to take your report and show senior management what you're doing because they need to justify their SEO and digital marketing spend.
Your job, then, is to help them do their job better — to help them justify why they're working with you.
That can start with simply asking which information they want to see, and what they need to be able to show their senior management in internal meetings. In particular, Dimitris emphasizes the example of financial metrics. Playing the role of executive or VP, he asks, "Okay, so we've published 60 keyword-focused articles — that's great. But how will these articles help us grow as a business?"
According to Dimitris, your SEO report should help your point of contact draw a line between the SEO-specific (and content-specific) metrics and the executive's financial metrics.
"Try to associate the content production or optimization work you're doing with revenue, downloads, or whatever you're trying to achieve," he recommends. How does growth in organic traffic translate into conversions? How do specific keywords and the client's rankings for those keywords affect revenue?
One simple way you can do that is by referencing the estimated costs in Google Ads and using that platform's data to estimate the value of the keywords you're targeting for your organic rankings.
Dimitris also emphasizes that for every metric or proposal you share in your online SEO report, you need to tie it back to the overarching strategy. Justify every action you propose, from keyword targeting to technical site changes, and explain how those efforts move the client closer to their objectives. Clients want to know that SEO is aligned with long-term strategic goals — rather than just being tactical actions.
"The overall SEO strategy can — and should — evolve over the engagement, but the last thing clients want to see is a new direction on every bi-weekly call," he says.
Evolve Your SEO Reports Over Time
Creating dynamic and evolving SEO reports is another theme that Dimitris hammers home in our interview. As the engagement with a client progresses, your strategy will evolve, your efforts and focus will change — and your SEO reports need to keep up with these changes. Here's a rough chronology:
1. First, Report on Your SEO Site Audit
"At first, what I want to see from an SEO agency is a presentation about my domain in general. How my domain is performing, the current status of domain authority, ranking keywords, branded vs non-branded organic traffic…" Dimitris says.
According to him, this is your opportunity to report on the state of the website before campaigns kick-off — and to set expectations that prevent problems down the road.
"The more detailed you are in your first presentation," Dimitris explained, "the better you can prevent a situation where you're doing a good job but the client feels like the website still isn't performing."
Specifically, Dimitris says you should report on the findings of your initial SEO audit report:
Domain strength: Clients need to understand where they're placed from a Domain Authority (DA) perspective, since improving that number will help them rank higher.
Competitors (business and SERP): Many clients may assume their SERP competitors are the same as their direct business competitors, but SEOs know that isn't always the case. Your first site audit is the time to clarify this for clients and reframe how you talk about competitors.
Technical SEO metrics: These will help you identify and explain any technical issues and justify your recommended fixes. It's your chance to sell the client on back-end fixes that will put you in a better position to rank well down the road.
Branded and non-branded keywords: Auditing the current state of your client's keyword rankings makes it easier to highlight and justify keyword gaps you'll target later on, plus you can outline opportunities to improve existing rankings for a quick win at the outset.
"You need to provide clients with the details of their problems first, and then explain why it's important for you to fix them," Dimitris tells us.
Note: You can use Raven Tools to get a quick sense of the current state of a client's website SEO using the Quality Analyzer scoring tool in Domain Research Central. It pulls together metrics like Domain Authority and page speed to calculate an overarching SEO score for the site.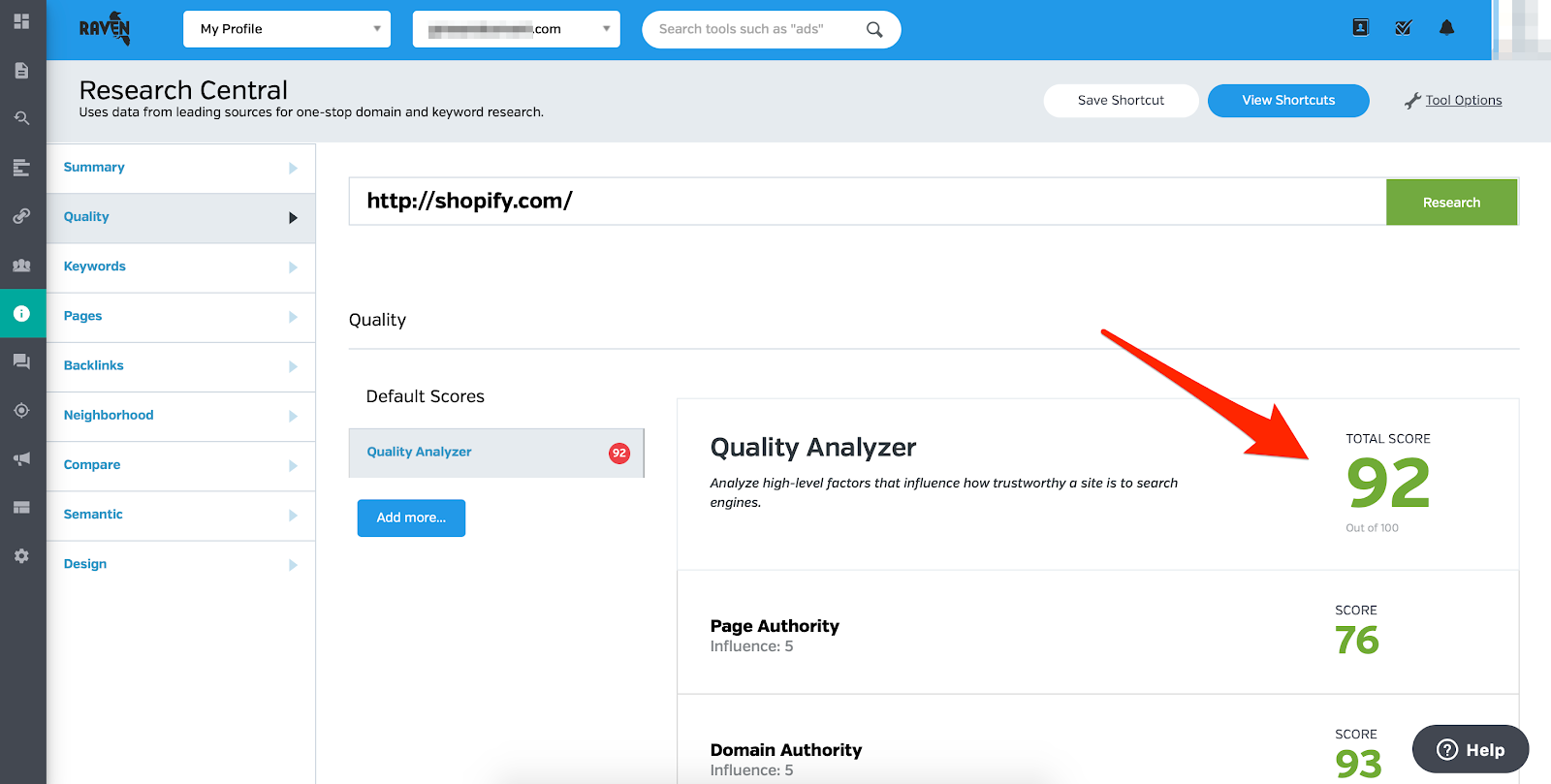 The Site Auditor Studio tool is another feature that gives you an overall score for a website's technical SEO. It identifies and prioritizes areas to improve this score through technical fixes.
2. Next, Report on Output and Quick Wins
After your initial report, Dimitris recommends focusing your reports on output, quick wins, and low-hanging fruit — until you start to see some more significant SEO wins further down the road.
"In the first few months, it's more difficult to show you're creating a ton of progress — because you might not be seeing very big shifts in rankings and organic traffic," he says. "So instead, you should focus on the most important changes you're making. The output is more important in the early days."
For example, Dimitris added "if you perform an SEO audit and you see that technical issues are problematic, you should explain that these are a major priority to fix. Broken links, wrong implementation of sitemaps, pages without meta tags, long URLs…"
Next, you report on the progress of these fixes. So at this stage, anything from technical tasks to the number of content pieces published to Google Analytics goal configuration is fair game in reports — alongside immediate jumps in rankings or traffic due to meta audits and other low-hanging fruit tactics.
Note: You can use the Raven Tools Site Auditor Studio mentioned above to highlight the progress you've made on technical SEO and how those actions have impacted the client's score.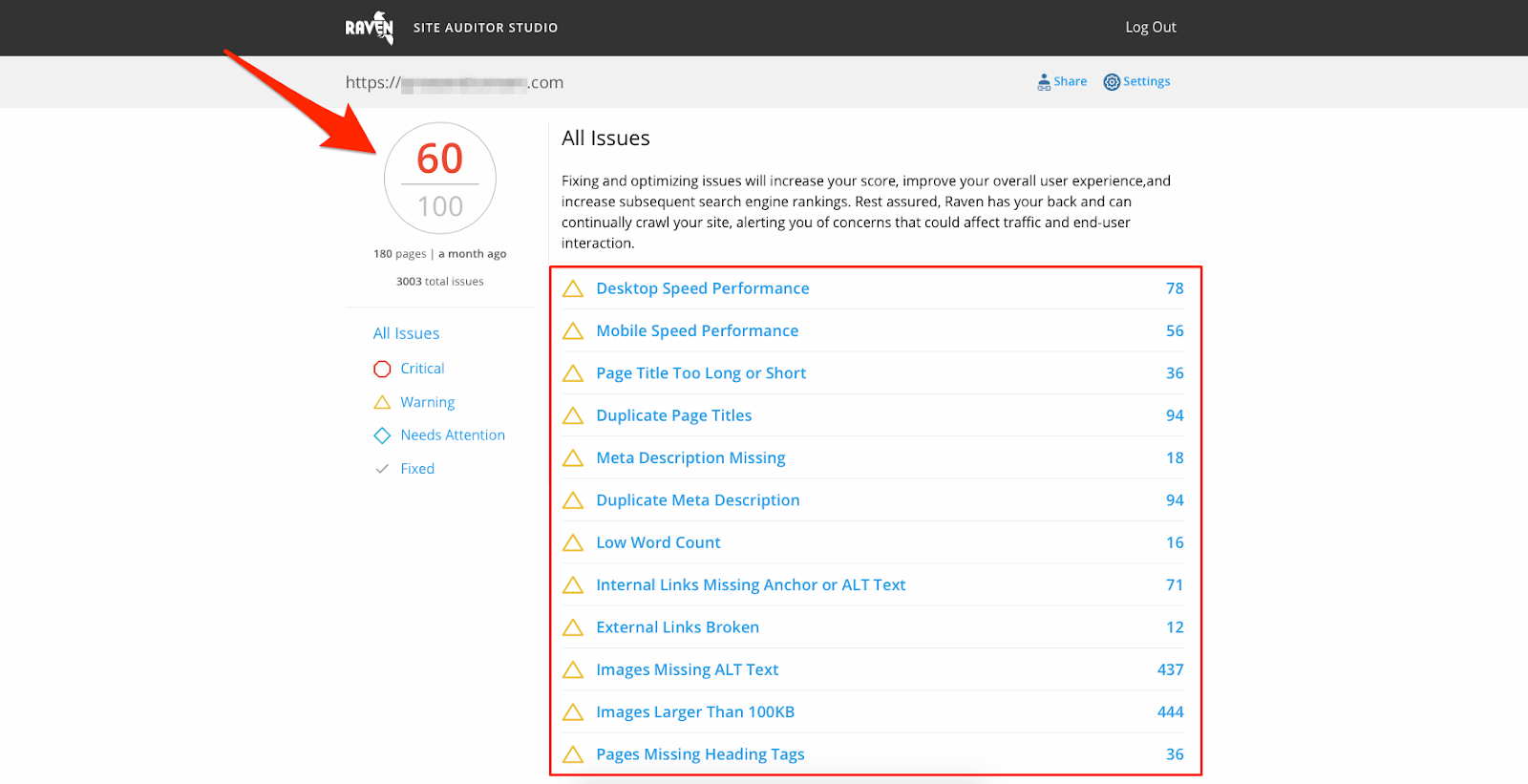 "This is the time to focus on the actions you can take immediately that produce encouraging short-term results for clients," Dimitris says. "Going after lower-difficulty keywords, for example, or updating content that already ranks in the top-10 for a keyword. That way, you can highlight positive progress while you work toward longer-term SEO goals."
3. Then, Build the Reports That Your Client Wants to See
"As the client relationship progresses, you'll publish more content, build more backlinks, and optimize your client's website to perform better in the organic SERPs. You'll start to see more and more wins — and the graphs should start to show a consistent upwards trend," Dimitris says.
According to Dimitris, this is the time when you can start really customizing your online SEO reports for the client (as we talked about above). By this stage of the engagement, you should have a sense of what your clients (and their stakeholders) care about. For example, the report metrics might include:
Ranking improvements for target keywords
Conversions from landing pages and blog posts
The value of certain organic keywords
Organic traffic growth
Domain strength and backlink profile
Note: With Raven Tools WYSIWYG report tool (more on this later), you can pull information automatically from 30+ data sources, and choose the specific individual metrics you want to include.
At this point, Dimitris also recommends staggering the depth of your reports. "The most detailed report should be sent bi-weekly or monthly," he says. You can report changes and spikes in metrics at this cadence, he says, "but SEO takes time, so sending daily or weekly reports are unnecessary — and they might set you up for difficult conversations if the algorithm is volatile on certain days."
Due to the fact that Google is testing content all the time, "there will be constant ups and downs," Dimitris says. So while it makes sense to report frequently on some things (e.g. technical fixes, new content, organic traffic), he advises not to produce a comprehensive SEO report every week.
Be Proactive and Own the Results You Create
"Be very straightforward and super transparent, and you'll build stronger long-term confidence in your SEO agency," Dimitris suggests. In his view, there are a couple of aspects to this:
Owning up to poor results
Being open about positive results you didn't create
When results aren't up-to-par, your SEO report still needs to own them. You need to explain why they happened and, more importantly, how you'll change them. This is where you should add annotations and context to the numbers, rather than letting them speak for themselves.
On top of that, Dimitris tells us that agencies need to maintain a well-rounded view of the client and their industry — so you can identify when positive results aren't necessarily the result of your SEO work.
He gave an example: Revolut recently raised a $500 million funding round and got all the press it entails.
"The day we announced our new funding," he said, "of course we had a huge spike in traffic because everyone was searching on Google to learn more about Revolut."
In an SEO report, you don't want to (inadvertently nor intentionally) claim credit for that increase in organic traffic. So, you need to stay in touch with clients and pay attention to everything that is going on around them. This is a big reason why automated reports should be supported by custom commentary.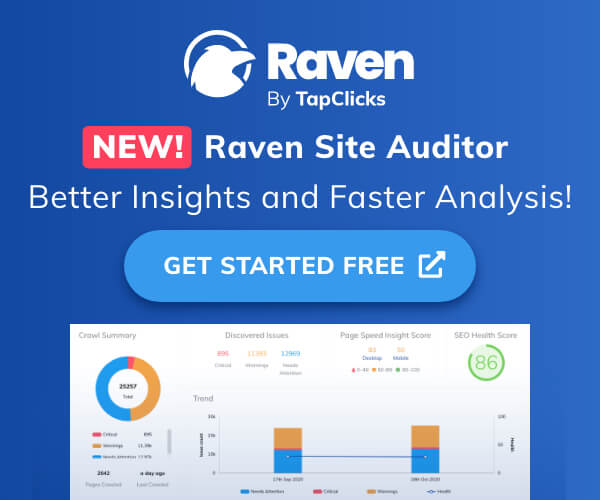 When it comes to the formatting of an SEO report and the logistics of sharing it with clients, Dimitris has a few tips to offer. First, he recommends using a lot of visuals to help make the data more accessible — for anyone in the client's business who needs to see it.
"Due to the fact that SEO managers and digital marketing specialists usually report to other stakeholders, it's useful for them to have a shareable report on hand," he explains. "That way, they don't have to pull this data out themselves and create another version of the report."
Alongside annotations, visuals — graphs, charts, tables, and screenshots — make an SEO report more easily digestible and accessible for those who don't spend a lot of time in the minutiae of SEO metrics.
With the Raven Tools WYSIWYG Reports feature, you can connect your reporting to your client's own platforms (e.g Google Analytics, Search Console, Bing Webmaster Tools, Google/Bing Ads, social media profiles) and combine this data with information from the Raven Tools proprietary tools — rank tracking, backlink acquisition, site auditing, and more.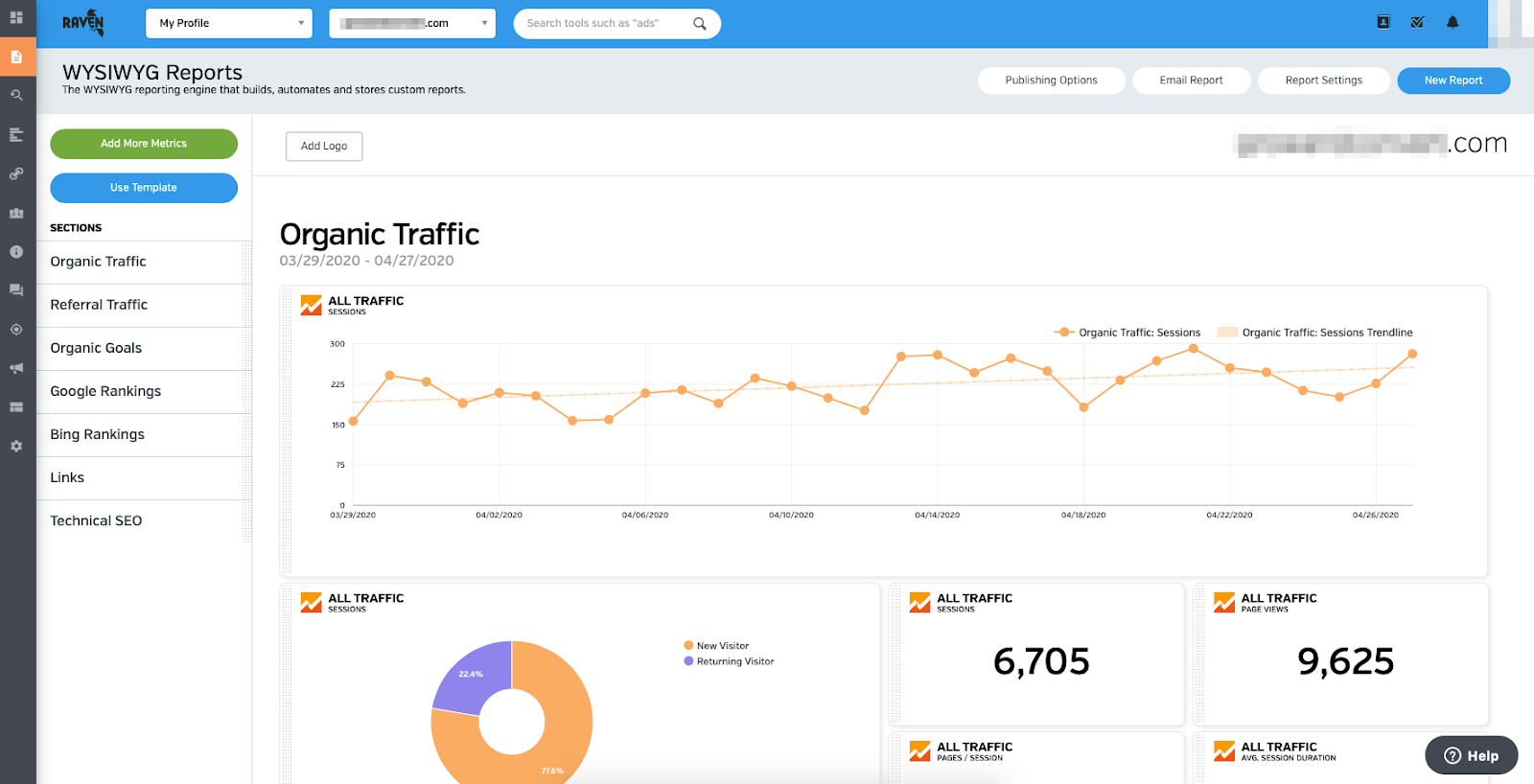 From there, you can customize the entire report and white label it using your logo. It's a quick-and-easy way to build a personalized story for clients and translate abstract numbers into meaningful results.
Finally, Dimitris recommends that you make online SEO reports easy to share. "Senior managers tend to be time-poor, so if you need to quickly show results or justify new digital marketing spend, you need to make it as easy as possible for stakeholders to access the right information," he says. "It's really important to make reports shareable and available to view without logging into different platforms."
Note: With Raven Tools, you can deliver online SEO reports via shareable URLs or PDFs — so you can share it with your client easily (and your client can share it with other stakeholders).
You can also schedule reports to update with real-time data on a set schedule, meaning shareable links always include the most up-to-date information about your SEO campaign results.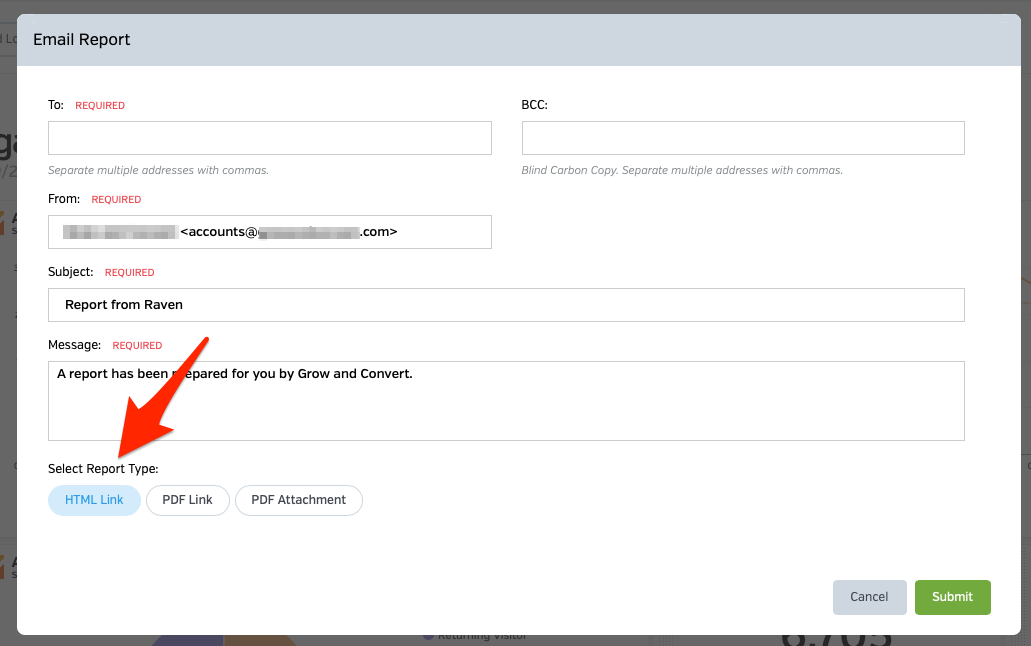 Key Takeaways: Building the Perfect SEO Report
There may not be a universal formula for which metrics make for a good SEO report, but the principles Dimitris outlines here can help you build a powerful online SEO report for your clients.
Build reports around what your point of contact (and stakeholders) need to see
Plan your reports to evolve over time as your SEO campaigns progress
Proactively own the results you create (and call out those you didn't create)
Deliver intuitive and shareable reports that can be easily understood
If you follow Dimitris's advice and tick these four boxes, you'll build an SEO reporting process that works for your clients and better communicates your SEO agency's true value.
Sign up for a 7-day free trial with Raven Tools to build your custom online SEO reports. Integrate 30+ data sources with your reporting dashboard, and deliver automated white-label reports to your clients.