---
---
Growing up in Michigan, the Alice Cooper anthem School's Out for Summer actually meant something to me — a full three solid months of vacation. School age kids did not think of laboring until after Labor Day.
Not so in Nashville, Tenn., the home of Raven HQ. A coworker mentioned "child school angst day," referring to the first day of school for his kids — August 4!
That got me thinking about stories that surface when students post stuff online they'll come to regret. Angst now has an outlet, and it's called the Internet.
Reputation management evolved as a branch of traditional public relations primarily for brands wanting to clean up a tarnished image. Companies have been prey to hijacked Twitter accounts, for example, and people have bought domain names to embarrass unresponsive corporations, e.g. ComcastSucks.com.
Today, online reputation management (ORM) extends to students and college graduates and even younger. No amount of wishing will change what's posted online. And Google's advice on preventing personal information from showing up on the first page is not particularly helpful.
Here are 9 quick tips to show you and your clients how to avoid becoming a cautionary tale.
How To Protect Your Reputation Online
Be smart about what you share. Most future employers won't think your half drunk or naked photos are funny.
Be proactive. In other words, manage your name (or brand) before you need to. Create and promote content and links associated with your name. I met one law degree graduate who posted on a Reddit subdirectory (known as subreddits) frequently when he couldn't get hired as an attorney. His passionate social commentary actually led to a position with a search marketing firm.
Register domain names, both positive and negative. This keeps anyone from hijacking your "name space." If you are a high profile individual, take advantage of Google autocomplete to see which terms are paired with your name. Google derives this information from its own algorithm, so it's a good bet people are searching those terms.
Do not repeatedly search for your name or click on links you find in search results. This is hard data that Google uses in its algorithm. (See No. 3)
Build profiles on social business sites. These include LinkedIn and Quora.
The above applies to businesses too. Think of how long it took for your business to build a solid customer base. Now, think again how quickly your reputation can be lost based on one rogue employee or an old lawsuit surfacing. (Good luck to Pizza Hut, which is looking to hire a Twintern. What do they expect?) Read how using Raven helped save one business's reputation in this case study.
How To Protect Your Client's Reputation Online
Every online marketing agency should be familiar with the basics of reputation management, if they want to be proactive with their clients. Why? Because you are the first line of defense in case your client's business reputation takes a hit.
It can be something as simple as a negative review on Yelp to a full blown international crisis where you need to build a stand alone website overnight to present information outside the normal news cycle.
Effective tactics for reputation management
Own your "name space." Take the time to educate your clients about how search engines work and why appearing on the first page of the search engine results pages (SERPs) can be both a blessing and a curse. To own your name space means to go beyond the first page of results. You want your business name or the names of key executives to appear in the first few pages. You want to actively build links over time, so that when crisis strikes, you can manage the negative publicity with more links and positive mentions that push the not-so-good links off the front page. It takes times to earn your way to the first 30-40 positions in Google. Remember, results fluctuate, so be patient.
Claim your brand's social media profiles, even if you don't think you'll need them. You don't need to create profiles on hundreds of social media platforms, but claiming your profile on the top trafficked social networks, like Twitter, Facebook, Google+, YouTube, SlideShare, Flickr, Pinterest, Vine, and Tumblr, plus industry-specific forums and blogs, will help you capture positions within the first 30 listings in the SERPs. You can use a service like KnowEm.
Blogging is still an important marketing channel and one that helps with the SERPs. According to eMarketer, 52% of marketers say their company blog is an important channel for content marketing. While blogging is valuable for lead generation and sales, it also keeps your links being crawled, which is the first step to ensuring your content displays in search results.
Have a content marketing plan in place that includes consumer generated content as well as content written by subject matter experts (SMEs). Publish and promote on high-profile sites and search engines, like YouTube, for maximum exposure to both the media and in the SERPs.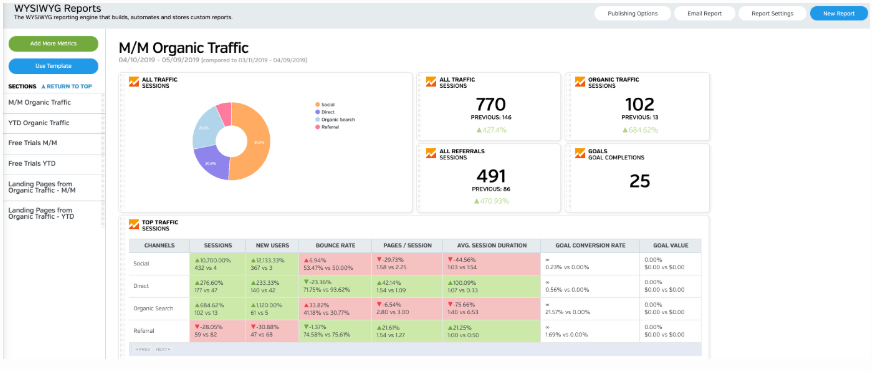 White Labeled and Branded Reports. Drag and Drop Editor. Automate your SEO, PPC, Social, Email, and Call Tracking Reporting.