---
---
They're easy to ignore and time consuming to write.
But well-written meta descriptions — a.k.a. snippets — can strongly influence the amount of traffic that your website receives from a specific search result.
It's important to know what details they should contain, in what format, so that machines can read them easily and display the correct information. But it's just as important to know how to craft them to persuade humans to click.
Get the data right, and the machines will love you.
Get the words right, and the humans will love you.
Here's how.
Anatomy of an organic result
Although we're going to focus on meta descriptions in this article, it's good to know what makes up an entire organic Google SERP result. If you're using Raven, you can track your SEO success by reviewing scheduled reports showing your ranking positions.
Basic elements
Every organic result you see in the Google SERPs has three minimum components:
Title: Google often uses the page title specified in your HTML. Other times, it generates a different one, presumably better matched to a searcher's intent.

URL: Google experiments with the position and appearance of URLs. Again, this is an attempt to provide more useful information for searchers. For example, it may use a site's navigational structure to provide breadcrumbs instead of or next to a specific URL to let searchers know what section they're headed to after they click. That's demonstrated here:


Description: Google calls this the snippet. Most SEOs refer to this as the meta description or description. Google's machines most often choose the description you write and use in your page's HTML meta tag — if it contains the best possible information to display for a given search. Otherwise, Google's algorithm will excerpt information from the actual page's content.
Additional elements
You don't have complete control over what additional information Google chooses to display for your page's snippet. That said, you can strongly influence things by adding machine-readable information about your content in the page code.
Date: Sometimes, especially for articles, Google automatically displays a date before your excerpt:

Microdata: Heard of "Rich Snippets"? That's what Google calls results with more detailed information. It gets that information from schema or other microdata code that you add to your page. This Rich Snippet includes recipe and review information, and Google supports many more types:

Sitelinks: You can't create them, but you can edit them in your Google Webmaster Tools account once Google creates them. They are the indented links below the main snippet, often used for brands or businesses, just like this:

Proper use of microdata could help your results appear in Google's Knowledge Graph and In-Depth Articles features.
You might find Raven's Schema Creator online tool or WordPress plugin extremely handy for creating accurate microdata code. You can also use Google's Structured Data Markup Helper.
Dos and don'ts for machine-optimized meta descriptions
Let's turn our attention specifically to the meta description, or snippet, as Google refers to them. Here's what you need to know to communicate information correctly with the machines that read your content.
Length
Google (for the reckless): 156 characters, including spaces. After 156 characters, Google uses an elipses (…) and/or generates its own snippet. Some people believe that, like the page title displayed, the meta description displayed is determined by width in pixels. In that case, you might want to keep your meta description around 150 characters.
Google (for the cautious): 139 characters, including spaces. If Google chooses to display a date, the characters in that date count against your limit. For the extremely cautious, use 139 as your stop-writing number. Many SEOs are used to Twitter lengths now, so thinking of your new limit as 139 shouldn't be too hard.
Google Plus: 0 characters. Right now, Google Plus isn't displaying meta descriptions.
Capitalization
Do use Use Whatever caseYou want. Unlike titles, which Google reserves the right to rewrite or change automatically, the case you use in your meta description sticks (if Google uses your meta description for the snippet it displays). Strategic use of capitals for Important Words can draw attention.
DON'T SHOUT WITH ALL CAPS FOR YOUR ENTIRE META DESCRIPTION. That said, in some cases, all caps for something like FREE SHIPPING might make sense. So might Free Shipping. So might free shipping!
don't be cutesy with all lower case. it's not true that e.e. cummings preferred to lowercase his name. you don't have to, either.
Don't Randomly Capitalize Every Letter Just Because You Can. That's Especially True For Really Long Sentences, Because That Can Hinder Easy Readability and Quick Scanning From Searchers Who Are In A Hurry.
Special characters
Don't use quotation marks. This has nothing to do with search engines and everything to do with HTML code. If you're not a programmer or developer, best practice is to avoid them.
Do use quotation marks if you know what you HTML entities are. And if you know when and how to use them manually — don't trust your plugin or WordPress to convert all non-alphanumeric things that you type into the proper HTML entities.
Keywords
Don't stuff your meta description with keywords. Google says it doesn't use meta descriptions or keyword tags as a ranking factor.
Do consider the placement of keywords. Google does bold any words that match the searcher's keywords. Use that to your advantage, considering that English readers read left to right, and a high concentration of bolded words on the left can seem highly relevant to the searcher who's in a hurry.
Duplication
Don't duplicate meta descriptions. It's better to have no meta description than to have duplicate ones. Matt Cutts, head of Google's webspam team, explains more in this Google Webmaster Tools help video:https://www.youtube.com/watch?v=W4gr88oHb-k
Omission
Matter of fact: duplication is bad in the eyes of Google.
Matter of opinion: meta descriptions aren't necessary for most pages of your website.
Sure, that's true as far as search engine optimization goes. It's possible that Google's bots come up with better meta descriptions than yours for most searchers' keywords. But omitting them — especially for articles likely to be shared — ignores a critical aspect: social media!
Remember, the meta tag is an HTML tag, which means that the description you can put in it can be used by any website. Right now, Facebook uses meta description to generate excerpts for the links shared on its network. So does LinkedIn. At the moment, Google Plus only uses the title, but that could change (in fact, it has — it used to pull an excerpt, and your only option was to "Remove Description.").
So, if you're writing an article or creating a web page that's highly liked to be shared socially, take a minute to write a meta description. It's not wasted time.
Dos and don'ts for human-optimized meta descriptions
Advertising long ago perfected the art of a sales pitch for humans. When you think about it, that's exactly what a meta description is: a sales pitch for your content for humans.
What makes good ads work? There are lots of techniques, but in the end, an ad must persuade a person to take action. And persuasion involves a good bit of psychology, as the Mad Men of the mid 20th-century learned.
So you could define a good meta description as "a persuasive group of words about the page" instead of Google's standard definition, which is "a concise, human-readable summary of each page's content." Yes, it's important to be brief, and for humans to be able to read the description. But it's critical that it also moves people to action. They should help persuade searchers to click on your link instead of all the others on the SERP.
Otherwise, at best, you're wasting free advertising space. At worst, you're harming your website's potential for greater traffic.
Elements of a persuasive description
Do be sure to include these three basic components of a compelling meta description to trigger that valuable click-through.
Details: These are facts about your content that let a searcher know this is a relevant, useful link. If you're selling dresses, colors or sizes might matter. If you want people to try your cookie recipe, say how long it takes to cook them (or use the recipe schema). If the content contains a PDF, video or eBook, mention that.
Benefits: Don't describe your features. Sell your benefits. That's how you'll stand out from your competitors. What about this page's content will most benefit the person who clicks on the link? Don't be shy. This is your best chance to earn that click. Why are your snickerdoodles the best damn snickerdoodles ever? They're mouthwatering, you say? OK. But why? Instead, write that your cookies are crispy on the outside, slightly chewy in the middle and guaranteed to be gobbled up by your coworkers.
Call to action: Words like click, learn, choose, decide, try, shop, find out, get — basically, any verb relevant to your page's content — can all be considered calls to action. Make your CTA verb as powerful as it can be, especially if you use it at the beginning of a sentence. You can also put a more traditional CTA phrase — e.g. Sign up now! — at the end of your meta description.
Don't duplicate the title or simply slightly reword it. It's boring! Use the description space as a continuation of your thought.
Here's the meta description for this article.

What do you think? Does it contain all three elements? How could it be better?
If you're not yet a pro at persuasive writing, have no fear. You can learn! There are lot of great guides — Copyblogger's 1-2-3-4 Formula for Persuasive Copy and Copy Hackers' 4 Copywriting Techniques Swiped from Psychology come to mind — as well as instructional videos on the science of persuasion.
Tools that find technical problems
Now, you're informed enough to write meta descriptions for maximum clicks — going forward, at least. But what about your existing meta descriptions?
Likely, you have hundreds or even thousands, and existing errors could be hurting your current SERP click-through rates. Use tools to find and fix as many as possible.
Site Auditor
Raven's Site Auditor can crawl 1,000 pages of any website to look for seven major kinds of technical SEO errors, including meta issues. Click on the meta issues tab for a complete list of pages with title and description errors. Specifically, you'll see what's too long or too short, what's duplicated and what's missing. You can click through to the pages with problems for quick fixes.
Tips:
Set up an individual Raven campaign for any folder or subdomain of your website — e.g. blog.example.com or example.com/blog — and run a Site Auditor on just that. That way, you can tackle one section at a time and maximize the 1,000-page limit.
Use Raven's smart Filter Sets, which you can save and edit, to narrow to descriptions that contain certain keywords.

Change the Display Options in the meta section of the tool for better focus.

Run a Site Auditor crawl and create a report before you start work on a website. Then fix problems. Then run another crawl. The report all the improvements you just made. You'll look great.
Google Webmaster Tools
If you have created a free Google Webmaster Tools account for your website, head to the Search Appearance section. Click on HTML Improvements. There you'll see a list of the title and meta description errors that Google discovered the last time it crawled your website.
It's up to Google's discretion how often and how many pages of your website that its robots crawl, index and report on. It's not comprehensive. Site Auditor automatically runs on your schedule, either manually or at the intervals you specify, and it reports a wider range of technical SEO issues for as many of your website's pages as possible.
Bing Webmaster Tools
With a Bing Webmaster Tools account, you can get another view of your website's technical SEO issues, including title and meta description problems. Go to the Reports & Data section and click on SEO Reports. Bing generates its SEO reports automatically every other week.
Tools that can generate snippet previews
Now that you know what to change going forward and backward, you don't have to wait until your pages are published and crawled (again) by Google to see how they could look in the SERPs. Several tools are available to see pre-publication previews. Start with these two.
SEOmofo
Hands down, SEOmofo's Google Search Snippet Optimization Tool is the SEO industry favorite for seeing exactly how your snippet could look on a Google SERP. You can toggle the display settings to really see your result in context. It's a great place to start practicing better meta description writing, especially for experimenting with capitalization and keyword placement.
Content Manager
Raven's Content Manager, where you can write, order, optimize and store content for blog publication, displays a basic organic SERP result preview. Even better, it integrates Scribe SEO by Copyblogger. After you enter the page's title and meta description information, you can use the built-in feature to analyze them (and the entire page) with Scribe. Scribe tells you if there are major SEO problems, as well as where to focus you attention.
Every Raven account gets at least 20 free Scribe analysis included every month, with extras costing about a quarter a piece.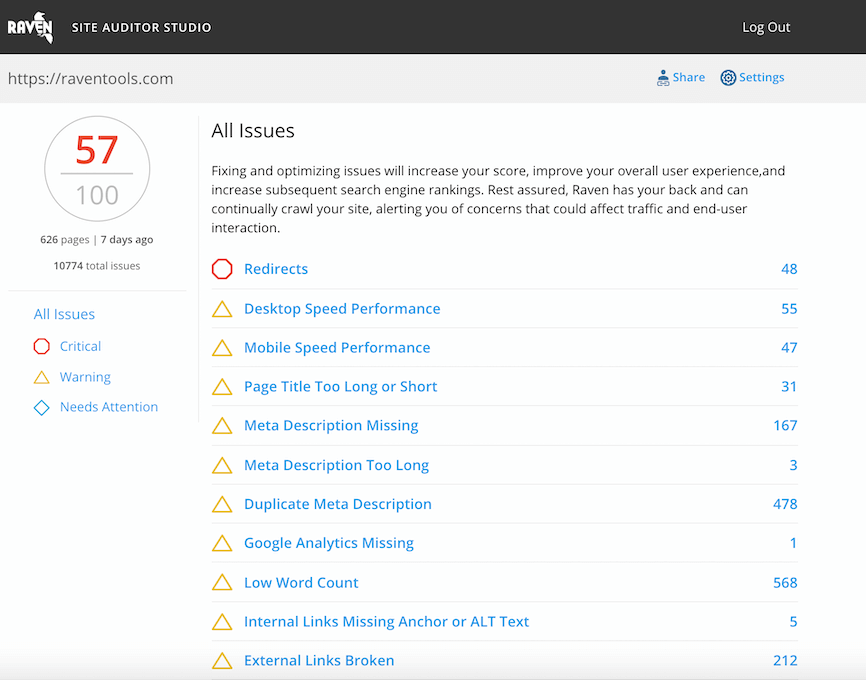 Analyze over 20 different technical SEO issues and create to-do lists for your team while sending error reports to your client.