A Tweet is Worth WHAT? A Guide To Measuring Social Media
Written by Courtney Seiter and published
---
---
Most people with jobs have some kind of way to measure whether or not they're good at said job.
Are you nice to customers? Do you get your work done on time? Are you making the company money? All of these metrics and many more could go into determining whether you're effective at your work.
Contrary to popular belief, social media is no different.
It's just that when it comes to social media, it's not always so simple to figure out what to measure. Social media touches sales, marketing, customer service, community building and more. As a result, there are a million things you could measure, lots of different ways to read the data, and different tools pulling you in lots of directions.
It doesn't have to be complicated, though. In this 30-minute session of our Online Training Class, we make measuring social media easy. You'll learn how to define your goals and match them up with real metrics that follow potential customers all the way from learning about you for the first time to becoming your biggest fan.
Raven's tools that can help
Facebook Metrics: Know exactly which Facebook posts equal success for your brand with Raven's Facebook metrics. View and report a table of each post along with its type, number of comments and likes, reach and engagement rate. In addition, you can see referral traffic to your website from Facebook.
Twitter Metrics: Not only can you manage as many Twitter accounts as you like in Raven (including Twitter search and Twitter lists), you also get comprehensive Twitter metrics. Measure and report metrics including replies and replies reach, retweets and retweet reach, total mentions, follower growth and referral traffic to your website from Twitter.
YouTube Metrics: Monitor and report views for uploaded and channel videos, subscribers to your channels and referral traffic to your website from YouTube. In addition, you can see advanced stats, including subscribers, comments and favorites for up to 10 videos.
Google Analytics: With Raven's integration of Google Analytics, it's a cinch to measure traffic back to your site by day for each social network. Dive even deeper by navigating to Google Analytics > Social. You can see traffic by network, conversions by network, top landing pages and even report a dollar figure for social media actions.
Report Builder: All of Raven's social media metrics tools allow you to create an instant report based on just the data you're working with at the time. For a more comprehensive report that you can schedule, Report Wizard makes it a snap to quickly gather all the metrics you need to show a client or boss.
More social media measurement resources
The Foolproof Guide to Measuring Social Media: A guide to saying goodbye to the pack and finding the social media goals that matter to you.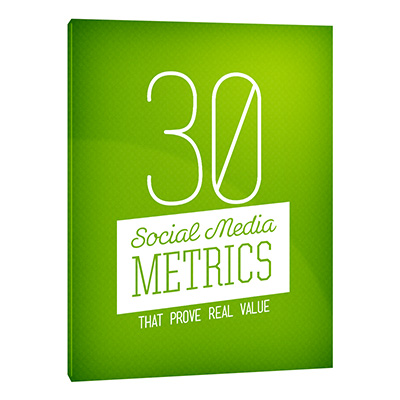 30 Social Metrics That Prove Real Value: This white paper dives deep into a variety of social media metrics that follow customers all the way down the sales funnel. Understand each metric, see formulas for success and find helpful follow-up resources, too.
Measure It! Social Media Metrics Made Simple: See all 30 metrics from the above resource broken out and explained thoroughly in this Slideshare presentation.
Understanding Social Media ROI: See case studies of how brands found real value (dollar figures and all!) by defining and measuring their specific goals in this Slideshare presentation.
50 Ways to Max Out Your Social Media Monitoring: An exhaustive starter list to making the most social media monitoring opportunities.
My Social Media Monitoring Schedule: The Day, The Week, The Month: A look at how I use Raven every day (and week, and month…) to manage and monitor social media accounts, nurture customers and brand advocates, assign tasks, stay on top of news and trends and report it all. Maybe some of my tips will help you, too!
Previous Online Marketing Training sessions
Why To Be Best Friends with Website Audits
Reports: How to Look Good No Matter What
Business Development That's Super Simple
Why Press Releases Are (Still) Useful for Marketers
Join us every Thursday
Every Thursday at 11 a.m. CDT a Raven expert teaches a new training class focused on making you a smarter marketer.
Next up:  How (and Why) To Stalk Influencers
What you'll learn:  Building relationships with influencers isn't easy, but it can be done. In this training session, learn how to stalk influencers, as well as the tools that can help you stay organized and on track.
When: Thursday, October 31, 2013, at 11 a.m. CDT
Sign up here.
Have ideas for other Raven training sessions and the topics you'd like to see covered? Let us know in the comments!