---
---
Can you please everyone all of the time? Nope.
But by choosing your target market wisely and honing in on it, you can please the right people all of the time.
Any entrepreneur knows that in order for a business to succeed it has to be aimed at the right people – but many make the major mistake of assuming they already know their target market and employing a 'one size fits all' approach to their marketing strategy.
For example, a common assumption among car accessory retailers would be that their target market is 'anyone who has a car.'
Of course car owners are more likely to be interested than someone who doesn't own a car, but that's no target market. Having such a wide, unfocused audience makes it impossible to tailor a strategy to specific types of car owners for a specific product.
To have a successful marketing campaign, you must know exactly who you are targeting, and why.  Far from being limiting, a clear, refined target market audience gives your content and marketing more clarity and focus – and makes it that much more effective.
So how do you go about finding your target market?
Know yourself first
It all starts with close self examination – you won't be able to figure out who your business appeals to unless you know your products or services inside out. First, think on these important questions:
What is the purpose of what you sell? Is it designed to satisfy a basic need or is it a luxury item?
What makes your product or service unique? Is anyone else selling anything similar, and if so what gives your product the advantage?
Why does your current customer base buy from you? Who buys the most or spends the most money and what do you know about them? Is there anything they all have in common?
Does your product or service offer a solution to a problem that people have – does it make their lives better in some way? What are its benefits?
Find your audience online
Once you've established what your business or product can do for people, the next step is to discover who will benefit from it the most.
Listen to social media to get started here – what are people saying about you on Twitter and Facebook, and how do they speak when they say it? Who is the most interested in what you offer?
Use social media tools to listen in. Search for other online mentions of your brand in places like forums and groups and listen to what people are saying – it is guaranteed to be useful stuff.
Hone in on the most vocal customers you find and ask them questions, whether it's via a Facebook status, users' group or even just an email.
Surveys on social networks can also be a goldmine of information, and it's easy to make it fun for fans to take part while you gain quality insight.
Meanwhile, stay up to date with the news and trends in your industry and with your competitors. Keep an ear to the ground for anything and everything that might give you a better understanding of the appeal of your products and services.
These observations will arm you with awareness that you need to take with you through to the next stage.
Discover your target customer
Now that the picture of your target customer is really beginning to shape up, it's time to refine it even further. More questions to consider:
What's the reach of your product? Are you going to be selling regionally, just in your own country or worldwide?
Divide that market up into segments based on demographics. What age groups do you reach? What's your average customer's level of income? Are they single? Married? In a relationship?
Divide those segments up further still, this time based on psychographics (a fancy word for values, attitudes, interests, and lifestyles). Are your customers mostly middle class or wealthy? Do they live in the suburbs, the country or an urban loft?
Do your products or services appeal to other businesses rather than consumers? If so, consider factors like type of industries available, how big they are and how much money they make to figure out which ones are right for your business.
Create personas
By now it should all be falling into place, providing you a pretty clear and specific idea of your ideal customer. You might even build some sample "personas" from the data you've put together, putting names and photos to the audience segments you've discovered.
This the audience that's going to be the most receptive to your marketing – every blog post, email, social media post or other marketing message should be crafted with them in mind. Work to understand them better and think carefully how best to reach them with your message.
Refine your marketing with audience in mind
Now instead of wasting your energy targeting a too-broad audience, you have a strategy focused on the right audience that will pay dividends.
This means that instead of targeting 'anyone with a car,' our example business can target more specific groups – teens buying their first car, for example, or executives who need accessories to make their daily commute more comfortable.
Armed with better specific information, you can make smarter decisions about where to advertise (where these people hang out) and how to talk to customers (using the language that resonates with them).
Tailor your marketing strategies to delight and excite your customer, not just any customer. They will love you – and your products – for it.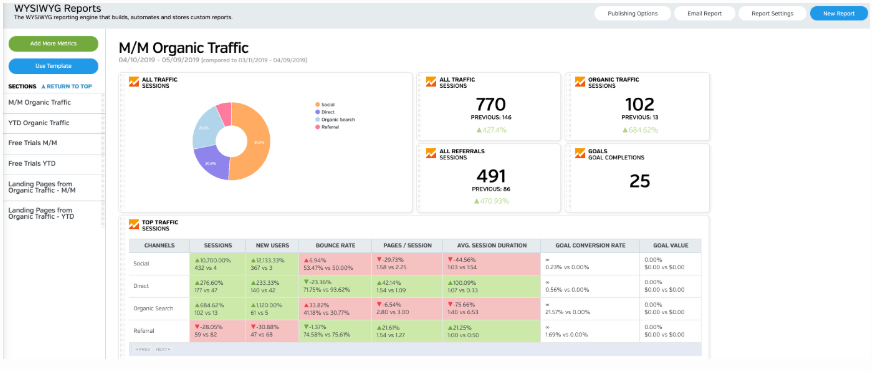 White Labeled and Branded Reports. Drag and Drop Editor. Automate your SEO, PPC, Social, Email, and Call Tracking Reporting.