How To Attack Social Media ROI Like a Pro
Written by Pratik Dholakiya and published
---
---
In 2014, 92% of marketers said social media was important to their business and brand, and 95% of marketers that use social media six hours or more per week say it has created more exposure for their brand. It's not surprising then that 63% of CMOs want to increase the ROI on their social media investment, according to MarketingSherpa.
Google Analytics Social Reports can help marketers see how their social media promotions can create a positive impact on their bottom line.
Google provides context for your social data and allows you to see a holistic view of your digital brand. By assigning a dollar value to a goal or conversion, Google Analytics helps you quantify your social media impact. It will also show you which social platforms and content are driving your best customers toward conversions and, ultimately, improving your bottom line.
Using Google Analytics Social Reports, you can filter your social media traffic so that you see your visitor's behavior, specifically for sites like Facebook, Google+, Twitter, YouTube, and others. This will also allow you to see how your social media visitors differ from non-social referrals.
Define Key Performance Indicators
Before you dive in to Google Analytics Social Reports, it is critical that you do some planning first. This requires doing some research to determine which key performance indicators (KPIs) are important for your social media campaigns.
KPIs can be applied to social media just like any other part of your business (i.e. operations, sales, etc.). By measuring KPIs, like the number of email opt-ins, downloads, time spent on your website, purchases, video plays, events and more using Google Analytics Social Reports, these KPIs can be shown as goals. Creating goals in Google Analytics can help you see exactly how much value social media is bringing to your brand.
Tracking traffic to social media sites
Have you ever wondered how much your website impacts your social media following?
You can create a custom event for each of your social media links so you can see how your website drives traffic to your social media channels. Using these events, you can see which visitors are most likely to connect with you on social media. See the event tracking guide for more information on setting up this feature.
Stop assuming and use analytics
Using social reports, you can get data-driven insight so you no longer have to make decisions based on assumptions. By identifying which social sources generate the most traffic, conversions, and visitors most likely to convert, you can make informed decisions. Using this information, you can determine which networks perform the best so you know exactly how to invest your time and money in the future.
Sources and Pages reports: Are you paying writers to write content that is never shared? Using these reports, you can find your most viral content that is being shared. Once you are armed with this information, you can create (or have created) content that is more likely to be shared in the future.
Network Referrals: Do you know which social media networks give you the most conversions? Using the network referrals reports, you can compare the social network referrals to see which ones are delivering the best-converting visitors as well as which content leads to the best conversions.
Social value graph: The Social Value graph compares the traffic from social media with other sources and shows you the number of people and monetary value for each. Using the Social Value graph, you can get a quick snapshot of goal completions. This will help you determine which social referrals led to the most conversions.
Understanding your audience
After a conversion, it's great to be able to see which social network brought you the visitor. However, sometimes the challenge is understanding how visitors interact with your brand before making a conversion. Using the Social Referral report, you can break out visitors by social media network, page views, pages per visit, duration, etc.
This data can be enhanced using the Google Analytics Social Data Hub. The Data Hub activity report will allow you to see how people are discussing and engaging with your website's content on social media networks (outside of your website). Using this data, you can see the URLs that people have shared and which social media network they used.
Measuring social conversions over time
Being able to see the impact of relationships on your website over time can be invaluable. In many cases, websites don't get immediate conversions because it takes time to build enough trust with the right content and incentives to create a conversion.
The Last Interaction Social Conversions graph shows you the referrals that immediately lead to a conversion. Assisted Social Conversions will show you users that return to your website later and convert. Raven wrote more about it here.
With the Social Visitors Flow, you can see where social media visitors enter your site and the path they take. This will allow you to see which social media campaigns are selling your most profitable products, which directly impacts your bottom line. If you want to see one specific source, you can hover over a name and click "View only this segment".
Plug-ins
If you use plug-ins for social media sites, like Facebook and Google+, you will need to know which content on your website is being shared. Using the social plug-in set up, you can add analytics to each of your social media buttons. Using this, you can find out exactly what types of content are being shared the most.
A/B testing
"More than 20 percent of businesses have reported that they do not have an effective strategy for landing page testing." (Source: IonInteractive)
"Only 44 percent of companies use split-testing while trying to optimize conversion rates." (Source: Built Visible)
A/B testing has been shown to reduce bounce rates, increase conversion rates, and improve sales on websites.  A/B testing is now possible with Google Analytics. Using the Content Experiments tool, you can find exactly which landing pages give you the best conversions.
Once you know this, you can use your social media campaigns to drive traffic to those pages. This feature is located in the Behavior left-hand menu in the Experiments submenu.
Reporting on Social ROI
[Editor's Note: Here are the steps for reporting on social ROI in Raven added for convenience. ~@RavenNickiB]
Once you know the ins and out of your social data, it's time to share your progress with clients.
The advantage of using Raven to report on social media ROI is that crafting reports will take less time, and you'll have much more control over how the report appears. Add your company logo, schedule your report frequency and decide if you want to publish PDF reports or interactive HTML reports.
You can start crafting a social report in minutes and include engagement metrics directly from social networks alongside social traffic and conversion data. If you want to include supplementary information in a Raven report, you can also embed a video or a chart using the Add > Text Summary option. Here's how to get started.
Sign up for a free Raven trial or log into your account.
Add a website and authorize Google Analytics and social accounts.
Go to Reports > Reports.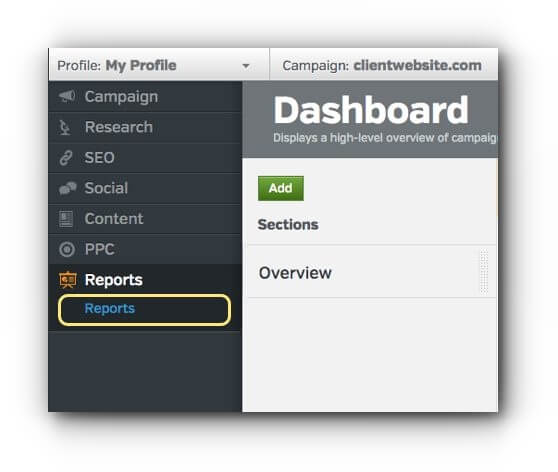 4. Click New Report.
5. Click Add Logo.
6. Click Add > Google Analytics > Social Overview.
7. Click Add to include data from Twitter, Facebook, LinkedIn or YouTube directly.
8. Click Publish Report.
9. Click Tool Options > Report Settings to schedule your report.
If you're reporting directly using Google Analytics for social, go to Reporting > Acquisition > Social to find social reports and get started.
Plan Your Attack Before You Begin
Knowing how to track your social media ROI is one of the most important things for a marketer. However, before you begin, you need to make sure you have a solid plan of attack that keeps your company goals and KPIs in mind.
Google Analytics makes it possible to see how social media influences your customer's journey through awareness, engagement, acquisition, retention, advocacy and loyalty. Using the reports and graphs within Google Analytics along with on-going split testing, you can make the most of your social media investment.
In what way are you demonstrating social media ROI for clients?