---
---
For small businesses, local search is sometimes the only hope for making it to the first page of search results. Even then, things can still get very competitive.
You may have heard the recent fuss over "Local Paid Inclusion." If only getting top local rankings were that easy.
Unfortunately (or perhaps fortunately, since it keeps SEOs working), local SEO takes serious effort and isn't as easy as signing up for a paid program. But there's one aspect of your local search strategy that can improve your results: citations.
Let's keep things simple by assuming that we're talking only about Google searches here. Local search results in Google can vary depending on the location you are searching within or the search term itself. In some cases you might see a pack of local results, while others blend the local results with the organic. Local rankings are primarily based on signals from your Google Places page, your website and off-site factors.
In blended results (local combined with organic), the signals seem to be weighted toward your website, so factors like page authority and quality content are more important. However, pure local results (with Places pages segmented into a separate group) focus more on signals from your Places page and off-site factors like the quantity and quality of citations.
Let's talk citations
Citations are essentially mentions of your business name, address and phone (NAP) in directories, blogs, etc. around the Web. They are to your Google Places page as inbound links are to your website.
Citations don't necessarily contain a link to your website, but Google attributes citations to your Places page matching the NAP information, so consistency and accuracy are key!
In the same way that quality inbound links improve your site's likelihood of ranking, quality citations strengthen your Google Places page.
Pronto Marketing, where I work, recently set out to collect some data and try to measure the impact citations can have on both rankings and organic search traffic.
Measuring the effect of citations
First, it might be helpful to explain why Pronto Marketing is in a good position to study this. Pronto provides Internet presence management services for hundreds of small businesses throughout the world. Until recently, we focused on a single vertical: managed IT services.
The data set for this research included only managed IT services clients within the United States who are targeting geo-modified keywords (e.g., "IT support San Francisco"). The nature of our services (which give us full control over design, site structure, hosting and SEO) and the fact that the sites involved target keywords of the same relative difficulty help to remove some variables in the already super complicated world of SEO.
In April 2011, we started offering an opt-in directory listing service which gave us the opportunity to compare businesses in the program against a control group of non-participants. We dumped out nine months worth of traffic data from Google Analytics, grabbed thousands of keyword rankings (from Raven, obviously!), and started crunching numbers. Here's what we found:
Throughout the course of the year, clients that were enrolled in the listing program improved their average keyword rankings by about 3.2 positions, while non-participating clients saw a slight overall decline.
We found similar results when comparing organic search traffic between the two groups: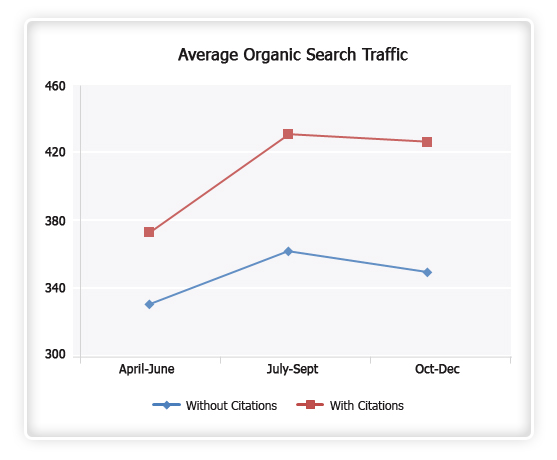 Again, there's a marked improvement for businesses in the directory listing program – a 14.7% increase in organic search traffic throughout the last three quarters of the year. That averages out to about 20 additional organic visits each month.
For a small business, those additional visits can mean the difference between getting a new lead or not. The control group saw an overall increase as well, but only managed a much less impressive 5.9% improvement.
I'm not going to pretend that SEO is this simple. There are, of course, many factors that contributed to these results. For example, it's likely that clients who chose to enroll in our program are also more inclined to invest in other aspects of SEO.
But it's clear that managing the quantity and quality of citations plays a significant role in local SEO for small businesses. And considering the relative ease of building citations (as opposed to, say, quality link building), this is something you cannot afford to overlook.
Where to get started
If you're not already actively building citations for your clients or your own business, here are a few steps to get you started:
Become visible on major search engines – this should go without saying, but make sure you claim your listings on Google Places, Bing Local and Yahoo! Local
Start working with data distributors – Localeze and Infogroup are the largest listing distributors in the U.S. and have contracts with hundreds of directories
Get local – Find community-based websites to get listed, such as the Chamber of Commerce, the Better Business Bureau, local news sources or local blogs
Get vertical – Find niche blogs or directories by using search operators like "keyword inurl:blog" (Editor's Note: Raven's Site Finder and Research Central tools can also help with this)
Keep your listings accurate – Exact matching NAP information is key – Localeze and infoUSA make NAP management much easier
Tracking success
Tracking your success with citations can be difficult. Whitespark has a great tool that can make your life easier; or with some fancy search operators, you can find your citations in Google results. Try searching for the business name with the phone number or address in quotation marks, excluding results from the company's website:

These can also be used for competitor analysis. Run these searches for those ranking above you and see which citations they have that you don't.
As with all things SEO, this isn't a quick fix. We didn't see a noticeable impact until three months after we started building citations for clients. And of course, this needs to be balanced with other SEO aspects – quality content, quality links, etc. Reviews on your Places page can have a big impact too, so don't forget about reputation management.
Many SEOs, most notably David Mihm and Mike Blumenthal, dedicate the majority of their time and efforts to unlocking the secrets of local SEO and finding a competitive edge within the local search algorithm. If you want to get serious about local search and learn more about improving your results, their blogs are a must read. Now, get out there and get your local SEO on!