---
---
Value. It's a word we encounter every day. We look for good values when shopping for groceries, clothes or services. We protect the things of value in our homes and in our lives.
But what does value mean in Internet marketing? Everything.
Like Peep Laja (my favorite to follow for tips on improving the quality of your copy and conversion rates – check out one of his posts on useful value proposition examples) has mentioned in many posts, the value proposition on your landing pages can make or break you.
Let's take a look at what value propositions are (and what they aren't), where to find them and how to optimize them.
What is a value proposition?
A value proposition is the main reason a person would buy from you. It's the message that communicates why a customer should choose your product or service.
Your value proposition is also the difference between you and your competitors.
A value proposition is not:
Saying you're the best at what you do: Unless, you can produce proof, these kind of claims ring false with customers.
A company slogan: A slogan does nothing in terms telling users how you can help them.
A welcome note: Telling users "welcome to my website" really doesn't do anything to sell your product/services.
Creating your value proposition
You know when you think too much and make something harder than it really is? We've all solved a problem and at the end told ourselves, "That was actually easier than I thought."
Finding the right value proposition for your brand often feels like that. In the end, it should really be simple, plain and clear.
Here are some tips to remember.
Keep it simple: If your point isn't immediately understandable, no one is going to take the extra time to figure it out. Keep it simple and never, ever use industry terminology that only you or people in your field would understand.
It's not about you: Turn the conversation around and keep it customer-focused. Explain how and why the user on your landing page/website will save time and money. (For example, "Don't you want to save time and NEVER mow your lawn again?") Make them really think about what you're saying. There is no better way to present your business than to put yourself into the shoes of the people you want to purchase from you.
Explain the difference: Tell users what makes you so different. Even if you're the exact same as your competitor, differentiate yourself in your copy.
Address your point in 7 seconds or less: Users have the option to jump from site to site very quickly, so you have a limited time to catch the attention of a person looking for a product or service. If you can explain who you are, what you do and how you can improve their life in 7 seconds, you've done a good job.
To get you started, here are three examples of brands with value propositions that work really well. See if you agree.
Jumpshare
Value proposition: File sharing made simple! Jumpshare is the fastest way to share your files online. Preview over 200 file formats right inside your browser.
Mint
Value proposition: It's easy to understand what's going on with your money. Get a handle on your finances the free and fast way. Mint does all the work of organizing and categorizing your spending for you. See where every dime goes and make money decisions you feel good about.
Google AdWords
Value proposition: Advertise on Google. Want to grow your business? Put your message in front of potential customers right when they're searching for what you have to offer.
Adding value to landing pages
The value proposition is perhaps the most critical component of your landing page because it has to be convincing enough to convert Internet users into valuable paying customers.
In most cases, business owners consider their homepage as their primary landing page. That's not necessarily bad, since your homepage tells everyone what it is you do and sell.
But it's also worthwhile to consider all your other important pages that would solve a problem for a user as landing pages, and optimize them accordingly. For example, any specific service/product page is just as important as your homepage.
Subconsciously (and in some cases, consciously) we ask ourselves a few questions before we purchase anything. With value proposition in mind, the following questions must be answered on all landing pages:
What is this place? Clearly explain where the user is. No matter how they entered your landing page, all users should know where they are and what the page is all about. A logo, your slogan and what you sell/provide should suffice.
Why is it better? Explain why this page stands above all the other pages competitors are presenting.
Who is this for? Explain how you solve a problem for a specific group of people. Describe exactly how you will be the only organization that can solve all their problems.
Why should I buy from here? The most important way to turn Internet users into customers is to make clear how you will make their life easier if they pick you.
The essence of Internet marketing is answering these questions in a well thought and easy-to-understand page, which in turn provides value to your clients and customers.
Testing your value proposition
Determining the best way to represent a brand in a value proposition or on a landing page can take lots of trial and error.
In some cases, businesses have the budget to test variants and decide on a final landing page. But most business owners can spend a few hours and learn how to do it themselves.
If you have the ability and manpower, try testing your pages with pay per click advertising. Test two landing pages at a time with differences like minor changes to the copy, an image change, or call to action copy change
I bet you'll be surprised how a line of text can flip your conversion numbers.
Tools like Unbounce, Optimizely and Google's AdWords Campaign Experiments can help.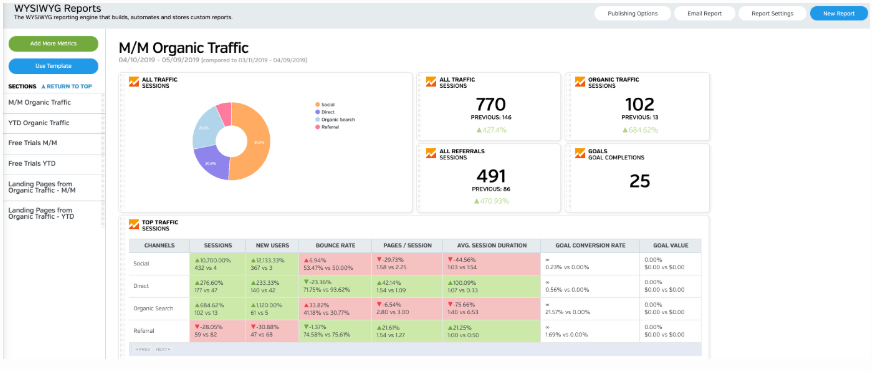 White Labeled and Branded Reports. Drag and Drop Editor. Automate your SEO, PPC, Social, Email, and Call Tracking Reporting.