---
---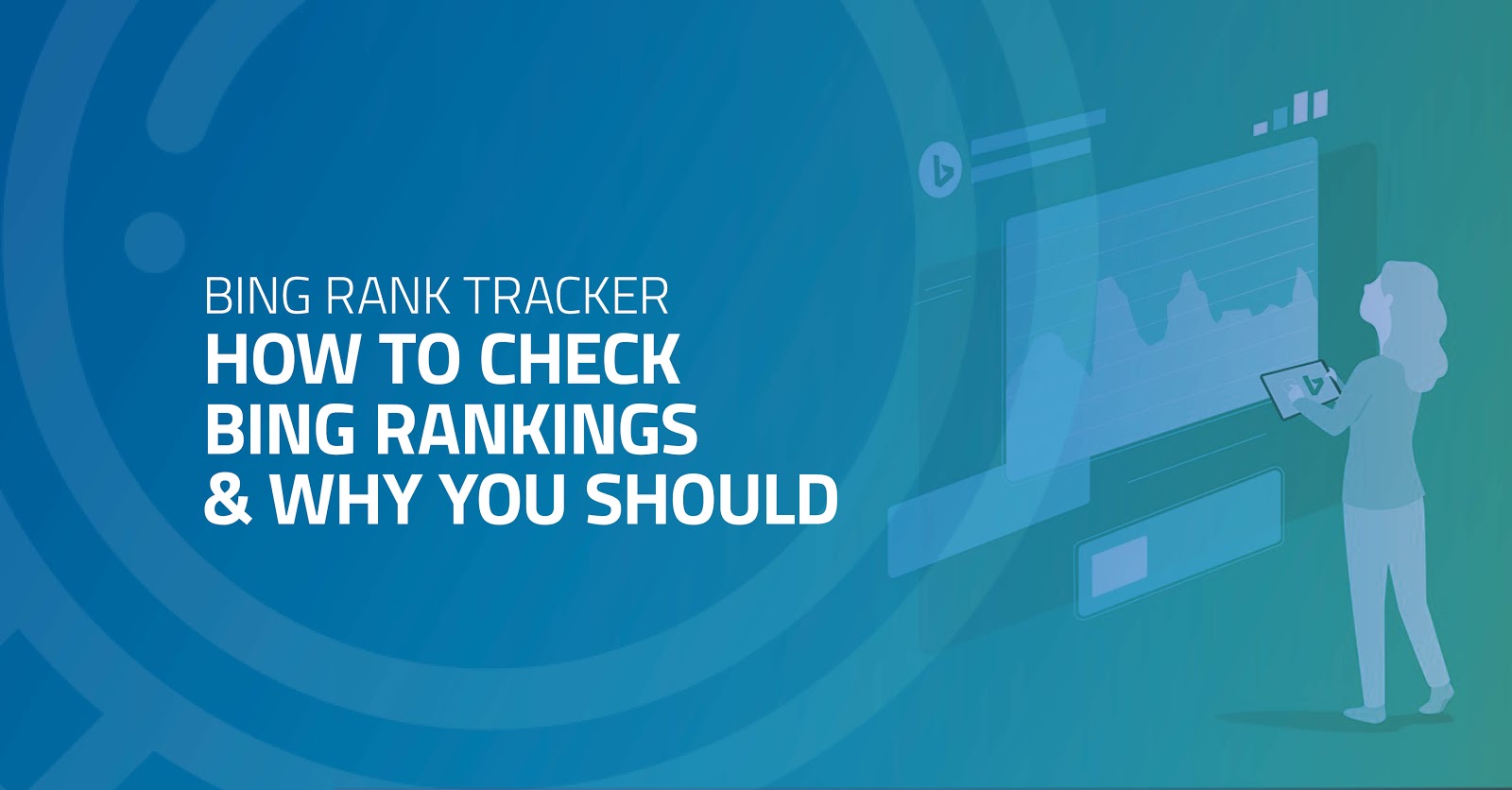 Digital marketers prioritize tracking their keyword rankings on Google, and rightly so — because Google has secured over 87% of the search engine market. In second place, Bing has a comparatively tiny share of the pie ⁠— just 5.5% according to Statistica. However, according to Bing, their PC market share is 11%, and this amounts to 11.7 billion monthly searches on desktop. That's a lot of searches.
And while Google is undoubtedly the dominant global player, there are other, more specific, factors to consider when thinking about rank tracking on alternative search engines like Bing:
Searcher location: Bing is more likely to be used in the USA than anywhere else in the world
Searcher demographics: Proportionally, Bing is used by an older age group than Google
Searcher technographics: Bing is the default for Windows devices, PCs, and Internet Explorer
While Google will remain the focus for SEOs, tracking your rankings on Bing may be worthwhile ⁠— especially when it's easy to do and if your target audience matches the above characteristics.
In this article, you'll learn about how the Raven Tools Bing rank tracker works, and how you can benefit from using Bing Webmaster Tools in your SEO research and reporting.
Sign up for a 7-day free trial with Raven Tools to access Google and Bing rank tracking in one intuitive dashboard. You can also track your keyword positions on Yahoo!, Yandex, and Baidu.
How to Check Bing Keyword Rankings with Raven Tools
Due to Google's dominance, most rank tracking software doesn't talk about their Bing rank tracking capabilities. But we're keen to show how the Raven Tools Bing rank tracker is designed to give SEOs the actionable and reportable information they need. Let's look at the main benefits.
Easy to Use:

As an all-in-one SEO platform, we want to combine everything a digital marketer needs for research, monitoring and reporting. So, our Bing rank tracker is quick to set up and is part of the same dashboard as your other search engine rank trackers ⁠— so you don't need to put in extra effort to monitor Bing.
Simply enter your keywords, select the tracking frequency and location (more on these later), and choose which search engines you want to monitor. The rank tracker will get to work automatically, and you'll be able to track your Google and Bing rankings side-by-side in the same table:

Location-Specific:
With the Raven Tools Rank Tracker for Bing, you can track your keyword rankings in different countries. This is useful for digital agencies with clients in different regions (or with clients who target different regions), and for international businesses with target markets in several countries around the world.
This feature might come into play if you're selling different services in different places, or if the search terminology differs between locations. For example, you might want to track keyword rankings for "lift engineer" in the UK and "elevator engineer" in the USA ⁠— depending on your SEO strategy.
Note: Our Google rank tracking allows you to get even more specific and monitor SEO rankings for certain zip codes, towns, and cities. However, Bing rank tracking is nationwide data.
Real-Time Position Tracking:
With Raven Tools, you can choose how often the Bing rank tracker checks the SERPs for updates to your keyword positions. By default, our system can check each keyword on a daily, weekly, or monthly basis. Many of the other SEO tools on the market limit this type of rank checking flexibility to higher-tier plans.
Cost-Efficient:
If you want extra breathing room to monitor more keywords on Bing or Google, we have a really flexible overage pricing structure. The extra on-demand keyword tracking costs just $0.003/RPC (Rank Position Check).
This means you don't need to upgrade to a more expensive subscription, but you can simply add a few more monthly keyword checks to your current plan. Other SEO tools have a hard-and-fast limit on the number of keywords you can track, and force you to upgrade if you hit that limit. We're more flexible.
Reporting Capabilities:
Everything on the Raven Tools platform plugs intuitively into our reporting functionality ⁠— meaning you can report to clients or stakeholders about results in traffic, conversions, backlinks, technical SEO fixes, Google Ads and Bing Ads performance, and of course, organic ranking positions.
As part of this reporting suite, you can track Bing rankings and feed them through to automatic reports. These reports can be sent via shareable URL or in a PDF via email.
You can create your own custom mix of data sources that tell the story you want to tell ⁠— comparing and contrasting metrics or using data to justify your SEO work. For example, if Bing rankings are improving after a link-building push or Bing click-throughs are improving after a meta audit, you can highlight this.
Sign up for a 7-day free trial with Raven Tools to access Google and Bing rank tracking in one intuitive dashboard. You can also track your keyword positions on Yahoo!, Yandex, and Baidu.
Bing Webmaster Tools: An Underrated Source of Information
While Raven Tools offers solid rank tracking for Bing, you can also plug your Bing Webmaster Tools into the platform to access deeper data. Unlike Google Search Console, Bing Webmaster Tools is transparent about how your website is performing ⁠— including what your current rankings are and which keywords are driving traffic. This means that Bing Webmaster Tools is an asset to your SEO research and reporting.
First, you need to connect and verify your Bing Webmaster Tools with your website. Then you can select the Bing Webmaster Tools option in Raven's Rank Tracking feature and connect using your Bing API key.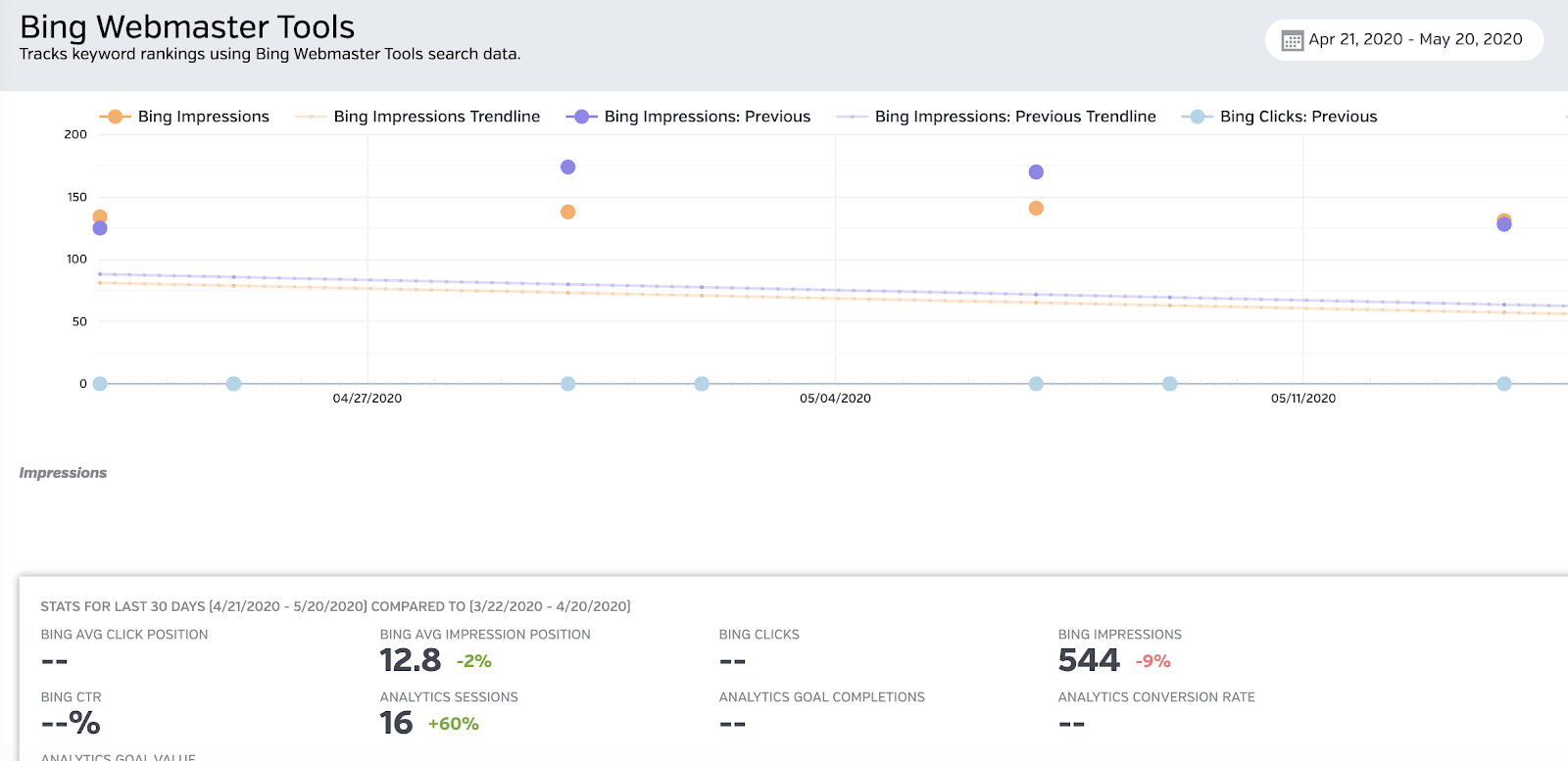 In the Bing dashboard, you'll find a summary of Bing metrics, including average click position (average SERP position where your link was clicked), average impression position (average position where you got an impression), CTR (click-through rate), numbers of clicks and impressions, and goal completions.
Furthermore, connecting Bing Webmaster Tools to your Raven account also adds more rank monitoring capability. But as well as telling you where you rank for certain keywords, the dashboard gives you insightful data about clicks and impressions, click-throughs, and conversions.
This is useful for cross-checking the reports from your third-party rank tracking tool, but also gives you a deeper understanding because it reveals your actual impressions and clicks. This means you know exactly how many searches you appear for — and how effective your web content is for getting clicks.
Using Bing Webmaster Tools in SEO Reporting
As a standalone product, Bing Webmaster Tools is more thorough than Google Search Console in how much data it shows. This includes a more granular view of your SERP performance, but the platform also shows backlink data — and it even tracks your social media indicators (if you connect your accounts).
You can derive a lot of knowledge from this honest ecosystem, and when combined with our reporting and visualization features, Bing Webmaster Tools becomes a valuable data source. You can set up your SEO reports to pull any data you want from Bing Webmaster Tools, and pair it up with other key metrics.
Raven Tools is the only major SEO platform to integrate with Bing Webmaster Tools (as well as Google Search Console). Our platform data indicates that this integration is getting more regular usage on our platform — up 32.5% over the last 12 months — as Bing becomes a core component of what SEO professionals track on a daily basis.
Summary
While it might not have the market share of Google, Bing is facilitating billions of searches every single month. It is the default search engine for Firefox, as well as being the default search engine (via Internet Explorer) on Microsoft PCs and Windows smartphones and tablets. SEOs are right to focus on Google, but that doesn't mean Bing rankings should be ignored ⁠— especially when they're so easy to track.
Our Bing rank tracker is an intuitive part of the Raven Tools platform, and you can enrich your knowledge about how your website performs by integrating Bing Webmaster Tools at the same time. Both of these data sources can feed into your SEO reporting, so you can craft the story that you want to tell.
Sign up for a 7-day free trial with Raven Tools to access our Bing Rank Tracker and Bing Webmaster Tools integration. You can also integrate Google Search Console into your Raven Tools dashboard, and pull Google's data automatically into your SEO reports.