---
---
I've been using Google+ (G+) for a couple days now, and I really like it, a lot! It's obvious to me that Google has invested a significant amount of time and energy into this initiative. Unlike Google's past social projects, G+ is packed full of features that users want. With the help of some of my G+ connections, I've compiled 6 of the best G+ features, thus far.
Circles
The Circles feature is a clear winner. If you've ever used Diaspora, they have a core feature called Aspects. Circles are basically the same as Aspects, just implemented better.
Circles make it easy to organize your connections based on familiarity and interest. The user interface for adding connections to circles is intuitive and easy. Brian Gilley chose Circles' ability to "AJAX drag and drop friends" as his favorite, because "clicking check boxes is for old fogeys." Well put! 😛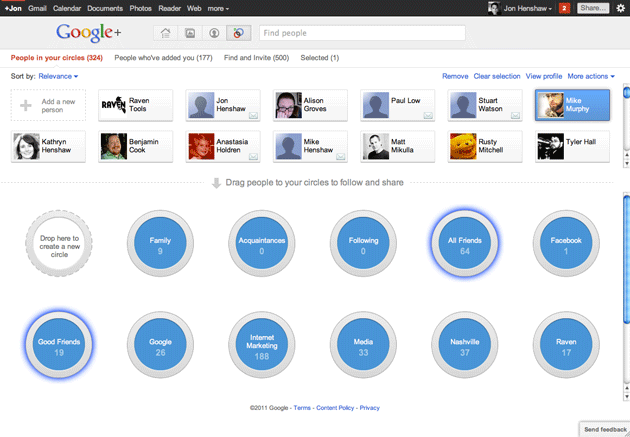 After you associate connections with one or more Circles, you can go to the main G+ page and filter posts based on Circles.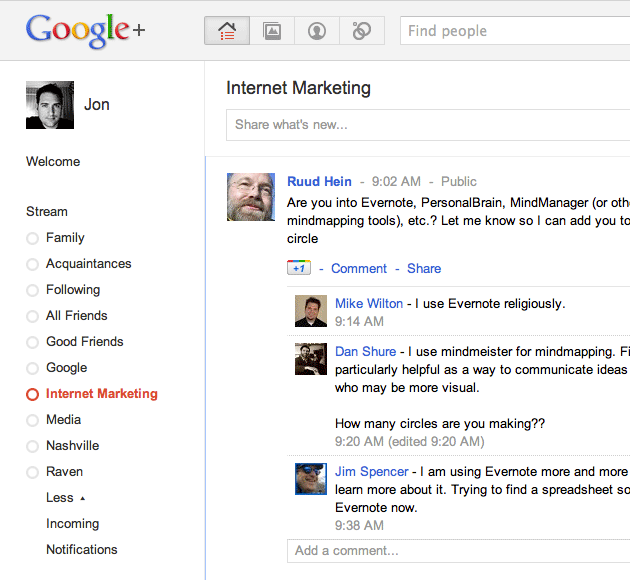 When you make a new post, you can either make it public like a tweet, or limit who can see it by choosing one or more Circles.
Google has been busy making changes to their navigation bar. It seems that it was all in preparation for G+. The navigation bar – which should probably be called something else now – includes a new Notifications feature. While it looks simple on the surface, it's actually quite useful and powerful.

AJ Kohn put it best when he described why he liked the notification feature best. "The red number indicator is both a notifier, navigation and engagement feature all-in-one." When you click on the notification button, you get an interactive menu of the latest activity on your account, helping you stay fully engaged on G+.
In addition to its functionality, it's persistent across Google's web platform. For example, I can be in Gmail or Google Docs, and the notifications feature stays. Scott Cowley likes this, because he gets "a number in the top bar, plus the ability to read comments, comment threads, respond, and add people to circles without even having to go into G+." And John Doherty added that "the ability to do all that from within Gmail and SERPS is phenomenal."
Data Liberation
With Google+ your data is your data. In your Google Account settings, they have a new section called Data Liberation. In their own words, "Google lets you save a backup of your photos, profile information, contacts, circles, stream posts, and Buzz posts to your computer."
They also have a related service called Google Takeout, which makes it easy to archive your data.
Unified Messaging
In Facebook if you want to send a private message, you're supposed to use their new Messages feature. In G+ you can send private messages in the same place you post messages to Circles. Instead of choosing a Circle, you simply choose one or more friends that you're connected to. When you post the message, only you and the recipient(s) can read and reply to it. It's unified messaging, and I think it's brilliant!
GTalk with Circles
If you still crave intant messaging, the web app version of GTalk is included with G+. Like me, Debra Mastaler loves that they included this, and that you can control your online visibility by choosing Circles.
The little things
The features that really make G+ work are the little things. For example, if I want to know more about Kristy Bolsinger, I can simply hover over her name to see details. In most cases, you can also take an action, like adding them to a Circle.
Dusty Dean pointed out that clicking the "Limited link next to a timestamp" will "display the names of everyone who can see that post."
Conclusion
Google+ is off to a very good start, and their attention to detail appears to be paying off. It's important to note that G+ is currently in a limited trial, but I think we can expect its usefulness and usability to greatly improve by the time it launches for the general public.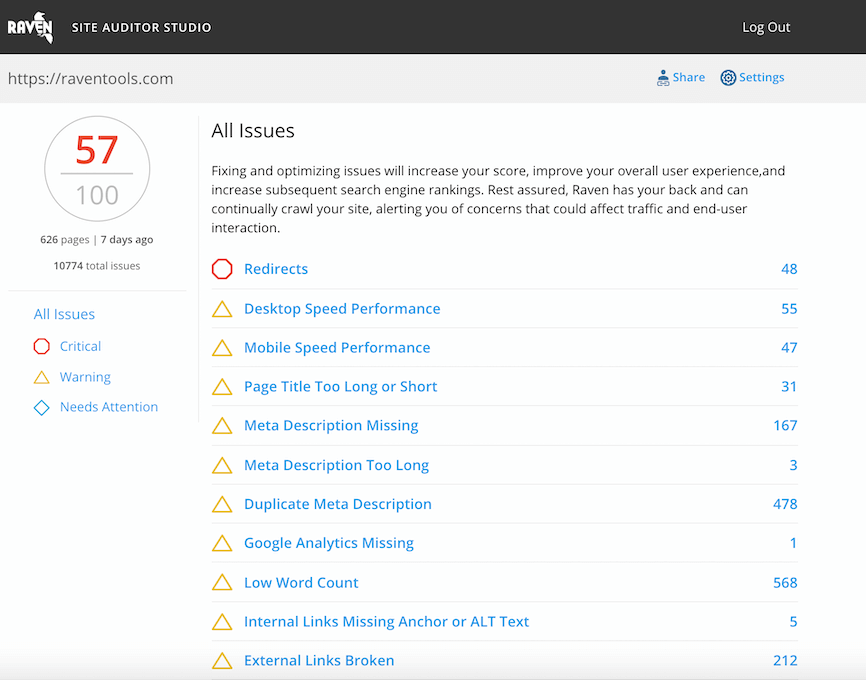 Analyze over 20 different technical SEO issues and create to-do lists for your team while sending error reports to your client.