6 things food trucks can teach us about social media
Written by Courtney Seiter and published
---
---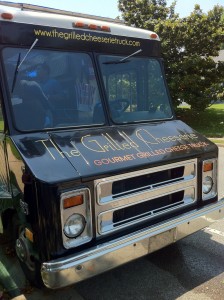 A few weeks ago, RavenMegan and I got all up on the new(ish) Nashville trend of food trucks when we geeked out and waited in a long-ass line for gourmet grilled cheese sandwich from a mobile eatery parked a block from our office.
If your city is anything like Raven's hometown, you may have noticed this multiplying breed of restaurants on wheels. A lot has been said about how food trucks are using social media to help their businesses succeed. But what I wondered was: could the reverse be true? How can we use food trucks' strategies to help our social media succeed? Chew on these 6 lessons food trucks can teach us about effective social media.
1. Find your audience
What food trucks do: How do food trucks decide where they're going to park for the day? They do research to find the handful of spots where they can reach the largest number of hungry people.
What you can do: The same kind of research is crucial in social media. If you don't know the places where your audience is hanging out and talking about you, you're missing out. Facebook and Twitter aren't all there is to social — your crowd might be on Foursquare, Quora or forums specific to their industry or interest. Tools like Google Alerts, Social Mention, Twilert and yes, Raven, can help you monitor your brand to find out what's being said and where. Once you know where to find your audience, put those spots on your daily route.
2. Plan for speed
What food trucks do: Wheels change the restaurant game. Rain? No problem. Food trucks can change locations and plans on a dime.
What you can do: Plan in advance so you're just as fast. A UK study shows that a sizable chunk of consumers who tweet brands expect a response in an hour. (Mercifully, a larger percentage is willing to wait at least a day.) Social media moves fast, and it pays to have a plan. That means knowing who owns each channel. And defining your goals. And having a crisis communications plan ready to go when/if needed.
3. Time it right
What food trucks do: Food trucks know exactly when their audience is looking for them: 1) at lunchtime 2) late at night, near bars, when we've drunkenly lost all willpower to resist a gooey slice of pizza.
What you can do: You may not have it quite as easy in your social media efforts, but it's worth the effort to research timing your messages so they connect with the biggest section of your audience. Consider who you're talking to: office workers taking a Twitter break during lunch? Internet professionals who are online all day long? Stay-at-home moms with a Facebook habit? Use services like Google Analytics and Facebook Insights to pinpoint your daily traffic trends. Then use tools like Tweriod or Timely to max out your peak times of day on Twitter.
4. Dump the extras
What food trucks do: Food trucks succeed in part because of what they don't have: you know, like chairs, tables, printed menus…taking care of those things takes time and money.
What you can do: The same is true in social media: Short posts that cut out all the extras garner more engagement. A recent study shows that Facebook posts of 80 characters or less got 27% more engagement than longer posts. Is it tough to do? Yup. It's probably pretty tricky to make gourmet tacos in a van, too. We all have our challenges.
5. Make some noise
What food trucks do: Does this look like a business that's trying to create a nondescript, professional appearance?
Um, no. Food trucks have to stand out to be found.
What you can do: You have to stand out, too. The best examples of successful social media—Target's Facebook page, Southwest's blog, Skittles' very weird Twitter account—are those that break the mold and show creativity, personality and life. Find what's unique about your business or product and create excitement around it. Post photos or videos of what's going on behind the scenes at your office. Ask questions and respond to the answers. Put yourself out there in a way that makes you a little uncomfortable at first.
6. Ride the wave
What food trucks do: They're popular now, but who knows if the food truck trend will last. That's not stopping new vendors from getting in the game while the trend is hot, though.
What you can do: The lesson here for social media? Ride the wave of what's hot when you can. Find ways to frame national or local trends for your audience. Monitor the news at large as well as what's going on in your industry or area to find moments you can logically capitalize on. Brainstorm blog posts using Google Trends and Google Insights. Check out this list of 23 bloggable questions about your business or Copyblogger's list of 50 techniques for finding blog topics for inspiration.