---
---
School may be out for summer, but the professional online marketer never stops learning. With millions of websites (yes, millions!) hoping to grab your attention with the promise of teaching you about online marketing, it's nearly impossible to separate the wheat from the chaff.
Well, I've done the homework for you.
I used my link sleuthing ability to narrow down the search from 192,000,000 websites to 20 best-in-class training courses. The vast majority were found within the first 30 listings in Google. I then cross-referenced each URL within Raven to identify other qualitative factors and settled on using Domain Authority (DA) for the cut off mark.
While some may argue the value of measuring the quality of a website based on non-ranking factors, I believe the collective Moz data provides a more objective measure of quality than simply offering my opinion.
While I'm familiar with many organizations on this list and value their contribution to my online marketing education through reading various blogs and newsletters, I have not taken any of these classes.
The courses and resources listed are designed to augment your current digital marketing knowledge without breaking the bank. As such, university or college degree programs were not included, with the exception of accredited partnerships. Training offered through digital agencies were also excluded unless it was clear that online marketing training represented a core business service.
Ranked in order based on Domain Authority.
20 Top Courses for Digital Marketers
Anyone in online marketing will be familiar with @Hubspot. They reframed the digital marketing conversation when they coined the term, inbound marketing. Officially launched in 2007 with venture capital funding, Hubspot filed for an initial public offering (IPO) August 2014.
In seven years, the company has become a virtual content marketing machine, publishing three distinct blogs, social media posts, white papers, webinars, and holding a yearly conference, Inbound, open to the general public.
The Hubspot academy is their free marketing training course that covers the fundamentals of the Inbound Methodology for which participants will receive HubSpot's Inbound Certification upon completion.
Editor's note: While many marketers consider Hubspot to be a competitor, we do not. In fact, many of our customers use both.
Certification available: yes
Cost: free
No. 2 – Moz (DA 88)
With all the self-paced learning resources available on the @Moz website, this portal should at least be called Learning Center. You will find numerous guides and an extensive knowledge base to acquire search and SEO marketing knowledge. The Moz Academy is open only to Pro subscribers, however.
Also home to the popular weekly Whiteboard Friday, Moz attracts thousands of online marketers to its yearly MozCon held in their hometown, Seattle.
Disclosure: Moz is a Raven data partner. Here's how we feel about our partnership.
Certification available: no
Cost: free; Moz Academy requires Pro membership, starting at $99/mo.
Bonus: YouMoz community – an online marketing blog created by the readers of Moz. Anyone can post; the best submissions are promoted to the main Moz blog.
@Mediabistro provides hands-on training in the fundamentals of digital marketing, including search marketing and social media marketing.
The classes are taught by various instructors who are all working professionals in their fields and have expert knowledge of the subjects they teach. Every class includes online interaction, personalized feedback, and a focus on completing professional-quality work.
Online classes have a dedicated instructor, weekly lesson and in-depth instructor feedback.  Students can also communicate with the instructor and other students within the classroom forums. Lessons are available for students' use for up to one year after the course ends.
By the end of the program, you will be able to:
Organize and execute a multifaceted online marketing strategy
Launch a social media marketing campaign on Twitter, Facebook, and other networking sites — and use analytics to measure its success
Implement research techniques to improve the search ranking of your company's website
Certification available: yes
Cost: $1650
The latest offering from Copyblogger Media, Authority is the brainchild of Brian Clark and his talented team of professional writers and developers. Launched in 2014, Authority is a content marketing training and networking community designed to accelerate your skills and success.
You'll receive
In-depth master classes on marketing, business, and SEO
Core copywriting and marketing education
E-business how-to demonstrations
A networking community to help you find joint venture partners, vendors and authoritative web publishers
Certification available: no
Cost: $399 annual subscription; 30-day money-back guarantee
@lynda has been around as long as the commercial web. Launched in 1995 and purchased by LinkedIn in April 2015, this online learning company spans business, software, technology and creative skills. Their goal from the beginning was to help people achieve their personal and professional goals.
Through individual, corporate, academic and government subscriptions, members have access to the lynda.com video library of engaging, top-quality courses taught by recognized industry experts.
Their marketing courses help you master traditional marketing skills and the latest digital tools and techniques—learn everything from branding and public relations to SEO, PPC, web analytics, and social media marketing.
Certification available: no
Cost: $24.99 month-to-month; $34.99 month-to-month for downloadable exercise files that let you work along with the instructor; 10 days of free unlimited access
@Aaron Wall launched this site as a blog in 2003. It represents the oldest standing regularly updated website dedicated to search engine optimization (SEO).
The site offers marketing tips, search analysis, online business tips, and general commentary on the evolution of the web from an algorithmic, publishing and business model perspective.
Inside their training program you'll find hundreds of articles, advanced SEO tools, training videos, downloadable strategy guides, and other resources packed with practical tips to help you market your website, build buzz, capture top search engine rankings, improve website monetization, and increase conversion rates.
With their exclusive community forums (limited to 500 members) participants benefit from the experience and wisdom of hundreds of SEO professionals.
Certification available: no
Cost: $300/month. Cancel at any time.
@Coursera provides universal access to the world's best education, partnering with top universities and organizations to offer courses for anyone to take for free. While there are hundreds of free courses, the real appeal for the business-minded marketer is the chance to showcase your digital skills by displaying certification on your website, blog or social media profiles, like LinkedIn.
You can earn a Certificate of Specialization in Digital Marketing, for example, from the University of Illinois at Urbana-Champaign or earn a verified certificate in Marketing Fundamentals from The Wharton School, University of Pennsylvania, as part of their Business Foundations Specialization.
Certification available: yes; you can showcase skills by purchasing a verified certificate for $49.
Cost: Specialization certificates for advanced training are available on a pay-as-you-go basis. Pricing varies based on the number of courses required and are very reasonably priced.
If you need to accelerate your content marketing and increase its impact, @CMI can help. Their Online Training and Certification program provides you with must-know strategies, tactics and best practices to build a strong foundation for your content marketing efforts.
It provides over 19 hours of learning focused on seven key areas: Planning, Audience, Story, Channels, Process, Conversation and Measurement. New courses and other valuable resources are being added each month.
Program details:
30-minute, self-paced courses
Access 2-3 new courses a month
Learn from experts in content marketing
Focused on best practices in content marketing
Certification available: certificate of completion for one year
Cost: $995 for one year, full curriculum
@Econsultancy has made training a core part of their mission for UK-based marketers. Used by leading brands and organizations globally, e-learning modules offer a comprehensive and convenient introduction to core digital marketing and e-commerce skills when you or your team need to get up to speed quickly.
Certification available: no
Cost: contact an account manager
Bonus: They've just created a fast-track digital marketing training for those living in the United States. The first training will be held September 10-11, 2015, in New York City.
This course is ideal for those in traditional and offline marketing who are looking to broaden their knowledge of online marketing channels, or those with experience in specific digital disciplines, looking for comprehensive understanding. They also encourage those who have been working in digital for some time but want to set their experiences into context and discover new approaches to attend.
Cost: $1300
This is more a portal for data gathering and research tools based on Google's vast store of knowledge and online behavior than an actual online training, but the wealth of knowledge Google has accumulated is vast.
If you haven't discovered Google Think, then you don't want to waste another minute before you begin exploring these tools:
Google Trends – View real-time search data to help you gauge consumer search behaviors over time.
YouTube Dashboard – Explore the most popular videos by age, gender and location and discover viewers' passions.
Display Benchmarks Tool – Pull up-to-date industry benchmarks for your display campaigns.
The Customer Journey to Online Purchase – Have fun with an interactive infographic that explores typical customer behavior and learn how different marketing channels affect online purchase decisions.
Databoard for Research Insights – Read studies, share the data and curate select data into a custom infographic to use in your presentation.
The Full Value of Mobile Calculator – Benchmarks to help you estimate the value that mobile drives for your business.
I recommend you sign up for their newsletter to stay informed with of-the-moment trends.
Certification available: no
Cost: free
@Smart Insights has been helping businesses create digital strategies since 1997. Their training workshops help individuals learn the core strategic concepts of digital marketing and best practices for digital communications. Delivered via video tutorials plus workbook, quiz and supporting models, students will create a comprehensive online marketing action plan rapidly and expand their knowledge of digital marketing.
They've developed this course as an individually certified qualification similar to the Individual Google AdWords and Google Analytics qualifications where to receive a certificate of competence you have to complete all units and achieve an overall grade of more than 70% in all units. However, you can take the modules in any order without completing the optional tests and are designed for use on smartphone, tablet and desktop.
Certification available: yes
Cost: monthly membership starting at $69 (or $672 billed annually)
No. 12 – DMA (DA 66)
For nearly a century, DMA has inspired marketing professionals in their quest to learn, grow and collaborate for the betterment of the marketing industry and is the world's leading advocate for data-driven marketers. Their live, online marketing courses provide an exclusive way to interact and learn from expert instructors and fellow colleagues. They offer an impressive selection of topics and the freedom to attend from virtually anywhere you can access the Internet.
Certification available: Some courses qualify graduates for OMCP® Certification.
Cost: Member: Non-member – $1,699; Member – $1,399
AMA e-learning courses deliver timely, authoritative marketing information through engaging, interactive modules that contain downloadable tools, case studies, knowledge checks and simulations. Each module is only an hour long, so you can easily work them into your schedule and budget.
Currently, the AMA offers e-learning modules in Social Media, Email Marketing and Web & Digital Analytics. Launching later this year are courses on Digital Content Marketing, Online Advertising and Mobile Marketing
Certification available: yes, certificate of completion per module and/or completion of the entire six module online marketing course will earn you a Certificate in Digital Marketing.
Cost: Per module pricing. Non-member – $99; Member – $129
The AMA's sister organization to the north bears inclusion because what they offer is more substantive. CMA's online courses offer marketers an interactive learning environment with relevant case study examples, video instruction and integrated discussion boards.
Online courses are just as rigorous as classroom courses; both include assignments, participation and exams. Online courses are offered three times a year.
Certification available: yes
Cost:: Non-member – $1,895; Member – $1,395
No. 15 – ADMA (DA 62)
@ADMA rebranded in August 2012 to reflect the evolution the marketing and advertising industry has undergone and to stay in line with digital and data trends. The new ADMA stands for Association for Data-Driven Marketing & Advertising
Most of us can't justify travel to U.S.-based conferences and training, so I figure traveling to Australia to participate in marketing training isn't going to fly with your boss either.
The good news is you can take part in the ADMA's excellent training courses from the comfort of your work station or home office at affordable prices: non-member – $898 and member – $665 pricing.
@Distilled's online university is dedicated to helping you master the art of search marketing. With interactive modules and over 132 hours of advanced HD video content, you can learn at your own pace and in your own time. Includes:
93 hours of lesson and tests spread over 26 modules
Capability to share your test scores and badges with others using your DistilledU profile.
Video Library with over 132 hours of advanced content
Constantly growing resource – new modules and features added regularly
Certification available: no
Cost: $40/mo.; $396 yearly plan
This course provides a foundation for marketers and analysts seeking to understand the core principles of digital analytics and to improve business performance through better digital measurement.
Course highlights include:
An overview of today's digital measurement landscape
Guidance on how to build an effective measurement plan
Best practices for collecting actionable data
Descriptions of key digital measurement concepts, terminology and analysis techniques
Deep-dives into Google Analytics reports with specific examples for evaluating your digital marketing performance
Certification available: yes
Cost: free
Simplilearn's online marketing self-paced online learning provides trainings are a comprehensive course which prepares you to understand and leverage the powerful channels and tools that technology provides. It enables you to learn and review how the various channels and digital properties can support the business goals of your organization.
Certification available: yes
Cost: prices vary depending on the course selected but start as low as $19 for a beginner training to $599 for courses offering OMCP® Certification.
Bonus: Often offer a flat 30% off on all online courses
Founded in 2007, the Online Marketing Institute (@OMI) set out to educate marketers on the known truths and best practices of digital marketing. Starting with certification programs to teach, validate and enable digital marketing excellence through the industry's most credible and widely known educators, OMI has has educated marketers at every level, for every business type, on every continent in over 70 cities worldwide. They offer easy access to highly relevant content that is updated weekly in an award-winning eLearning Library offering hundreds of classes.
Certification: yes
Cost: Basic – $27/mo.; Professional – $47/mo.; Professional Plus – $97/mo. and includes free certification, which can run $859 – $!,499, representing significant savings
Bonus: Small Business Initiative offering free access to videos, events and podcasts
Powered by industry heavyweights, Michael Stebbins, John Marshall and Avinash Kaushik, you won't find three smarter people in the fields of Web Analytics and Internet Marketing.
Market Motive courses and certification provide authoritative cross training in SEO, web analytics, social media marketing, conversion optimization, mobile marketing, PPC advertising, and content marketing. The curriculum is constantly being updated, authoritative, and taught by bestselling authors and recognized names in the search and SEO industry. Market Motive courses are also recognized by OMCP®.
Certification available: Market Motive is the only course I encountered that offers two distinct types of certification, both valuable.
Practitioner Certification. You study self-paced courses on your own schedule, as quickly or as leisurely as your preference and schedule allow. Watch videos, do the recommended exercises, take the progress quizzes, and tackle the final test. If you pass, you earn your Practitioner Certification.
2. Master Certification. Courses offered as part of the Master Certification are more rigidly scheduled, and you're guided by your faculty member. You'll study a single assigned module each week, and you'll get personalized feedback on your weekly exercises. Plus, you'll join in on a required live conference call (we call it "Live Class") each week to discuss your coursework with the faculty. You'll take a final test, but you also need to complete a final real-world project to the satisfaction of the faculty to earn your Master Certification.
Cost: $299/mo.
Bonus: if you're a Market Motive student, enjoy 50% off your first month of Raven. You can read Raven Cofounder Jon Henshaw's unbiased review here.
Staying the Course
The Internet represents a double-edged sword. Never before in history have we had such vast knowledge at our fingertips, literally. With a mere click of a mouse and a credit card, we can stay current with industry trends and consumer behaviors and connect to like-minded communities.
The challenge is how to remain on the cutting edge when we hold a day job. My advice is to sample a few of the trainings listed based on your budget, find a home and stay the course.
Because professional marketers never stop learning.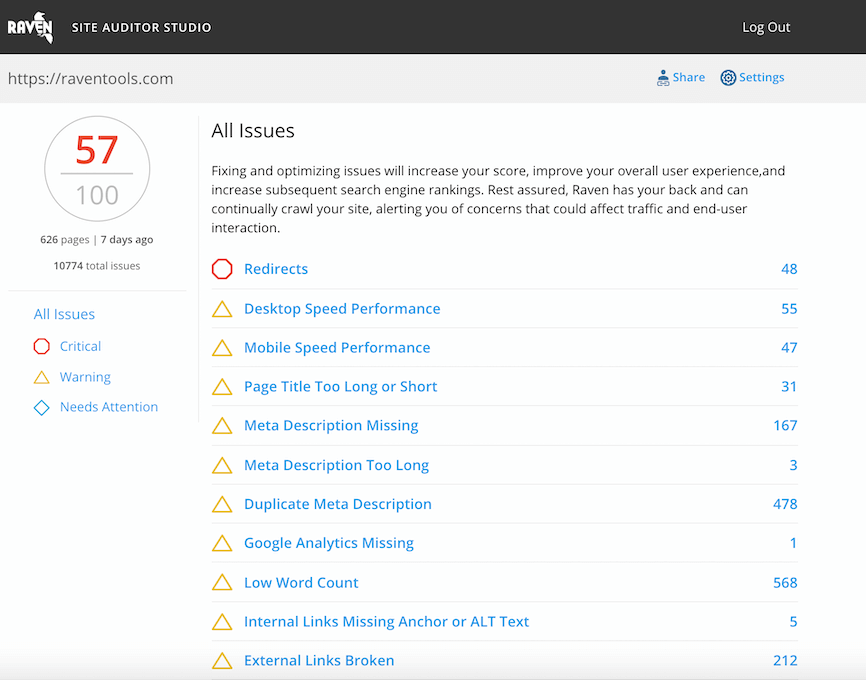 Analyze over 20 different technical SEO issues and create to-do lists for your team while sending error reports to your client.