The 🗺 Visual Guide to SERPs (2018 Edition)
Written by Andrew Ansley and published
---
---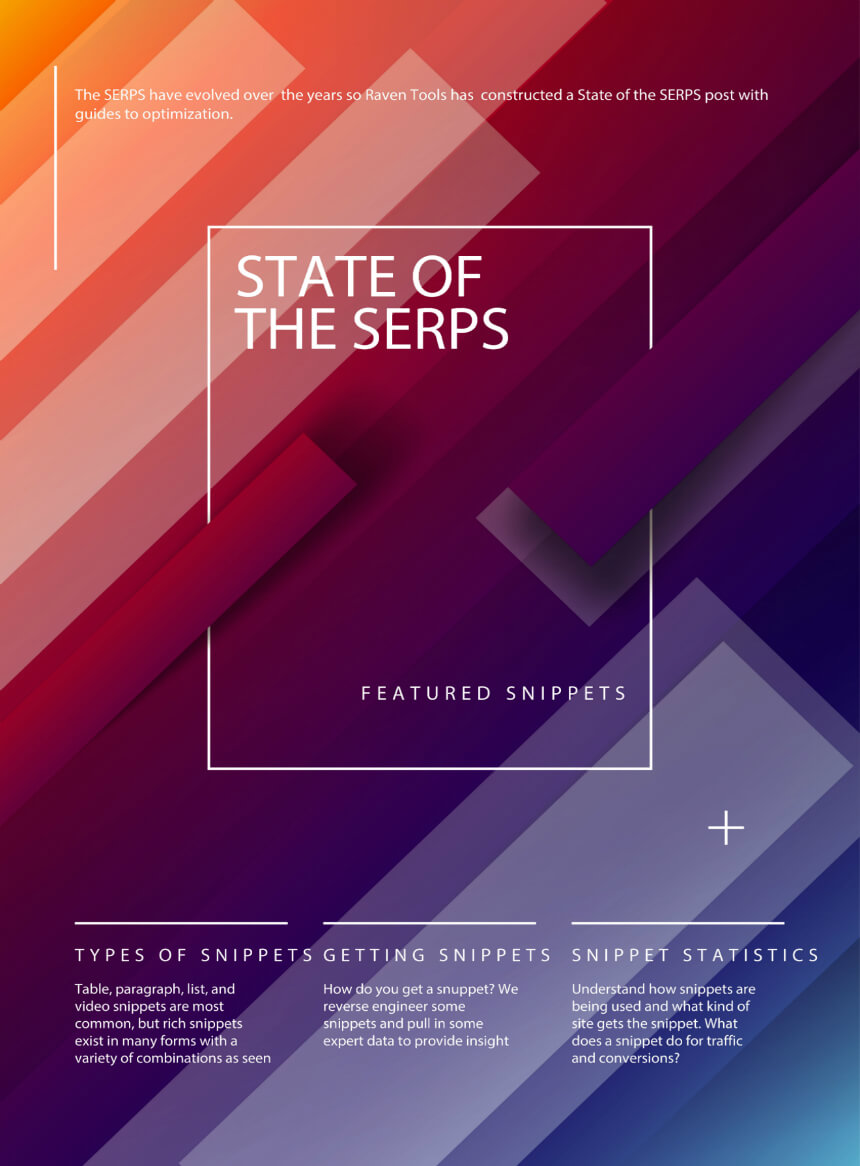 The SERPs have grown leaps and bounds over the past decade. Increased PPC presence, voice search, hyper-local targeting, and machine learning are just some of the trends of the SERP's today, and Google continues to add more and more features that provide businesses with new opportunities to become visible. With all of these changes come a myriad of marketing opportunities, specifically for SEO.
In this post, we're going to list out all of the SERP features and break down the characteristics of these new additions. We'll also provide some educational insights so you can optimize for each new feature. Non-organic SEO optimization has a lot of benefits and we believe it's important to inform the digital community with some valuable data on the benefits and effects of the recent SERP evolution.


Sections
How to Optimize for Featured Snippets

Featured Snippets are designed to give specific answers to search queries that are question-related. The featured snippet is in position 0 for SERPs, which means that it will appear above position one, and even above many advertisements. We've addressed in short form position 0 optimizations earlier, but this post is designed to delve much deeper into the SERP.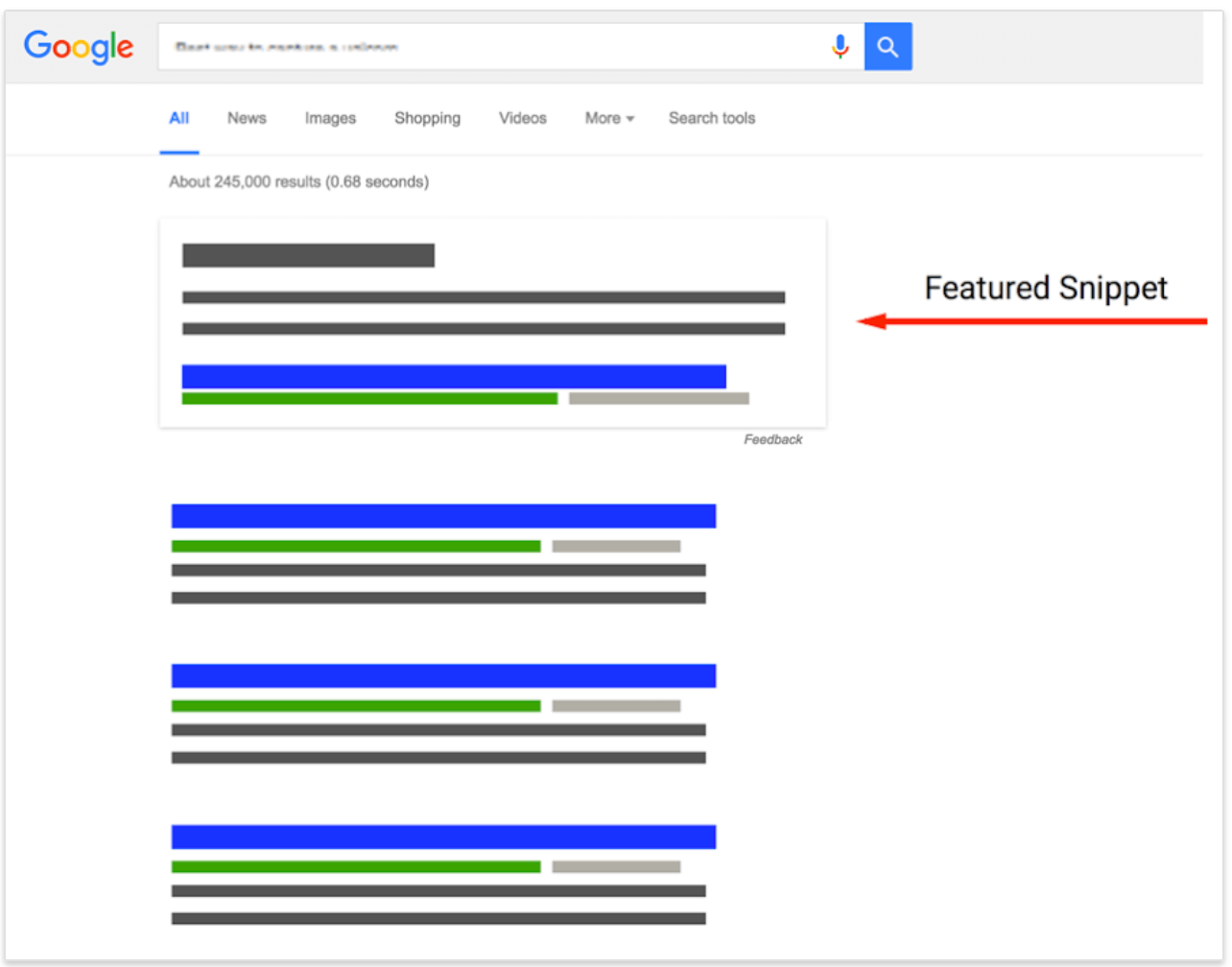 Featured Snippets were introduced to the SERPS by Google in 2014. Google stated that they believe that this new addition to the SERPs would "help people more easily discover what they're seeking…"
Google has been increasing the importance of voice and mobile when it comes to searches, and the various featured snippet additions are clearly Google's attempt at optimizing for voice and mobile. According to Google,

Mobile search traffic has surpassed desktop traffic worldwide. And with the growth in voice-activated digital assistants, more people are doing voice queries. In these cases, the traditional "10 blue links" format doesn't work as well, making featured snippets an especially useful format.

Mobile isn't the only other evolution to search. Voice search products are now in the mix, creating an entirely new way for searchers to interact with the internet. As Andrew from Optimisey notes, "Alexa, Siri, Cortana et al will often respond to questions by effectively reading out a SERP – and they only read the first result or answer box. With voice search there's no 'page 1' there's just position 1, or position 0. Everything else is nowhere." I can't help but think of the quote from Talladega Nights, "If you ain't first, you're last!"
Main Types of Featured Snippets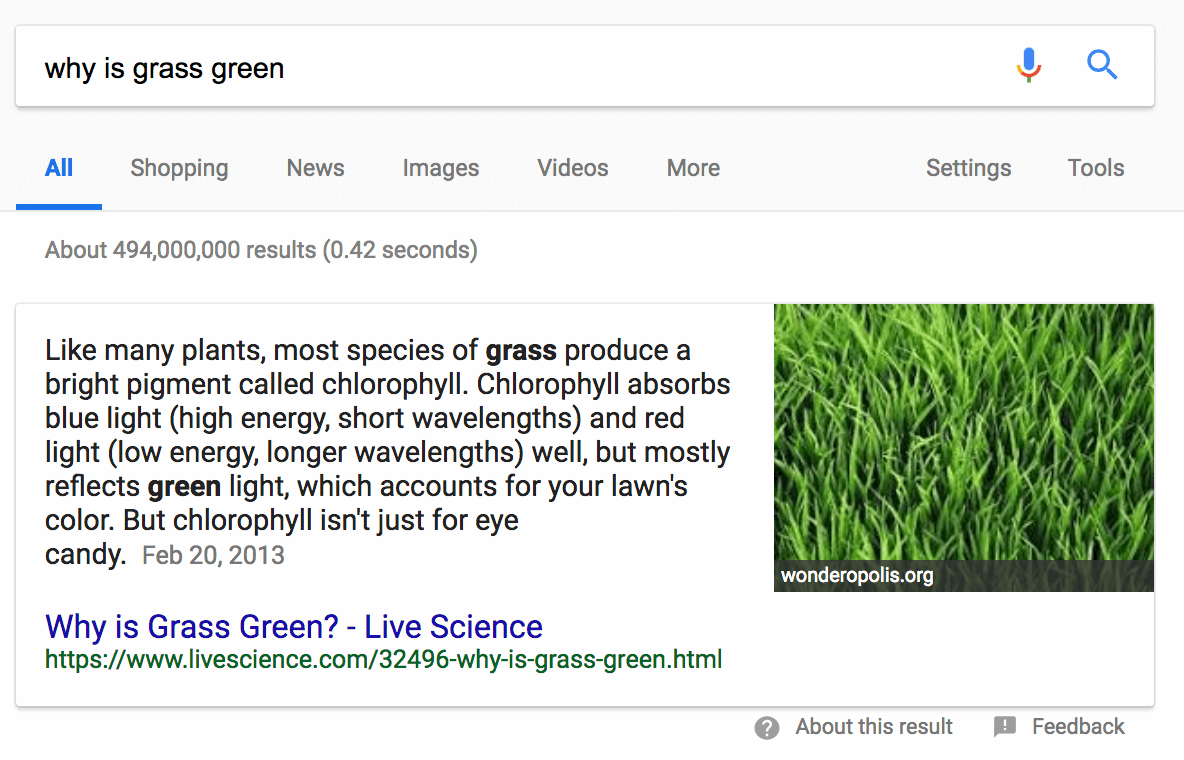 The paragraph snippet includes a few lines of text along with a picture. The paragraph that is featured will always have the search query terms in bold, as seen above with "grass" and "green". The paragraph snippet will be shown whenever Google thinks that a search query can be answered quickly. The paragraph is also a way to further entice searchers to click the link if they like the featured paragraph's information.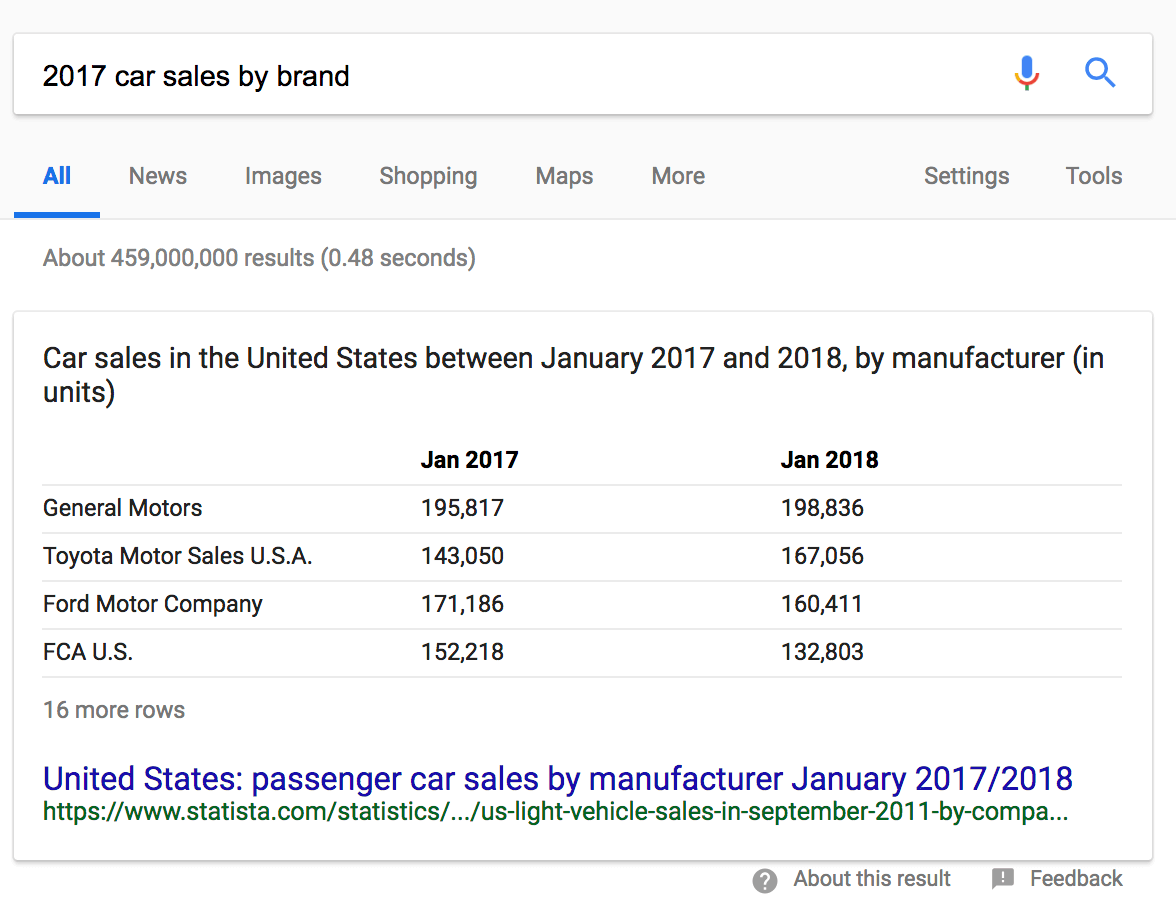 The table snippet is created by Google when it sees a graph that answers a query. The above example is a table snippet from Statistica, which is a site that's also ranked in the top 10 for organic traffic. As far as we can tell, the table snippet is awarded to the top 10 organic SERP results exclusively. This is not true for every featured snippet, as I'll discuss later (spoiler: you can be on page 7 and still get a snippet).
The list snippet is similar to the paragraph but it categorizes the information in short steps that can be bulleted or numbered.
Video snippets can appear on a SERP among organic results when Google thinks that they aid the user. Video snippets have a title, a link, and a description just like usual snippets, but they also include a video's thumbnail, duration, and upload time.

Videos featured snippets are increasingly appearing in Google's SERPs, particularly for DIY niche content searches.
Best Practices for Getting Featured Snippets
Featured Snippets are a window into how Google, as well as consumers, want you to structure your content. Here are a few suggestions for getting a rich snippet.
One of the secrets to optimizing a featured snippet is to provide the maximum amount of information possible while enticing the customer to read more. Strategically cut off the paragraph by taking a note from clickbait articles.

The list snippet is acquired by creating a list and categorizing that list by H3's.  Interestingly enough, this is a perfect example of the importance of headers in forming a rich snippet. We recommend doing some reverse engineering when looking at rich snippets to see what they do right and potentially what you could do better.

Optimizing for a video snippet isn't terribly difficult, but as always, you need to have a proper architecture and you need to seen as authoritative. Video snippets are just about exclusively found in the DIY niche.1. Make sure to get a text version of your video. You can get a transcript extraction tool to accomplish this.2. Organize videos into small steps.3. Organize transcript into small chunks (similar to the methodology of the paragraph snippet) while optimizing with some long-tail keywords in the introduction, which you'll paste into the description.

Organize your content into short sentences and paragraphs, each having no more than 40 to 50 words. 

Plan posts in FAQ style, so that you can maximize the usage of question form keywords.

Include a how-to section on your website.

Structure your content in the form of short paragraphs, each having a question form subheading, with a long-tail keyword included.

Eric Enge of Stone Temple made a great discovery on optimizing for snippets using video descriptions. This is another great oppurtunity for getting the coveted 0 position.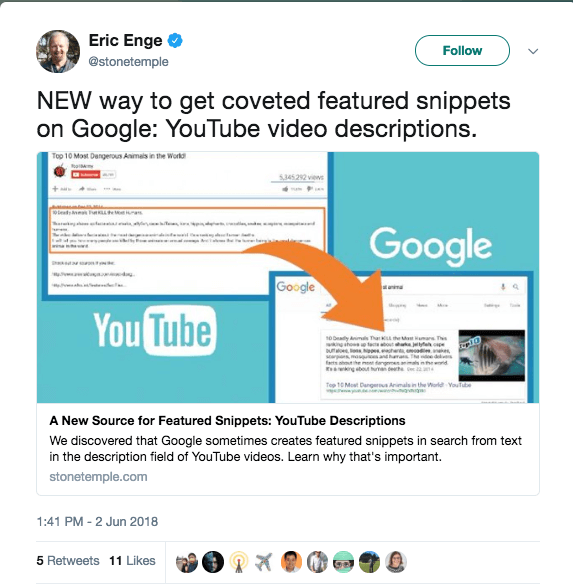 Statistics of Featured Snippets
Ahrefs released a great study that actually illustrates how featured snippets affect organic search results. While featured snippets provide some new opportunities, they definitely have some side effects for traditional SEO.
Ahrefs also discovered that long-tail keywords are much more likely to trigger featured snippets.
An SEMRush analysis has shown that most featured snippet result answers are between 40 to 50 words and "57% of questions have featured snippets." 70% of all snippets are 35-50 words, which leads us to believe that this is a huge factor in determining the likelihood of snippetizing (not a real word).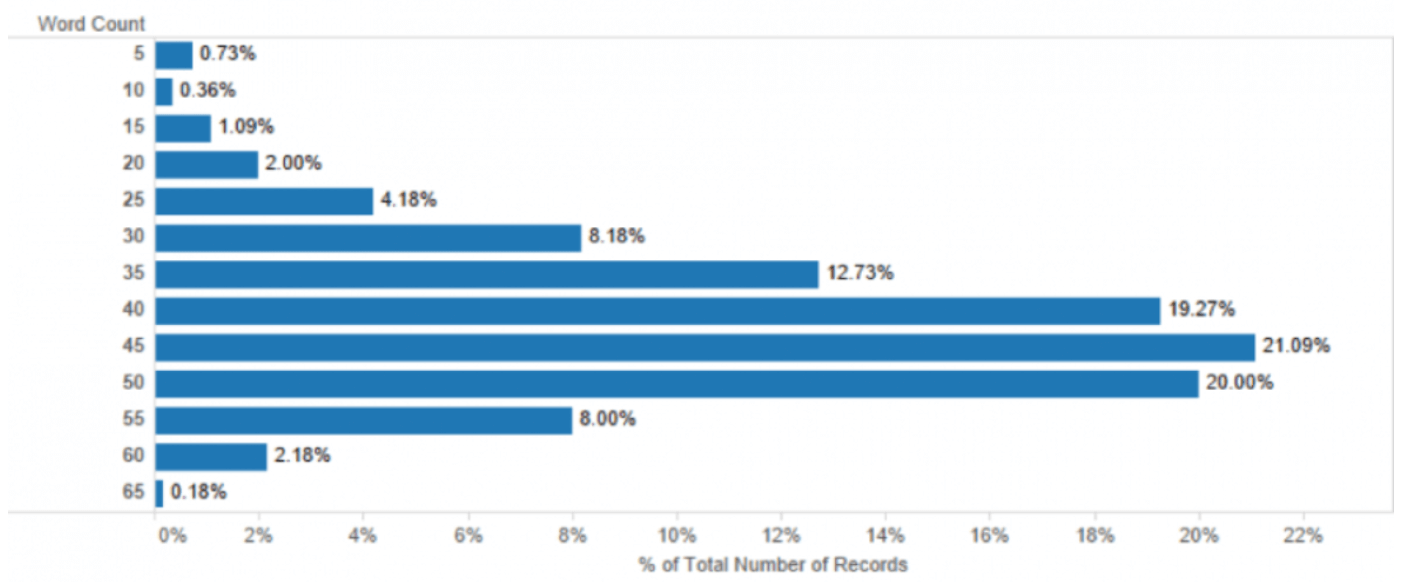 What Sites Get The Featured Snippet?
This information is definitely interesting, but if you are anything like us, you're probably wondering about the typical features of snippet holders. Word Stream put together this nice little graphic that analyzes the organic ranking for featured snippets in a study of around 1,000 sites.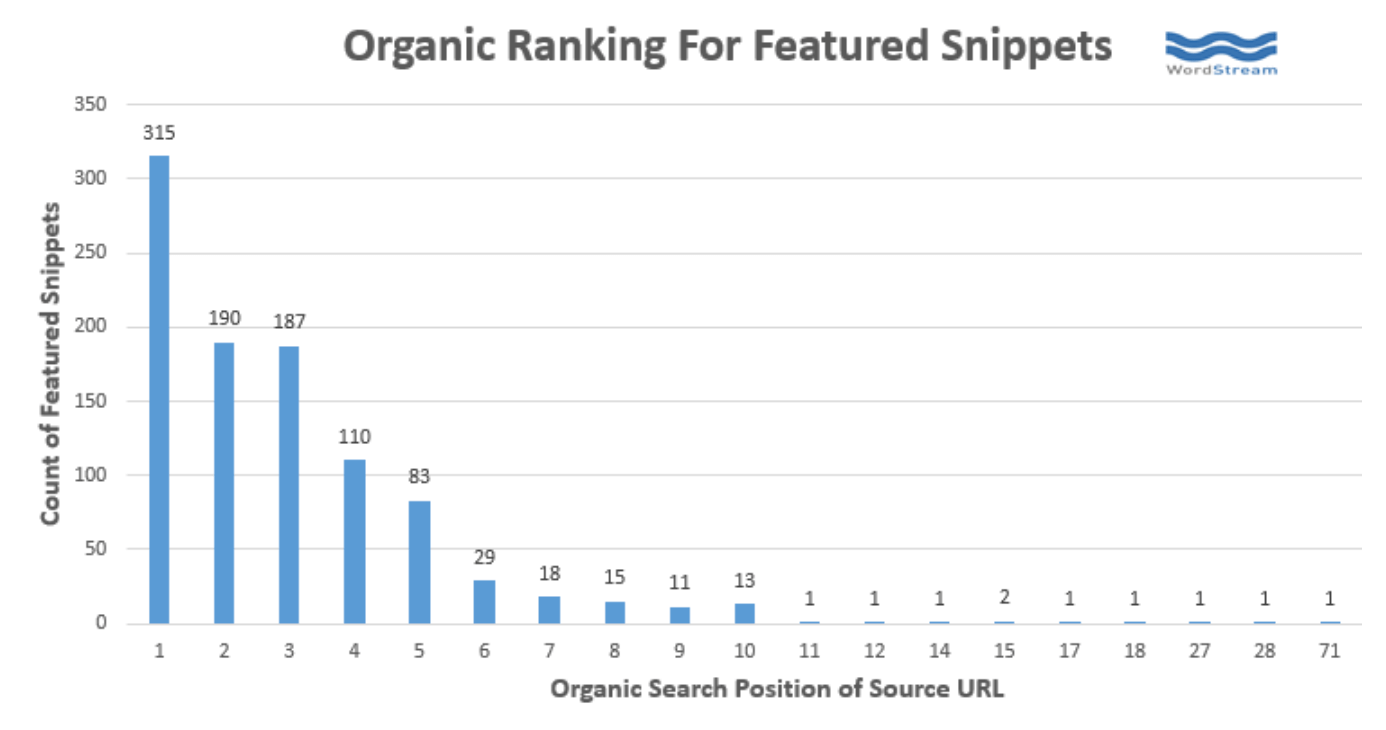 This means that some featured snippets come from position 71! Organic rank definitely plays some factor, but other factors obviously come into play to allow positions 11-71 to claim the coveted position 0 SERP placement.
Local 3-Packs and How to Get Them
A Local 3-Pack shows up in SERPs when a query has a local intent or includes a geographical name, such as "Nashville photographer." Google originally had 7 options but recently updated the SERP to just show 3.
Optimizing for Local Pack
Make sure your Google+ Local page is completely filled and accurate.

Cultivate reviews on your Google+ account. Receiving multiple positive reviews can be very beneficial when it comes to boosting your visibility, particularly since Google reviews and stars will be plainly visible on the 3-Pack.

Make sure your listings throughout the web are accurate and consistent (

link to project page about listings

).

Cultivate locally relevant links to boost your visibility.

Build standard backlinks to raise your organic rank. Backlinks are earned by generating rock solid content. My rule of thumb is that you should only be generating content that can actually compete with the top 10 SERP results for your topic.

Build a strong presence on social media and other platforms to establish yourself as a local business with loyal followers.
What is AMP?


AMP is an open-source project by Google that helps pages load faster on mobile devices. It is applied mostly to text-based content and used by publishers, but it can also potentially help increase conversion rates for e-commerce. Accelerated Mobile Pages are stripped down, lite HTML versions of web pages created to facilitate a faster, streamlined experience for mobile users. Primarily regarded as a publishing platform, Accelerated Mobile Pages often take the form of published content such as news stories, articles, and blog posts. Distributing this content in AMP format makes mobile content more accessible than ever before.

Accelerated Mobile Pages optimization starts with ensuring that you have set them up correctly with the correct HTML and Javascript formats. First, check to see how AMP will integrate with your site's CMS. For example, WordPress has a plugin that helps you set up AMP on your site.
After setting up AMP pages, you can use the Chrome AMP Validator Plugin to test the validity of the pages and see if they are functioning properly. Once you have validated your Accelerated Mobile Pages and configured analytics (AMP requires a unique analytics tag), you can begin optimizing your pages and measuring results.
When optimizing AMP pages, it is important to make sure you are creating engaging titles and headlines that include a call-to-action and encourage clicks. It is not a good idea to stuff keywords into this text, but rather focus on the topic of the article for the title. Also, consider optimizing your article's featured image that will appear in AMP results. Use an image that is bound to grab the attention of users. Now that you have the attention of your visitors, make sure users engage with page content by having a robust headline and introduction.
Search Console is a great resource for tracking and measuring the success of Accelerated Mobile Pages on your site. This will help test your Accelerated Mobile pages for errors and show you how Google is indexing these pages. Check out this Search Console Guide for more AMP tips, including how to properly set-up canonical tags on your Accelerated Mobile Pages.
How does AMP affect SEO?
AMP speeds up web pages drastically. We recommend looking at why page speed matters from our previous post to learn more about the importance speed plays into ranking and CTR. Google says that a little over 20% of users will abandon any website that takes too long to load.
40% of shoppers will wait no more than three seconds for a page to load before leaving.
Speed is a known ranking signal for Google, and Google Think has made it abundantly clear that your sales WILL be affected by slower sites. AMP is something we recommend so you can optimize your site's speed, which theoretically should assist in web traffic and conversions.
Below is a video introduction to AMP. If you'd like to dig deeper into this new development, then go to the AMP Site.
Sitelinks – Top Stories – Images


Sitelinks

This feature enhances usual snippets by adding extra links under the search results. If Google deems that it is valuable to the user and aligned with their search intent, they may get a varied number of additional links (e.g., for specific categories or sections of a site). This is an effective way to get users to their destination and spread traffic throughout the site.

Google's Sitelinks have an essential SEO benefit that is proven to drive qualified click-through from Google SERPs to your website. This article reports that Sitelinks can increase your click-thru rate (CTR) by 64%!

1. The user gets an immediate understanding on the relevancy of the website before they click to visit. If your site is optimized properly, users can easily get an idea of the type of information you have available on your site.
If it turns out they find the exact info they need from your site, from one of the Sitelinks listed below your main domain, they'll be able to click directly to that page to get the answer they require. A simple, easy, and seamless transition for the user.
1. Submit Your XML Sitemap to Google
I've audited many websites that had not ever submitted their sitemap to Google and guess what, Google rarely indexed 10% of the site's pages and 1% of the images!
An XML sitemap will help Google index your entire website, media, images, etc., and will also tell Google the most important and priority pages. It will be these pages that1 Google would chose for your Sitelinks.
2. Crystal Clear Navigation & User Experience
If you think about Sitelinks being used for the main purpose of the searcher easily being able navigating a website, you can understand how important clear navigation is for Google. Google will sometimes use your navigation hierarchy to show Sitelinks in search results.
Google might take high traffic, relevant pages to show in Sitelinks. These could be pages like your "about", "contact", or "signup" pages.
3. Optimize Your Internal Linking Structure
A solid internal linking strategy is part of any "good" SEO strategy. When done properly and strategically, internal links pass value and "SEO juice" from one page to another. In Google's eyes, your most important page will have the most internal links.
Following that logic, your second most relevant page with have the second most internal links according to Google. So a comprehensive internal linking strategy can possibly push Google into showing those top pages in Sitelinks.
Pro Tip: You can improve the quality of your sitelinks if your SEO uses optimized anchor text and alt text that's informative, relevant, and not "stuffed" with keywords. Be sure to use this strategy is your main navigation as well. I often see many web developers or SEOs miss this trick. Use relevant and descriptive titles for your navigation.
The Google Webmaster Youtube page has a very insightful video on sitelinks that we recommend.

Top Stories:
Top Stories is a block of news articles relevant to a query. It appears in the top half of the SERP and includes time stamps and publisher names. Its incredibly difficult to be featured in this section of the SERP unless you are The New Yorker, Huffington Post, Washington Post, NPR, etc. so I won't go into an optimization strategy for top stories. Part of the reason for this difficulty is that Top Stories is a feature of Google where they grab news stories from the most trusted sources. 

SEO optimization for Top Stories doesn't make much sense, but you can still capitalize on PR campaigns that bring your company into the limelight in certain news outlets. If you've got a product or some sort of conversion goal, you can build landing pages that can appropriately make use of the PR campaign efforts.
Images:


Just as with Video Snippets, Image Packs appear when Google thinks that visual content will serve for a more comprehensive results page.
How to Get your Image Seen according to Yoast
Pick the right file name for your image

Use a relevant image that matches your text

Make sure image dimension match the image size as displayed

Use

srcset

if possible

Reduce file size for faster loading

Add a caption for easier scanning of the page

Use an image alt text, the title text is optional

Add OpenGraph and Twitter Card tags for the image

Don't break the left reading line using an image

Use images in your XML sitemaps
Yoast has a helpful article on this that goes much deeper.
Twitter:

A couple of years back Google partnered with Twitter, and started to index tweets and started showing them in the SERPs. A pack of the most recent and trending tweets usually appears when it is somehow related to the query, like specific people, organizations or events. Optimization for tweets means that you should be tweeting as a company. Social outreach has become a massively benefical avenue for growing your organic following. Tap Clicks has an amazingly thorough guide to socials for marketers.
Knowledge Graph:

The Knowledge Panel is a feature that provides an extensive answer to a specific question. It differs from a Featured Snippet in terms of the source of information. The Knowledge Panel along with some other SERP features is powered by the Knowledge Graph – Google's database that gathers information from a variety of trustworthy sources.






Rank Ranger has a good guide on knowledge panels on their blog. An entirely separate blog could be written on this densely packed feature of Google, so I suggest reading Rank Ranger's blog post on knowledge panels to get additional information on this SERP feature. 
How to Strategically use Related Questions and Google Ads for Keyword Research
Related Questions
This feature looks like a drop-down accordion with related questions. It usually has four questions, and when you click on one, it will expand and provide a short answer that looks like a Featured Snippet, plus two more questions will be added to the bottom of the list.  Related question is a great tool for keyword researchers. If you sell running shoes on your website, and you're trying to get organic traffic, it would behoove you to know what people google. In the search "What is the best pair of shoes?" the following suggestions pop up:

As a business owner, you can optimize your content for each of these suggestions. Your content should address the things people are searching for, so make sure to use the related questions to your benefit.

Google Ads (no longer AdWords):
Adwords has been around for a very long time. This SERP feature is universally known since advertising links appear above and below the organic search results. PPC is increasing in importance as a natural evolution of Google's SERP. Make sure to use Google Trends to get insights into search queries. Google has an article dedicated to Adwords and Google Trends if you would like to read more.
The Newest SERP Feature: Podcasts 


This search feature is brand new and it even has a native podcast player on search results. Google hasn't unrolled the podcast SERP  universally. Chrome browsers are the only browsers that generate these types of search results. The best place (and to my knowledge the only real knowledge source) for SEO podcast knowledge is straight to google. Podcasting hasn't quite developed from an SEO perspective as featured snippets, but podcasting is something to keep an eye on in the ever-changing SERP environment. Google developers describe the new podcast SERP feature on their dev site if you'd like additional information.
I'll include one more photo from the official Google blog because I'm a huge podcast nerd. This newest SERP feature will provide a whole new range of opportunities for the SEO world and it is definitely something we plan on following as it develops.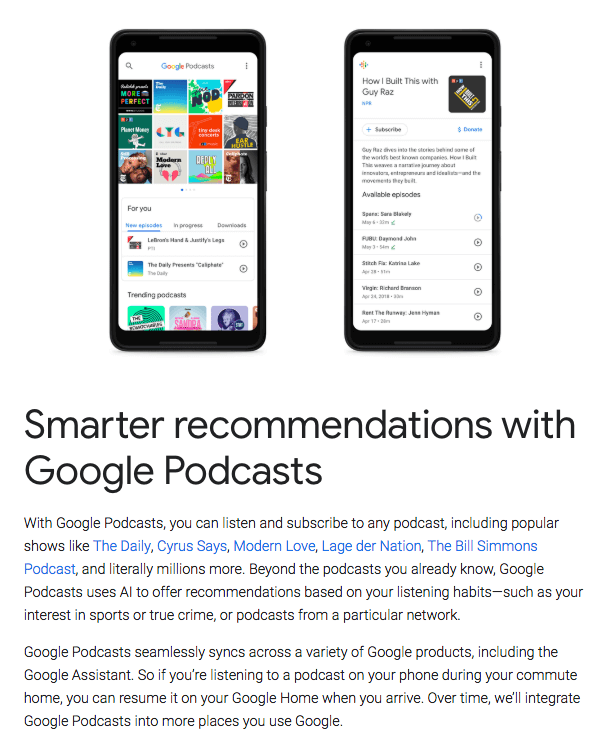 Google RankBrain and Hyper-Localization
RankBrain:
First of all, what is RankBrain? It's the first and only ranking signal that is not created by Google engineers. When Google tested RankBrain's capabilities at determining the best page results for a query, Google's AI scored 10% higher than humans. In lieu of these results, Google immediately made RankBrain an integral part of the ranking signal hierarchy.

RankBrain is a part of the Hummingbird algorithm, which began in 2013, named for the hummingbird's speed and precision. In 2015 RankBrain was announced to the world by Bloomberg in an interview with one of Google's engineers. In the interview it was stated that:


"RankBrain uses artificial intelligence to embed vast amounts of written language into mathematical entities — called vectors — that the computer can understand. If RankBrain sees a word or phrase it isn't familiar with, the machine can make a guess as to what words or phrases might have a similar meaning and filter the result accordingly, making it more effective at handling never-before-seen search queries."
What this means is that the keyword "talk" can then be associated with the keyword "talking". Through Google's stemming innovation AI can now understand pluralized keywords as being the same, which wasn't always the case. Danny Sullivan of Search Engine Land points out that RankBrain can also understand concepts. A fruit such as apple is understood in the context of a search, avoiding the confusion of Apple, the brand. 
Bill Slawski of SEO By the Sea gives a couple good pieces of advice on the proper response one should take to the revelations on RankBrain.


1. When you optimize a page, make sure that page is deeply about the thing you optimized for.

2. Make the main entity of your page the focus of that page.

3. Illustrate the context of what your page is about in meaningful ways.
Your audience matters when writing. If you're writing about horses, you can have an audience ranging from mechanics and carpenters, to gymnasts and equestrians. Certain types of queries reveal the searchers intent. In a discussion I had with Ammon Johns we discussed the nuances that RankBrain brings to the SERP experience. Intent places a far greater degree of variance in which features will be displayed, dialed up or dialed down. If a query mentions a service which tends to have a fixed radius of delivery, or where customers (searchers) often prefer ones that do, then local results are given a boost (locality becomes a stronger factor). If a query relates to news or temporal data then freshness gets dialed high. RankBrain extends this even further, allowing Google to use machine learning to make its own rules on what parts of a query indicate what features should be dialed up or down. 

Ultimately, RankBrain offers nothing earth shattering to the SEO community, but it does reinforce the importance of documents like the search quality evaluator guidelines, and the recent voice search evaluator guidelines.
The evolution of smart phone technology and the massive up-tic of mobile web browsing and location tracking has enabled what the marketing world is calling hyper-local web querying where the location of a user is accurate at a much finer granularity than with IP-based positioning.
The 2014 Google Pigeon update promotes a neighborhood level approach to SEO.
No longer are you limiting your keywords to  "City + service/product"; instead you are encouraged to go deeper and focus on keywords that touch on the neighborhoods around you.
An important thing to note about optimizing for hyper localization is that you'll sometimes run into difficulty in conducting your keyword research for terms such as "Aitkin pizza", considering that Aitkin Minnesota has a population of about 2,500 people. How then do you figure out what to search for those smaller cities that don't provide enough information for the keyword research tools out there. Our suggestion: Google Suggest. Type in your hyperlocal keyword and mess around with some terms to see what pops up. As long as Google registers queries it will provide suggestions regardless of whether or not the term has 1,000 searches or 5,000+. Hyperlocal is small but powerful, so we recommend that you capitalize on this aspect of Google's algorithm.
ADDITIONAL INFO
Many of these features with featured snippets are not available outside of the US, so if you are doing SEO outside of the United States, keep your eye on the update when Google brings this over. We recommend optimizing for the rich snippets earlier rather than later.