---
---
If you're not familiar with Google Analytics (GA) referral spam, it's because you've never looked closely at your GA results. Referral spam has been notorious for several years and it's a constant frustration for marketers who have to provide analytics reports to their clients. Even more frustrating is Google's lack of action to prevent it.
In early 2015 I wrote a post on how to stop referrer spam. The post originally presented ways you could prevent referral spam through the use of your own .htaccess file, but that method wasn't foolproof. Soon thereafter, the post was updated every month or so with new ways to combat referral spam.
The first update included details on creating filters in GA. The second update presented a Referrer Spam Blacklist that's maintained by Piwik on GitHub. The third update had more filtering tips, while the fourth and last update referenced a now defunct service that automates the filtering process.
Since that post, I have finally found a solution that has virtually wiped out all referral spam in GA. This is all thanks to Mike Sullivan and his Definitive Guide to Removing All Google Analytics Spam.
His solution has several steps that include:
Creating an Unfiltered View
Creating a new Property in GA
Implementing a Valid Hostname filter
Adding spam crawl filters
Creating a Custom Segment
Turning on Google's Bots & Spiders option
Some of the steps are a bit technical and involved, but they're all doable. I personally wanted to make sure it was done correctly and maintained over time, so I chose to use his personalized spam filter service which cost $75/year. It's a small price to pay for a business site that depends on valid data. However, for my smaller, personal sites I just did it myself.
Mike created a filtered and unfiltered view in GA for us.
It's amazing to see just how much referral spam there actually is. For our site, it's in the thousands. We've been using his methods for several months now, and so far it's worked incredibly well. I encourage you to check it out if you're still fighting against referral spam in your GA account.
Update (01/14/2017): Carlos Escalera is a GA expert that has collaborated with Mike Sullivan in the past to help fight referral spam. He's written a couple of amazing resources that you should check out: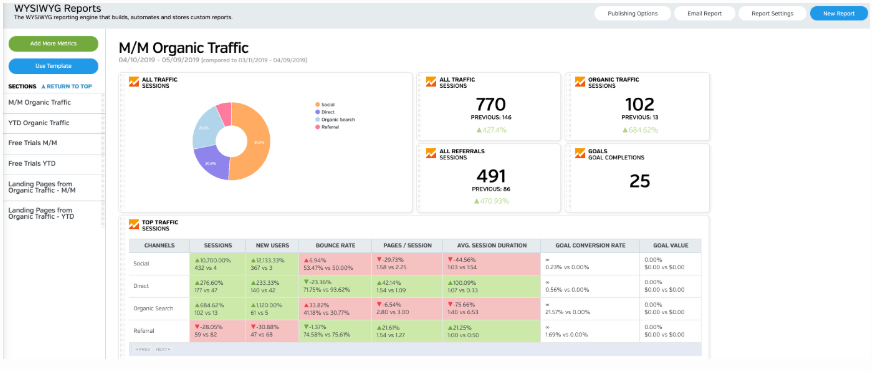 White Labeled and Branded Reports. Drag and Drop Editor. Automate your SEO, PPC, Social, Email, and Call Tracking Reporting.