---
---
With all of the notifications flying left and right about privacy notifications and "data retention" policies you might not have noticed that Google Analytics the alert that "Any user and event data that is older than your retention setting will be marked for permanent deletion, and will no longer be accessible in Google Analytics."
What?
What data does this impact?
When does it impact me?
What functionality is going away?
What can I do to prevent this?
Google Analytics Data Retention Notice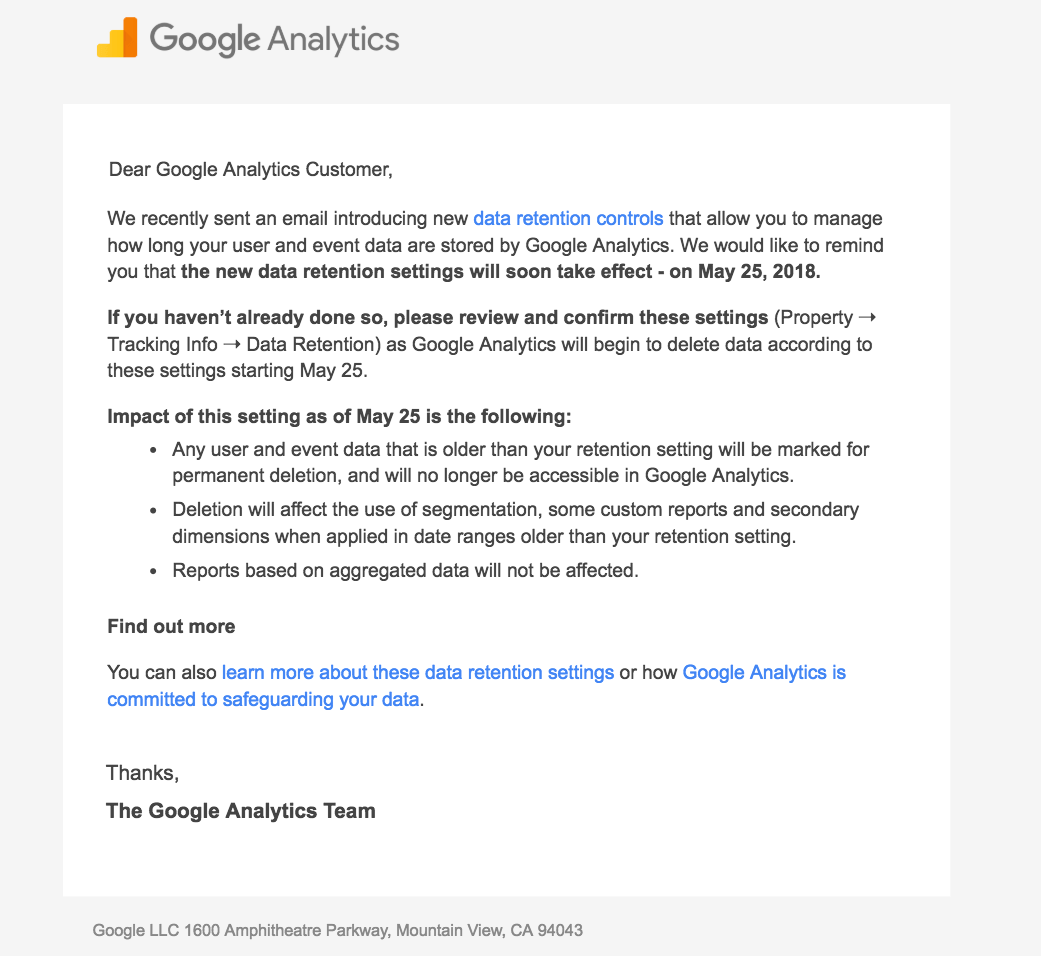 "Dear Google Analytics Customer,

We recently sent an email introducing new data retention controls that allow you to manage how long your user and event data are stored by Google Analytics. We would like to remind you that the new data retention settings will soon take effect – on May 25, 2018.

If you haven't already done so, please review and confirm these settings (Property ➝ Tracking Info ➝ Data Retention) as Google Analytics will begin to delete data according to these settings starting May 25.

Impact of this setting as of May 25 is the following:
Any user and event data that is older than your retention setting will be marked for permanent deletion, and will no longer be accessible in Google Analytics.
Deletion will affect the use of segmentation, some custom reports and secondary dimensions when applied in date ranges older than your retention setting.
Reports based on aggregated data will not be affected.

You can also learn more about these data retention settings or how Google Analytics is committed to safeguarding your data.
Thanks,
The Google Analytics Team"
How You Can Preserve Your Google Analytics Data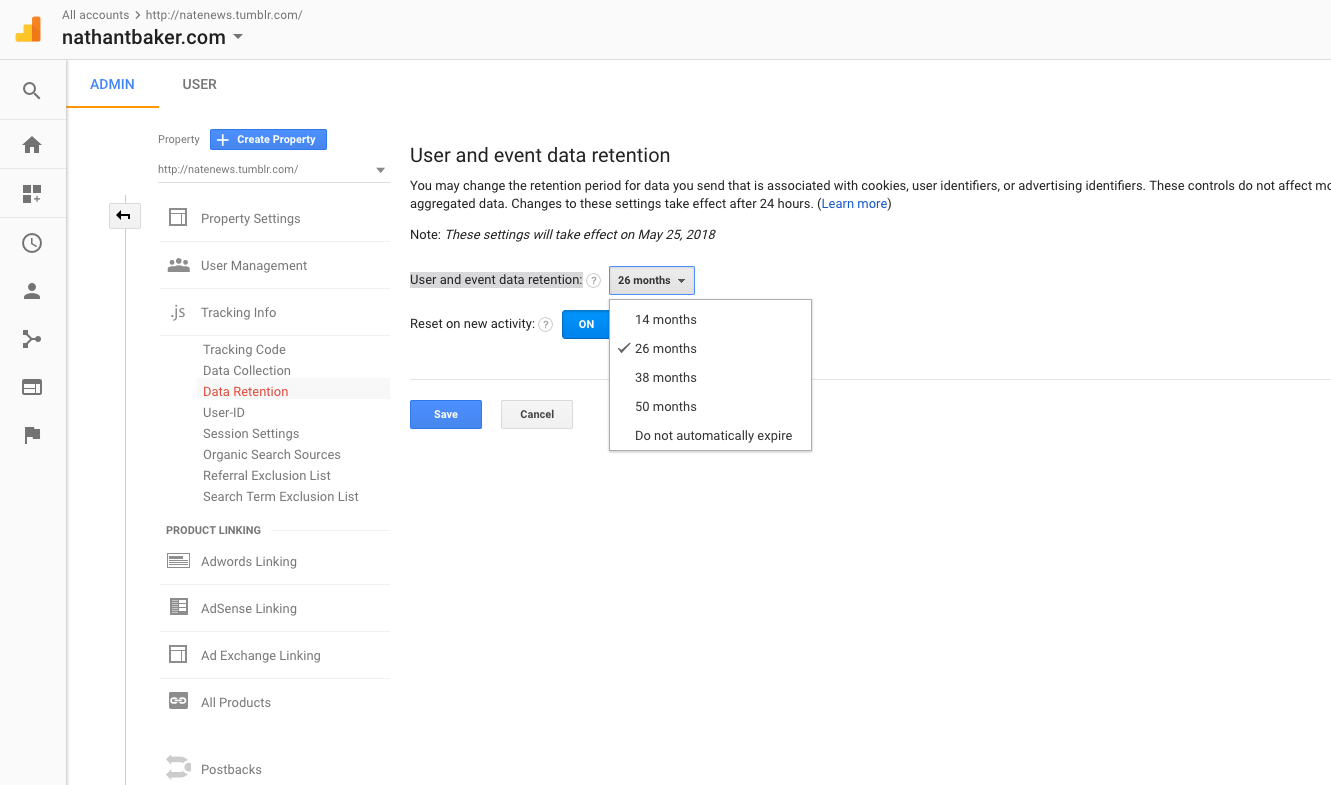 In order to preserve your "User & Event Level Data" past the 26 month mark, you need to access the Data Retention portion of your Admin panel for EACH Analytics domain and change the toggle. They give the option of 14 months, 26 Months, 38 Months, 50 Months & Do not automatically expire.
We recommend that you should know that if you're in the US or don't have European customers then the choice of  "Do not automatically expire" should be considered. Keep in mind you want to keep this data based on your regional requirements for GDPR compliance. (Consult with your legal counsel if needed!)
[We've reached out to several experts and got this contribution on the topic from an anonymous source:] Several experts GA experts confirm that the language from Google means that any kind of custom reporting beyond the default aggregate data of standard GA reports would be broken by allowing these new data limit defaults to stay in place. They are recommending changing to the "no retention limit" setting before May 25.
When asked whether this might put you out of compliance with GDPR, their answer is generally no one knows for sure, but highly unlikely EU is going to come after most SMBs for this sort of thing.
Weighed agains the catastrophic loss of historical data, their opting to go unlimited until they see any serious signs that it could be dangerous.

Of course, I have to include the disclaimer that I am NOT giving any legal advice here 😉 Every business has to be responsible to consult its own legal counsel

The problem is, even the legal experts aren't really sure how this will play out in the US. It's one of those messes where we have to wait for some test cases (if any ever come) and see how it shakes out.

Many suspect what is really happening here. Google taking advantage of GDPR anxiety to clear out its databases.
Will This Impact Data Provided By Google Analytics API – YES
Yes, this potentially impacts the reports and data you'll have available for your clients through our tool's connection to Google Analytics API.
What Exactly Do They Mean "User & Event Level Data"
What's not exactly clarified with examples in this notice or in their data retention page  is exactly what data is going to be removed on May 25th.
Any user and event data that is older than your retention setting will be marked for permanent deletion, and will no longer be accessible in Google Analytics.
I've pinged @JohnMu & @Rustybrick for clarification, because the verbiage "Event level data" could certainly be interpreted to mean the tracked Event data that you may have set up to track clicks on particular elements on page, or any other Google Event you may have configured. If so, then that could mean that recorded goals using that data would be impacted as well, which is a very significant data point to remove with just two weeks notice!
I think so – it is GDPR related.

— Barry Schwartz (@rustybrick) May 8, 2018
I would say canned event reports are untouched. The rest of the data utility is unavailable because the events can no longer be segmented, secondary dimensions, etc. so it's gone either way

— Jeffalytics (@jeffalytics) May 8, 2018
Also it seems that "Adhoc reports" that let you dig into your data and apply segments to understand what exactly you're seeing. Analysis in Google Analytics OFTEN requires custom segments to really get a clear picture.
List of features that won't be available to you for that historical data:
Create Ad-hoc reports
Apply a custom segment
Secondary dimensions
Table filters
Additional Resources Reviewing This Analytics Data Retention Policy Change
Jeffalytics has done a deeper review of this retention policy and it's potential impact.
A Helpful Conversation about #analyticsdataretention
When you look at any non custom reporting in GA… that's aggregate data. Once you start to customize it with segments or anything that goes beyond the default that's non aggregate. The setting change only takes 2 seconds and will protect you from losing that ability if needed.

— Joe Hall (@joehall) May 8, 2018
You don't necessarily have to, but in case you ever face an issue/audit/fine, be prepared to explain the reason why you collect the data and need to keep it indefinitely. (Not legal advice! IANAL)

— Levi Bloom (@levi_bloom) May 9, 2018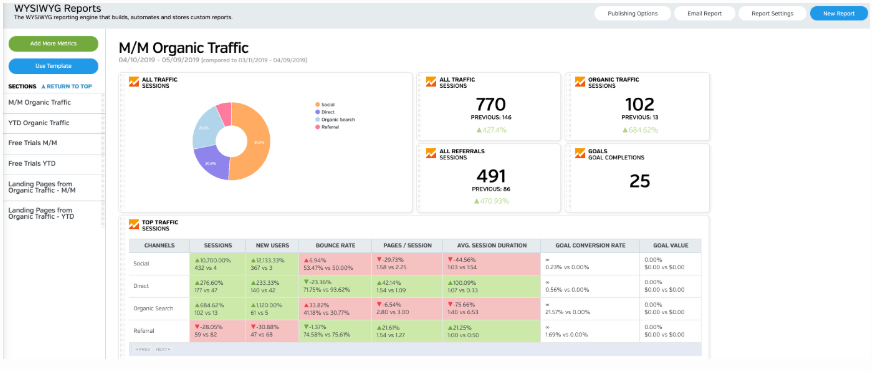 White Labeled and Branded Reports. Drag and Drop Editor. Automate your SEO, PPC, Social, Email, and Call Tracking Reporting.